Using tap-and-pay in Google Wallet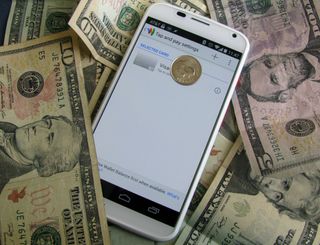 We've heard a lot this past week about tap-and-pay being introduced to the iPhone 6. But it's also been a longtime feature available to Android devices, and for many of us it's a quick and easy way to pay for all sorts of things.
Of course, it's not available worldwide, and not every merchant accepts it. But its usage is growing, and Apple getting into the game should only make it more prevalent.
Let's take a look at using tap-and-pay on Google Wallet on Android.
Setting up tap and pay is simple once you set up your card, and Google's given us a few tricks to speed that up as well. First, in the Google Wallet app, you'll see a card on the front page prompting you to set up tap-and-pay if it's allowed/possible on your device. The requirements from Google Wallet for tap-and-pay are currently KitKat (barring a few unlocked devices on Jelly Bean), NFC radios in your device, and a U.S. SIM.
Once you choose to set up tap-and-pay, you'll be directed to authorize Google Wallet in the tap-and-pay section of the Settings app, with a helpful link to take you straight there. Upon doing this, we can return to Google Wallet and set up the card you'll be using with tap-and-pay. While you can use a bank account to transfer money, you must tie a credit or debit card to Google Wallet for tap and pay, not merely a bank account.
When inputting a card, you can either put in the card number manually, or you can take a picture of your card and it'll put in the card number and expiration date for you. When putting in your name and address, it will pull from your Autofill history in order to help speed the process even more.
Using tap-and-pay is easy. While in line, you can open the Google Wallet app with your PIN and once it's your turn, simply tap the phone to the reader and you'll be done. However, if there's no time for that, you can tap the device to the reader without opening the app first. It'll prompt you for your pin and ask you to tap the reader again to confirm that you did in fact mean to pay for something with it.
And that's it! Seems simple enough, right? So, where will you use tap-and-pay? Where do you wish you could use it but can't right now? Hit up the comments and let us know!
Android Central Newsletter
Get instant access to breaking news, the hottest reviews, great deals and helpful tips
Ara Wagoner was a staff writer at Android Central. She themes phones and pokes YouTube Music with a stick. When she's not writing about cases, Chromebooks, or customization, she's wandering around Walt Disney World. If you see her without headphones, RUN. You can follow her on Twitter at @arawagco.
I wish i could use it anywhere besides CVS and McDonalds lol. Its sad that 7-11 stopped all tap-and-pay transactions. A convenience store is the best place for tap-and-pay. Run in for a drink, tap, and run back out to the car.

Stripes (the gas station next to the TV station) takes it and it is the number one place I use it.

Walgreens, home depot,petco and dozens of gas stations take it. Also office depot takes it too. Posted via the Android Central App

The issue with the gas stations by me is that many stations, the tap and pay terminal doesn't work. Some stations, the "manager" says the PayPass terminal isn't even connected to the register.

Do you know if witch gas station like does rebel

I've used tap-and-pay via Google Wallet at 7-11 in Boston twice this month.

I've actually contacted 7-11 via email and the response I received was that for security concerns, they discontinued support for tap and pay. Maybe the franchisee for that particular store kept it connected?

Looks like they joined Walmart in a competing mobile wallet called CurrentC. http://www.washingtonpost.com/news/business/wp/2014/09/11/clash-of-the-t... Posted via Android Central App

And there it is... I knew "security reasons" was a bs excuse, seeing as how they still accept much-less-secure mag-strip cards.

I work for walmart corporate and this is about the most stupid ass thing they've done in a long time. Currentc is a convoluted mess that I hope dies a quick painful death. Posted via Android Central App

Could be. I don't normally frequent 7-11 but I recently moved and there's one around the corner from my house I stopped in to grab snacks 2 nights after getting in late. I saw the machine at the register, whipped out my phone, stuck it onto the pad, the guy pressed a button, handed me my receipt and I went on my merry way.

I'm like you also. I only use it at CVS and McDonalds because those are the only 2 places I know accept it. I have tried it in other places but i always get an error something around the effect of that its not accepted. Is there a list posted online somewhere of places that accept it?

I used tap-and-pay at Macy's as well.

Really? That's great to know! Macy's doesn't show up as an available merchant on the Mastercard PayPass app.

Yeah bought some jeans there about 3 or so months back. Worked like a charm and i got those crazy looks as well.

The crazy looks are the best part of it :-) Now, whenever we use tap & pay, you know these same people will be like "oh is that one of them new iPhones?" No!!! LoL

Yup https://www.androidcentral.com/e?link=https2F2F... Posted via Android Central App

Wawa uses tap and pay as well. I could probably come up with a few more if I wasn't driving and texting right now Posted via the Android Central App

i LOVE Wawa. Unfortunately I have to cross the bridge to Jersey for the closest one LoL

inside or at the pumps? ive had zero success at wawa and im at one of probably fifteen in my area at least one a day... i gave up trying Posted via the Android Central App

The Florida wawa stores used to have tap-to-pay terminals in the store, but they recently upgraded them to new terminals that auto dispense change so the cashier doesn't have to count coins. Sadly, the new ones no longer include tap-to-pay.

I remember when Google Wallet first came out on the Nexus S and Google gave everyone a $10 credit to try it out. I used it all up at McD's and 7-11 and haven't used Wallet since. Sent from my Nexus 5 via the Android Central App

Would love to use Tap & Pay, but T-Mobile doesn't allow it.

Works fine for me on my T-Mobile connected phone. What makes you think T-Mobile doesn't allow it?

I have T-Mobile and I use it.... I have a Moto-X on T-Mobile and it works fine. The only problem I have is that not many places accept it yet. Even when it is a place that is "supposed" to accept it, they claim the reader is broken.

It works fine on all 4.4 and above android phones except for note 3 due to the processor or something on it, something that has to do with hce. Posted via the Android Central App

The note 3 has a snapdragon 800, same as the nexus 5 so it can't be the CPU Posted via Caseless GT-S7500 because I need an excuse to get a new phone

I think it was something about the Note 3's NFC chip not supporting HCE in KitKat. Posted via the Android Central App

The Note 3 does support it, or at least it does with Verizon. I did have to get a new sim from Verizon though (at no cost) Posted with my Note 3 via Android Central App

Did you request the functionality? I was really disappointed my Note 3 didn't have this ability because I had been using it on my Samsung s3. Google needs to get on board here because too many phones don't allow it and too many resellers don't accept it. Maybe now that Apple has it, Google will do better at creating a better experience by getting rid of these hurdles. There is no good reason the note 3 doesn't allow payment will Wallet Posted via Android Central App

Isis wallet vs Google wallet, Which One is better? Posted via VZW LG G3

GOogle Wallet by far. Isis requires you to swap out your SIM .

Lol i ordered an isis sim 2 months ago and it never arrived.

I thought Isis changed their name? Posted via Android Central App

Softcard Posted via Nexus 5

So this means that the US is readying an air strike against softcard? My god Googles power reaches further than I ever imagined! Posted via the Android Central App

+1 Posted via Android Central App

And we thought the Google drones were for delivering packages. Posted via Android Central App

Will this work anywhere ApplePay will work? Posted via the Android Central App

From what I've read, ApplePay seems to be extending the same kind of system that Android did. That is, it should work with at least Mastercard Paypass terminals, which are the predominant ones out there right now.

Yes the apple website says it should work at terminals with the MasterCard pass card symbol. Posted via Nexus 5

That's the hope. Apple pay could be the best thing that's happened to Google wallet tap and pay. Posted via the Android Central App

Google wallet and Apple pay both used NFC so they will both work at the same places Posted via the Android Central App

No. Ab304945 have you listened to the last AC podcast. It's not just NFC. There'll be different encryption and most likely Apple will completely buy out places. So they won't use google wallet. Unfortunately Posted via Caseless GT-S7500 because I need an excuse to get a new phone

Google Wallet just uses the standard NFC reader since it uses a virtual MasterCard, no? All security is on the phone, not the terminal Posted via the Android Central App

Actually, it is just NFC in the sense that any place that accepts NFC would work, Apple Pay or Google Wallet. Also, even if Apple bought out a place like you described (which, isn't going to happen BTW), that has nothing to do with Google Wallet not working. This is because when you make purchases with Google Wallet, what you are doing is using a virtual Visa Paywave or Mastercard Paypass. Thus, unless the store is ONLY going to accept Apple Pay and not any credit card with NFC, then that isn't going to happen. A business isn't going to do that because to drop Visa/MC NFC means that they also drop supporting ApplePay and credit cards in general.

I tried it at the Disney Store this weekend, had paypass but did not work. They kept asking me for the 3 digit number on the back of the card. I was hoping it would work anywhere there is paypass at the regsiter, but it seems like this is not the case.

I use this method of paying whenever I'm at a store that accepts the tap-to-pay. Quick question. With home depot being in the news lately about credit card numbers being stolen, I was thinking...from my understanding when I use Google wallet for my transaction it uses a sort of random Mastercard number and not my actually credit card number. So if I used Google wallet for my transactions, would this mean they do not have any access to my actual numbers and anyone who uses the tap-to-pay method is safe from these types of attacks? Posted via Android Central App

Correct. From what I understand you are OK with Tap to pay. Also, for some reason, they claim that you are still OK online as well. i.e. if your purchase was on-line and not in the physical store.

I used it for the first time yesterday at Walgreens. The cashier looked on with amazement and said she never saw anyone do that before.

Were you able to do it with visa? Which card?

All of your cards are turned into a virtual MasterCard. So, if a place doesn't accept Amex for their fees, you can use it with Tap and Pay and it'll show up as a MasterCard to the terminal.

This has happened to me too, lol. But I'm talking one Walgreen's in Chicagoland. Never seen a place in St Louis that supported tap-and-pay.

There are plenty of places in St Louis that use it too, I use mine at a Walgreens all the time. Actually, St Louis places better take it, MasterCard has a major office there.

Haha I used to mistify people at vending machines with it.

I've used Wallet to pay without having a SIM in my phone. I just log into the free WiFi at McDonald's and it works fine.

Long time google wallet user. I have ordered the new iPhone 6+ and was pleased to learn that they have the google wallet app for iOS. I am keeping my androids and will use the iPhone GW app to primarily add $ to my google wallet card. Looking forward to checking out Apple Pay as well. Posted via Nexus 5

I'm wondering if NFC will be restricted for use just within Apple Pay Posted via the Android Central App

This is the question! Posted via Android Central App

Everyone should thank Apple again for making something else mainstream that people really didn't care about. Like them or not that's what they've been doing. It doesn't matter if you're first. Only if you're relevant.

Agreed. Like it or not, Google kinda screwed up tap and pay when it first came out. They didn't secure any kind of agreement with the mobile providers, who immediately invalidated its use on their phones in favor of the DOA (and really unfortunately named) ISIS (now Softcard...or something). Apple did their homework on this. I thank them for the many additional places I'll be able to use my Google Wallet now.

I disagree. Apple has 100% control over their product and doesn't need the approval of the carriers. Apple is actually going the same route as Google did with wallet in the beginning. Apple is making deal with merchants and banks with no carrier involvement. Posted via Android Central App

I'm not sure why you disagree. You just reiterated my point. Google screwed up by not securing an agreement with the mobile providers, who ultimately decide what build of Android and what apps could and couldn't get installed on their phones. So, naturally the providers who were backing ISIS decided to leave it off. Google should have worked with the providers from the beginning. Yes, Apple doesn't have to do so because they wield their own software and hardware and make no compromises. Google doesn't have that luxury with Android, so they must do the work and secure the agreements with all parties involved. They didn't do that and had to spend a lot of time and effort backtracking. Thankfully, the HCE backed tap and pay works, but realistically, that only came to a very select group of Android phones in the last 6 months.

Google didn't screw it up, the carriers blocked Wallet to help gain traction for ISIS (Softcard). You can't secure deals with the carriers if they're not willing to work with you in the first place. At least Google didn't let that stop them and they were still able to land a partnership with MasterCard and slowly start to roll out Wallet. We've yet to see if even Apple Pay will even bring in the numbers and acceptance of NFC payments. Most consumers still aren't confident that the security is there and the recent celebrity photo leaks and even the Home Depot and Target breaches will continue their hesitation in adopting this new way to pay.

Google lost a lot of momentum by not doing the HCE thing from the beginning. Like it or not, they messed up. i love Google Wallet and Tap and Pay. I use it all the time, twice today so far and it's only 10:15 in the morning. But it's Google's product. If they wanted it adopted on a large scale, they should have either done HCE from the beginning or worked out a deal with the network providers from the beginning. It is not up to the network providers to make Google look good. If Google wants Google Wallet to be the NFC go-to product, Google has to make it happen, not anyone else. That means negotiation skills, not technical skills. As for Apple Pay, I agree. It remains to be seen if it is accepted. But I strongly doubt that it will fail (as in, get largely ignored by consumers) on the scale that Google Wallet has.

As you mentioned, Wallet is Google's product and 'if they wanted it adopted on a large scale' they could have made significant changes to the functionality and broadened their partnerships. It seems evident, however, that Google didn't launch Wallet with the intention of mass effect and they didn't have to. With consumers even more apprehensive in 2011 towards mobile payments and a fledgling infrastructure (at least in the US) to support it, they could afford to take things slow and learn from their mistakes as the only player in the game. Flash forward 3 years later and Apple is finally preparing to launch two phones with NFC. Unless they are able to lock down retailers to only accepting Apple Pay, they're only paving the road for more Wallet users. We also haven't seen Google's response to this yet. Apple Pay rumors have been floating around well before it's launch so it was no surprise to Google. With a Nexus launch right around the corner, there's still plenty of time for them to respond.

"We also haven't seen Google's response to this yet. Apple Pay rumors have been floating around well before it's launch so it was no surprise to Google. With a Nexus launch right around the corner, there's still plenty of time for them to respond." I sure as heck hope so. Here are a couple of things I'd like to see that would pretty much blow the doors off the Apple announce. - Worldwide rollout of Google Wallet Tap & Pay and availability/acceptability of Google Wallet Card .
- Real 2 column debit/credit reporting for Google Wallet.
- Ability to export / integrate Google Wallet to Quicken/Mint.
- Some nice means of authentication that is less clunky than typing a PIN into a phone. I have this vision of a ring that is a combination NFC/fingerprint reader that uses Bluetooth or wifi to communicate back to your Android phone or smartwatch. The NFC on a watch is nice but think about how clumsy that would be to use, having to arch your arm at the right angle. A ring would be a lot easier to orient.
- Finally, Google needs a much, much better customer support team for Wallet. I'm not sure how many of you have had to deal with them but my experience has been that they are occasionally clueless and unhelpful. This *has* to change . When you are dealing with people's money, you have to be able to give clear, concise answers.

SoftCard as far as I know is Verizon's product and they partnered with AT&T, T-Mobile and a couple other carriers in an attempt to own the T&P market. I'm not sure that Verizon isn't still trying to impede the success (read block) the use of GW for obvious reasons. I tried GW at a PetCo and the phone beeped, said the information was read, but the transaction failed. Supposedly, PetCo is on the list of accepted merchants.. T&P will NEVER succeed until it becomes universally accepted and as easy to use as cash or credit card. The turf wars need to stop and the end-user cannot be left to figure out which app to use with which merchant.. The greedy Telcos need to step out and focus their attention on providing connectivity between your phone and their network. They need to stop taking fully featured phones and reducing their functionality in an attempt to extort more money and reduce choice from end-users. It's good that Apple is now in the game. Together, Android and Apple will force T&P into existence as more and more users demand it and as more and more hacks make their way to the headlines.

"It's good that Apple is now in the game. Together, Android and Apple will force T&P into existence as more and more users demand it and as more and more hacks make their way to the headlines." Yup, that was exactly the point of Scorpio's and my initial comments.

It is quite early to be claiming Apple is making it mainstream. Lets see if merchants actually adopt it and if people actually use it. It isn't a good sign when Walmart and Best Buy already are saying they won't use it.

It's a neat feature, but I don't use it because I'm not able to earn credit card rewards if I was to pay this way.

That is very true. But now that specific banks and card companies are getting into it it should change hopefully. Posted via the Android Central App

Why wouldn't you earn credit card rewards using tap and pay? . I know I do when I have my credit card selected as. The payment source. Posted via Android Central App

He means if you get double points at gas stations or thriple points at restaurant, many credit cards don't could transactions through Google Wallet towards it since they show up as GoogleNFC[whatever your merchant was].

With Apple Pay coming, it this a universal standard now? ie. will any place that has a NFC station for Apple Pay work with Google Wallet automatically? It's my rough understanding that it will- NFC payment is NFC payment. The Apple Pay and Wallet are just our interfaces on our end.

Yes. Apple doesn't own NFC tech. So why would they receive special treatment? Posted via Android Central App

Well the security methods on both are different, obviously NFC is NFC and has been around long before Apple is using it now.

Because Apple has negotiated something with banks to lower transaction fees. Did Google do this?

For the past two years, I've used it at McDonalds, Macy's, Sports Authority, ShopRite, Radio Shack, CVS, Walgreens, Home Depot and a bunch of mom and pop delis that have the smaller Paypass readers. It would be great to see this extended to more gas stations (I think Hess supports it but it's been a while) and local businesses. Would be great if I could use it at farmer's markets and some other places where the vendors have been struggling with Square . One other gripe I have with Google Wallet (though not specifically Tap and Pay) is that I'd really like to be able to sync my Wallet account debits and credits with Quicken or Mint. The Google Wallet Mastercard debit card is actually a great thing because it's an account that I can keep a small (<$100) on and not have to worry about losing a huge amount to fraud if I hand it over at restaurants or pop it into an ATM machine. So, I really like that, but the downside is that I have to manage those transactions separately in Mint if I want to track my own categorical spending.

I know Hess accepts it inside the store, but I have yet to find any gas station that accepts PayPass at the pump. I don't know what technology the ExxonMobile Speedpass uses, but Mastercard says on their website that PayPass will not work at Speedpass readers

I wish I could try and use it in my country with my Xperia device. :( From the Philippines here. kiko on Xperia Z2

Used it to pay for a Coke from a machine and blew my relatives minds :D

I am still looking for a vending machine that accepts PayPass. I've seen pictures online of them, but not IRL.

I've only seen them at Mall of America and, strangely, Goodwill stores. The soda machines at my job recently had card/NFC readers added to them, but the NFC bit is turned off (weird oversight, given that it's a freaking Sprint call center).

Only useful if you live in the USA. Apple will do it properly and ensure that it works no matter country you live in.

The USA is the only country that matters really. Any other country gets in trouble, who do they look to for help? :-) Sorry but time to face reality LoL

You do realize the US lags miserably behind when it comes to adoption for these services right? Most other major countries out there have already adopted similar systems and are sadly far out pacing us. So no it won't only be useful in the US. The app might only be available here, for now, but Google will most likely change that ASAP! edit: The upside to Apple doing what Apple does - they will implement their strategy for a unified approach world wide. Which will then push others to do the same. The downside, if they somehow make a push to using their system only (which I don't believe is possible) then we'd be stuck with another ridiculous standards war :(

I would have thought uk would have it by now but maybe once fruity invents it! Doh they did the other day silly me.... Posted via the Android Central App

I use mine at cvs. The looks you get when you pay for something with your phone is hilarious. To the normal person it's super futuristic. Posted via the Android Central App

I used it at ShopRite this morning at the self-checkout. The guy that was overseeing the self-checkout lanes saw me doing it and asked me quite brusquely, "Lady, what are you trying to do?". I said, "use my Google Wallet to pay for this.". He said, "Your iPhone doesn't have that...." just as I heard that satisfying "cha-ching!" from my phone as the transaction when through. The look on his face was priceless as I said, "Yeah...I don't have an iPhone."

I wish I could use it but google is asking me for my SS number and picture of ID to prove address and identity, which I don't want to give them. Do any of you know of a workaround, really want to use touch to pay.... And ISIS wallet doesn't work with my bank :( Posted via Android Central App

Whenever I set up Google Wallet on my Nexus 5 almost a year ago I don't ever remember them asking for SS# or ID. All they should need is your card information. Posted via Android Central App

I had to do it when my account got lock. You have to proof that you are you Posted via the Android Central App

They have different levels of security needed. I did not need to provide that. Not sure why some do and some don't. Posted via Nexus 5

Unfortunately, when it comes to banking, all institutions must verify their customers. If Google can't verify you for some reason, they have to ask you to provide further proof you are who you say you are. It's in their FAQ's (written in more legalize) on their GW website.

Tap and pay is great when it works. I say "when it works" because there have been a few instances where my Verizon data reception has been very poor in certain stores. These stores have includes CVS, Duane Read, and some malls in NY and NJ (especially bad in Jersey Malls). I would imagine the same issue will present for the iPhone, since signal strength is the determining factor in effectiveness. That said, usually iPhone set up is fairly straight forward. Things are pretty easy to use and just work well. They may have that going for them. While I do enjoy and use both platforms, I prefer Android. What gets annoying is when the apple fanboys come out and act as though apple has invented the wheel/created fire, and they will with the iphone's adoption of NFC payments. To them I say, "Oh, hey. Welcome to the game." Posted via Android Central App

According to the Google Wallet FAQ, you can change the timeout for your device (up to 24 hours) and as long as you've been online and entered your PIN, it won't matter whether the device is online at the time of the purchase.
http://www.google.com/wallet/faq.html

True, though if you do this, I strongly recommend a very short timeout for your phone's own lock to kick in....and use a password or at least a PIN.

How long ago was this? Google Wallet is supposed to be able to work offline now under certain circumstances. http://www.androidpolice.com/2012/08/01/google-wallet-updated-to-support...

With Host Card Emulation being done on the server side I bet it has to be online now.

As long as you use the same card that was the default payment when you were connected online, you can use Google Wallet offline. If you need to change which credit/debit card to use, GW will need to be online.

Love the Wallet. Use it everywhere I can! njo¡! acApp

I use it everywhere including the grocery store and anywhere else I see the flashing blue light. I love when the cashier says "I've never seen anyone pay with their phone before" Posted via Android Central App

So I guess the absence of a tap-to-pay settings entry in my wallet means it doesn't work with cyanogenmod...weak

Did you enable tap and pay in the Settings of the OS? (Not the app settings, the phone settings) http://i57.tinypic.com/4vmii9.png

That doesn't exist in my settings...are you using Cyanogen? My limited research into this topic seems to indicate that the Oppo has that settings menu, not sure if it is in Cyanogen as well.

I am on stock. If CM doesn't have it, you can't blame Android or Google Wallet. The issue lies with Cyanogen.

CM has it. What device are you using?

I've used it the last couple years at a bunch of places, even bought beer at Yankee Stadium with it a while back. The vending machine at my old job took credit cards and Google wallet tap and pay worked on that too, my co-workers were impressed! Posted via Android Central App

Point being, that's an extra bullet point for your requirements list

I love using tap to pay but I just wish when I tap it also credits whatever Rewards card I have for the store, like rite aid and toys r us Rewards. Posted via the Android Central App

I always thought it was just emulating one of those cards that supports it, so it was never about stores specifically supporting google or apple, but rather just supporting those NFC credit cards. The last podcast made it seem like somehow Apple could steal it from Google. I guess it all depends on how it is truly implemented. Posted via Android Central App

I have been wanting to try this for a while. Now I will. Posted via Android Central App

When was tap to pay introduced by Google? Wish we would have it in Germany...

Almost three years ago when the Samsung Galaxy Nexus was released.

Meh, have no use for it. It seems like a solution looking for a problem. Cash and debit/credit cards work just fine yet and are accepted anywhere and everywhere. No need to complicate things anymore than that by adding a complex electronic device that is dependent on the user having it setup properly. K.I.S.S. principle! :D

Easier to steal your info with debit/credit cards in the US. Until the US switches to the tap & pin credit/debit cards in 2015, NFC payments are actually safer.

Just stupid that the US hasn't implemented this yet. Meanwhile, billions of card credentials stolen at Target and Home Depot.

The UK is full of tap and pay places using contacless bank cards so why the hold up implementing it into phones. So frustrating. Posted via Android Central App

I here ya! We shouldn't have to wait for apple to monopolise and then think ooh shall we try it?!?! Posted via the Android Central App

I use Google Wallet almost every day; it works great at most CVS, Walgreens terminals, Macys, and a few local places take it too. It does sometimes happen that a particular terminal in a store may not work, though. I travel to New York regularly and taxis there and in Chicago where I live also use tap and pay and that is amazingly convenient. The best thing about this and some other payment services like Level Up and Square (I use them all) is that I carry fewer cards with me now. It's lightened my wallet a lot, and Google Wallet can also be used for loyalty cards and gift cards, no need to carry around those or the key fob bar code cards anymore.

I mean how safe is this tap and pay, anyway? Posted via Android Central App

Safer than handing off your credit card to the waitress at Applebee's.

Is there extra charges vs using your credit card physically? Posted via Android Central App on 1+1

No. The only thing you might incur a charge on is if you have the physical Google Wallet Mastercard. Transferring money from a credit/debit card to the GW card costs 2.9%. But transfers direct from a bank account cost nothing. BTW, the physical GW debit card is actually a way-too-well-kept secret for Google. It's actually a very handy thing to have and a great fill-in for times when tap and pay don't work or the terminal isn't there.

So I should use it as a debit card and hook it up to my bank account? Posted via Android Central App on 1+1

Only if having a physical Google Wallet Mastercard is important to you. If you just want to do tap and pay with your phone, you can do that without the physical Google Wallet Mastercard. But if you do get the Google Wallet Mastercard, yes, it is more economical to hook it direct to the bank account.

And since the google wallet card is a Mastercard I can use it in almost any place that takes credit cards? While tap and pay is only in limited locations Posted via Android Central App on 1+1

Right. The real benefit is that all transactions show up instantly in the GW app vs. the bank with weird pending transactions that take days to post or process.

Exactly. It's very handy, but like so many other Google Wallet things, not well advertised.

Just wish they'd hurry up and being it to the UK!! Posted via the Android Central App

I remember my HTC One SV NFC enabled jelly bean phone had tap and pay on Google Wallet working for the longest time then they broke it I shot Google an email they apologize and acredited my account 10 dollars. Tap and pay was never restored to my HTC One Sv jelly bean phone. I like the fact that you could send money to gmail contacts but the percentage Google takes out just isn't worth it to me . And so I don't use Google Wallet and I won't transfer money via Gmail but I may in the future we'll see not to mention I had an American Express card linked to my Google Wallet and then all the sudden they stop taking American Express as well. I love Google but they change anything and everything at the drop of a dime don't ever get comfortable. Posted via the Android Central App

correct me if I'm wrong, but isn't Apple iPhone 6 much easier to use for this type of contact-less payments? with the iPhone 6, you just hold the phone with your thumb on the fingerprint reader, tap the payment terminal and you're done. no need to turn on the phone or enter stupid PIN#...... why can't Android phones do this? :(

FUD alert Posted via Android Central App

Point well taken, but I don't really want to pay $299 on contract or nearly $700-$1000 off contract just for that feature. Not when I can get this on a much less expensive Android phone.

Well it would be nice if this was available with android phones that have fingerprint scanner but due to the wide selection of hardware it is not possible. I don't see what big deal is, you unlock your phone, tap it to device, and then enter pin. Posted via Android Central App on 1+1

Yes, it's more elegant because they have the only sensor that doesn't require a swipe, just a touch. It can't be matched without the same sensor. However, Apple Pay has a major fault: your bank has to be on ship with Apple. Albeit bending over for Apple is always popular, but we all know smaller banks and credit unions may not even think about it or avoid it because of Apple's requirements. Google Wallet works with any major card or checking account. So while Apple Pay really is awesome, users might have to switch banks or mess with a prepaid card to use it...not so awesome.

Pins are safer then that fingerprint thing Posted via Android Central App

Where I live CVS and Whole Foods take Google Wallet. The Office Depot near my house does not have their NFC turned on. Also recently I had an odd occurrence at my CVS. After tapping the terminal, getting the beep, and everything going as normal the CVS register prompted the csr to request the last four of the card number. Weird.

That happens when you are buying gift cards at CVS. That's a CVS security thing, not a Google Wallet thing.

The thing is I was not buying gift cards. It was just some regular stuff like toothpaste, mouthwash, and deodorant.

Can't wait until this is available in the UK and widespread enough that I don't need to carry my card around ever again. Posted via the Android Central App

The iPhone 6 isn't even out yet so let's see how well it works, and those fingerprint readers are notoriously finicky. Cold weather is coming to much of the country soon & removing your gloves while pulling out your Apple iPhone 6 (if the battery ain't dead) and getting your wet & frozen thumb positioned properly sounds harder to me than you think it may be. My Moto X stays unlocked whenever it's paired with a "trusted device" like a Bluetooth earpiece I use daily (or now a Moto 360), and my Google Wallet is setup to require a PIN just once a day (I check the wallet balance/transactions every morning anyway, which gives me 24 hrs). All I need is ONE PRESS to turn on my screen with or without gloves and I can pay with a single tap. Really, its not that hard to do. If I use a Motorola Skip wearable NFC tag it'll wake up AND unlock my phone automatically. No buttons, no spotty thumb readers. And Google Wallet Tap & Pay works NOW with phones we ALREADY have (KitKat 4.4+). No need to keep enriching the Cupertino coffers or lining up for days to buy a new phone every time they release a new one. Posted via Motorola Xoom

I've used Wallet/PayPass 6 times. Twice at a Chevron, second time it didn't work. 3 times at a BJ's twice it worked third time I was denied. When I was denied, the manager at the BJ's informed its clerks that anyone using wallet/PayPass to be denied. Primarily, because it used a virtual number not associating with the number on your credit/debit card. I basically argued with the manager on the lack of knowledge of NFC payments, and thus never to use it again.

I live in Serbia. This feature will come to my country maybe in next 10 years :D Posted via the Android Central App

Would just love to be able to use it everywhere. Sucks that it hasn't really taken off. Posted via the Android Central App

I use it all the time. It definitely gives me a little more peace of mind knowing its a more secure form of payment. With all these retail outlets being hacked and millions of consumers credit/debit card info being stolen you can never be to safe. Posted via Android Central App on the Moto X

Tap and pay works at Toys R Us and Wegmans as well. Be aware that CVS accepts it, but won't let you use it if you're buying a gift card. They demand to see the physical card and the transaction won't go through because the numbers won't match due to whatever encryption is involved in the NFC transaction.

The tap and pay works at Toys R Us, Whole Foods, Jamba Juice, Walgreens, McDonalds, and any retailer that may have the newer VeriSign card-swiping readers...it should work at Target also but I have their rewards Red Card so I can't use the NFC payment method.

Just bring the service to Australia! We already have contactless credit card payments available almost everywhere. We have Google Wallet... Just enable it!

I have been using Google Wallet for years.I do have it linked to a card with limited funds just as a safe guard.
I never have had an issue with it security wise. I dont use those card swipers in the stores (never trusted those).

Does the virtual Mastercard number used for Google wallet change per transaction, or is it one number assigned to the account? Posted via Android Central App

Of course I'd like many more places I frequent to adopt Tap & Pay. Its so easy, secure and my phone is always with me. Having Apple belatedly on board now with their millions of iLoyalists will certainly raise awareness, adoption and usage of NFC- payments eventually. Personally I'd like places like Chick-fil-A, In-N-Out Burger, Carl's Jr, and many others to get with the program. I'd end up going there more often. And I wish gas stations would adopt NFC Tap & Pay payments at the pump (like Mobil SpeedPass) not just inside. Be patient my friends. Its coming. Posted via Motorola Xoom

I use mine at Harris Teeter.

I've never been clear on the advantage of using GW. If it costs me money to link my Amex card vs linking a bank account, then I just have a fancy debit card. Other than the wow factor of paying with my phone, what is the advantage of GW?

Using tap and pay is free. Completely free. Using the physical debit card GW provides can incur the same fees any other debit card does. And transferring money between accounts or sending it via GMail can incur a fee if you use a credit/debit card instead of a bank account. Posted via Android Central App

Well, like I said, I've never been clear on how it works. It seems to me I can add money to it, and draw from a balance. I see no advantage there. Can I link any credit card to it and have the transactions go there? And/or use it as a debit card with a direct draw from my bank account? I thought I saw some mention of a 2.9% fee for credit card use early on in the discussion. Did I misunderstand something? For my credit cards, I prefer the type that provide rewards in the form of cash back. Chase Freedom used to be perfect as it would automatically credit my account with the previous month's credit... but then Chase went away from that rewards model and how you have to jump through hoops to get your cash back... and I think that option terminates this month. But at least AMEX Blue and AMEX Costco still provide cash back rewards with different reward amounts for gas vs grocery, etc. How are these type rewards affected by using GW? It still strikes me as being mostly wow factor than I can pay with my phone. I'm struggling to see any advantage in paying via GW but would love to have a better understanding.

The 2.9% fee is only for transferring money to the PHYSICAL GOOGLE WALLET MASTERCARD and even then, that's only if you transfer from a card instead of direct from your bank/credit union account. If you never get the card and only use tap and pay, there is no fee.

Ah, thanks for clarifying. So the fee is involved only when transferring cash from a ccard to the GW Mastercard. OK. (is there a reason to carry a positive balance on GW?) And if your next comment was directed at me, I don't recall ever saying anything about having to pay money to link a credit card to GW. I was simply confused about the fee mentioned above.

Huh? When have you ever had to pay money to link your card to GW?

Here's a somewhat related question I have in all of this.... I have a Google Wallet Mastercard, the physical kind. The one with the Google Wallet logo on the front and Mastercard credentials printed on the back. I use it quite a bit, especially when traveling on business for paying for restaurant charges because I hate the "disappearing credit card" nonsense that happens in the USA where you never know if Tony Soprano and friends are making a scan of your card in the back room. SInce I keep only a small amount of money on that card, I don't risk much. Anyway, my question is...will Google / Mastercard ever add the NFC chip into their GW Mastercard? That is, why not make the GW physical card useful for tap and pay?

then wheres th security its no way to type in a pin on tha card itself and if u type in a pin on tha reader u might as well swipe

There is a PIN already on the card, it's the same as your Google Wallet account PIN. The only reason I can think of this is to expand Google's realm to meet those people who have an Android without NFC (I don't think Moto G or E have NFC). If nothing else, it's a way to basically tell people that they don't have to spend a fortune on a new Apple phone (or flagship Android) to get the benefit of tap and pay.

Exactly it's a pin on tha card so y have nfc, when u can jus swipe and use tha same pin it doesn't make it more convenient Posted via Android Central App

i used it at walgreens and mcdonalds hopefully now that apple has hoped on board walmart, target, and a few other big boxes will hop on tha train

I use mine mainly on the Coke machines at work, McDonald's, and Meijer's.

I used it up until I got a TMO Note 3 :( I keep checking my wallet app to see if they'll implement it one day, but so far, nope. I hope the Note 4 (Edge) doesn't have this problem.

Would be nice if they expanded it to other countries (like Australia).

Here in Austin, Texas area, I can use T&P also at WhataBurger, Subway, Taco Cabana, Jack in a Box. What can I say, I like my convince in paying and fast food, too. : )

Also, if you search on this Mastercard Paypass locator site, you can find all the places where you can use your Google Wallet T&P with your Android phone. http://www.mastercard.us/cardholder-services/paypass-locator.html

I would love this feature but it almost never works. As a matter of fact, I haven't been able to get it to work yet on my AT&T Galaxy S 5 Posted via Android Central App

I wish wallet would let me use my actual card instead of the virtual MasterCard. Some vending machines decline payment because of something about higher transaction fees with MasterCard.

I'm in NJ and I use it all the time at ShopRite supermarket, McDonald's, Walgreens, Rite Aid, Foot Locker, and some other stores that I can't think of off hand. Posted via Android Central App

tap all you want at the Walgreens terminal. It just won't work.

CVS stopped taking NFC payments this morning (Oct 25). Posted via the Android Central App

As an Android and Verizon user I chose Google Wallet over ISIS/SoftCard. I've been using GW since my Samsung Galaxy Nexus in 2011. GW works in the same places SC does, and even more since it's a Mastercard and not AMEX. Plus GW lets me use my own cards. As far as Apple Pay goes: I want them to succeed as well because I really want NFC to be a viable option instead of being force fed MCX.

This should be everywhere, it would make things easier, and safer for everybody... most people are smart enough to know its pointless to steal a phone now days.... you'd never get to use it...that's off point, 220,000 stores is not much in the scale of things... safer, easier, kinda fun, and eliminates the need for a wallet...it's a win win an the way...!l!! Posted via the Android Central App

Still not available in the UK. Come on Google. The UK desperately needs a decent tap n pay client. UK desperately needs Google wallet. Why is it taking so long to reach UK?

What the fudge are all these reply on here about blank atm cards? Don't you moderate these comments? Obviously these are hacked accounts spamming your messages. You need to fix that.

Well, I had seen 'mobile-pay' available at a McDonalds in Dwight, IL...(where I sometimes stop on my way to/from Chicago)...so I downloaded and setup the Google Wallet and added three credit cards and debits cards etc...and received email verification that I had authorized that capability. So the other morning I pulled out my Moto X 1stGen and tapped it on the 'tap here' area of the keypad/credit-card payment POS machine...AND...nothing happened... Twice even...so, then I opened the Wallet app, input my PIN, and a screen came up with $0.00 on it...and THEN tapped on the 'tap here'...NOTHING...so, 'the hell with this' I thought and then dug in my 'real' wallet and swiped my usual debit card of choice...technology...Agggghhhhh!
Android Central Newsletter
Get instant access to breaking news, the hottest reviews, great deals and helpful tips
Thank you for signing up to Android Central. You will receive a verification email shortly.
There was a problem. Please refresh the page and try again.