Using the S Health app on the Samsung Galaxy S5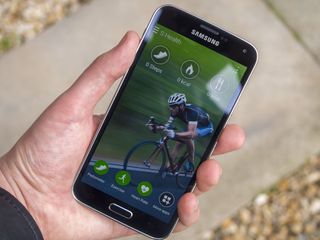 Samsung has covered a lot of health and fitness bases on the Galaxy S5
Health and fitness has a big focus in the Samsung Galaxy S5, something we learned from the very moment it was introduced on stage. Samsung is making it easy to get involved in tracking your activity with the heart rate sensor on the back of the phone and the first-party S Health application.
S Health is a nice and easy way to pay more attention to your activity levels without the need for any wristbands or paying for any apps. Here's what it can do for you.
The pedometer
Part of the S Health app is the step counter, where the phone will act as a pedometer recording your steps and feeding that information into the app. It also – should you wish it to – display your steps on the lockscreen. A couple of design issues aside, the Galaxy S5 does a great job of counting your daily steps and giving you a figure for how many calories you've burned throughout the day.
As time goes by and you want to look back through your history, S Health will give you options to view your activities by hour, day and month by tapping the graph icon in the very bottom right corner as well as presenting a log in list form of your entire history.
You can also hook in supported accessories that will record the data for you and then feed it into S Health. The app says "Samsung accessories" so it doesn't look so hot for your Fitbit right now.
The heart rate monitor
The Galaxy S5 has a heart rate monitor round the back that plugs right into the S Health app. Whether you're just curious or whether or not you're going to use it during your workouts, it's a pretty handy thing to have close by. If you're wanting all there is to know about the heart rate monitor, hit up the link below.
Tracking your fitness
The pedometer is something that you can, and probably would use every day. But buried within S Health are a whole bunch of different options for tracking your health, fitness and overall well being. Let's break it down:
Exercise - Options to track your work outs for running, walking, cycling and hiking. S Health will then track your route, distance covered and calories burned while you're exercising. Within the workout screen you get quick options to take photographs while you're on the go and to access the stock Samsung music player so you don't need to actually leave S Health to change your workout tunes. You're also given the option to see a whole bunch of more detailed stats like average and maximum speeds, pace and your heart rate info should you have used the heart rate sensor during the workout. It's a really involved part of the app, but since it's a major focus it's good to have all these features on hand.
Food - Part of a healthy lifestyle is the food you eat. S Health gives you a dedicated section to track your food intake and gives you the option to view as graphs by hour, day and month.
Weight - If you're trying to get/keep fit, you're going to be interested in monitoring your weight. You get the same stat viewing options as for food and the pedometer and a simple method of entering and updating your numbers.
Sleep - "Samsung wearable accessories can record your sleep data and sync it with sleep in S Health." Otherwise it's basically useless to you.
Stress - Uses the heart rate monitor to take an extended reading with a view to interpreting your stress levels. Because, who wants to be stressed?
Coach - There to help you get motivated in your fitness regime by collecting your goals and setting you challenges.
If you're serious about using your Galaxy S5 to help monitor your health and fitness, then you could do a lot worse than S Health. It's more than just an app, with connected devices like the Gear Fit that can assist in collecting the data, Samsung has built the foundations of a platform.
This is, of course, just a quick run through of what you can do with it. If you're already putting it to work be sure to drop a note in the comments with your own reviews.
For more, see our Galaxy S5 help page, and swing by our GS5 forums!
Get the Android Central Newsletter
Instant access to breaking news, the hottest reviews, great deals and helpful tips.
I will be eligible for JUMP upgrade tomorrow and finally ditching Nexus 5 for GS5!! Woooooohoooooooooooooooo Posted via NEXUS 5

Sweet it's a kickass phone Posted via Android Central App

Sorry to hear that. Here is some antacid for when you start to feel bloated. :P

It's okay because i won't miss these things from my Nexus 5 1. No micro sd card
2. Hideous light bleeding
3. Terrible camera
4. Terrible speaker
5. Turning on and off airplane mode to regain data connection
6. Grayish blacks Yea that's about it. To me Nexus 5 is just another cheap phone. Posted via NEXUS 5

Yeah, who needs features. I'm getting a flipphone! Posted via Android Central App

"If you're serious about using your Galaxy S5 to help monitor your health and fitness, then you could do a lot worse than S Health". Not really. This app is very bare bones, doesn't allow for anything but those 4 activities, no website for enhanced analysis, no ability to manually enter other activities. Generally a crap app that they spent about 15 minutes coding. Runkeeper, Runtastic, and Map My (anything) easily outdo this in their free versions.

I agree. I have been searching everywhere for a way to manually enter other activities not done through app. This is something I hope they improve/

Actually I have a galaxy Noten4 with this app and you can add in other activities however the pedometer is first and formost . You can add other activities and the type and length of time and based on your profile it can measure the amount of calories burned and distance based on a built in formula.

Agreed. This app has a long way to go. Needs more activities as options and for sure needs to be able to allow manual workouts to be entered. I'm going back to Cardio Trainer.

I very much prefer MyFitnessPal. It's a great app with a lot to offer. While it won't count the number of steps you've taken its great for keeping track of diet and exercise since it brings fitness down to the fundamental concept of calories eaten should be less than calories burned. Posted via Android Central App

I'm a fan of MyFitnessPal too. It integrates with "map my (anything)" and works for me. I was using S Health on my S4 and the calorie intake they said I should be bringing in was about 3000 calories? That's a tad high when you are trying to shed a pound or twenty.

I've been using S Health now for about 2 months every week at least 2 - 3 times a week for the exercise portion. I have had the pedometer on basically for the length of the time I've had the phone counting my every step. I've bought the Samsung Fit and now record my sleep as well as my heart rate while exercising, and I do have to agree that this app IS very basic as far as exercise options. In fact, that's what Samsung wanted to do, to create an app that would be simple enough for the average individual who buys the smartphone to get motivated to live a healthier lifestyle. Before I got the GS5 I had used the MyFitnessPal & FitnessTracker combo to keep tabs of my exercising & food logging. I LOVED them.... It was hard to leave them when I got my GS5 but I did because I wanted to use one tool for everything. I've attempted to send Samsung feedback on things, and even ideas (taken from MyFitnessPal) to be applied to the S Health to make it more usable and friendly. For instance.
1. Barcode reader for the food log... hands down, a critical tool to have making life much more simpler.
2. Manual option for entering food right off the bat, not having to do some crazy search to get to it, AND not just calories but the nutrition information as well.
3. Not just track calories, but the percentages of the food to help balance out the diet (again MyFitnessPal has this down)
4. Integrate the food calorie count with the exercising calorie burn count so you know the total calorie count for the day Some other ideas?
1. If the nutrition count/percentages are taken under consideration then you can incorporate exercises to help raise or lower percentages to get your best daily count of nutrition... a little low on protein today? No problem, the search recommends eat more of this food... little high on carbs today? No problem!! Try these exercises to lower the carb percentage. (or course this may be difficult since the exercise section is simplified, but that's why this is an idea)
2. With technology now and the Samsung's weighing machine the weigh in section could potentially get better, or at least... how about incorporating some measurements to record one's body fat as well? I'm actually okay with the simple exercise section, I say keep it simple, because the other great thing they have done was allowed a sycing with the Skimble workout app which satisfies all the other exercising needs. All around, I'm happy with it, there's always room for improvement even on the best of apps. :) Maybe someone from the Samsung Team will see this post too. I've tried multiple times to send them emails and either I wasn't able to get through or get to the right person or get the generic, thanks for your valuable input, we'll put it on a pile with the millions of other requests. HAHAHA...

The problem is, they're really haven't done any major updates to S Health in the last few months. Samsung has a history of "borrowing" ideas from Apple. This time around they should consider looking at how MyFitnessPal, MapMy, and Fitbit do things. Maybe they're just waiting for ideas from Apple's upcoming approach to fitness.

Oh really I wasn't aware that Apple had any health type app. My buddy has the iPhone 5 and he doesn't say anything about it. Or are you just saying that in general. I don't doubt it borrows like Microsoft buys out good programs. I agree, they really need to look at the MyFitness apps (don't know about FitBit) if they want to get something really good. I understand if they don't have time to invent their own stuff, but at least take the time to really research (if they haven't already) the best thing to mimic. I see they're trying to appeal to the individual who doesn't have his/her own workout program, appeal to the common folk who aren't thinking about health just devouring food and watching tv. :D Maybe they should include a way for an individual to fill out a profile if they're interested and get a better idea of the individual... do you have a workout program? have you ever done a workout program? what do you hope to accomplish by using this app? Then from there us AI to determine how many options or how intense to make tools available. I still agree though, barcode reader? a must... it's a pain to look up things every freak'n day and even when you put some of the foods on the favorite list, I've seen that sometimes when I do that they end up being saved but the calorie count is 0.0 every time so i have to take it off as a favorite then re-look it up to get it. I think I've pinpointed the bug... if I first make the entry THEN make it a favorite.. then it's fine for the next time I use it, but if I make it a favorite BEFORE I post it, then it saves as 0.0. Not sure if that combination is static or just random though.

Hey. Where did you send your feedback to and is there any indication they listen to it? I love a company that actually listens to customers (I'm not sure Samsung is it though). I would like S Health to be able to give more detailed information on nutritional content of many foods so that I could see if I had a clear deficiency in any key nutrients. It would also be nice to be able to enter the number of grams (not fixed in certain, unchangeable increments). I also noticed that no matter whether I lie in bed all day or if I cycle for 25 miles, the daily calorie requirement stays the same which is kind of stupid. Finally, I wish they'd actually try to get people's feedback and listen to it! If they did that, these things would already have been fixed before I even bought my S5!

The only feature I'm using is the pedometer. Calories input is way too cumbersome - search for the food you want instead of scanning the barcode. Exercise only includes four types. Posted via Android Central App

I agree dadathepanda (snickers at the name) every week at least I'm having to either enter a generic food with some random brand or restaurant because the brand I'm hoping to come up with in the search isn't there. Many times when I get too specific it just throws a bunch of nothing my way it's frustrating at times. Also, like I mentioned above, the favorites are sometimes inaccurate as well. The app needs more work, but I'm doing my best to support it. Maybe I'll post a blog posting about it in hopes Samsung will see it. :)

I've been using the pedometer and heart rate sensor since I got the phone. They both work really great. The pedometer is automatic and has no appreciable impact on battery life, and the heart rate sensor takes 1 press from the widget and I have my heart rate. I don't know why the reviews say it's so cumbersome to use. Have been really impressed with the GS5 overall. A good upgrade from the M7.

Shealth is crap, my pedometer was way off. It was counting my steps while I was driving. I love my galaxy s5 but somethings are just crap on it. I disabled most of it, most of the Samsung apps feel rushed.

I cannot agreet with you more. I too love my Galaxy S5. The other morning I started the pedometer before leaving my house to the gym. I purposely left my phone in my vehicle while at the gym and when I got home after the gym it said I had taken 700+ steps. No way!

I agree to this in a sense, it will keep tracking while driving but it doesn't add steps per mile for each mile driven. However, I am sure this is how the so-called leader board champions are coming up with ridiculous numbers. The number one leader right now shows they are at 1,343,013 steps in the last 7 days. 1 mile=about 1781 steps+/- so they claim to be running 107 miles each day for 7 days straight. That is like running 4 marathons every day of the week. Sorry, I call bullshit. On a more positive note it does accurately count legitimate steps/miles. Just remember pause it while driving.

Its not a very useful app. Unfortunately they need to pay a bit more attention to what MFP does or Fitbit. I have had the gear fit for a few months now and I love it but S Health App is horrendous and because of it I will most likely be looking into other fitness trackers due to the inadequate features of this app.

I love my S5 and use the fitness app everyday, about a month ago it started acting up on me. It is unresponsive during the run and asks if I want to shut down or wait, I usually click on wait but it doesn't help. At the end of the run I can't pushause and stop to save the event, it just freezes for a while. When it wakes up the and I stop the timer it's inaccurate. I did a backup and cleared the cach and rest all the data, it didn't help. I also cleared the sd card, it was getting full. Doubt the sd card will cure the problem, haven't tried it today. Any suggestions, I askes Santa for a gear watch, hopining that watch can stop the phone at the end of the run. Thanks.

I have exactly the same problem. Shealth keeps freezing and asking to shut down or wait. Its really frustrating.
PCMunt! can you help me to make a back up and download history on my PC & how can I clear the cache? I am not that tech savvy, so will be needing step by step process.
Not sure, it would resolve the problem as you still face it but at least I would be through the initial steps. I appreciate that. Thanks

With the latest upgrade to S Health the heart rate monitor is not counting correctly. Last night my resting rate was 44bps; checked it against several other devices - underestimating by approximately 20 bps. Pre-upgrade was more reliable. Anyone else have this issue? Is there a fix?

I really wish S Health would work with my fitness pal, or I could log swimming or other aerobic or strength training exercises.

I really like the S Health app but am seriously piss3d that the only way to now use it is if I "accept" all the new t's and c's, INCLUDING allowing 3rd PARTIES access to my information from this app. SO after using it since getting my S5 amd sharing the data with my daughter, I am NO LONGER using it. Very frustrating. . .

Pretty bad that this app lost the ability for you to manually enter exercise. I swim regularly, do other exercise, can't enter values to keep track.

I agree with the commenters. Most of my exercise was swimming and now I can't enter that. Pretty much useless to me now.

You guys are judging waaaaaay too hard a *FREE*, working as intended app. To do all the wonderful things you suggest, that takes man power, I hope you realize that. And why would you pay for man power then offer your product free of charge?

I loved the old app.. It had everything I wanted.. needed.. I go to a gym and was able to record all of my various activities.. I've now had to unintelligible the updated version twice.. I set my phone to prevent auto updates.. Apparently that is a joke because the new "simpler" version replaces the old one anyway.. I don't run outside and rarely cycle outside.. I also like to swim and lift weights.. I can't log any of that with this new joke of an update.. What a drag.. I'm setup and now I have to look for another app that does what your old one did or continue to unintelligible the update and re key the data that was lost with the update.. WTF!!!

I agree with you. I haven't been using the app since it updated and I used to use it every day. I need to be able to input my activity manually. I just adjusted my settings to show no goals because I don't need an app telling me to exercise more after I just did a 90 minute workout.

Is there a way to track biking without the GPS? I have a stationary bike and there is no way to input I hav bike without it.