Using the S Health app on the Samsung Galaxy S5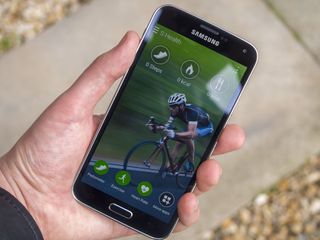 Samsung has covered a lot of health and fitness bases on the Galaxy S5
Health and fitness has a big focus in the Samsung Galaxy S5, something we learned from the very moment it was introduced on stage. Samsung is making it easy to get involved in tracking your activity with the heart rate sensor on the back of the phone and the first-party S Health application.
S Health is a nice and easy way to pay more attention to your activity levels without the need for any wristbands or paying for any apps. Here's what it can do for you.
The pedometer
Part of the S Health app is the step counter, where the phone will act as a pedometer recording your steps and feeding that information into the app. It also – should you wish it to – display your steps on the lockscreen. A couple of design issues aside, the Galaxy S5 does a great job of counting your daily steps and giving you a figure for how many calories you've burned throughout the day.
As time goes by and you want to look back through your history, S Health will give you options to view your activities by hour, day and month by tapping the graph icon in the very bottom right corner as well as presenting a log in list form of your entire history.
You can also hook in supported accessories that will record the data for you and then feed it into S Health. The app says "Samsung accessories" so it doesn't look so hot for your Fitbit right now.
The heart rate monitor
The Galaxy S5 has a heart rate monitor round the back that plugs right into the S Health app. Whether you're just curious or whether or not you're going to use it during your workouts, it's a pretty handy thing to have close by. If you're wanting all there is to know about the heart rate monitor, hit up the link below.
Tracking your fitness
The pedometer is something that you can, and probably would use every day. But buried within S Health are a whole bunch of different options for tracking your health, fitness and overall well being. Let's break it down:
Exercise - Options to track your work outs for running, walking, cycling and hiking. S Health will then track your route, distance covered and calories burned while you're exercising. Within the workout screen you get quick options to take photographs while you're on the go and to access the stock Samsung music player so you don't need to actually leave S Health to change your workout tunes. You're also given the option to see a whole bunch of more detailed stats like average and maximum speeds, pace and your heart rate info should you have used the heart rate sensor during the workout. It's a really involved part of the app, but since it's a major focus it's good to have all these features on hand.
Food - Part of a healthy lifestyle is the food you eat. S Health gives you a dedicated section to track your food intake and gives you the option to view as graphs by hour, day and month.
Weight - If you're trying to get/keep fit, you're going to be interested in monitoring your weight. You get the same stat viewing options as for food and the pedometer and a simple method of entering and updating your numbers.
Sleep - "Samsung wearable accessories can record your sleep data and sync it with sleep in S Health." Otherwise it's basically useless to you.
Stress - Uses the heart rate monitor to take an extended reading with a view to interpreting your stress levels. Because, who wants to be stressed?
Coach - There to help you get motivated in your fitness regime by collecting your goals and setting you challenges.
If you're serious about using your Galaxy S5 to help monitor your health and fitness, then you could do a lot worse than S Health. It's more than just an app, with connected devices like the Gear Fit that can assist in collecting the data, Samsung has built the foundations of a platform.
This is, of course, just a quick run through of what you can do with it. If you're already putting it to work be sure to drop a note in the comments with your own reviews.
For more, see our Galaxy S5 help page, and swing by our GS5 forums!
Get the Android Central Newsletter
Instant access to breaking news, the hottest reviews, great deals and helpful tips.