How to use the Heart Rate Monitor on the Galaxy S5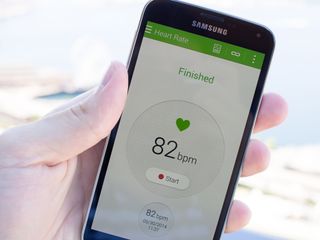 One of the big hardware advancements that Samsung included in the Galaxy S5 is its built-in Heart Rate Monitor, letting you keep up on your health with no additional accessories required. Even better, Samsung integrated its heart rate sensing technology into the same housing that holds the camera's LED flash, keeping the device slim at the same time.
Whether you're just curious about your heart rate from time-to-time, or you're considering getting more involved with your fitness and want to get solid readings while you're working out, the Galaxy S5's integrated Heart Rate Monitor is a great place to start. Read along with us and learn a bit about how it works.
Taking your heart rate with your phone
The Galaxy S5 handles all health-related functions — including its Heart Rate Monitor — in Samsung's S Health app on your phone. Along with giving you access to heart rate monitoring, the S Health app lets you use your phone as a pedometer, track all kinds of exercise and even keep you diet in check.
But we're here to talk about the Heart Rate Monitor, which you can access by launching S Health and tapping "Heart Rate" at the bottom of the app. You'll be taken to a screen that gives you a prompt to place your finger on the heart rate sensor, which can be found on the back of the phone, under the camera next to the LED flash. In order to get the most accurate reading of your heart rate, tap the on-screen button to begin and then place your index finger securely — but not too firmly — on the heart rate sensor on the back of the phone. As the app will tell you, you don't want to move around while the sensor is doing its thing, just sit still and let the phone work its magic.
After a few moments you'll see your heart rate displayed on the screen along with a corresponding date and time when the reading was taken. We've found the sensor to be quite accurate, provided you're diligent about your finger placement and being consistent with staying still during the reading. It goes against the idea that you could be "active" while using the monitor, but when it's built into your phone it's hard to complain too much.
Tracking your heart rate over time
If you get into the habit of checking your heart rate with S Health over time, you'll be able to look back at the history of your heart rate in hour, day and month intervals through the app. After taking your heart rate, you can tap the triangle-shaped button in the bottom right corner of the screen to see all of your heart rate activity over time.
Use the tabs at the top to choose between hour, day and month history counters — each one will then display a line chart showing heart rate fluctuations over time. Tapping into each reading will show you the heart rate for that day. This may be of particular interest to someone who only uses their phone to record resting heart rates on a regular schedule or only use it for exercise, but not quite so useful if you use it for both at once as the chart may look like it has some striking variations.
If you want more granular information, tap the button at the top of the interface to enter the log. Here you'll find a daily breakdown of your readings and the exact times of each one, with an average heart rate reading for each day. If you feel that one or more of your readings were incorrect, you can select and delete specific entries by using the menu button in the top right corner of the screen.
Andrew was an Executive Editor, U.S. at Android Central between 2012 and 2020.
Does it work as good as the finger print scanner?

Yeah it's actually pretty damn accurate Posted via my A0002, M9, XT912, N910, G906, D6653, D870, or D900

I think that was sarcasm Posted via Android Central App

No, it was the typical Samsung bashing that's so common here. Posted via Android Central App

Don't get the finger print scanner issue. Mine works perfectly everytime. The heart rate monitor not so much. Posted via Android Central App

Well I found if you use the tip of your finger it works better Posted via Android Central App

No.my fingerprint scanner does work occasionally.

Everyone little loser out there wants to hate on the big dogs, Samsung, Verizon, Apple ETC, And cheer for small companies like T-Mobile, HTC ,ETC..SMH!! Posted via Android Central App

I get the benefit of monitoring your heart rate while you are exercising, but other than curiosity what is the benefit of doing it like this? Posted via Android Central App

Our resting heart rate is and always was a strong indicator of our cardiovascular fitness. In reality most humans don't really know what to do with their working heart rate and those who are fit don't rely on monitoring working heart rate because they are aware of how hard they are working. Please excuse the apparent sarcasm but heart rate monitors aren't even used by the world's best athletes. They are fun toys for those playful with fitness.mostly. If one needs to k ow their heart rate all they need is a second sweep time piece and six seconds of counting. I personally am annoyed that the S5 requires one to download the "app" rather than provide it already loaded.

One common measurement I have heard mentioned a lot in health literature is "Resting Heart Rate". Typically people who exercise a lot have a lower RHR than those who don't exercise regularly. I have heard that a goal to reach for is 60bpm but have seen some as low as 48bpm.

Not sure about this "big hardware advancement", just download a free app called "Instant Heart Rate". This app does not require any special hardware; just a smart phone with a camera.

I have AFIB and the heart rate sensor doesn't work. I have a friend with AFIB and my phone wouldn't pick up their heart rate either. However, I've tried it on several other people, including the sales reps at my Verizon store, and it works just fine. I would like to report the issue to Samsung but not quite sure how to go about doing this.

Follow up: I contacted Samsung today re the AFIB issue with the sensor and they advised they didn't know about it but would report problem to S-Health. Lets see what happens. Anyway, I was trying various things to get it to work and found it would work most of the time as long as I used my ring finger. I tried all the other fingers but it would only work with the ring finger. Go figure!!

Does anybody know if there is a minimum heart rate that the sensor will read? I do a lot of running and have a very slow heart rate, I have been trying to use the app to measure my true resting heart rate when I wake up in the morning and have been unable to take a reading. My usual heart rate if I have been sitting still for 10 minutes is 40-45 bpm so I am anticipating true resting heart rate of <40bpm, I was wondering if this is simply below the defined cut off for this app.

Hi I've got the Samsung s5 I have done an update on my phone since doing this my heart monitor has not been working how do I go about fixing this problem??

Shealth heart monitor not working

Mine is not working either :( Any help?

The app is of no use as it did not work at all or measured double values at rest.
Figured out the cut off must be as high as 40bpm as this is the lowest I get from this device. My normal resting heart rate is 32-35bpm.
Normally the heart rate monitors and blood pressure meters have the cut off at 30bpm.

I'm a cyclist and also have a low RHR. From my testing, the app won't read anything lower than 40 bpm. I tried several times this night and it wouldn't take a reading. I then opened Heart Rate Pro, and it read 38 bpm. I have a handful of 41 bpm readings in S Health.

check this as well https://www.androidcentral.com/e?link=https2F2F... does similar thing

I had this on my galaxy s5, now it's gone and can't find it now. How can I get it back? Http:/www.arcadiamerchantservices.com Thanks for your help
Arcadia Merchant Services
Android Central Newsletter
Thank you for signing up to Android Central. You will receive a verification email shortly.
There was a problem. Please refresh the page and try again.