Handling the loss of Google Voice features in Project Fi, and how things change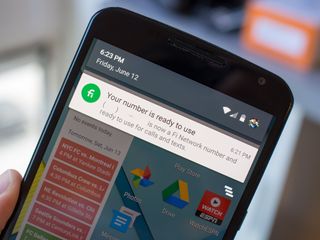 We've already established that moving from Google Voice to Project Fi isn't all that scary, but now that we're using Fi ourselves we can talk about exactly how it works once you make the switch. Thankfully most of the high-level features remain the same, but just pick up a simpler interface and a reliance on Hangouts.
And then when it comes to the more advanced features, you actually still have access to the old Google Voice interface if that's your sort of thing. Of course you don't keep everything you're used to in Voice, but the losses aren't that big of a deal. Let us walk you through the details.
Where did the Google Voice features go?
You can manage call forwarding — one of Voice's biggest features — right in the Project Fi website or app. Open either one, and right at the bottom of the page you'll see a "Settings" area to manage call forwarding. If you have any numbers set up to forward from your old days in Google Voice they'll already be here, and you can easily add a new number or remove an old one. Unfortunately you can't do much else other than edit your service address, toggle notifications and hear your voicemail greeting (you'll have to call voicemail manually to set a new one).
But thankfully, the Google Voice website actually still works for management after porting to Fi — there's even a link to the website at the bottom of the Fi page. Once there you can still manually control forwarding numbers and which ones are actively working to route calls via your Fi number, as well as manage your call screening settings. The "Groups and circles" call management options are still here and confusing as ever, too. Remember that for outgoing calls from non-Fi phones, you'll still need the Google Voice app installed or use the Hangouts app for VOIP calls.
You lose a handful of more advanced Voice features when going to Fi, too. The Google Voice website no longer gives you access to voicemail, or the ability to make/receive calls and texts — you'll have to use Hangouts now (more on this below). The Project Fi help pages do a pretty good job laying out the other losses, which include spam filtering, call recording, call switching, on-the-fly conference calling and the ability to forward to Obihai home phone devices.
Over time we'd expect the Project Fi website and app to pick up the slack and be a full-featured replacement for the Voice website and app, but right now you can at least know that the old site is here and available, even if all of the features aren't. This is definitely still a "Project" in this respect, and it isn't clear how many of the lost Google Voice features can eventually be restored.
Using your Fi number in Hangouts across platforms
Though you lose some of the aforementioned advanced Google Voice features, Google is hoping that the integration of Project Fi into the Hangouts app on a variety of platforms will make up for it. Chances are if you're a Voice user you've already transitioned to using Hangouts for your text messages and maybe even VOIP calls — once you move to Fi, this is the go-to way to use your Fi number on every platform.
You can send and receive calls, SMS, MMS and check voicemail on any Android or iOS phone via their Hangouts apps, as well as using the Hangouts Chrome app on Windows and OS X. As we said, if you're already using Hangouts in this way on Google Voice, there will be minimal transition time — you'll just notice that when you send a text or make a call it will say "from my Project Fi number" in the app instead of "... Google Voice number." The only change will be if you still used the old Google Voice website and app — they no longer work for calls, texts or voicemails after moving to Fi.
Funnily enough, the only confusing part about this system is that when you're using your Nexus 6, actually on the Project Fi network, you're not required to use Hangouts for text messaging or calls. Because your Fi number is first and foremost tied to that SIM, you can use the standard Phone dialer and Google Messenger apps to natively make and receive calls and texts. Of course you can choose to use the Hangouts app anyway for messaging — it has its benefits in terms of unifying message threads — if you prefer, but it's not required when you're on your Fi phone. The big exception here is with MMS group messaging — that feature is only supported in the Google Messenger app at this time (annoying, but at least it's available now).
Calls you make through the standard Phone dialer on your Project Fi Nexus 6 will all be made with your Fi number, of course, and because you have unlimited calling included in the "Fi basics" portion of your plan you don't have to worry about minutes. The stock Phone dialer will also make calls over Wifi when possible — offering much higher quality and versatility in poor signal areas — which is a major selling point of the Fi service.
What about international calling?
Though Project Fi lets you use your data internationally in 120+ countries at a standard $10 per gigabyte rate, you don't get unlimited international calling. Just like other carriers, you'll still pay per minute for calls on cell networks abroad — at a rate of $0.20 per minute no matter where you call. But if you choose to call on Wifi (again just using the Phone dialer), you'll get the benefit of being able to call back home to U.S. numbers for free, and international numbers for much lower rates, usually under $0.10 per minute. (You can also turn off the ability to call internationally in the Project Fi app if you're worried about accidentally running up charges.)
But when traveling internationally it may still be worth installing the Hangouts Dialer app, which will let you make those free calls to the U.S. and cheap calls elsewhere even when you're not on Wifi, because you're using VOIP instead of the roaming cell networks. That's the case no matter what phone you're using, and it doesn't require fast data speeds, either. If you plan to make a lot of calls internationally and don't want to find Wifi every time you dial, this will be the way to go.
Jumping between the Phone dialer and Hangouts to make calls when you're international is a bit of a pain, and unfortunately isn't as simple as the roaming data experience. But the good thing is none of that jumping around is required when you're back in the U.S., and it's simply recommended when abroad to save some money on calling rates.
Really, it's not all that complicated
Here's the big thing — if you never used Google Voice prior to signing up for Fi, or you chose to start fresh with a new Fi number and not port from Google Voice, you won't know what you're missing. You get online voicemail, texting and VOIP calling from all of your devices using one number in the Hangouts app, and chances are you don't care about the advanced features that in the end just make the experience more confusing.
There's nothing here that's going to make you run back to Google Voice, particularly since the details are all here for your understanding before you are presented with the choice to stick with Voice or move to Project Fi. And while the international features could be clearer, they're no worse than what you experience on any other carrier today. There are plenty of great things about Project Fi that make the transition worth it.
Get the Android Central Newsletter
Instant access to breaking news, the hottest reviews, great deals and helpful tips.
Andrew was an Executive Editor, U.S. at Android Central between 2012 and 2020.