Grab an unlocked LG V20 for just $450 from Newegg today!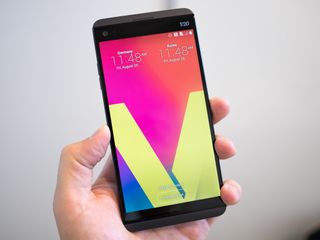 In our comparison between the LG V20 and Huawei Mate 9, I said both phones are fairly comparable in terms of performance, while the V20 has the edge in the camera department and the Mate 9 tops the battery tests. But my conclusion was that, if you are buying the phone outright, the $599.99 Mate 9 is the way to go, since the V20 costs around $200 more.
But not today: the unlocked LG V20 is down to $449.99 at Newegg (opens in new tab) right now with promo code EMCSRERD5, which is an excellent price for a great phone. Specifically, this is the Titan (silver) unlocked model compatible with both GSM networks like AT&T and T-Mobile, and CDMA networks like Verizon and Sprint. Good deal!
The V20 may be the last great phone released with a removable battery, so if that's your thing, head to the source link!
See at Newegg (opens in new tab)
Daniel Bader was a former Android Central Editor-in-Chief and Executive Editor for iMore and Windows Central.
Let time pass.. After LG G6 and S8 are out price will even fall further... IM waiting to see G6 S8 and Nokia 8 then will decide which will be my 2nd phone...

Wow, this is tempting but I have to hold off to see whats coming this year! I'm sure it'll come down again and maybe some more.

If you hold it , you will want it ...it is a solid phone . My carrier wants more for the V20 than the S8 not plus ..so this is a great deal . Kenny

Meh , ...waiting on the s8 plus to drop 6.2 in of beautiful screen and the return of the eye scanner can't wait

Was excited, but then read the V20 bootloops like any other LG phone. No thanks.

Source or are you clinging onto the internet popularity hate club that is "lol LG bootloopy hehehe!"

Have yet to hear of one legitimate bootloop

Had a V10. Have a V20 and have been checking regularly for reports of the V20 experiencing bootloop issues. I have to find one solid report.

Fake news seems to get ahold of people nowadays. I have YET to experience it on my V20. Fear mongering at its finest!

I read a couple reports about the V10 looping on XDA, but it doesn't seem to be an issue worth being concerned about like with either the G4 or G5. And the V20 seems to finally be totally safe.

As others have said, there have been no legitimate V20 bootloop issues. My friend and I have both owned one since launch and have yet to have any issues with ours. Battery is great, screen looks fantastic, as close to the perfect phone that I've ever used. Much better than the S7 Edge that I'm coming from.

LG V10 is also on sale for $279 at BH. Not a bad deal considering the V20 isn't a huge upgrade from the V10.

I would have to disagree.

The V10 legit bootloops. Don't buy it.

Disagree with you there. Been using a V10 for over a year, not one issue.

I had the v10, while that's a great phone. I can say the V20 is better.

Still too high for this average phone.

To each his own. I view this phone as above average.

Average phone that has more features than most other phones available today and some revealed this year. Now that's average.lol

There is one locally for $550 (new in box, T-Mo). Guy will take $500, I' offering lower. He can keep it. Prices fall like a rock, he will regret passing on my offer of $450 lol.

If you are buying better to buy the unlocked model for $500 with no tax outside NY from B&H than the carrier variants.

Yeah, but I've now decided not to buy it at all. He should have struck while the iron was hot earlier today. I'm over it now and he can wade through the subsequent lowballs lol.

No wifi calling = no deal, sadly.

Agreed. I'm on T-Mobile and wifi calling is great.

That's still $100 too much.

Yeah.... OK You guys are hateful but comical at the same time. The right price is whatever the current market supports.

That's true and that's why the price is getting slashed on this flawed device that ain't selling well.

It's getting"slashed" cause the G6 lol

People want these phone for nothing lol

http://samsunggalaxyj32016cases.galaxynote7cases.club/?p=319

5 bills for an LG is still about 2 bills too much.

There's also selling a used V20 at B&H in perfect condition (Rated a 10) for $399 for what it's worth...

LG have not honestly dealt with the bootloop issues and there are class action lawsuits pending.

so LG already fixed the Verizon 4G intermittent signal loss problem on the unlocked V20? if not, this phone is still worth less than $200.

Too much, poor display with poor battery life should never make it to "high end" ,300 to 350$ would be max but even then i would go with Mate 9 all the way.

Battery life isn't poor on this device.

Beware of boot loops on LG phones...

What usually causes them to boot loop?

I believe it's a failure somewhere in the mother board most likely from using an inferior component.

This was more synonymous with the G4 and the V10. I don't remember seeing any mentions of this with regard to the V20. Actually, most information I have seen on the V20 is that it's a pretty solid phone. This is an excellent price!

It's funny how this boot fiasco keeps coming up, and then people will go out and buy an S8 and forget that a previous Samsung made a pretty good mini barbecue. I guess it's selective forgiveness.

Oh yeah, people have definitely forgotten about the Note 7 catching fire. It's absolutely not mentioned in every single article about Samsung phones.

Although it is tempting to get the Gear VR for free for pre-ordering, I don't want a repeat of the Note 7 fiasco. Had the phone for 3 wonderful weeks (with no problems), than returned it due to the recall. I was a sad panda that day. I got the V20 when it was released. No problems with the phone what so ever. If you can get an unlocked V20 for $450, go for it!

Not one bootloop issue reported on the V20.

No issues with my G5 either!

No way I'd waste my upgrade for this . Waiting for the s8 plus and there better be a pearl black in the mix

FYI used is $379 shipped. Probably just returns. That's a solid deal.

I'm guessing it was only for a short window or mistake? Clicked the link above, it's listed as $799

I think you have to put it in the cart and apply the promo code to get the sale price.

All these lousy V20s and not one fire. Battery doesn't even get warm.

That's very tempting, I'm tired of carrying a second device for audio since I sold my V10. On the other hand I'm loving the battery life and interface of my Moto Z Play. There's always trade-offs

Had the pixel and went back to the v20. Its an amazing phone aside the camera not comparing to the pixel. No issues with any v20 I have owned. S8 and s8 plus are just to slim in my opinion. Cant hold it right in my hand.

Been $480 at T-Mobile for 2 weeks. Same for the S7 Edge. Kinda pissed because they went on discount 2 weeks after I got my S7 Edge, but S8+ is on the way!

I just sold mine and shipped it off today. It was incredibly sluggish and it drove me crazy. Back to my Axon 7 as a daily.
Android Central Newsletter
Thank you for signing up to Android Central. You will receive a verification email shortly.
There was a problem. Please refresh the page and try again.