The ultimate guide to Google Now cards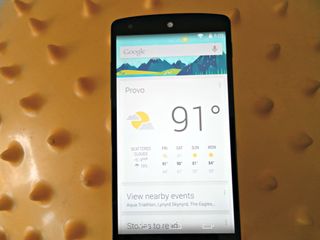 Google Now cards can offer a lot of information at a glance. This is how to make them work for you.
Google Now is much more than a Siri- or Cortana-like virtual assistant. It has cards that can let you receive a lot of information and process it quickly. They show up when they're needed, and they have very practical uses.
For example, I'm a very forgetful person. With that being the case, there are some cards that are very useful. I can receive reminders to call Mom back in a couple hours after studying for exams or finishing papers that are due soon (sorry, Mom). I also like the fact that I can set reminders to give my roommate cash for my portion of the Internet bill when I get back to my apartment. It can give me a rough estimate of where I parked my car, which is useful because I can spend a good chunk of time searching for it if left to my own devices.
Anyway, Google Now cards are neat and nifty. A lot of what information shows up depends on what information you give Google, which will admittedly cause some people to hesitate using the services, but please read on before deciding whether or not to use the service. Displayed information will also depend on settings enabled on your phone and even your location.
You can also see some cards when you're using the Chrome browser, but we'll be talking mostly about cards on Android devices here. Here we go!
Accessing, enabling and setting up Google Now cards
There are different ways to access Google Now. You could go to the app drawer (the icon usually found at the bottom of your home screen that brings up all the apps you have installed) and select the Google app. It's baked into the Android operating system on devices running Jelly Bean, KitKat and Android L.
You could also swipe to the right from your main home screen on Nexus devices to bring up the cards. On other devices, you can install the Google Now Launcher (opens in new tab) to be able to do the same thing. Some cards will also display in your notification bar.
In order to access the cards, you need to enable Google Now. When you first launch it, you'll see a prompt to "get Google Now." Select "Next." From there, you'll see another screen that explains that Google will need to "use and store your location for traffic alerts, directions, and more" and "use your synced calendars, Gmail, Chrome, and Google data for reminders and other suggestions." In other words, you're enabling Google to pull information from your Google accounts and to use your location history. Your location history is not quite the same thing as location services or GPS. Your location history is, well, where you've been while location services are used to track where you are.
That may sound scary at first, but let's dig into the "Learn more" section. It explains that, when you enable the services, your location history won't be shared with third parties without your permission. Also, you can choose whether you want location history enabled. It also explains that Google may pull information from your calendar entries, web and search history, contacts, etc. Now can be turned off at any time, as can location history, location service, GPS and web history. Just be aware that, when you turn something off, it may affect the functionality of some cards.
Hit "Yes, I'm in" to enable Google Now.
To customize your cards, enter some information about yourself. Scroll to the bottom of your cards and you'll see a few different icons. Select the icon that looks like a magic wand and go for it! You can add and remove sports teams and stocks to follow, work and home addresses under places, and TV and video on demand providers under TV & video. That will allow relevant information to be pulled up and even influence which cards show up.
Some information may not be available in all places.
Enabling location tracking and other settings that will influence card functionality
You know where we selected the magic wand icon to customize things? To the right of that icon, you'll see three dots stacked on top of each other. Select the icon with those dots and hit "Settings," then "Accounts & privacy" to manage location tracking and other settings that will influence information cards pull up and which cards will show up.
In addition to location tracking, you can turn on or off things like Google Now's ability to use your web history, SafeSearch, contact recognition (or Google's use of your contacts' information) and more. Keep in mind that altering these settings will also influence card functionality.
What kinds of cards can I see and what will make them pop up?
Google provides lists of most of the cards and of some services that integrate with Google Now. We'll take a little look at some of the cards you can see and what will make them tick here.
If Google doesn't think you need something at the moment, it won't be displayed. For example, it won't display event cards if you have no upcoming events being pulled from your email or calendar.
Activity summary: Let's say you're trying to get or stay fit. This card appears once a month with how much you've walked or cycled in the past month and compares it to your previous month's activity. Location reporting and location history must be turned on for these to work properly. Your activity is figured based on samples from the accelerometer of the Google Now-enabled device you used most within the past month. Maybe using this card would help me be better at working out.
Boarding pass: If I were to be traveling soon, like much of the AC crew will be this month, I could just have my boarding pass sent to my Gmail account. A card could then have it ready for me. Alas, I'm in school at the moment and won't be able to travel soon. Darn.
Events: This is another card that gets information from your Gmail and calendar. Events will remind you of shows or other things you bought tickets for and help you get there on time. Man, I would have put this card to use if I had been able to buy tickets to Sir Paul McCartney's show when he recently came to Salt Lake.
To give you recommendations for when to leave to get there on time, Google will use your location to figure out directions. Those directions and delay and traffic information will be used to determine how long it will take to get there.
Flights: Here, you'll see the real-time status of your flight and you'll know when you should leave to get there at a good time.
Location reminders: This is a cool one. Take a little look at the bottom of your card stack, where the wand and three dots icons show up. On the left, there's an icon with a bow tied around a finger. You can set a reminder there to go off at a specific time or to go off when you get to a certain place. Oops, looks like it's time to pay my roommate back for my portion of the Internet bill. Location services need to be on for this to work.
Parking location: Although I don't see this one in the list of cards Google provides, there is a card that will help you find your parked car. The card is powered when your device's sensors, uh, sense that you're leaving a vehicle. Your main mode of transportation needs to be set as driving for this one to work. You can alter your main mode of transportation in the menu where you tell Google about yourself. Select the wand icon, then "Everything else," then "How do you usually get around?" and select "Driving." Now I don't have to spend ten minutes searching for my car in the mall parking lot!
Translation: I speak Spanish, but I don't know everything. It's nice to know I can pull out my phone and look up words on the go, whether it's using this card or an app like SpanishDict (opens in new tab). Saber es poder. This is a travel card and should work when you're away from the location you have set as home.
TV: This card can give you more information about shows currently being broadcast on cable, satellite or over-the-air TV. It doesn't automatically "listen" to know when bring this information up, but it can automatically detect when you're watching a supported program if you have a Smart TV and it and your Google Now device are on the same Internet network. When the card shows up, you can select "Listen for a TV show." If you don't have an Internet-connected TV, you can touch the microphone icon when you open Google Now and say, "Listen to TV." This is only available in the US of A for now.
Poll time!
In the list of cards Google provides, there's a little drop-down menu where it says "Category." If you click that, you'll see three options underneath: "Manage Your Day," "Stay Connected" and "Be A Local."
In the "Manage Your Day" option, you'll see cards to help you do just that. You'll see reminders cards, events cards, weather cards and other cards that will help you plan out your day and stay on top of things.
Under "Stay Connected," you'll see cards that will help you stay on top of news developments, sports, stocks, new album and movie releases, so on and so forth.
"Be A Local" cards will be particularly useful while traveling and may not show up if you're at the address you have marked as your home address. These include the translation, currency converter and public transportation cards.
Android Central Newsletter
Get instant access to breaking news, the hottest reviews, great deals and helpful tips
Fyi Canadians.... If you want google now to work from any screen switch from English Canada to English USA. Posted via the Android Central App

Can someone tell me how to keep the Weather Card without the weather notifications in the notification tray? Is this even possible? I'm having to completely disable the weather card because of this right now. Notifications should be on a per-card basis.

I have the weather card without the notification in the tray. No idea how to do it though

I think it depends on what version of android you're on. On my HTC EVO 4G LTE I had the notification. Not on my M8 though.

You can turn notifications off in the Google Now settings but I don't think you can turn off just one type of card's notifications yet.

Location and time base reminders are by far the best feature of this application. Next-us

I really tried to like Google Now but I ended turning it off.
Here in Panama Location cards are useless just because the map from Google Maps is all wrong. The metro rutes are not available on Google Now either.
The only cards that I've seen after a year and a half are weather, reminders, calendars, and news that are more annoying that useful.
And, yes, I'm not even going to talk about how much the app used to affect my battery life and RAM. Posted via the Android Central App

I agree, the only cards that seem to pop up are the ones that you mentioned. And as you said the news cards are more annoying than helpful.

has anyone cracked the problem of getting FULL functionality of google now if you are using Google Apps for Business (akaWork) free edition as their primary google account? i get basic funcionality, but any of the neater stuff like package tracking and airline boarding passes dont work with Apps for Business. Mut be a privacy terms of service thing, but i wish i could opt into full functionality.

I was just about to ask if anyone had issues tracking packages. My thinking was that since my package related emails all get moved to a different label (and then "archived" so they don't appear in my primary inbox) automatically when they arrive that might have been keeping Now from seeing them. Unlikely, but it was my theory. But, I use a Google Apps Basic (Free, whatever) for my primary account. So maybe that's the issue? I also have a regular Gmail account, which is where 90% of my package emails go. Is there a way to make Google Now check that account as well?

pretty sure it's that we use google apps basic. pretty sure it's a known shortfall. hope there is or will be a workaround. the only think i can think of is to forward all mail to a normal gmail account, and use that for google now. but that seems pretty silly to have to do and i don't want to segregate my google world into mutiple accounts for things like this.

I'm not even sure how to use a different account for Google Now without changing the primary Android account. Can that be done?

I just read that you have to have items forwarded to your gmail account to get them to work...

sorry, that reply was meant for someone else...

Hows the battery life when you have all of this enabled?

I've never seen any kind of drain on my note and it's the skin I use. Love it. Even when I get the note 4 I'll play with the new TouchWiz but will return to Google now. Posted via Android Central App

Mine is just fine on my Moto X. The effect on battery life from activating GPS is really overblown by a few folks.

I don't believe anyone who has Google Now along with location and GPS on not affecting their battery life. It is a flat out hog on battery life. I haven't found it all that useful either just yet. Posted via Android Central App

I have google now launcher with gps and bluetooth on 24/7 no battery drain on my LG G2.

Doesn't have any significant impact on my N5, being in a low signal spot, using the display a lot, and all the usual suspects still consumes 99% of my battery. I've had the occasional G+ wakelock but that doesn't even have anything to do with Now... I'm not sure I've ever seen Now using the GPS, so either it's lighting quick, hidden, or it mostly uses more coarse location methods.

Just realized for what I use Google Now for, Foursquare covers it, so I just disabled Google Now.

Foursquare is almost as bad on my battery as Google Now. Posted via Android Central App

LoL google now and foursquare has not hurt my battery at all Posted via the Android Central App

What this post doesn't answer for me is how to get the cards I want. I went to the page that shows all the cards, but no way to select what I want in my Google Now feed. N3 via AC App

That's exactly my problem with it. Let ME decide what I want displayed. I don't understand how it randomly removes what I actually want and keep what I font care about. Posted via Android Central App

I'm wondering how to get different cards, too. Posted via Android Central App

Good article. Thanks. Posted via Android Central App

doesnt show the stock cards anymore on mine.

I like that I can type a reminder into Chrome on the PC and it'll add to my Google Now reminders for my phone.

How do you do that? I'm not sure how you get google now in Chrome. I searched for extensions by Google and there wasn't a google now add on.
This is one of the reasons I keep going back to iPhone. my Mac talks to my iPhone better than android phones.

If you're signed in to Google, you just type it anywhere you would do a Google search (Google.com or in the omnibox).

The "Listen to TV" command is new to me... I just tried it out, and it took less than 5 seconds to figure out the show and episode. Pretty impressive, even if I don't see myself using it often. Something I wish they would add is location-based reminders for non-specific locations. Like "Remind me to [thing] when I get to [town]".

Not seeing how it's useful for me. For task, reminder, small notes, schedule and etc I use Google Keep. It's got widgets so it's right there on my homescreen if I needed to take a glance. I'm also a forgetful person for simple stuff and small details. That's why I'm used to taking down notes whenever something's up. Location is also not the best when you're not living in the US or big cities in Europe or China. Don't get me wrong, Google Now is great when you're from the US where everything in general works well, but when you're in Asia like me, not really useful. Just another battery hogger. In the future, maybe the case will be different. Posted via Android Central App on Nexus 4

Some areas in Asia are quite OK. For instance, here in Malaysia, points of interest are quite well marked, thanks to plenty of voluntary contributors to Google Maps. The downside is that navigation sucks because of the local map provider, but yeah I guess it's better than some other places. Posted via Android Central App

Is there a way to set the "How do you usually get around?" as both public transit and driving? I would like to get information about public transportion and also to make Google Now remember my parking location,

I wish there was.. Travel is situational and Google now thinks it's all or nothing. I walk to work, get the train to go out in the evening, and drive to the shops. No way to tell google now that. It's not even smart about it.. If I google a place 300 miles away it'll try to tell me what bus to get. Seriously?? Posted via Android Central App

Huh, never thought about that, big omission indeed.

OK, I'm using Google Now on KitKat 4.4.2, in the U.S., and I don't see how to get to that Category drop down at all. On the "Customize Google Now" screen you show above, there are three dots for the menu, but I don't get those. If I hit the menu button on my Galaxy S3, all I get is a help option.

Same problem, even i cant find that category option, i use HTC M7

I like Google Now, but it murders my battery.

I personally enjoy Google Now cards, my one caveat however, I do not want notifications of when I should leave to make it to an event on time if it is NOT added to my calendar. Yes, it is a handy feature, but when you happen to get various emails from, let's say for example, Meetup.com and they are all "invitations" to events, I now receive notifications almost daily to leave to make it to them, even if I've never added it to my calendar. The only solution I can see to this is to regularly clean out my inbox, but then again, I'm lazy to do that.

I've had Google Now enabled for a year and a half now, and still don't see most of the ones listed here. I have Location Reporting etc all turned on, but even the 'Activity summary' has never appeared once. The 'Customise' isn't much help either, as it gives no options to really add anything. I do get notifications taken from Gmail about deliveries and things like that, and a weather update. Clicking 'More' at the bottom of the cards just tells me 'Not available'. Reminders are next to useless, as all they do is give me a tone, and when I check the phone to see what it was there's nothing there, and no way of checking what it was telling me. The same with appointment reminders, which ()used to tell me when I need to set out, but since the Lollipop update just vanish without trace before I have a chance to see them.

I really wish I could figure out how to have my recent web searches STOP from showing up at the top of my Google Now cards. Anyone have a clue?

I can't find the option that allow me to change my usual mode of travel. It has changed since I set it 6 months ago but can't remember how I got to the correct page that allows that adjustment. Thanks for any help

I have the same problem as Charles. Can't change my default mode of getting around. Google Now Customize settings are infuriatingly non-intuitive.
Android Central Newsletter
Get instant access to breaking news, the hottest reviews, great deals and helpful tips
Thank you for signing up to Android Central. You will receive a verification email shortly.
There was a problem. Please refresh the page and try again.