Tylt Energi Pro backpack review: Would you like a bag with your battery?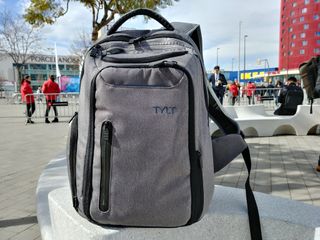 I have a bag problem. It started years ago when I was looking for a decent messenger back to sling across my shoulders while talking through the city, but since then it's extended to backpacks, too.
I am constantly searching for the perfect combination of design, comfort, space and features, and with the Tylt Energi Pro I think I've found it.
See at Tylt (opens in new tab)
The hardware
First, let's get this out of the way: this is a big bag. At 19.5 inches tall by 13.5 inches across and 13 inches deep, the Energi Pro is not going to disappear behind you. It may even have trouble fitting underneath some airplane seats.
But with those dimensions you get two huge compartments, including a main horizontal area that is perfect for camera equipment or other large items that you don't need access to at all times. The laptop compartment is more traditional, and can hold a 15-inch laptop in its padded, secure sleeve, as well as a tablet and other accessories in a mesh capture.
In all, there are 12 compartments, from a small top reinforced sunglasses case to a few secret areas that can hide change and other small niceties. Many of the zippers themselves are water resistant, as is the bag's external Polyester material itself (though not waterproof).
The gray color scheme isn't particularly to my liking — I prefer the blue-and-black combination of the cheaper Energi bag) — but everything else, from the comfortable straps and lumbar-reinforced padded backrest to the many thoughtful design touches, suits me just fine.
The battery
One of the main draws of such a bag is the inclusion of a battery, and the cable routing that is built into the design. The former is fine — it's a high-quality 20,100mAh cell that has two USB-A ports and a USB-C port (as well as a Micro-USB input for charging the battery itself) — and holes up in a side pocket.
I don't endorse buying a bag for its included battery, however high quality, since it just adds unnecessary cost, but Tylt's integration is top-notch. The battery supports Quick Charge 3.0 from one of the USB-A ports, and the Type-C port can do USB-PD, which is a nice bonus.
And if you're into overzealous cord management, the Energi Pro has a network of openings that allow you to snake cables from any of the three ports, when the battery is stowed in the side pocket, to number of compartments within the bag.
I'll admit to only doing this for a short time, since when I'm traveling I generally only have a couple cables with me and don't like the idea of them being confined to a particular place in my bag, but it's there if you want it.
The convenience factor
When I look for a bag, I want it to have places to put all my things, but separated in such a way that makes sense to my brain. The Energi Pro is such a bag: its zippers are logically placed, and despite the lack of a separate side water bottle pouch (the included cable pouch doubles as an optional water bottle holder) I have few complaints about it. I have now taken the Energi Pro on four overseas trips, and have been thankful for its spaciousness and comfort each time.
That said, someone who wants a more traditional top-zipper main compartment will be disappointed here: the design is more akin to a camera bag than a typical tech. And at $149, it's not cheap, especially if you already have a nice, big portable battery and don't need the included one.
But if that same person is looking for a versatile, well-designed and high-quality travel backpack with a few neat features and some charming quirks — the back's laptop compartment gingerly swings open in TSA-approved style, and there's an RFID-protection area for cards and other personals — this will be perfect.
See at Tylt (opens in new tab)
Daniel Bader was a former Android Central Editor-in-Chief and Executive Editor for iMore and Windows Central.
I've seen that in person, really nice bag. Could you do an article on some cheaper recommendations or alternatives?

Would really appreciate it, I'm in need of a bag and no idea what to get. Find myself wanting to bring more gadgets with me than I can easily carry without one. I'm often traveling with a DSLR, tripod, and spare lenses. Don't leave home for much other than work without dragging a tablet along, and often hit up Lan parties. Could probably make due with any backpack or messenger bag designed for carrying a laptop, but recommendations from someone with experience would make my search much easier.

Is the battery removable?

What? The battery can't charge by USB-C? So if you have a Pixel or any modern phone, you use a different cable to charge the battery and a different cable to charge your phone and maybe even a different charger to charge the battery than your phone? Seems like a 2015/2016 product that needs a 2017 upgrade.

Yeah, it's not like you'd be able to stash an extra cord somewhere.

Given that my phone is USB-C, it makes micro-USB seem no different than a proprietary charging solution. Would you buy a battery that required its own unique charger and its own unique cable to charge it?

Would they let you take one of these on a plane? The size of the battery being the reason for the question..

Same question here... As Far as i know its 20.000 mha the limit for Carry on
Android Central Newsletter
Get the best of Android Central in in your inbox, every day!
Thank you for signing up to Android Central. You will receive a verification email shortly.
There was a problem. Please refresh the page and try again.