Turn your Android into a monitor for your DSLR with a cheap accessory and an app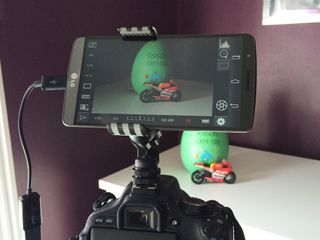 Instead of an expensive monitor use your Android phone or tablet
A little while ago we looked at using an Android phone with a DSLR and how the experience was actually pretty good. Using the Chainfire app with a Canon DSLR opens up a world of possibilities. Before we looked at importing your DSLR photos, but there's more to it than that. With a cheap accessory on top of this you can actually create a low-cost, yet still effective external monitor for your camera.
What we're basically looking at is a phone grip, similar to something you might use in the car to hold it to the windshield. Instead of a suction cup, though, we've got a hotshoe mount to fix it to the top of a camera.
Again, as with the last time we looked at using the Chainfire app with a camera, you'll need a USB OTG connector (opens in new tab) and a miniUSB cable to connect to the camera. The beauty of adding a grip to the top of the camera is that you can easier use the app while you're shooting.
It also gives you a bigger display to look at over the one on the camera – made bigger still if you opted to go down the tablet route – and one area I found this set up particularly useful is when trying to shoot video using the DSLR. With no auto-focus on offer on the camera, having the Chainfire app connected allows you to change focus points by touching the screen instead of using the cameras manual controls. It's not perfect but it's certainly useable.
There are other apps out there too that will let you interact with your DSLR – including none Canon brands – from your Android device, which is great, but buying a cheap accessory to clip it to the top of the camera is one of the best thing's you'll do.
Buy Now

(opens in new tab)

($14.95)
Get the Android Central Newsletter
Instant access to breaking news, the hottest reviews, great deals and helpful tips.
I think you should clarify that this is for Canon DSLRs only Posted via Android Central App on my N5 with Android L

Take a look at the opening paragraph

Yes, in the first paragraph you do say you're using a Canon, not that this app works ONLY with a Canon.

Although if you have a Canon 70D you can just do the same thing over WiFi, and it will AF during video brilliantly (unlike the vast majority of DSLRs), same with most recent mirrorless cameras... Massively underrated capability IMO, photography enthusiasts often scoff at it until they try it. Having the wired option is still nice for lots of older DSLR that dont even have articulated screens tho (its often omitted on high end models, oddly, cause pros will kneel and clamber as necessary? who knows).

Yeah I've got the articulating screen on the 600D but no WiFi. I don't make a habit of shooting video with it but when I do, or when I'm shooting indoors I quite like this set up helping with focusing.

You cannot use WiFi mode on the 70D AND record video at the same time. It's impossible. Software will not allow it. So what you describe cannot be done.

Really? That's pretty bogus on Canon's part, my sister was showing the 70D off the other day... I didn't realize she only used the phone while taking photos. It did AF pretty smoothly while recording video (again, unlike most DSLR), rather disappointing that it can't pair with the smartphone app while doing so tho. Plenty of cheaper mirrorless cameras can manage that.

Yea it's pretty obnoxious, because if you have wifi mode on, from a previous session, but forgot to turn it off, and you want to take video real quick, it will not let you, it won't turn off wifi automatically, you have to go in the dumb menu to do it then you can take your video. I hate it, but frankly that's the only feature of the camera i hate. The camera itself is a dream. AF is great and fast, video is awesome, and the wifi feature is really great too even if a bit laggy (only on the live view stream, the shutter isn't laggy). I'm hoping Magic Lantern gets a build for the 70D sometime soon.

DSLR Dashboard works on Nikon DSLR's. I have it working on my old Nikon D60 and My Nexus 4, N5, N7, and N10 devices https://www.androidcentral.com/e?link=https2F2F...

Yep, DSLR Dashboard works great with my Nikons (D90 and D610) and connects great with my N5 and N7. Not to mention it's free...

Got a link to the cable you use to connect the phone to the camera? I'd be highly appreciative :) Posted via Android Central App on my N5 with Android L

You just saved me from spending several hundred euro on a field monitor, which I desperately need!

Absolutely FANTASTIC suggestion, PaisanNYC - thank you so much :) Just tried it out on my D5000 and Nexus 7 and it works like a dream. Now off to investigate the wireless router option :D

It also points out in the last paragraph that there are app options for NON Canon cameras.

Do this with a old Nexus one lol Posted from my Nexus 7 2013 running Android L or Samsung galaxy S5

I wish it worked with my 600D, app says it couldn't find a compatible camera...

No Olympus support :( Posted via Android Central App

Anyone know the name of the phone holder/mount attached to the dslr?

Just click the link at the end of the article.

Hmm... that is a pretty cool mount, but I don't know if I'd use it for this purpose. One of the nice things about a remote is not having to touch the camera and possibly move it. Mounting your remote on you camera means you're going to be touching the camera again. Still, I can think of plenty of other uses.

I like articles like this that shows different things you can do with your phone Posted via Android Central App

While not a DSLR, Samsung NX cameras have an app called "Remote Viewfinder" (in the Play Store) that achieves the same, but wirelessly. Comes in handy for long exposure shots, so that I don't touch the shutter on the camera to start the shot.

Top lit & small object shooting can be a pain in the neck. I'm all Nikon for DSLR; but my Canon G10 has video out. I used a small broadcast CRT monitor and wireless remote to photograph badgers at night a few years ago. It was hugely cumbersome to rig but still worked. I must investigate this idea. Thanks Jerry. Posted via Android Central App

I've been using this app for a LONG time now. It really is fantastic. The UI can be a bit clumsy, but once you get used to it it's very powerful.

Well, unless you are actually hoping to have a color calibrated display to view your photographs on. Then you are pretty much not helping out that much at all. But if you just want small tweaks, sure.

My Lumix g6 has Wi-Fi and Panasonic have provided a full-blown remote control app which is quite decent.. My camera has the power zoom lens and you can operate that too.
You can also upload pictures directly from the camera to picasa, Flickr and others,
over Wi-Fi, but it's a but clunky.

Damn, The title of this article is misleading. I spent a lot of wasted time because the title says "...your DSLR". Actually it does NOT work with MY DSLR. It should say "...with a Canon DSLR".

Does the proposed method/approach work on miniPC connecting to the tablet and exploit/use the tablet as the only display (the main display not the secondary)?