TuneIn Radio goes pro, adds recording feature to its Android version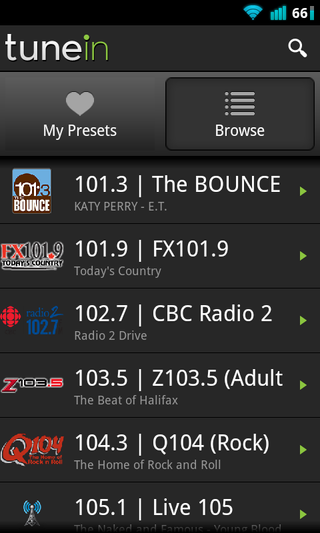 We've taken TuneIn Radio for a spin in the past and walked away quite pleased with its free offering. Now it's decided to step up its Android game by making available TuneIn Radio Pro -- a new, updated and paid version of TuneIn Radio. So what's new? They've gone ahead and added the ability to record the streaming audio content to your device -- something that was previously only available on other platforms.
Now when Lady Gaga visits your favorite talk radio station to talk about her crazy outfits and ramble some nonsense about bacon, you can record the interview along with the live performance right on your device for playback at a later time.
TuneIn Radio Pro is available now in the Amazon Appstore for only 99 cents and later this week will make the transition over to the Android Market. Certainly worth checking out if you have a need for such a service, if not then you can continue to the use the free version as it remains unchanged.
The Pro version was free from Amazon App Store a couple of days ago

yep! need to check it daily! Glad I picked it up. There is a forum under the LG Optimus V that someone updates daily the amazon app O' the day.

I suggest everyone check Amazon Appstore free app of the day everyday. I download every app they put out for free. I don't always install them all but as long as I purchase them for free they will be waiting in my Amazon app collection if/when I ever need them. TuneIn is great I just wish you could favorite a radio show and automatically search for it when you boot the app or automatically record a certain station at a certain time for listening later.

I was just writing up the same comment... I check the amazon app store about everyday because the free app of the day is pretty good once in a while. Today's isn't too bad if you have not checked it out

IMO, the BEST part about this application is that it has an Alarm function. I've tested this and it works great. Having a beeping alarm might be nice and all, but the best way to wake up (for me) is to the Jim Bone in the morning show on 979x, which I haven't been able to get clearly since I moved.

yeaaa 979x wilkes-barre boy....great station.

HAHAHAHA small world! Jim Bone from the 979X in the great W-B, never thought I would see that on here!

That's still the only station I listen to anymore. All the ones around here are too repetitive. And I loved living near W-B. Not only for the Station, but for places like the Arena/Metro Grill, and Really Cooking.

Not to mention the PIZZA! NY has NOTHING on NEPA pizza!!

I've used the free version for months and love it. i got it for free a couple of days ago on Amazon. I do not miss the adds that sometimes come up.

I got this app from the amazon app store pretty good app I also think Amazon's free app a day is going to be a problem for the Android Market at some point Because you have to ask yourself why pay 99 cent for an app that Amazon is giving away for free? But overall its a good app The ability to record streaming audio is great A little on the buggy side though I had to do a battery pull after playing some recorded audio

the thing about the amazon app store, you never know what app will be free. Its the mystery box you have to check on daily.

I also got it from Amazon last week when it was free. I love the recording feature, but does anyone know if you can schedule a recording for a later date.

Glad I picked this up for free from Amazon last week. Cant wait to try the new features on the drive home today!

Seem to have dropped the ball here as like everyone else has said it was free the other day on Amazon. But it's a great app I would have dropped the cash on it I use it almost every day.

I sent androidcentral an email or at least it was one of these android sites an email the other day when the app was free on the amazon market telling them that it was a pro version and that a pro version didn't exist. asking them if someone was playing a joke or if they had a new version and i got no response and nothing showed up about my email or they could have reported on this the other day.
i think i tweeted it too

I also got it for free from Amazon. Thanks for the promotion TuneIn and Amazon!! Like someone said, I love checking amazon everyday to get my free paid app. They REALLY came up with a good hook in there. I really prefer to download apps thru the Google Marketplace to keep things seamless, but the free app of the day has caused me to keep, and actually use, the Amazon Android App Store..

Does / has anyone had issues with it connecting and staying connected? I have an HTC EVO, and even in an area with a strong signal, I find that it pauses a lot of times as if buffering, then it just hangs. Other than that I think it's a great app!

Wonder what will happen to those of us that paid for RadioTime back before they launched TuneIn radio. they have since abandoned radiotime but it is the exact same app. They should let users have this one if they already paid for the last version that they abandoned.

I bought the radiotime too. Not happy with it too. For some reason mine always streams radio at the lowest possible bitrate. Nothing like listening to streaming radio at 20k when my phone downloads at like 10 Mb/s if not faster. ugh.. The new one still does it but the change stream function always works.

I couldn't figure out any alarm feature, also is there any way to set it to record a future show, as opposed to record it while listening? Do you need an account for those features? EDIT- Found the alarm feature- need to be on a station for that. still no idea how to set record for future show.

I bought the pro version from adroid market for my toshiba thrive...its good enough..records from my favorite stations up to 320KPS...real high quality recording status for stations i can't even get with XM or SIRIUS....although the tunein company will tell you there is no way to export your recordings to other devices, i simply go into my file manager on THRIVE, find the recorded file, which is NOT in any known format recognized by my device, and simply rename that file with whatever**.mp3..once its named as an mp3 file, it can then be moved to my USB stick, and played on my car radio.
Android Central Newsletter
Get the best of Android Central in in your inbox, every day!
Thank you for signing up to Android Central. You will receive a verification email shortly.
There was a problem. Please refresh the page and try again.