Truecaller aims to be the most important app on your phone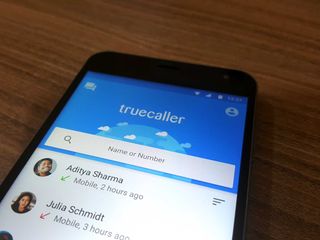 In 2007, two Swedes, Alan Mamedi and Nami Zarringhalam, created möbeljakt.se, a furniture aggregator app. A year later, they launched jobbigt.se, a website where employees could review their employers. You may not have heard of the two unless you live in Sweden.
But, of course, you you've likely heard of Truecaller, the duo's third venture, and one that became a global, unrivalled success story. Launched in 2009, Truecaller offers an integrated caller ID service that automatically searches for contact details behind the scenes when a user receives a call. The phone number database is created by crowdsourcing contact details from users' address books.
Interestingly, even if you've never used the service, your name and number could be in Truecaller's database — a privacy concern that many have strongly criticized. Truecaller insists that everything is 'permission-based' to safeguard privacy, and a number will not be stored in Truecaller's servers if the owner has denied permission.
When I met Mamedi and Zarringhalam on a recent visit to India, both reiterated the company's vision to provide as much information as possible to users in meaningful ways. They also stated that after Truedialer and Truemessenger, the company will release all new features within its existing Truecaller app.
Partnerships with OEMs
The first step to partnership with OEMs is of course pre-bundling, and Truecaller has seen some success there with Samsung, Microsoft, LG, Micromax, and Gionee, but recently they've been working on tighter integrations with OEMs.
To that end, the company recently partnered with BLU Products to bring Truecaller's communication applications to BLU smartphones. The partnership will allow BLU users to enjoy Truecaller's smart dialer as the default on their smartphones. The integration will bring caller ID, spam detection, and search as part of the default dialer for over 15 million BLU devices.
There was also a partnership with Intex, one of the top handset makers in India, to replace the native phone dialer with the Truecaller experience.
According to Nami, such integrations are a big priority for the company, and partners are also excited to have such native, deep integration. They are already working with a couple of more Indian OEMs for tighter integrations like the one with BLU. Nami insists that this is an area they find a lot of interest in since it's the experience where only a small amount of innovation has happened in recent years. He believes that the primary call experience for most smartphones is still very barebones while it is the app which has a high engagement rate.
TrueSDK
Earlier this year, Truecaller announced TrueSDK which enables registered third party apps to easily onboard users with their Truecaller profile and verified phone number. The service can be used by developers to offer sign up, update a user's information, or purely verify the user's phone number based identity in their mobile apps, with their consent.
In many parts of the world, though phone numbers have become a mode of personal identification, the solutions today are usually mapped to emails. Authentication solutions by Facebook, Twitter, and Google too are linked to email addresses. Incidentally, TrueSDK was launched in India partnering with popular apps and services like Quikr, Mobikwik, redBus, CarDekho, BharatMatrimony.com, ixigo, OYO Rooms, TO THE NEW Digital, FreshMenu, Terraa, Cash Care, and ShopClues. The company claims that they have around 400 partners currently, a mix of both well-known brands as well as new, innovative startups.
The TrueSDK is aimed to help apps to deliver services that can tie into the Truecaller experience in a more integrated way. As a next step, the company will be looking at how they can potentially open it to more developers and create experiences within the app with more partnerships.
Truecaller for Business
Truecaller Business allows businesses to update their information and take control over how their business can be discovered and presented in with the app. All they need to do is register the business, claim the business number, add a contact number, correct the spelling, or add a photo.
Truecaller Business allows you to expose your brand and have your business properly identified, and discovered locally through keywords.
I wondered if signing up for Truecaller for Business takes the number off the spam list. However, Nami stated that the only way to get off the spam list is to, well, not spam. Of course, if you haven't spammed in a while there is a bit of decay that happens for a certain time, and the number is likely to be marked spam less and less. There are other factors too like how intense was the spamming.
Top Markets
Home to 130 million of its 200 million users, India is the top market for Truecaller. India has a growing number of smartphones and internet penetration, and the company claims that two out of every three smartphones in India have the Truecaller app. With features like Hindi translation and availability in 11 local languages, Truecaller is the third most downloaded app in the country after Facebook and WhatsApp and the company aims to add 100 million Indian users annually.
During their visit to India, Mamedi and Zarringhalam went from house to house in a residential area in New Delhi to gather feedback from consumers and jotted down notes for potential India-specific features.
Apart from India and Middle East, the two biggest markets for Truecaller, the company is seeing tremendous growth in the US, Brazil, and Russia. They're on 25-30% of smartphones in Sweden, and are also pretty big in Norway and Denmark. All this leaves the company is a great position to appeal to casual users and OEMs alike.
Get the Android Central Newsletter
Instant access to breaking news, the hottest reviews, great deals and helpful tips.