Toshiba Thrive popping up in Best Buys early; AC forums member snags one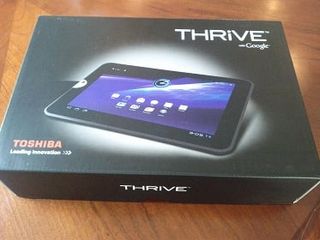 Word on the street is that the Toshiba Thrive tablet has made its way into a few Best Buy stores over the weekend, ahead of its July 13 shipping date. And, sure enough, Android Central Forums member amana9 has managed to snag one, posting up a few pics as proof.
The Thrive, as you'll recall, is Toshiba's 10.1-inch, dual-core Tegra 2 Honeycomb tablet, available in 8-, 16- or 32-gigabyte models. But the really sexy thing is that it sports a full-size USB port and full-size SD card reader. Of course, that makes for a slightly larger form factor. But judging from our hands-on with the Thrive way back in January (before it was even running Honeycomb), it's definitely worth checking out. Hit up the source link below for more impressions and pics.
Source: Android Central Forums
Like the idea, but it's huge comparatively. In today's world most non-Android fans (i.e. casual interest and Apple homers) are all about thickness and weight. They don't care about full-size USB and what not.

There are plenty of iPad contenders... this I believe falls into the netbook replacement category. There are those that want slim and light... and there are those that need to get things done. This would also be a viable option for those that want to dual boot Windows 8 when it releases.

Agreed. If you want a tablet to be a few MM thinner and not be able to do nearly as much the ipad is that way. I love my transformer for the fact that it has 2 full usb ports on the dock. Makes the tablet not only a netbook replacement but also pushes it into a more useful roll then any netbook I have used or owned.

At least one USB port and an SD card slot should be standard features on any top-tier tablet. Does it make that much of a weight/thickness/cost difference?

God this is tough. Im set to get a asus transformer next week but should I get this instead? Price is more than the asus but my favorite part is the exchangeable battery. Makes it easy to replace an old failing battery and not send it in for service. I plan on keeping it for much longer than i do phones so i need it to last in the long run. Hopefully there will be a comparison article on these two tablets.

I was all set to get the asus. I was going to wait until I saved more to get the dock but I had cash in hand for the tab. Then I saw techs setting up the thrive display in my local Best Buy and decided to play with one...and I'm hooked!!! It's lighter than I thought it would be given it's features. The techs kinda tossed it in the air a bit to show me how light it actually felt. It wasn't yet connected to the security cord thing so I could really hold it. I played around with it for about an hour (yes, a full hour of falling in love) and my arms weren't tired and I wasn't tired of holding it- I wanted to take it home immediately but they wouldn't let me. :-(
Despite some reviews I'd read, the screen is quite nice! I love the rear cam. The photos I snapped in store were crisp, clear and saturated. I also love the windows-like file explorer/manager system. I happen to carry sd cards on my keychain, popped it in the FULL sd slot and it looked like a windows screen. Printing from the card to a wireless printer in the store was really easy too (though you only get the first 5 prints free before you have to buy a key for the app to keep printing- I dont mind that though) and the color rendering was excellent. I pre-ordered mine immediately and can't wait to pick it up next week! Ordered myself a portable wireless keyboard from amazon and now I'll have everything I need to go mobile without a hitch. I still like the Asus too but I didn't want to have to carry around the dock everytime I wanted to use my full sd cards or my USB flash drives with my on-the-go business docs. This is the PERFECT solution!!! Thank you Toshiba!
(Sorry for the long reply but I hope that helps...)

I work at best buy and have had them in my back lock upcage for about a week. I even sent a picture of one to androidcentral of them...we've had accessories out on display for almost 2 weeks before even receiving the device.

Cool I am waiting to see how this one compares to the Acer and Asus. Hopefully Androidcentral will have a review soon.
Android Central Newsletter
Get the best of Android Central in in your inbox, every day!
Thank you for signing up to Android Central. You will receive a verification email shortly.
There was a problem. Please refresh the page and try again.