Toshiba Thrive gets its Android 3.2 update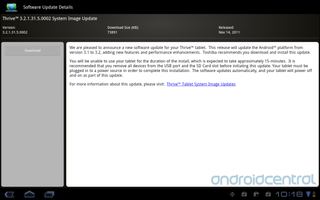 The Toshiba Thrive Android tablet has received its update to Android 3.2. In addition to the version bump, you're also getting:
Enables an improved compatibility mode enhancing the way applications originally designed for smaller screen devices appear and function on the larger tablet display.
Improves screen rotation acceleration.
Adds extended screen support API, giving developers more precise control over the user interface across a range of Android-powered devices.
Thrive owners can snag the update in the tablet's update app. Do note that if you use the Android Market widget, it might disappear because of a naming change. You can add it back after the update.
More: Toshiba; Thanks, Andrew!
And it's on sale today at Newegg for $299! https://www.androidcentral.com/e?link=https%3A%2F%2Fclick.linksynergy.co...
[edt] Nevermind SOLD OUT :(

Does it/will include Netflix??

Got my update yesterday. New Netflix app is sweet.

It's had Netflix support for a while now.

Anyone know if swype has been updated to a newer version? I'd install now but left my power cord at home.

I am not getting the update, I am in Colombia and my model is AT105. Its a shame.

The only bad thing I have found is that using a USB stick to transfer large files to the device's built-in storage or SD card is not working at all - the File Manager keeps complaining that the system is examining filesystems and no file operations can be performed at this time. I would say this is a dealbreaker, except that my experiemce with these transfers in Honeycomb 3.1 was that the files were transfered but the USB stick was left with a corrupted filesystem, so I'd rather have my tablet not transfering files than corrupting the USB stick.

Anyone know if it's possible yet to play a GoPRO HD Hero video file yet on the Thrive? I loved the tablet, and need an SD card slot; however, the lack of native support to watch the files on the Thrive forced me to return it. Waiting until a tablet can do this before I jump in on one.
Android Central Newsletter
Get the best of Android Central in in your inbox, every day!
Thank you for signing up to Android Central. You will receive a verification email shortly.
There was a problem. Please refresh the page and try again.