Toshiba Chromebook 2 review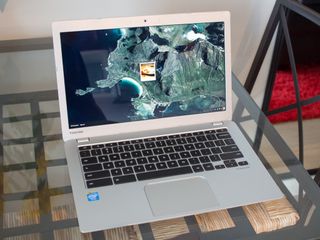 Finally, a Chromebook with a great display — now it just needs more performance
Since we first laid eyes on the new Toshiba Chromebook 2 at IFA, we knew that this may be one of the leading Chromebooks of the year. Sure it had basic specs just like all of the other Chromebooks, but it actually looked good unlike much of the competition, and more importantly it had a beautiful 1080p IPS display.
The Chromebook 2 is mostly just a sprucing up of Toshiba's first Chromebook from earlier this year, but that's not a bad thing. You're getting a nice set of upgraded specs nestled in a similar frame, but the was never an issue with the hardware. In the competitive world of Chromebooks with tight margins and very similar components across the board, you just need to get a few things right and set yourself apart from the crowd. Toshiba has given it a great shot with the Chromebook 2 — read on for our full review.
About this review
We're writing this review after two weeks using the CB35-B3340 model of the Chromebook 2, which has an Intel N2840 processor, 4GB of RAM and a 1920x1080 display. There is also a lower-end model of this Chromebook with 2GB of RAM and a 1366x768 display, which we did not evaluate.
Hardware and specs
If you've ever seen or used the original Toshiba Chromebook, you're well on your way to knowing what the Chromebook 2 is like. The mix of semi-glossy matte plastic and a textured plastic lid await you, and while it doesn't instill you with the feeling that you just purchased a high-end computer, it does get the job done.
The inside of the Chromebook 2 is made of textured semi-glossy grey plastic that looks like aluminum at a glance (which was likely the goal), but in reality just feels like a bunch of cheap plastic. The bottom and lid are a bit more grippy to make it a little easier to hold onto when it isn't in a protective sleeve (which is always a good idea), and there are four rubber feet to keep it planted on the table. Branding is kept to a minimum with small Toshiba logos on the lid and under the screen, as well as a small "Skullcandy" logo under the arrow keys — more on that in the speaker section.
Although it doesn't feel fantastic, it isn't creaky at least and the seams where pieces come together are tight all around. But it isn't hard to flex the entire chassis in your hands with minimal pressure. So long as you don't go around flexing your Chromebook 2 you'll be okay, and the palm rests and screen hinge seem solid enough. And there is a bit of a positive tradeoff here, as the Chromebook 2 comes in just under 3 pounds (2.95 pounds to be exact), which I still deem as the line of "acceptable" weight for a portable 13-inch laptop.
You're getting the standard array of Chromebook ports in the usual places here, with a lock slot, HDMI, USB 3.0 and headphone on one side and power, microphone, USB 2.0 and SD card slot on the other side. The bottom of the ports marks the point where the top and bottom plastics come together, which creates a little more of a lip around them than other laptops, but once you get used to it it isn't so jarring.
It takes something out of the ordinary to get me excited about the internal specs on a Chromebook, and the Toshiba Chromebook 2 doesn't have anything out of the ordinary. This is the same Intel Celeron N8240 we've seen on countless other Chromebooks this year, paired up with 4GB of RAM in this high-end model that retails for $329.
Swipe to scroll horizontally
| Category | Features |
| --- | --- |
| Display | 13.3-inch 1920x1080, 165 ppi, IPS |
| Processor | Intel Celeron N2840 dual-core at 2.16GHz |
| Memory | 4GB DDR3 1600MHz |
| Storage | 16GB internal, SD card expandable |
| Connectivity | 802.11ac Wifi, Bluetooth 4.0 |
| Ports | 1x USB 2.0, 1x USB 3.0, HDMI, headphone/mic |
| Battery | 43Wh Lithium-Polymer, 9 hours of average use |
| Dimensions | 12.60 x 8.40 x 0.76 inches |
| Weight | 2.95 lb |
It's worth noting that you can buy a $249 model of the Chromebook 2 with a 1366x768 TFT display and 2GB of RAM (which isn't user-upgradeable), but we wouldn't go near it. It just has too little memory for consideration and the display isn't high quality like the one in the more expensive $329 model.
Both the external and internal attributes of the Chromebook 2 fit in line with its $329 price tag, and it's hard to expect more particularly when you take into consideration the high component cost of putting an IPS display in a laptop of this price. Toshiba did all it could with the materials, it seems, and put the money where it matters.
Display and speakers
Finally, the era of inexpensive Chromebooks with good displays may be upon us. I've universally panned every Chromebook out there for its cheap and terrible-looking display, and with the Chromebook 2 I don't have to do that. Noting again that you have to go with the higher-end $329 model of the Chromebook 2 to get it, this is the best display in a Chromebook behind the absurdly-priced Chromebook Pixel.
This is a 13.3-inch display at 1920x1080 resolution, using the dramatically superior IPS technology that's so often seen in any mid-range and above laptop out there. The screen is still coated in plastic rather than glass, as we would expect, so I'm not going to complain. Brightness is much higher than comparable Chromebooks, as are viewing angles and colors. Because of the high resolution I actually prefer the quality of this screen to my MacBook Air, which is saying something. This is the first Chromebook with a display I actually enjoyed looking at.
Chrome OS still doesn't offer native interface scaling, so you're going to deal with interface elements that are a little on the small side, but whether or not it's comfortable for your eyes is going to depend on your eyesight. I set the default page zoom in the settings to 110 percent, which helps just a little bit, but it's still no replacement for full OS scaling like Windows and OS X offer.
The one real gripe I have that has an effect on usage, which is a pretty minimal one, is that the screen doesn't tilt very far back compared to every other laptop that I've used. The maximum angle it tilts back is perfect for my normal use sitting at a table or desk, but there were several times when standing at a bar-height table or using the Chromebook 2 on my lap that I wished the screen tilted back more. Now of course when viewing angles and brightness are as good as they are on this screen it doesn't matter nearly as much as it would on a lower-end display, but still it isn't that hard to simply make a laptop that hinges back further.
Toshiba has partnered with a well-known (although maybe not for their sound quality) name in headphones, Skullcandy, to provide a little more kick to the speakers in the Chromebook 2. Though you can't actually see them due to a lack of outward-facing speaker grilles, there are actually stereo speakers inside the Chromebook 2. They're loud, and somewhat full, but get muffled by the fact that all the sound is reverberating inside the laptop's case rather than being ported out of dedicated speakers. The speakers worked well for watching a few episodes of a show on Netflix, but not much more.
Keyboard and trackpad
The Chromebook 2 doesn't do anything fancy with its keyboard, either, making the keycaps out of similar matte plastic as the rest of the laptop but with a bit more texture and of course a different color. You can clearly see the stickers for each letter and symbol on the keys, which reminds you of the price of this thing, but overall the keyboard is serviceable. It has good travel distance on the keys but they lack a bit of the extra spring to really help you jam through typing. You get used to it, as is the case on any other keyboard, and it didn't take me long to speed up my typing. One high point of the keyboard is that the keys don't give side-to-side like some other inexpensive Chromebooks, which is a plus.
Toshiba has put a very large trackpad underneath the keyboard. Though it's somewhat awkwardly shaped with large rounded corners at the top and sharply rounded corners at the bottom, it's also worthy of a "serviceable" rating from me like the keyboard. It has quite a bit of texture to it, making it just about as grippy as the rest of the plastic on the laptop, which just creates too much drag for quick scrolling and minuscule cursor movements. I prefer a trackpad with a bit smoother surface to it, and while using plastic instead of glass limits things a bit it hasn't stopped other manufacturers from having better touch response.
I had to turn up the tracking speed on the Chromebook 2 to combat some of the extra drag on the trackpad, which helped mitigate things, but I think that this could have been fixed in hardware. The trackpad does have nice travel on its click function, which is nice to see even on such a thin machine, and palm rejection when typing worked as expected on a large trackpad.
Battery life
Toshiba quotes the Chromebook 2 at nine hours of battery life for average use, and I only came up short of that by about an hour in my time reviewing it. Of course I can guarantee I'm using it harder than Toshiba's "average use" case, regularly having at least five tabs open in the browser, as well as a calendar app and text editor most of the time.
My standard setup for working involves five or six pinned tabs, including Tweetdeck always streaming tweets in as well as two instances of Gmail, and another couple tabs open doing other things. In most cases I could get between six and eight hours of battery life with that use, depending if it included any music streaming, which is clearly taxing the computer to about 100 percent of its capacity (more on this in the next section).
I found that screen brightness hit battery life pretty heavily, as you would expect with a display that gets quite bright as this one does. Moving from 50 percent to 100 percent brightness could easily cut an hour off that battery life figure on its own. But that's alright, because I never really found myself needing to crank the brightness up on the Chromebook 2 — 50 percent to 75 percent was the sweet spot for me.
Performance and real world use
With one of the latest Intel Celeron chips on board, the dual-core N2840 clocked at 2.16GHz, I wasn't really worried about performance when I first got the Chromebook 2. Sadly from my perspective being used to higher-end machines, it still misses the mark just a tad. The saving grace for any kind of performance on the Chromebook 2 is that it has 4GB of RAM to bail out the underpowered processor. And even at that, I still saw the RAM getting maxed out (using the System app) when I hit the 10-tab range — which is admittedly a lot, but not so much that it's out of the ordinary for many users.
But even with free RAM to use up, the Chromebook 2 still hung up loading multiple pages sometimes and had jumpy scrolling on heavier pages. When I took it easier on the computer, eliminating some background pages that I hadn't looked at recently, single-tab performance improved quite a bit. And thankfully I didn't ever see pages getting killed off in the background due to a lack of resources.
Perhaps bumping up to the quad-core N2930 or N2940, with its extra cores and cache, would bridge the gap. We did find in our ThinkPad Yoga 11e review that the N2930 processor was up to most tasks. Of course the N2840 processor has its advantages — because it doesn't require a fan and consumes less power it improves battery life and also reduces the overall weight of the laptop.
In the case of most users they'll gladly take a laptop that weighs under three pounds and gets eight hours of battery life over one that's a half-pound heavier and gets six hours just so they can run websites a tad faster. I get that, but it still bothers me that a brand new Chromebook released in the second half of 2014 can't compete on performance with the Acer C720, which is running a much older (albeit not fanless and more power-hungry) Intel Haswell Celeron processor. Of course the 1080p display on the Chromebook 2 hurts performance as well, but I'm throwing out that excuse considering my C720 can run an external 1080p monitor just fine.
Most people are going to be plenty happy with the performance offered by the Chromebook 2, so long as they keep the number of tabs to a reasonable level and of course purchase the higher-end model with 4GB of RAM.
The bottom line
Toshiba has made a pretty solid follow-up to its original Chromebook effort from earlier this year, adding a great 1080p display to a basic chassis and filling it out with standard — though not spectacular — internal components. The supporting parts for that great screen, including the keyboard, trackpad and speakers, are just average in the grand scheme of computers but are of a quality we've come to expect in Chromebooks of this price.
More: See our picks for the best Chromebooks available
While the performance may come up a little short of other choices with more powerful processors, you're getting a solid battery life of at least seven hours as a positive trade-off. Not to mention that the Chromebook 2 is nicely thin and comes in under 3 pounds, with no fans needed to support the processor.
Even though it may not excel in each individual category, if you choose to spend $329 on a Toshiba Chromebook 2 you're getting one of the best Chromebooks out there today as a complete package, The huge bump in screen quality compared to everything else out there is enough to make it worth considering, and the fact that the rest of this laptop is solid just seals the deal.
Image 1 of 13
Get the Android Central Newsletter
Instant access to breaking news, the hottest reviews, great deals and helpful tips.
Andrew was an Executive Editor, U.S. at Android Central between 2012 and 2020.