Toshiba Chromebook 2 review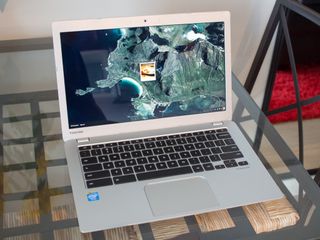 Finally, a Chromebook with a great display — now it just needs more performance
Since we first laid eyes on the new Toshiba Chromebook 2 at IFA, we knew that this may be one of the leading Chromebooks of the year. Sure it had basic specs just like all of the other Chromebooks, but it actually looked good unlike much of the competition, and more importantly it had a beautiful 1080p IPS display.
The Chromebook 2 is mostly just a sprucing up of Toshiba's first Chromebook from earlier this year, but that's not a bad thing. You're getting a nice set of upgraded specs nestled in a similar frame, but the was never an issue with the hardware. In the competitive world of Chromebooks with tight margins and very similar components across the board, you just need to get a few things right and set yourself apart from the crowd. Toshiba has given it a great shot with the Chromebook 2 — read on for our full review.
About this review
We're writing this review after two weeks using the CB35-B3340 model of the Chromebook 2, which has an Intel N2840 processor, 4GB of RAM and a 1920x1080 display. There is also a lower-end model of this Chromebook with 2GB of RAM and a 1366x768 display, which we did not evaluate.
Hardware and specs
If you've ever seen or used the original Toshiba Chromebook, you're well on your way to knowing what the Chromebook 2 is like. The mix of semi-glossy matte plastic and a textured plastic lid await you, and while it doesn't instill you with the feeling that you just purchased a high-end computer, it does get the job done.
The inside of the Chromebook 2 is made of textured semi-glossy grey plastic that looks like aluminum at a glance (which was likely the goal), but in reality just feels like a bunch of cheap plastic. The bottom and lid are a bit more grippy to make it a little easier to hold onto when it isn't in a protective sleeve (which is always a good idea), and there are four rubber feet to keep it planted on the table. Branding is kept to a minimum with small Toshiba logos on the lid and under the screen, as well as a small "Skullcandy" logo under the arrow keys — more on that in the speaker section.
Although it doesn't feel fantastic, it isn't creaky at least and the seams where pieces come together are tight all around. But it isn't hard to flex the entire chassis in your hands with minimal pressure. So long as you don't go around flexing your Chromebook 2 you'll be okay, and the palm rests and screen hinge seem solid enough. And there is a bit of a positive tradeoff here, as the Chromebook 2 comes in just under 3 pounds (2.95 pounds to be exact), which I still deem as the line of "acceptable" weight for a portable 13-inch laptop.
You're getting the standard array of Chromebook ports in the usual places here, with a lock slot, HDMI, USB 3.0 and headphone on one side and power, microphone, USB 2.0 and SD card slot on the other side. The bottom of the ports marks the point where the top and bottom plastics come together, which creates a little more of a lip around them than other laptops, but once you get used to it it isn't so jarring.
It takes something out of the ordinary to get me excited about the internal specs on a Chromebook, and the Toshiba Chromebook 2 doesn't have anything out of the ordinary. This is the same Intel Celeron N8240 we've seen on countless other Chromebooks this year, paired up with 4GB of RAM in this high-end model that retails for $329.
| Category | Features |
| --- | --- |
| Display | 13.3-inch 1920x1080, 165 ppi, IPS |
| Processor | Intel Celeron N2840 dual-core at 2.16GHz |
| Memory | 4GB DDR3 1600MHz |
| Storage | 16GB internal, SD card expandable |
| Connectivity | 802.11ac Wifi, Bluetooth 4.0 |
| Ports | 1x USB 2.0, 1x USB 3.0, HDMI, headphone/mic |
| Battery | 43Wh Lithium-Polymer, 9 hours of average use |
| Dimensions | 12.60 x 8.40 x 0.76 inches |
| Weight | 2.95 lb |
It's worth noting that you can buy a $249 model of the Chromebook 2 with a 1366x768 TFT display and 2GB of RAM (which isn't user-upgradeable), but we wouldn't go near it. It just has too little memory for consideration and the display isn't high quality like the one in the more expensive $329 model.
Both the external and internal attributes of the Chromebook 2 fit in line with its $329 price tag, and it's hard to expect more particularly when you take into consideration the high component cost of putting an IPS display in a laptop of this price. Toshiba did all it could with the materials, it seems, and put the money where it matters.
Display and speakers
Finally, the era of inexpensive Chromebooks with good displays may be upon us. I've universally panned every Chromebook out there for its cheap and terrible-looking display, and with the Chromebook 2 I don't have to do that. Noting again that you have to go with the higher-end $329 model of the Chromebook 2 to get it, this is the best display in a Chromebook behind the absurdly-priced Chromebook Pixel.
This is a 13.3-inch display at 1920x1080 resolution, using the dramatically superior IPS technology that's so often seen in any mid-range and above laptop out there. The screen is still coated in plastic rather than glass, as we would expect, so I'm not going to complain. Brightness is much higher than comparable Chromebooks, as are viewing angles and colors. Because of the high resolution I actually prefer the quality of this screen to my MacBook Air, which is saying something. This is the first Chromebook with a display I actually enjoyed looking at.
Chrome OS still doesn't offer native interface scaling, so you're going to deal with interface elements that are a little on the small side, but whether or not it's comfortable for your eyes is going to depend on your eyesight. I set the default page zoom in the settings to 110 percent, which helps just a little bit, but it's still no replacement for full OS scaling like Windows and OS X offer.
The one real gripe I have that has an effect on usage, which is a pretty minimal one, is that the screen doesn't tilt very far back compared to every other laptop that I've used. The maximum angle it tilts back is perfect for my normal use sitting at a table or desk, but there were several times when standing at a bar-height table or using the Chromebook 2 on my lap that I wished the screen tilted back more. Now of course when viewing angles and brightness are as good as they are on this screen it doesn't matter nearly as much as it would on a lower-end display, but still it isn't that hard to simply make a laptop that hinges back further.
Toshiba has partnered with a well-known (although maybe not for their sound quality) name in headphones, Skullcandy, to provide a little more kick to the speakers in the Chromebook 2. Though you can't actually see them due to a lack of outward-facing speaker grilles, there are actually stereo speakers inside the Chromebook 2. They're loud, and somewhat full, but get muffled by the fact that all the sound is reverberating inside the laptop's case rather than being ported out of dedicated speakers. The speakers worked well for watching a few episodes of a show on Netflix, but not much more.
Keyboard and trackpad
The Chromebook 2 doesn't do anything fancy with its keyboard, either, making the keycaps out of similar matte plastic as the rest of the laptop but with a bit more texture and of course a different color. You can clearly see the stickers for each letter and symbol on the keys, which reminds you of the price of this thing, but overall the keyboard is serviceable. It has good travel distance on the keys but they lack a bit of the extra spring to really help you jam through typing. You get used to it, as is the case on any other keyboard, and it didn't take me long to speed up my typing. One high point of the keyboard is that the keys don't give side-to-side like some other inexpensive Chromebooks, which is a plus.
Toshiba has put a very large trackpad underneath the keyboard. Though it's somewhat awkwardly shaped with large rounded corners at the top and sharply rounded corners at the bottom, it's also worthy of a "serviceable" rating from me like the keyboard. It has quite a bit of texture to it, making it just about as grippy as the rest of the plastic on the laptop, which just creates too much drag for quick scrolling and minuscule cursor movements. I prefer a trackpad with a bit smoother surface to it, and while using plastic instead of glass limits things a bit it hasn't stopped other manufacturers from having better touch response.
I had to turn up the tracking speed on the Chromebook 2 to combat some of the extra drag on the trackpad, which helped mitigate things, but I think that this could have been fixed in hardware. The trackpad does have nice travel on its click function, which is nice to see even on such a thin machine, and palm rejection when typing worked as expected on a large trackpad.
Battery life
Toshiba quotes the Chromebook 2 at nine hours of battery life for average use, and I only came up short of that by about an hour in my time reviewing it. Of course I can guarantee I'm using it harder than Toshiba's "average use" case, regularly having at least five tabs open in the browser, as well as a calendar app and text editor most of the time.
My standard setup for working involves five or six pinned tabs, including Tweetdeck always streaming tweets in as well as two instances of Gmail, and another couple tabs open doing other things. In most cases I could get between six and eight hours of battery life with that use, depending if it included any music streaming, which is clearly taxing the computer to about 100 percent of its capacity (more on this in the next section).
I found that screen brightness hit battery life pretty heavily, as you would expect with a display that gets quite bright as this one does. Moving from 50 percent to 100 percent brightness could easily cut an hour off that battery life figure on its own. But that's alright, because I never really found myself needing to crank the brightness up on the Chromebook 2 — 50 percent to 75 percent was the sweet spot for me.
Performance and real world use
With one of the latest Intel Celeron chips on board, the dual-core N2840 clocked at 2.16GHz, I wasn't really worried about performance when I first got the Chromebook 2. Sadly from my perspective being used to higher-end machines, it still misses the mark just a tad. The saving grace for any kind of performance on the Chromebook 2 is that it has 4GB of RAM to bail out the underpowered processor. And even at that, I still saw the RAM getting maxed out (using the System app) when I hit the 10-tab range — which is admittedly a lot, but not so much that it's out of the ordinary for many users.
But even with free RAM to use up, the Chromebook 2 still hung up loading multiple pages sometimes and had jumpy scrolling on heavier pages. When I took it easier on the computer, eliminating some background pages that I hadn't looked at recently, single-tab performance improved quite a bit. And thankfully I didn't ever see pages getting killed off in the background due to a lack of resources.
Perhaps bumping up to the quad-core N2930 or N2940, with its extra cores and cache, would bridge the gap. We did find in our ThinkPad Yoga 11e review that the N2930 processor was up to most tasks. Of course the N2840 processor has its advantages — because it doesn't require a fan and consumes less power it improves battery life and also reduces the overall weight of the laptop.
In the case of most users they'll gladly take a laptop that weighs under three pounds and gets eight hours of battery life over one that's a half-pound heavier and gets six hours just so they can run websites a tad faster. I get that, but it still bothers me that a brand new Chromebook released in the second half of 2014 can't compete on performance with the Acer C720, which is running a much older (albeit not fanless and more power-hungry) Intel Haswell Celeron processor. Of course the 1080p display on the Chromebook 2 hurts performance as well, but I'm throwing out that excuse considering my C720 can run an external 1080p monitor just fine.
Most people are going to be plenty happy with the performance offered by the Chromebook 2, so long as they keep the number of tabs to a reasonable level and of course purchase the higher-end model with 4GB of RAM.
The bottom line
Toshiba has made a pretty solid follow-up to its original Chromebook effort from earlier this year, adding a great 1080p display to a basic chassis and filling it out with standard — though not spectacular — internal components. The supporting parts for that great screen, including the keyboard, trackpad and speakers, are just average in the grand scheme of computers but are of a quality we've come to expect in Chromebooks of this price.
More: See our picks for the best Chromebooks available
While the performance may come up a little short of other choices with more powerful processors, you're getting a solid battery life of at least seven hours as a positive trade-off. Not to mention that the Chromebook 2 is nicely thin and comes in under 3 pounds, with no fans needed to support the processor.
Even though it may not excel in each individual category, if you choose to spend $329 on a Toshiba Chromebook 2 you're getting one of the best Chromebooks out there today as a complete package, The huge bump in screen quality compared to everything else out there is enough to make it worth considering, and the fact that the rest of this laptop is solid just seals the deal.
Andrew was an Executive Editor, U.S. at Android Central between 2012 and 2020.
I have the Toshiba Chromebook2 with2 gb and not the 1080p machine for under 249.00 its GREAT
lightweight
long battery life
quick connect I love the machine and the value.

How would you rate the track pad? Is it comparable to any computer you have used? Posted via nexus 5

Zero issues with the track pad... I had a Samsung first generation,, and I was unable to hold down the left side to copy and paste

I have the original as well and agree. The screen on the original is the only real downside. Trackpad and keyboard are more than acceptable for the price. Much better than several ~$800 windows notebooks I've used.

Awesome. I used to think Chromebooks were a complete gimmick until recently. The more expensive model seems like a STEAL compared to the Nexus 9 (in regards to productivity of course). I will have to try the track pad and keyboard in person before I consider this.... Posted via nexus 5

I have last year's model, but really want a HD display. This looks promising, but I wish Google would announce the Pixel 2.

I looked at this chromebook at the store because I want a light weight laptop for basic web surfing on the couch, but I don't want to deal with Win 8 anymore, and certainly not on a low powered device. The screen looked great, but I couldn't get over how amazingly cheap and flimsy the case was. Don't get me wrong, I'm fine with cheap feeling computers, as I'm not interested in fashion statements, but I honestly think a strong breeze coming in through the window would cause the thing to fold over. Good effort Toshiba. But please release one at $339 and add $10 more to the structure of the screen surround.

It's pretty cheap plastic, for sure. They aimed to hit a price point and put a lot of the money into the screen and bumping the internals slightly. Who knows what a $10 bump would do to the plastics. I have a feeling it'd need to be bumped like $70 to notice anything.

$70 more? Hardly. Toshiba was just designing to be competitive to the other Chromebooks in the market (which from a quick check at the store, have equally bendy screens) and trying to scrape every last dollar of margin they could. Thus, Chromebooks won't compete with decent laptops for a few more years. The makers are still in the mindset of being competitive, "relative to other chromebooks."

Of course. They're not going to boost the quality if it cuts into their already thin margins, especially when everyone else already has low build quality. But seriously, I don't think that $10 can give it enough of a boost in quality to make up for having a loss of sales for bumping the price that much. You need to get to a point where the materials are way better, and therefore people will actually want to pay more for it.

A person doesn't need to make the materials "way better" just to add rigidity into that piece of filo dough covering the back of the screen. More stiffness could be added a numbwr of ways, for relatively little additional product cost. Regardless, it is what it is. It just struck me that the unimaginably weak screen surround makes the thing feal even cheaper than it rightly should. Which is unfortunate.

chrome://flags/#force-device-scale-factor Use that link to change the DPI settings. Change it to anything 1.2 or above and restart Chrome. It'll look a bajillion times better. it scales everything up in the native 1080p. Makes a world of difference in this Chromebook. I do have one major issue with this one, though. It has some light bleed on the bottom of the screen. I've tried two different ones and they both have the same issue, so it seems to be widespread. Have you noticed it? It's particularly noticeable on bootup and when watching a full screen movie.

Noticed a tiny bit of light bleed on the top bezel while watching Netflix. Not a deal breaker at all. Posted via the Android Central App

Mine is on the very bottom. I'm pretty electronics OCD, so I'm trying to decide if I'm ok with it. It's an otherwise really nice CB and should be on most people's radars if they're in the market. Performance and build quality could use a slight bump (take note from the Dell CB 11) but it's not bad at all.

The first one I got I sent back because of light bleeding. The second one is a little less but it's still there. I didn't have enough time to mess with the first one, but does YouTube or HBO go (mostly happens in hbo) stutter sometimes when watching video? I've tried HBO on 2 different networks thinking it was a network issue (didn't matter) . It does get hot too when watching videos for a while. I don't know if there is a thermal paste issue or something worse, but I'm thinking about taking it back again.... :/ Any input on it getting warm/hot or laggy hd videos? Posted via the Android Central App

Yeah, I sent one back and I'm on the second one. It isn't too bad, but I may either return it or try another one. Plus I have also had some issue watching YouTube in FHD. No issue with my Nexus 5 watching the same video on the same network, so i can only imagine that it's a processor issue.

Thanks for the reply. Well looks like I'll be returning it to try another. I don't remember the first one getting as hot. There were certainly no issues with video play back on the first one either. From what I've seen there is an issue with the bottom left and center with light bleeding. I'm hoping the heating/video issue I'm getting is just a bad egg. It's a great screen and I like the weight and boot/shutdown speed. Here's to hoping I can exchange it again with no issues.... Posted via the Android Central App

No problem. I'm debating on another exchange with Amazon or just getting the Dell Chromebook 11 with the i3. It doesn't have the battery life (although it isn't far off) or screen of the Toshiba, but for $70 more you get all the performance you could need on a CB, plus the build quality is light years ahead of the Toshiba.

The screen is what made me finally pull the trigger. Coming from a 4 year old 1366 res win 7 laptop. Been waiting for a light bedside laptop for videos and movies. The Dell is nice but I wish more manufacturers would use hd ips panels. It's the whole reason I waited and didn't get the hd Acer that released before this. Well good luck in your chromebook choice! I'm off to shameful best buy to try and exchange mine tonight. Posted via the Android Central App

Netflix in HD was fine for playback. NBCSN Live Extra streaming got choppy sometimes. My machine never got too hot.

Thanks Andrew. The video issues seem to come and go, and I think its based on heat. So I'm willing to bet there is a thermal paste issue with mine for some reason. Heats up good right where the CPU is located. Like I said I dont remember my first CH2 having this issue, but I did only use it for a day before I took it back and got this one. Here's to hoping the third one is the better of the 2 :)

I've had mine for a few days now. I have experienced lag on neither HD Youtube nor HBO Go (watching Game of Thrones). There is a slight heat issue but it's much cooler than my Dell XPS 15z (I love that computer). If you usually keep it in a neoprene sleeve, you can just put the sleeve on your lap and Chromebook on top of that. *Speaking of sleeves*
I got the Incase Tensaerlite case built for the MacBook Pro w/Retina Display. It fits magically, though it is pricey at $70 for case. It offers great protection, no zippers, and an ultra thin profile.

Just got mine, and it also stutters playing 1080p Youtube vids. Pretty disappointing that you can't take fully take advantage of the great display for streaming vids.

I'm having a hard time giving chromebooks the chance they deserve. Mine is the first Samsung ARM chromebook, and it's a laggy piece of shit. Only redeeming thing about it is its above average battery life, aside from that it's neck in neck with my sister's late XP era netbook in terms of performance, which is pretty dismal. Let's just say it's tarnished how I see everything running chromeOS

Try a Haswell-based model. It really makes a world of difference. I have a C720 with 2GB of memory, and I don't run into performance problems until I have a lot of Flash running. Posted from my Nexus 5, behind seven proxies

"Mine is the first Samsung ARM chromebook" That's the problem.

C720 for $150 will treat you right!

I've been shopping for a Chromebook for my wife recently, and every single one I've seen has such a horrible display. The IPS panel on this one caught my attention, so I've been waiting (impatiently) to see a review for it. Thanks for making my decision a lot easier, AC, looks like I'm going to order one.

10 tabs in ChromeOS can max out RAM? Damn!! What the hell is it doing with all that memory? I've got an old Pentium Dual Core laptop with just 2GB RAM running a full Linux distro (Debian) and it doesn't even hit 1 GB with Firefox running 20+ tabs. Sure, it ain't the fastest system on the black - 1080p Youtube vids max out CPU load, for example - but if my main desktop died and I needed something to browse on as backup, that laptop would perform admirably, with lots more local storage compared to Chromebooks, I might add. I'm sure ChromeOS can do better than that.

Well, it's 10 heavy tabs, plus the entire OS. And the processor is slow so it can't swap things around, which is the issue. The computer is supposed to use all the RAM it can, but it needs to manage it between tabs and allocate properly.

I guess if you live in ChromeOS, you tend to measure everything in browser tabs, but like you, I'm running Linux (Ubuntu in my case, using crouton to run it as a chroot under ChromeOS on my Toshiba CB2). Right now, I have a few browser tabs open over on the the ChromeOS side, and on the Linux side, I have Chrome running with another half dozen tabs, plus a half dozen other applications, including QtCreator, which is currently running a pretty large C++ compilation job using the "-j 2" option to use both cores. And despite all this, everything moves along just fine, with the only noticeable slowdown coming when the complie job hits the link phase - at that time, I do max out CPU and/or RAM for a few seconds.

Linux handles memory differently, it will use all available memory for caching purposes, so after you use the system for a while it will always show all memory is been used. You have then to check how much of that memory is just cache. This is a much better approach than just leaving some memory unused, however people who do not understand this think OMG ALL MEMORYS ARE USED!!!

I've had the CB2 for a few weeks now and have come to really appreciate it. While I love the screen and fanless lightweight design (I personally appreciate the speakers as well), I was disappointed by the performance at first, especially compared to the Haswell HP14 in our home as well, but several things have really cranked up the performance:
- Go to beta channel. The latest few feel far quicker than stable channel.
- Turn off using prediction services for URLs in Chrome
- Turn on prediction for loading pages
- Turn off autoplay of Adobe Flash player Doing those will make it plenty peppy to the point it's not a distraction anymore. Ironically, the only site that lags on almost all CB's (including the Haswells) is Android Central! I agree the trackpad has a gravel-like texture (especially compared to the butter smooth HP 14, and like all Toshibas, the power cord attachment to the machine is of suspect long term quality. But I'm really enjoying the heck of out this machine's screen and feather-weight design. That, and it's almost half the price of the new Nexus 9. Amazing. BTW, for my money, the best CB out there is still the first gen Haswell HP 14. Those can be found now for a tad above $200, about $100 less than at launch, and for that it's a steal.

i never lag on ac with my c720. but i do lag on dl, ap (with their 150 blocked ads on a single page), and pa (reviews photo page). thanks for the performance tips. i will give them a try. after 9 months of eight hour a day usage... it is starting to slow down a bit.

" the only site that lags on almost all CB's (including the Haswells) is Android Central!" This, and thank you for bringing it up. I've been tempted to video the bottom left bar in the browser to show all the ad-servers it has to reference and send it to them, but I'm sure they are aware. It's gotten past the point of absurd.

Would using the adblock extension help that? I've read some tips on Chromebook community sites that the adblock extension really speeds up everything for the Bay Trails as well.

I want them to get paid, so I haven't gone that route. But I also don't want to disrupt my experience to point where I can't scroll while all of the ad servers are pinged.

One user using adblock doesn't hurt anyone. It's crazy how many ads are blocked in one website alone depending on what site you use Posted via the Android Central App

I want nothing of the Toshiba brand .. thought it was the best but my opinion is different now, buy a Tablet AT300 version 4.1.1 last year and half and never have wanted to upgrade .. now my work is not being very slow and many other applications do not work and can not download, call tech support and the answer was that you can not update and do not know if I ever will, $ 520 was the price to pay and now the device is useless. The Tablet of My grandson is Jelly Bean and pay $ 60 for it, I feel deceived and cheated

Isn't the headline of the article inaccurate? There already is a Chromebook with a great display (even better than this one) - the Pixel. Maybe the headline should say "Finally a Chromebook with a great display at an affordable price." What puzzles me is the article even references the Pixel. I hate sensational headlines like this.

The headline is "Toshiba Chromebook 2 review". Do you mean the sub-heading? You can only fit so many words in there, and what's there is very accurate. The point of the sub-headline is not to give 100% of the information in a handful of words (that's relatively impossible)... that's what the 2500 word review is for. And as you said, I reference the pixel and pretty accurately explain that this is the best display on an affordable Chromebook. And let's be honest, nobody actually bought the Chromebook Pixel. When you talk to someone about Chromebooks, its useless to even reference the Pixel in the same category as everything else in the market... there's no reason to have to qualify every single statement about a Chromebook by saying how it relates to the Pixel.

Yes, I meant the sub-heading. The one thing I did take exception to in the "sub-heading" was the word "finally" which implies there was never a great display on a Chromebook before. Regardless of the popularity of the Pixel, the "sub-heading" overstated its case. Also, I doubt there is much truth to your statement "... nobody bought the Chromebook Pixel". I will agree that probably not many people bought it. If money were not a concern, I know I would have bought it in a heartbeat. It was a beautiful machine. It was overkill for a Chromebook though. Also, the approximately 5,000 attendess of Google I/O 2013 received the Pixel. In terms of numbers, I grant you that the Pixel is insignificant.

Pretty soon Chromebooks will have more RAM than they do storage....seriously??? 16GB??? I wouldn't even consider wiping my ass with a notebook with that little space

16GB is plenty for a Chromebook right now, and 32GB is usually an option on most models. You also have an SD card slot, which Chromebooks handle awesomely for storage. (Though not every Chromebook takes SD cards and hides them away for more "permanent" storage, I'll give you that.) I'd gladly drop the internal storage on my Chromebook down to 8GB if it meant I could have 6GB or 8GB of RAM instead of 4GB, honestly. Just not sure what I'd need more storage for. 16GB is plenty for local documents, music and movies/tv you need for offline viewing.

Totally agree. I've never come within even a tiny fraction of filling my Chromebook's drive in regular use. I (and many) also powerwash systems regularly, which clears out what little you've accumulated locally.

I love my first gen Toshiba chromebook, as it does everything I need. I don't need 1080p on a chromebook. My Toshiba gamer laptop can do that fine, as well as several tablets I have. I've (fam) had 8 Toshiba laptops and chromebooks over past 15 years. Quality products. Overall the performance is better than expected. Never any lag issues. Got an extra 64 gb SD card which I will not fill up. Just a great backup and travel device. If it breaks then no big whoop. They are basically disposable for this price. Enjoy yours!!

Yup 16 gb is just fine. Buy an SD card for cheap instant storage. I love that SD slot!

Have you tried loading crouton on this. I am really interested in purchasing the CB2 but I would like to know weather it can handle 1080p in home streaming of games through steam. Thats the deal breaker for me. I am worried the weaker processor wont be able to handle this. The c720 handles 720 game streaming just fine

I have not. We plan on doing some Crouton stuff in the future when we have time. In most cases we have review units for a short period of time that we need to spend time reviewing rather than hacking Linux onto :P .

Hmmm nice large screen and good specs for a low price? Not bad. Might end up on my personal Christmas list.

Great review, Andrew. I think this will be a nice replacement for my 11-inch Chromebook. I'm looking forward to the bigger, full HD display. Posted via AC App on HTC One

Keyboard Legibility:
> Good clear font
> Good contrast
> Characters too small, should have used symbols for Shift & Enter
KL Rating: 5/10

I had my eye set on the Toshiba Chromebook 2 FHD, loved everything about it when I saw it at the store. I stumbled across a Pixel for sale near me and just ponied up the dough for it.
Wow! This thing is just gorgeous.

This is a heck of a nice Chromebook compared to some that are out there. Would have been even nicer with the 2955U processor and real aluminum. The screen is great but everything is really tiny in Full HD on this small screen. Yes, you can use scaling, by why buy a laptop with a Full HD screen then scale it down in resolution? Makes no sense. If you want more power, go with the C720 with the Core i3. For value, pick the C720 with the 2955U, great performance for the money. Want to check out some more reviews and comparisons? http://chromebookreview.org
Android Central Newsletter
Get the best of Android Central in in your inbox, every day!
Thank you for signing up to Android Central. You will receive a verification email shortly.
There was a problem. Please refresh the page and try again.