Acer C720 Chromebook review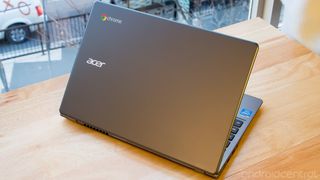 The best budget laptop purchase you can make right now. {.intro}
If it isn't entirely clear to everyone by now, Chromebooks are certainly a thing. And more importantly for budget-conscious computer buyers, inexpensive prices are the norm for these browser-centric laptops (save for the Pixel, of course). Google and its partners have peppered the landscape with Chromebooks hitting the $199 to $299 price range, and smack in the middle is the Acer C720.
At $249 the C720 hits the same price point as the long-standing Chromebook posterboy, the Samsung Chromebook, while in itself succeeding its older brother, the C710. Although it occupies the same price point as the underpowered Samsung offering, the C720 packs a surprising amount of punch.
Read along and see the merits of the Acer C720 Chromebook, and why it may just be your best choice when it comes to value in the Chromebook space.
First and foremost, the C720 model we're reviewing is the $249 model with 4GB of RAM. Not to be confused with the $199 model that has 2GB of RAM, or the $299 C720P which has a touchscreen. Onwards.
Simple, strong and effective
Let's not sugarcoat things here — the C720 looks and feels like it was built by Acer and costs $249. It's difficult to say that without it carrying some negative connotations, but we have to be realistic here. Acer consistently does a great job of making inexpensive hardware as solid as can be expected for the price.
The main chassis and lid of the laptop is a barely-textured shiny grey plastic, fused together with matte hard plastic on the bottom. Around the display is a hyper-glossy piano black plastic finish, accented with some rubber nubs to keep the screen off the keyboard, and a VGA webcam at the top. Aside from the screen bezel, the C720 didn't seem to pick up dirt or fingerprints at all — something about the texture of the grey plastic kept it clean with use.
The bottom of the laptop has a couple big intake grilles for the fans, as well as necessary nubs to keep the air flowing, paired up with one exhaust vent in the hinge area — it's an unfortunate necessity of having a full Intel processor on-board here, but as we'll discuss below it's well worth the tradeoff. Considering the liberal use of what we can only imagine is low-grade plastic, the C720 holds together extremely well, and doesn't creak or flex in any noticeable amount — far more than we can say of the HP Chromebook 11 or Samsung Chromebook.
Image 1 of 2
Moving to the internal specifications, you're getting a pretty solid bang for your buck. Keeping things moving inside the C720 is a dual-core 1.4GHz Intel Celeron 2955U processor — that's a Haswell microarchitecture version — paired with 4GB of RAM and 16GB of storage. For ports, you'll fare better than you may expect: one of each USB 2.0 and 3.0 ports, an SDcard slot, full HDMI out and a headphone and microphone jack. For power, you've got a three-cell 3950mAh lithium-polymer non-removable battery.
As for the dimensions, the C720 is relatively svelte in the wide range of laptops, but is a bit chunkier than its immediate competition. We're looking at an 11.3-by-8-inch footprint, with a thickness of 0.8 inches and a weight of 2.76 pounds. That's larger in each dimension than the HP Chromebook 11, and is also 0.46 pounds heavier, which is very noticeable once you've used lighter systems before. (For comparison, a 13-inch MacBook Air weighs 2.96 pounds.)
Image 1 of 2
Looks are subjective, of course, but as with its materials, Acer clearly cut back on the design budget with the C720. There's simply no style or flair to be found here, it just looks like any other random laptop out there. And save for the small "Chrome" logo in the top left corner of the lid, you wouldn't know what OS is on this thing at a glance. Whether you like the design of the Samsung and HP Chromebooks, it's clear that they have some unique styling and personality — that's just not the case here.
But in the end, that's quite alright. Because instead Acer has spent money delivering great value internals. For the same price as the aforementioned machines, you're getting a laptop with the same flash storage, screen size and resolution, but with twice the RAM and a bona fide Intel Haswell processor. And we find that internal hardware makes a big difference.
Display and speakers
Past the design and materials, Acer has also skimped on the C720's display. We're looking at a very average 11.6-inch TFT LCD panel here at 1366 x 768 resolution that gets the job done but doesn't go much further. Pixel density is just fine for this level of machine, and while brightness and viewing angles are solid, the colors just don't "pop" quite as much as the IPS displays found on many other laptops.
On the audio front, you'll find a pair of small speaker grilles on the bottom of the C720, underneath the palm rests near the edge of the laptop. You'd probably expect exposed speakers to sound better than hidden ones, but when the speakers are low in quality, their physical configuration can't do much to help. While they don't distort even at higher volumes, the speakers are very tinny and basically possess no bass to speak of at any level. The speakers will do just fine for podcasts and sporadic music, but you're always going to be best off with headphones or external speakers.
Keyboard and touchpad
Here's where the rubber meets the road ... er, the hands meet the input devices. Acer has put a very capable keyboard in the C720 that you'll be hard-pressed to find many faults with. The keys are nicely textured, easy to press and in a proper Chromebook layout — and once you get used to that you'll have no problem being right at home with this keyboard. If we had one complaint it'd be that the key travel is a bit shallow and not quite springy enough, but we recognize that every keyboard has its own quirks.
The touchpad may not be as objectively good. Made of similar grey semi-gloss plastic as the rest of the laptop, it provides a usable experience and not much more. This is a full clickpad style that sheds distinct buttons for extra touch room — a right click can be had by holding two fingers down and clicking. Regardless, the touchpad is a bit too small.
Our biggest issue with the touchpad isn't the size so much as the lack of accuracy. When trying to select specific portions of text or finely drag the cursor into a small area, we experienced far too much friction and inaccuracy. If the touchpad were just a bit smoother, both physically and in terms of its performance, we could probably use it with little issue. As it stands now, we have to say the touchpad goes right on the pile with most other laptops that have less-than-stellar touch experiences.
Chrome OS
As we do in a review of every Chromebook, we must remind folks that you're not getting a complete desktop-style operating system. You're just getting Chrome OS. Saying "just" gives the idea that you're getting something substandard though, which simply isn't the case. You're getting something different than you're used to, and a very capable system at that.
Chrome OS, at least in the stable channel, haven't changed hardly at all in the past couple of months. You're still dealing with a Chrome-based operating system that gives you access to a great web browsing experience, expanded by Chrome extensions to provide more functionality.
You can't sit down and do everything on a Chromebook that you could on a modern MacBook or Windows Ultrabook, but you can certainly do more than you'd think a browser could enable. After looking at your own usage patterns it's pretty easy to see whether or not a Chromebook could be your primary computer — and while for most it probably can't be, it certainly serves its purpose as a "sometimes" computer.
Daily life with the Acer C720
Coming from using its ARM-powered brethren, the Acer C720 is an absolute joy to use. As we alluded to earlier, the hardware combination under the hood here provides a great experience. It's hard to understate how much of a difference moving from a lower-powered Exynos chip to a new dual-core Intel unit makes in real-world use. In short, the extra thickness, weight and fan vents are completely worth it.
Where the HP and Samsung choked running more than a few tabs and stuttered trying to scroll quickly, we could use the Acer C720 just as we would use Chrome on our MacBook Air — a computer that costs five times as much — and notice absolutely no difference in performance between the two. That usage regularly consists of at least 10 open tabs, streaming music and writing for Android Central, often going far beyond that. New tabs and apps launched extremely quickly, and we never experienced a single slowdown. Even HD video streams from ESPN and Hulu played perfectly, including when outputting to the Chromecast over our local network.
What's more, the C720 has double the battery life of its competition.
Google and Acer claim eight and a half hours of usage on the C720, and we're happy to report that is completely attainable. Battery life is of course entirely dependent on usage patterns, but even in our heavy usage scenario we could use the C720 flat out for at least six hours without being bothered by the battery percentage dipping into the single digits. With easier, casual usage with just a couple of windows open, we could go right up to the manufacturer's claimed battery life — more, naturally, when taking breaks along the way.
We first received the C720 after testing the HP Chromebook 11, with its Exnos CPU and microUSB charger. And though we were initially disappointed by the fact that it needed a more traditional proprietary laptop charger rather than a microUSB adapter, it's hard to complain when you only have to charge your laptop once for a full day of use.
A few other odds and ends we noticed:
When the CPU fans do kick in (which seemed to be rarely), they can sometimes emit a high-pitched whir that was annoying depending on the angle you held the computer.
The headphone port holds extremely tightly onto whatever you plug in. Get ready to yank hard to remove your headphones.
The display hinge is very sturdy and the correct stiffness, and gives a satisfying "clunk" when the laptop closes.
USB 3.0 and an SDcard are kind of luxuries on a Chromebook, but when you need the expansion you'll be glad of the the port versatility.
This is what an inexpensive Chromebook should be
When nearly every Chromebook available spans a price range from $199 to $299, it's really tough to stand out.
Despite the tight pricing, the Acer C720 Chromebook has demonstrated that it's the best effort to date in this space. Although we still wish there was some way to have a better screen and touchpad, Acer has packed a great deal of performance and battery life into a solid 11-inch form factor that costs the exact same as the underpowered competition. Toss in the fact that you can pick up a C720 with 2GB of RAM for $199 if you're price-sensitive, or bump up to $299 if you want a touchscreen experience, and we definitely have a winner here.
If you've been looking into getting a Chromebook, whether as a primary or secondary machine, the Acer C720 needs to be at the top of your list. The experience on offer here is exactly what using a Chromebook should be like — solid, portable, fast and inexpensive.
Image 1 of 18
Android Central Newsletter
Get instant access to breaking news, the hottest reviews, great deals and helpful tips
Andrew was an Executive Editor, U.S. at Android Central between 2012 and 2020.
Really want one of these. Can't seem to find it at the $250 price point though Posted via Android Central App

BestBuy has it for $200
https://www.androidcentral.com/e?link=https2F2Flink... maybe you are looking at the C720P...which is basically this, minus 2GB RAM and with a touch screen Edit, that BB listing says 2GB RAM....WTF is going on here? typo on BBY's part maybe?

That would be the cheaper, 2GB of RAM version of this laptop.

Ummm the article states that it cost $249 Posted via Android Central App

You posted the thing you said I'm looking at. No I can only find the proper one marked up. Posted via Android Central App

$249 for the 4gb model and $199 for the 2gb model (RAM)

Yup, as things go out of stock on places like Amazon, the third-party sellers raise prices to catch up with high demand — especially around this time of year. I can guarantee you that MSRP on the 4GB of RAM C720 is $249. As soon as Amazon has stock directly again, the price will be $249. The same thing happened when the 2GB of RAM $199 model was released.

i cant find the delete key yet

The best place to look for them is walmart! This comment might be way to late, but at least when people come across this website they will know the answere to this question! This chromebook is great for anything and EVERYTHING :)

So sad we can't have an hp11 with this internals Posted from my N4 via Android Central App

Yeah that kind of would be a nice combo. Unfortunately if the HP 11 had these internals, it wouldn't be as light or thin. It'd... look like the C720.

Is the Pixel still the only Chromebook that is compatible with Chromecast?

This review mentioned that they were outputting to a chromecast. Posted via Android Central App

I totally missed that when I read through it. Thanks!

I thin you can cast via a chrome extension, same as if on windows or Mac.

Sending to Chromecast just requires the Google Cast Chrome extension — any Chromebook or other laptop can use it just fine. Performance may vary based on the computer's specs, but that doesn't mean it's incompatible.

That is great to hear because I bought my mother both this and a Chromecast for Christmas but I was afraid they weren't compatible yet! Posted via Android Central App

Interesting Chromebook are considered laptops. I figured they were in their own class.

They are laptops, regardless if they don't run the usual desktop programs. Posted Via VZW Moto X on the Android Central App

I consider anything with a hinge and a non-detachable screen to be a laptop.

Since Chrome OS is based on linux, then it can be replaced with ubuntu or something else (easier if it's not ARM processor of course)

The 4gb model is hard to find. I was able to snag one from Amazon, but had to settle on a 2gb model for the second one (both gifts).

I like chromebooks, but at the bottom of that best buy ad, it shows a regular laptop for 229.00 with a 500GB hard drive... DVD player, and 4GB of RAM, too Posted via Android Central App

most likely w/o haswell and the biggest difference the chromebook has a SSD. That alone makes it a phenomenal buy. You will be hard pressed to find a PC w/ a SSD under $800

Do you REALLY notice a difference between haswell architecture and the others? I don't. I also picked up a 128GB SSD for my windows laptop about 4 months ago, for a whopping 140.00...128GB. A 16GB SSD is actually quite inexpensive if you can find one. I also have an HP 14" chromebook...I use it for the web, but it would never go to work with me since they have the wifi locked down.

battery life improvements are massive between haswell and ivy bridge. That, IMO, is the most important features in a laptop.

I really like the chromebooks but the VGA webcams are a deal breaker for me, is not like Chrome OS supports adding an external webcam, does it? :O

Yeah, things like webcams are good places to cut every last penny on a cheap machine. I'll plug a USB webcam into my Chromebooks and see what happens.

Just plugged my Logitech C920 webcam into the Acer C720 Chromebook, opened the "camera" app and it loads just fine without any settings change or anything. Easy peasy :) .

I have one on my chromebox running chrome OS so I can only assume you can plug it into the usb port and select the webcam in the settings?

This is the one decided to get. No regrets. I have been using it on my vacation and it is a perfect companion.

I don't think chromebooks will replace the laptop yet but they do fit nicely in a niche of their own. Those that like tablets but need a full keyboard and a little more this is a nice buy. It won't replace my macbook pro but I bet I would use this all the time on vacation or while out on the job.

They're not meant to replace Windows laptops or Macbooks. They're meant to be niche devices. Though from what I can tell, it's a niche that more and more people are finding themselves to be quite comfortable in.

Is this the one with a touch screen?

The touchscreen version is an Acer c720 but starts at $299

From above:

First and foremost, the C720 model we're reviewing is the $249 model with 4GB of RAM. Not to be confused with the $199 model that has 2GB of RAM, or the $299 C720P which has a touchscreen. Onwards.

I cannot find this chromebook anywhere. It is not even listed on the Acer site.

Looks like the holidays are crunching stock all over the place. It's been on sale at Amazon/Best Buy since launch though. But it most certainly is on Acer's site: http://us.acer.com/ac/en/US/content/series/c720

Where is the $249 version with 4gb of ram on the Acer site?

http://us.acer.com/ac/en/US/content/model/NX.SHEAA.001

Thanks Andrew, I could not find it anywhere. To bad when I click buy it sends me to Amazon where is only one up the and its selling for 399 lol.

They've been out of stock from Amazon directly for a couple weeks now. Third-party sellers jack the prices up till Amazon has them back in stock. Happens every time.

I am pretty sure that they have been discontinued. Best Buy says, "This item is no longer available."

Excellent write up. I initially bought the HP Chromebook 11, but the performance was lackluster to say the least. But the screen was beautiful. How does the C720 screen compare? As far as sharpness and brightness. *Edit I also have to say I bought a Pixel, so I'm pretty spoiled. But at over 3 pounds I'd like something lighter to carry to school without sacrificing a good viewing experience.

Because its a TFT display, the C720's screen just isn't going to be up to snuff with the HP 11's IPS LCD. It's definitely usable and the brightness/viewing angles aren't bad, but it's not the best in its class from a display standpoint.

Convince my why should I buy a chromebook because I don't see a need for it if I have a android phone or a tablet. Posted via Android Central App

Exactly...I have one, but it's for my basement...And I usually carry my tablet around the house instead. I will fire it up if I need to send a long email though as it has a keyboard that my N7 doesn't.

Especially the tablet. There's no reason for me to get one if I have both a tablet and a laptop, even though I want one. Posted via Android Central App

It's actually far different, it's running full desktop Chrome, flash and everything. You can use actual real Gmail that has all the desktop features, there are many things I need like canned responses missing on mobile.

The 4GB model is hard to find right now. Some places have it marked as no longer available and some places are selling pre-orders. The only one on Amazon is from a 3rd party seller at $399. This model is the one I'm waiting for so I hope it shows up again soon.

I have a C710 and I love it. I run Ubuntu most of the time and its extremely fast. My only dislike is how flexible the c710 is. When sitting on a table I can push down on the trackpad and make the bottom touch the table. In fact it is so flimsy that after riding in my backpack, it seems to bend and hold its shape. I can actually bend the whole thing back to normal. Does anybody with a c720 know how it compares to mine? Is it sturdier? Posted via Android Central App

Its not a huge bend but if I hold it at eye level and look down the length of it, it clearly isn't a flat plane. And the screen doesn't rest really flat. I'm not complaining but I'm buying a c720 soon. Posted via Android Central App

Great review...i got mine couple of weeks back and love it...

Phoronix rated it highly running Ubuntu http://www.phoronix.com/scan.php?page=news_item&px=MTU0MzA

My school is looking to update their chrome books next year with this Acer one as well as the new HP 14 chromebook and a small white really nice looking one. This or the HP looks like a nice upgrade from the Samsung Series 5 one Posted via Android Central App

And Andrew what about the most important item? How easy is it to load Ubuntu or a variant of Linux. Thus making this a viable laptop replacement with full capabilities. And probably the 2nd thing Jerry installed on his...right after the "Closest beer distributor app". Posted via Android Central App

See a comment above with a link to phoronix for a bench test of it running Ubuntu. This could be the chromebook that replaces the standard Asus laptop (that I made the mistake of getting for my wife) that dual boots windows and linux (but never actually boots to windows). The question is, how invasive is the surgery to replace the ssd to something big enough that it'll hold the bigger system, full complement of apps that she uses, and still plenty of storage for all of her work? If that is easy enough. This could be the one. Please please be the one. I really want to do an office space beat-down on this Asus piece of crap (even with 1.5 years of warranty left on it).

Can the AC team review the HP Chromebook 14? I own it and love it, and I feel more people should own and love it too

The new model or the old one - 1.1 Ghz Intel CPU or 1.4? I bought the one with the 1.4 Ghz yesterday as a gift but opened it up first and played with it :) It's really nice for the price - $299.

Chromebooks...ick I say that as a shameless google fanboy. I can't think of what these will do for me that I can't get on a laptop for around the same price.

The appeal is just for if you want basic services and don't want bloatware that's the audience it appeals to And don't forget the great prices Sent from my Nexus 7 2013

Run a web browser about 100x better than one of those Windows craptops for the same price (that are really 100 to 200 dollars more than this one). Always easy to see who hasn't used a Chromebook.

Ha, craptops, love it! Sent from my C710

I'm gutted the 4 gig ram version hasn't come out in the UK... Posted via Android Central App

A lot of people seem to be stressing about having the 4GB version over the 2GB version, it's unlikely Acer will release the 4GB version in the UK for the one simple reason, there's no reason too, the C720 comes with the swap file or SSD drive virtual memory enabled by default so it will remember the contents of all those hundred of tabs you have open. I cannot see a situation where 2GB over 4GB would give you any noticeable performance on the current ChromeOS.
I've done stress tests on my 2GB with 40+ browser windows open, streaming music and Youtube with little to no noticeably performance impairment. This isn't Windows, it's extremely light linux based OS which basically consists of a web browser, basic file manager and media player.
The main reason Chromebooks have had some performance issues is due to there processing power.
If your worried that 2GB isn't enough then perhaps a Chromebook isn't what your looking for.

Your half right...It may that running the stock Chrome OS isn't what we are looking for....

That's good to know, thanks.
If there's really not much point then why release the 4 gb at all? And why only in the US? I'd like to have the choice, even if the performance difference is only minimal. Posted via Android Central App

Fair enough, maybe the people at Acer UK decided it wasn't necessary, or there's a shortage of the 4GB units, who knows the thinking behind these big companies, I'm still scratching my head on why they want to put a touch screen on a ChromeOS device, sure ChromeOS is touch compatible, but it's hardly touch optimised like windows 8.

I have this chromebook and let me tell you that is is great. I bought a $500 Windows 8.1 ultrabook laptop and this Chromebook and I ended up returning the laptop. Reasons why you would pick a chromebook over a laptop: Battery life - Windows laptops around this price have about 3 to 4 hours battery life. This Chromebook has 8.5 hours of battery life. Price - 250 dollars for a fast computer. No windows laptops are this good for this price. Small and compact - 11.6' screen and great to travel with, windows 11-13 inch laptops at this price point are garbage. Fast and stays fast - Chromebooks instantly turn on and your ready to use. Not like a windows laptop with bloatware from programs you will never use. No anti virus slowing your laptop down. No programs installing things and leaving them behind when you uninstall. On windows you have to start up your computer and wait a few minutes for everything to load up and be ready to use. On a chromebook its instant and great for a college student who needs to instantly pull up something. A chromebook is perfect for anybody who just uses the web, watches videos, and a college student who needs to write papers and take their laptop places. This is perfect for them. Every windows computer I have had slows down and becomes garbage after a couple of years. All these updates that constantly happen and all the things you install and they leave behind files and folder, all of that leads to your Windows laptop slowing down. There is no better laptop out there for $250 dollars.

What's the largest capacity SD card you can use? Posted via Android Central App

Im not sure what the largest is, but I stuck my 64gb microsd from my phone to the sd card adapter and put it in the chromebook and it worked fine.

Thanks. That's exactly what I wanted to know. Posted via Android Central App

Sounds perfect for my needs. May look into this after the holiday hangover, been wanting a Chromebook for some time now.

nice posting you have mister !

Glad to hear this keeps getting decent reviews. I have one in my closet as a Christmas gift for my wife. It did seem like the 4GB version were in short supply (or high demand?). Mine was back-ordered for a week or two on Amazon. My wife actually asked for one for the couch web browsing she does. This will be perfect for her.

I was pleased to see this thorough tech review. Kudos to the author.
I had the 4GB model since early November. The reviewer did not mention a sticky "i" key like I had, so I figure my unit was not the norm. Sadly I had to return it yesterday because of faulty WiFi. So far this WiFi problem appears to be isolated as I have found no other reports of it yet. Since Amazon could not replace the 4GB unit now, I decided to go for the 2GB model to get by for awhile (near instantaneous boot up, fast browsing, etc.). But now I'll be anxious to see how many tabs I can open comfortably with the 2GB compared to the 4GB model where I could easily have more than 10-12 tabs open. This comparison is yet to be published as far as I can tell.

I think you'll be pleasantly surprised.

The 4 gb model is no where to be found. I bought the 2 gb model and it is sweet. For the most part, the extra 2 gigs simply allow for more tabs to be open. $199 for the 2 gb model was just too good to pass up.

Good review! The C710 (a step down from above menioned model) ALMOST made it home with me until i discovered it lacked bluetooth. To not be able to connect a wireless headset is a dealbreaker for me. I'm glad i passed on it, because i found the Asus T100 10.1 inch Tablet/Transformer, and for just 50$ more, you can use it like a chromebook but it also has a full Windows 8.1 experience to be called upon when & if needed.... BTC

I don't like how their are separate RAM models its like implying something I'm just saying because I haven't seen chromebooks with different models at least from a performance standpoint Sent from my Nexus 7 2013 or Moto G

My wife's POS Dell which became so hot it scalded people finally died. Until we can get a full blown Windows PC with discrete graphics, I picked her up the Acer C720 w/ 2GB RAM at Best Buy the other night as an early Christmas present for $199. I was nervous to go with a Chromebook, but since she works in the Google world and uses the net most of the time, I took a chance figuring I would return it if she didn't like it. She LOVES it. I was actually surprised at how much she liked it. We aren't experiencing any of the issues with the laptop described above such as a meh trackpad. She actually really likes the track pad on the C720 and thinks it's the lightest notebook she has ever owned. She is raving about the battery life and can't get over how fast the computer operates. Taking it back wasn't even a consideration. Definitely a great buy.

Does anybody know of any comparisons to the C710 that might be out there? Is it worth the upgrade? Sent from my C710

I have been using the Samsung ARM chromebook for the past year as my primary computer and I love it. I haven't noticed any slowdowns at all. I usually keep open tabs to a minimum by nature to avoid clutter. But even when I am working on a 50MB presentation or shop online with 12 tabs I notice no lag. This is a quiet, sleek, long lasting machine

Bought the 2gb version at PC World last week and I'm pleasantly surprised!
Bought it to replace the Acer XP laptop that I've had for years, I can't believe how fast this chrome book gets me online!
I thought about how I had been using my laptop and realized I hadn't used the CD drive for maybe 2 years and I use it mainly for browsing and music. The only thing that has bugged me so far is that Sky go isn't supported as it requires Silver light, but then this is Sky's fault.
Andrews review is spot on, if folks think about how they use a laptop, I reckon many of them would get by just fine with a chromebook, and in particular, this chromebook.
Battery life is excellent, I'm getting a day of use from mine which is some browsing and some Netflix use. The apps are fine and so far I've found ones that satisfy what I need to do.
Lastly, this perfectly compliments my Nexus 5 and 7!
Android Central Newsletter
Get instant access to breaking news, the hottest reviews, great deals and helpful tips
Thank you for signing up to Android Central. You will receive a verification email shortly.
There was a problem. Please refresh the page and try again.