Acer C720 Chromebook review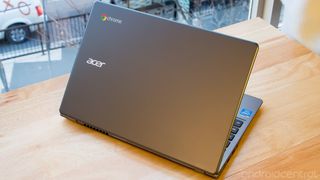 The best budget laptop purchase you can make right now. {.intro}
If it isn't entirely clear to everyone by now, Chromebooks are certainly a thing. And more importantly for budget-conscious computer buyers, inexpensive prices are the norm for these browser-centric laptops (save for the Pixel, of course). Google and its partners have peppered the landscape with Chromebooks hitting the $199 to $299 price range, and smack in the middle is the Acer C720.
At $249 the C720 hits the same price point as the long-standing Chromebook posterboy, the Samsung Chromebook, while in itself succeeding its older brother, the C710. Although it occupies the same price point as the underpowered Samsung offering, the C720 packs a surprising amount of punch.
Read along and see the merits of the Acer C720 Chromebook, and why it may just be your best choice when it comes to value in the Chromebook space.
First and foremost, the C720 model we're reviewing is the $249 model with 4GB of RAM. Not to be confused with the $199 model that has 2GB of RAM, or the $299 C720P which has a touchscreen. Onwards.
Simple, strong and effective
Let's not sugarcoat things here — the C720 looks and feels like it was built by Acer and costs $249. It's difficult to say that without it carrying some negative connotations, but we have to be realistic here. Acer consistently does a great job of making inexpensive hardware as solid as can be expected for the price.
The main chassis and lid of the laptop is a barely-textured shiny grey plastic, fused together with matte hard plastic on the bottom. Around the display is a hyper-glossy piano black plastic finish, accented with some rubber nubs to keep the screen off the keyboard, and a VGA webcam at the top. Aside from the screen bezel, the C720 didn't seem to pick up dirt or fingerprints at all — something about the texture of the grey plastic kept it clean with use.
The bottom of the laptop has a couple big intake grilles for the fans, as well as necessary nubs to keep the air flowing, paired up with one exhaust vent in the hinge area — it's an unfortunate necessity of having a full Intel processor on-board here, but as we'll discuss below it's well worth the tradeoff. Considering the liberal use of what we can only imagine is low-grade plastic, the C720 holds together extremely well, and doesn't creak or flex in any noticeable amount — far more than we can say of the HP Chromebook 11 or Samsung Chromebook.
Image 1 of 2
Moving to the internal specifications, you're getting a pretty solid bang for your buck. Keeping things moving inside the C720 is a dual-core 1.4GHz Intel Celeron 2955U processor — that's a Haswell microarchitecture version — paired with 4GB of RAM and 16GB of storage. For ports, you'll fare better than you may expect: one of each USB 2.0 and 3.0 ports, an SDcard slot, full HDMI out and a headphone and microphone jack. For power, you've got a three-cell 3950mAh lithium-polymer non-removable battery.
As for the dimensions, the C720 is relatively svelte in the wide range of laptops, but is a bit chunkier than its immediate competition. We're looking at an 11.3-by-8-inch footprint, with a thickness of 0.8 inches and a weight of 2.76 pounds. That's larger in each dimension than the HP Chromebook 11, and is also 0.46 pounds heavier, which is very noticeable once you've used lighter systems before. (For comparison, a 13-inch MacBook Air weighs 2.96 pounds.)
Image 1 of 2
Looks are subjective, of course, but as with its materials, Acer clearly cut back on the design budget with the C720. There's simply no style or flair to be found here, it just looks like any other random laptop out there. And save for the small "Chrome" logo in the top left corner of the lid, you wouldn't know what OS is on this thing at a glance. Whether you like the design of the Samsung and HP Chromebooks, it's clear that they have some unique styling and personality — that's just not the case here.
But in the end, that's quite alright. Because instead Acer has spent money delivering great value internals. For the same price as the aforementioned machines, you're getting a laptop with the same flash storage, screen size and resolution, but with twice the RAM and a bona fide Intel Haswell processor. And we find that internal hardware makes a big difference.
Display and speakers
Past the design and materials, Acer has also skimped on the C720's display. We're looking at a very average 11.6-inch TFT LCD panel here at 1366 x 768 resolution that gets the job done but doesn't go much further. Pixel density is just fine for this level of machine, and while brightness and viewing angles are solid, the colors just don't "pop" quite as much as the IPS displays found on many other laptops.
On the audio front, you'll find a pair of small speaker grilles on the bottom of the C720, underneath the palm rests near the edge of the laptop. You'd probably expect exposed speakers to sound better than hidden ones, but when the speakers are low in quality, their physical configuration can't do much to help. While they don't distort even at higher volumes, the speakers are very tinny and basically possess no bass to speak of at any level. The speakers will do just fine for podcasts and sporadic music, but you're always going to be best off with headphones or external speakers.
Keyboard and touchpad
Here's where the rubber meets the road ... er, the hands meet the input devices. Acer has put a very capable keyboard in the C720 that you'll be hard-pressed to find many faults with. The keys are nicely textured, easy to press and in a proper Chromebook layout — and once you get used to that you'll have no problem being right at home with this keyboard. If we had one complaint it'd be that the key travel is a bit shallow and not quite springy enough, but we recognize that every keyboard has its own quirks.
The touchpad may not be as objectively good. Made of similar grey semi-gloss plastic as the rest of the laptop, it provides a usable experience and not much more. This is a full clickpad style that sheds distinct buttons for extra touch room — a right click can be had by holding two fingers down and clicking. Regardless, the touchpad is a bit too small.
Our biggest issue with the touchpad isn't the size so much as the lack of accuracy. When trying to select specific portions of text or finely drag the cursor into a small area, we experienced far too much friction and inaccuracy. If the touchpad were just a bit smoother, both physically and in terms of its performance, we could probably use it with little issue. As it stands now, we have to say the touchpad goes right on the pile with most other laptops that have less-than-stellar touch experiences.
Chrome OS
As we do in a review of every Chromebook, we must remind folks that you're not getting a complete desktop-style operating system. You're just getting Chrome OS. Saying "just" gives the idea that you're getting something substandard though, which simply isn't the case. You're getting something different than you're used to, and a very capable system at that.
Chrome OS, at least in the stable channel, haven't changed hardly at all in the past couple of months. You're still dealing with a Chrome-based operating system that gives you access to a great web browsing experience, expanded by Chrome extensions to provide more functionality.
You can't sit down and do everything on a Chromebook that you could on a modern MacBook or Windows Ultrabook, but you can certainly do more than you'd think a browser could enable. After looking at your own usage patterns it's pretty easy to see whether or not a Chromebook could be your primary computer — and while for most it probably can't be, it certainly serves its purpose as a "sometimes" computer.
Daily life with the Acer C720
Coming from using its ARM-powered brethren, the Acer C720 is an absolute joy to use. As we alluded to earlier, the hardware combination under the hood here provides a great experience. It's hard to understate how much of a difference moving from a lower-powered Exynos chip to a new dual-core Intel unit makes in real-world use. In short, the extra thickness, weight and fan vents are completely worth it.
Where the HP and Samsung choked running more than a few tabs and stuttered trying to scroll quickly, we could use the Acer C720 just as we would use Chrome on our MacBook Air — a computer that costs five times as much — and notice absolutely no difference in performance between the two. That usage regularly consists of at least 10 open tabs, streaming music and writing for Android Central, often going far beyond that. New tabs and apps launched extremely quickly, and we never experienced a single slowdown. Even HD video streams from ESPN and Hulu played perfectly, including when outputting to the Chromecast over our local network.
What's more, the C720 has double the battery life of its competition.
Google and Acer claim eight and a half hours of usage on the C720, and we're happy to report that is completely attainable. Battery life is of course entirely dependent on usage patterns, but even in our heavy usage scenario we could use the C720 flat out for at least six hours without being bothered by the battery percentage dipping into the single digits. With easier, casual usage with just a couple of windows open, we could go right up to the manufacturer's claimed battery life — more, naturally, when taking breaks along the way.
We first received the C720 after testing the HP Chromebook 11, with its Exnos CPU and microUSB charger. And though we were initially disappointed by the fact that it needed a more traditional proprietary laptop charger rather than a microUSB adapter, it's hard to complain when you only have to charge your laptop once for a full day of use.
A few other odds and ends we noticed:
When the CPU fans do kick in (which seemed to be rarely), they can sometimes emit a high-pitched whir that was annoying depending on the angle you held the computer.
The headphone port holds extremely tightly onto whatever you plug in. Get ready to yank hard to remove your headphones.
The display hinge is very sturdy and the correct stiffness, and gives a satisfying "clunk" when the laptop closes.
USB 3.0 and an SDcard are kind of luxuries on a Chromebook, but when you need the expansion you'll be glad of the the port versatility.
This is what an inexpensive Chromebook should be
When nearly every Chromebook available spans a price range from $199 to $299, it's really tough to stand out.
Despite the tight pricing, the Acer C720 Chromebook has demonstrated that it's the best effort to date in this space. Although we still wish there was some way to have a better screen and touchpad, Acer has packed a great deal of performance and battery life into a solid 11-inch form factor that costs the exact same as the underpowered competition. Toss in the fact that you can pick up a C720 with 2GB of RAM for $199 if you're price-sensitive, or bump up to $299 if you want a touchscreen experience, and we definitely have a winner here.
If you've been looking into getting a Chromebook, whether as a primary or secondary machine, the Acer C720 needs to be at the top of your list. The experience on offer here is exactly what using a Chromebook should be like — solid, portable, fast and inexpensive.
Image 1 of 18
Sign up for Black Friday email alerts!
Get the hottest deals available in your inbox plus news, reviews, opinion, analysis and more from the Android Central team.
Andrew was an Executive Editor, U.S. at Android Central between 2012 and 2020.