Best Disney Plus shows and movies to watch right now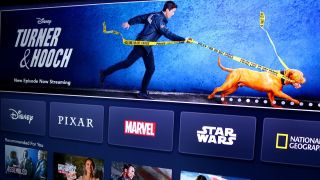 (Image credit: Keegan Prosser / Android Central)
Disney Plus is a relatively new streaming service from Disney that brings the best of Disney, Pixar, Marvel, National Geographic, and more into one place.
There is a whole lot of content on Disney+, which could make finding something new to watch a little overwhelming. Luckily, we've done the hard work and rounded up some of the best shows and movies that you should be watching on Disney+ right now. From original series meant for kids to action-packed or endearing films for the whole family, see our guide to the best Disney+ shows and movies below.
What is Disney+, and how do I sign up?
If you aren't familiar with Disney+ or have been holding out on signing up, now may be the time to learn more and get a subscription started. It brings pretty much the full collection of shows and movies from Disney, Pixar, National Geographic, Marvel, and more into one service for a low monthly cost that doesn't require a long-term commitment.
You can get started with a Disney Plus subscription for just $7.99 per month, or combine it with Hulu and ESPN+ for just $13.99 a month. Both give you access to the same Disney+ library, but obviously, the bundle just gives you more services to watch.
A magical streaming service
All your Disney favorites, and so much more
From DCOMs to National Geographic, from Marvel to Lucasfilm to 20th Century Fox and beyond, Disney+ delivers a streaming service for all ages.
Best series on Disney+
Disney+ is the go-to platform for new and classic series that are perfect for the whole family. While there's tons of content to choose from, we've sorted out some of the best options streaming on Disney+ right now.
Disney+ Originals
Whether you're a big Star Wars fan, are obsessed with the Marvel Cinematic Universe (MCU), or are just looking for a new show to binge, Disney+ has you covered with some of the best original shows streaming right now. Here are four Disney+ originals you won't want to miss.
The Bad Batch
A continuation of the Star Wars Universe, The Bad Batch follows a unique squad of clones finding their way in a changing galaxy in the aftermath of the Clone War.
Loki
Set after the events of Avengers: Endgame, Loki follows the titular God of Mischief as he deals with the aftermath of stealing the Tesseract and being detained by the Time Variance Authority (TVA). The series stars Tom Hiddleston, Owen Wilson, and Gugu Mbatha-Raw.
Monsters at Work
Monsters at Work follows monster Tylor Tuskmon, who joins Monsters Inc. after graduating at the top of his class from Monsters University. But when Tylor learns that the company is looking for Jokesters, not Scarers, his plans change.
Turner & Hooch
A remake of the Tom Hanks-starring film of the same name, Turner & Hooch stars Josh Peck as Deputy Marshal Scott Turner, whose life is turned upside down when he inherits a slobbery dog named Hooch. However, the pair end up being a dynamic duo when it comes to solving crimes. New episodes drop weekly.
Classic series
In addition to the original series, the Disney+ library includes hundreds of classic shows that you probably grew up on or maybe even watched with your kids when they were younger. With that in mind, we've compiled a list of several throwback series currently streaming on Disney+ that are sure to make you feel nostalgic.
Boy Meets World
Stream all seven seasons of Boy Meets World, which follows Cory Matthews (Ben Savage) and his group of friends as they deal with their families and school.
Ducktales
Ducktales follows the adventures of Huey, Dewey and Louie, who are sent to live with their wealthy grand-uncle Scrooge McDuck after their uncle Donald Duck joins the Navy. You can stream the original series, which aired from 1987-1990, or all three seasons of the 2017 reboot—which wrapped up earlier this year.
Kim Possible
Kim Possible follows the titular high school student, who doubles as a secret agent in her spare time. Joined by her best friend Ron Stoppable and his pet naked mole-rat Rufus, Kim must save the world from archenemies around the globe.
Smart Guy
Smart Guy stars Tahj Mowry as a boy genius named T.J., who gets bumped up from fourth grade to high school, where he's joined by his 14-year-old jock brother Marcus and self-absorbed 16-year-old sister Yvette.
Movies on Disney+
Disney+ is also the hub for all the films — new and old — in the Disney, Pixar, Marvel, and Star Wars catalogs, as well as a variety of movies and documentaries you'll only find on the platform. So whether you're looking for something brand new Disney+ content to watch on your 4K TV, or one of the animated Disney films you grew up watching, here are some options to start off your movie marathon with.
New releases
In addition to boasting a massive media library of Disney and Pixar classics, Disney+ offers a variety of brand new films. While some of the releases are only available through the Disney+ Premier Access for the first few months of their release, others are free to all subscribers. Here are a few new releases that are streaming now.
Black Widow
Black Widow finds Natasha Romanoff revisiting her history with The Red Room assassins after a dangerous conspiracy with connections to her past arises. The film stars Scarlett Johansson, Florence Pugh, and David Harbour. It's available for $29.99 through Disney+ Premier Access.
Cruella
Set in the '70s, Cruella stars Emma Stone as the titular puppy-stealing villain and explores her early days as an aspiring fashion designer in London, as well as the events that led her to become bad. It's available for $29.99 through Disney+ Premier Access.
Jungle Cruise
Based on the ride of the same name at Disneyland, Jungle Cruise stars Emily Blunt as Dr. Lily Houghton, who travels with her brother to the Amazon in search of a mythical healing tree. They're joined by riverboat captain Frank Wolff (Dwayne Johnson), who leads them on a dangerous journey into the jungle. It's available for $29.99 through Disney+ Premier Access.
Luca
Luca is set in a fictional seaside town on the Italian Riviera and follows a pair of sea monster friends who decide to explore life on solid ground while disguised as humans.
Classic films
Even without the full catalog of Marvel Studios films and the growing number of films and documentaries available from 20th Century Films (Fox), National Geographic, and even more in the countries where Disney Star launched — those movies wind up on Hulu in the United States — the sheer tonnage of films under the Walt Disney Pictures umbrella is impressive. Whether you're looking to relive the magic of the first films you remember from your childhood or are revisiting classic franchises before they get new retellings, these are the Disney classics you need to watch right now.
Aladdin Trilogy
Revisit the classic animated Aladdin Trilogy, which follows the misadventures of a street rat-turned-prince as he attempts to woo Princess Jasmine and defeat the evil Jafar.
Blank Check
Source: Walt Disney Pictures
Blank Check tells the story of 11-year-old Preston, who receives a blank settlement check after being involved in a bike accident. Faced with the opportunity to cash the check in for a million dollars, Preston quickly learns the ups and downs of being rich.
Freaky Friday (2003)
Based on Mary Rodgers' 1972 novel of the same name, this version of Freaky Friday stars Jamie Lee Curtis and Lindsay Lohan as mother and daughter Tess and Anna Coleman, who switch bodies following an argument over a magical fortune cookie. Through literally walking in each others' shoes, the pair learn to better understand the cracks in their relationship.
A Goofy Movie
Set three years after the events of Disney's popular Goof Troop animated series, A Goofy Movie follows single father Goofy and his 14-year-old son Max as they embark on a wild road trip together.
Conclusion
The Disney+ catalog is quite extensive and features a whole lot of shows and movies for parents and kids alike. Whether you want to catch up on a game-changing series like The Bad Batch and Loki, or revisit an older show like Smart Guy or Kim Possible, the platform's ever-growing media library will keep you busy.
If you're willing to pay a bit extra, you can also dive into a handful of brand new releases, like Jungle Cruise. And if saving money is at the front of your mind, then revisiting an older franchise or singing along to your favorite animated Disney classic might be the better option.
Do you have a favorite that's not included in this list? Be sure to drop a comment and let us know what you're watching so that we can keep people up-to-date about the best Disney+ shows and movies streaming now.
A whole new world
All your Disney favorites, and so much more
Disney+ is the streaming service for families who don't want to miss the latest content from the MCU and Star Wars franchises. You'll also find new and classic films from Disney and Pixar.
Get the Android Central Newsletter
Instant access to breaking news, the hottest reviews, great deals and helpful tips.
Keegan Prosser is a freelance contributor based in the PNW. When she's not writing about her favorite streaming apps and devices for Android Central, she's listening to a true-crime podcast, creating the perfect playlist for her next road trip, and trying to figure out which fitness tracker she should try next. You can follow her on Twitter @keeganprosser.