The Sonos One is excellent in 2020 — here are 5 reasons to still buy it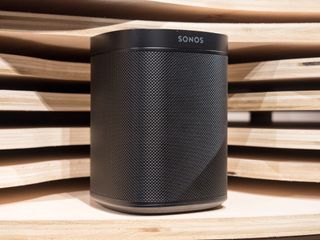 (Image credit: Android Central)
Shopping for a smart speaker in 2020, there are plenty of options out there for you to choose from. They come in a variety of shapes, sizes, features, and price, and among everything that's been released over the years, there's one smart speaker that stands out as one of the best — the Sonos One.
As hard as it is to believe, the Sonos One is approaching its third birthday this year. That may make it sound outdated or old compared to some newer options that have since been released, but that actually couldn't be further from the truth. The Sonos One continues to excel in so many different ways, making it just as great of a purchase today as it was back in 2017.
If you find yourself eyeing the Sonos One but need a little convincing that it's still worth it, here are five reasons why it remains an excellent purchase, and one of the best Sonos speakers you can buy.
The Gen 2 model has better specs
In March 2019, Sonos quietly replaced the original Sonos One with the Sonos One (Gen 2). It's identical to the first model in regards to its design, features, and sound quality, but Sonos improved a few of its internals to ensure it has all the power it needs for years and years of use.
The biggest upgrade found in the Sonos One (Gen 2) is the addition of a Bluetooth Low Energy chip. This allows for a faster set up process when you first get your Sonos One, ensuring the onboarding is as smooth as possible.
The Gen 2 model also comes with a faster processor and additional memory, further future-proofing the Sonos One as new features and updates come down the pipeline.
Google Assistant is fully integrated
When the Sonos One was first unveiled, one of its promised features was support for the Google Assistant. It took a long time for it to be added, but in May 2019, it finally happened. This means you can now choose whether you want to use Alexa or Google Assistant with your Sonos One, giving you some freedom to decide which digital helper suits your life the best.
Google Assistant on the Sonos One works quite well, allowing you to ask random questions, control smart home gadgets, and just about anything else you can think to use the Assistant for. Not being able to add the Sonos One to speaker groups within the Google Home app is a bummer, but overall, the execution is pretty good.
Setting up the Google Assistant with your Sonos One takes just a few taps on the Sonos mobile app, and if you get tired of it and want to switch to Alexa, you're free to do that whenever.
Sound quality is still excellent
The Sonos One may not be the biggest or most impressive speaker in Sonos's lineup, but that doesn't mean it sounds bad. In fact, it sounds pretty darn great.
As a quick refresher, the One is equipped with two digital amps, one woofer, and one tweeter. This results in rich, clear audio that plays nicely with just about any type of music you want to listen to (or a podcast if you prefer listening to those instead). You'll get bigger sound if you pay for bigger speakers, but given its compact size, it's darn impressive how much weight is behind music playing through the One.
You'll get a perfectly enjoyable listening experience out of a single Sonos One, but if you want to take things a step further, don't forget that you can always pair two together for stereo playback. This is the setup I have in my office, and it creates for a truly encompassing listening experience that I cannot get enough of.
Music and podcast support remains unmatched
One of the biggest draws to Sonos speakers has always been the vast support for various streaming services. This continues to be a strong suit of the Sonos One, and it's only gotten better.
All of the major players are supported, including the likes of Spotify, Apple Music, YouTube Music, Amazon Music, Audible, iHeartRadio, and a ton more. Tap the service you want, link your existing account, and it's fully integrated into the Sonos app so all of your music, podcast, and audiobook platforms can live in one central location.
Sonos recently added its own service called "Sonos Radio," through which is offers live radio, exclusive programs, and its own curated playlists. Sonos Radio can only be accessed if you have a Sonos speaker (like the One), and it's a great addition to any other services you regularly listen to.
The new Sonos S2 app is great
This past June, Sonos launched an upgraded experience for its mobile app. The new app, Sonos S2, supports higher-resolution audio playback, better room groups, and a slight redesign to the user interface that makes things look more polished and pleasing to the eye.
The Sonos One is fully compatible with the S2 app, and by using it, you can ensure you get the best Sonos experience possible. Alternatively, if you have older Sonos speakers, you can use your One with them through the Sonos S1 app that's still available.
Still got it
Not the latest, but it sure is the greatest
All these years later, the Sonos One continues to shine as one of the very best smart speakers the market has to offer. It's compact, sounds amazing, and filled with endless features that no other company can offer.
Sign up for Black Friday email alerts!
Get the hottest deals available in your inbox plus news, reviews, opinion, analysis and more from the Android Central team.
Joe Maring was a Senior Editor for Android Central between 2017 and 2021. You can reach him on Twitter at @JoeMaring1.