Tiny1 is the astronomy camera of my dreams!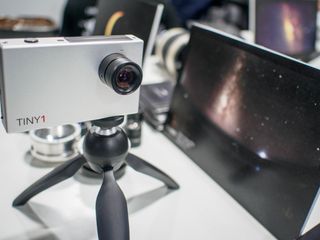 Three months ago I was offered an incredibly rare (for me) opportunity. There was a place not too far from where I was that had almost zero light pollution, which meant I could go and lay in a field and see the Milky Way with my own two eyes.
For someone who loves space and lives in one of the most light-polluted parts of the U.S., this was a big deal. I shed a tear when my eyes focused and, for the first time, I was able to see for myself the night sky in a way I'd seen depicted in countless movies and artist renderings — but alas I wasn't able to take a picture. Neither my Google Pixel nor the kit lens on my Olympus mirrorless camera were enough to capture what I could see with my eyes, and so I started looking into the right kit for capturing astro-photography for myself.
The solution I discovered here at CES is called Tiny1, and it is without a doubt the coolest little camera built specifically for astro-photography.
Tiny1, as the name suggests, is built to be a pocketable camera that can take great photos of the night sky. By using a backlit 4MP sensor with large pixels, the camera is able to be physically small and still take amazing shots that are good enough to be printed (on small paper). The camera itself comes with multiple lenses so you can capture everything from the night sky to close-ups of the moon, and additional accessories include lens adapters for larger camera lenses and even telescopes to capture things even further into our solar system. All of this is great, and important if portability is important to you, but not the thing that makes Tiny1 cool.
This camera is powered by Android, and runs a custom version of Google Sky Map that allows you to search for specific stellar objects and locate them through augmented reality. You can walk into a field, use the camera to precisely locate your shot, and the custom photo modes baked into the camera you can quickly take photos without feeling the need to dial in your exposure settings until you get it right. Being Android-based also means you can quickly share to just about any app.
The whole camera is just plain well built, too. The machined aluminum body comes in either silver or black, and both look and feel fantastic. The large display on the back makes it incredibly easy to use, and the camera software was clearly built to appeal to novices and experts alike. Tiny1 can be used for plenty of things that aren't shooting in space as well, but the focus in the software and the lenses that come with the camera couldn't be more clearly built for quickly running out into a field and capturing the perfect shot of the night sky.
Tiny1 just completed a very successful Indiegogo campaign, and plans to start shipping to early backers within the next couple of months. After that the camera will go on sale to the public, close to the Indiegogo price of $500 for the camera and basic lens kit. Despite living in a place that makes this camera less useful on a daily basis, I can't wait to find the perfect spot to capture all of the things that exist outside of our atmosphere.
Russell is a Contributing Editor at Android Central. He's a former server admin who has been using Android since the HTC G1, and quite literally wrote the book on Android tablets. You can usually find him chasing the next tech trend, much to the pain of his wallet. Find him on Facebook and Twitter
This is the best thing from CES by far. The writers feelings completely mirror my own on astronomy and light pollution. Looking forward to this one

Thanks Russell.
Another follower of the sky here.
Tiny1 seems to be a great find.

The problem with this thing is that aperture matters when it comes to astrophotography. None of the lenses in the included kit look like they have an aperture of more than 25mm, so you'd need to use their adapter and buy your own fast lens (which could cost more than the camera). There is an adapter for hooking it up to a telescope, but it's 1.25" eyepiece adapter, not a T-ring adapter, which is cumbersome when used with a larger telescope.

Oh, I want this! I have tried a camera that attaches to my telescope and connects to a laptop (which is difficult to set up and, use and so far I have had no success with it), and two different adapters that hold a smartphone over the telescope eyepiece, the first of which was basically useless and the second of which is OK for moon or sun but nothing beyond that. If this does what it says I'll be the first to get one when it goes on sale to the public.

Some of the best CES 2017 coverage I've seen.

This is freaking awesome.

Thank you, Russell, for yet another great article. Any attention to this topic is welcome and valuable. There is much excellent (and some not so good) astronomy software that can unleash the nightly procession of celestial objects by simply viewing (eye, binos, telescope) or with photographing them as well. It is amazing how this relatively new (crowd-funded) Tiny 1, with its add-on specialized equipment, can let people gain simple access to the night sky (although not so much of the Milky Way core right now, btw). One can gain access to the night sky without worrying about star charts, didymium glass, or camera instructions. It's a bit pricey, since the investment is between $450 and $650, but then one can enter the world of astronomy photography in one quick jump. Of course, for less than two hundred dollars --for a new or used decent SLR /DSLR camera-- and zero dollars to google astronomy photography (literally scores of great sites!), one can get close to the same results.

I like the concept but after the terrible 4MP Ultra Pixel Camera HTC had I fear this wouldn't contain enough detail to satisfy me. I know MP isn't every thing, but I believe even Facebook allows 5MP images. I'm a fan of astrophotography and love the idea and the built in sky mapping, but I fear I'd be unhappy with the results. Than again I've used more expensive DSLR and Mirrorless cameras for photographing the night sky. Also the Pixel couldn't capture an image? I know the default camera software on that is lacking manual mode so I'm curious if you tried a 3rd party app. S7 can capture some of the night sky with a 10s exposure.

Its Android Central I don't think they know how to use manual controls... With my OP3 and a garbage tripod in Montreal (terrible light pollution, 800 ISO, 30 second shutter) I can take photos of the night sky on a clear night and capture more stars than my eyes can see (I have perfect vision). I can't imagine what a Google Pixel can do with the large 1:2.3 sensor and 1.7 aperture at a 30 second exposure.

The LG V20 is certainly capable with its stock camera app http://imgur.com/a/prBRh

Really?!? You shed a tear?!? Come on man
Android Central Newsletter
Get the best of Android Central in in your inbox, every day!
Thank you for signing up to Android Central. You will receive a verification email shortly.
There was a problem. Please refresh the page and try again.