Tiny1 is the astronomy camera of my dreams!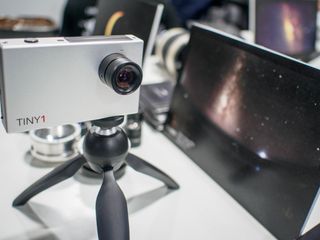 Three months ago I was offered an incredibly rare (for me) opportunity. There was a place not too far from where I was that had almost zero light pollution, which meant I could go and lay in a field and see the Milky Way with my own two eyes.
For someone who loves space and lives in one of the most light-polluted parts of the U.S., this was a big deal. I shed a tear when my eyes focused and, for the first time, I was able to see for myself the night sky in a way I'd seen depicted in countless movies and artist renderings — but alas I wasn't able to take a picture. Neither my Google Pixel nor the kit lens on my Olympus mirrorless camera were enough to capture what I could see with my eyes, and so I started looking into the right kit for capturing astro-photography for myself.
The solution I discovered here at CES is called Tiny1, and it is without a doubt the coolest little camera built specifically for astro-photography.
Tiny1, as the name suggests, is built to be a pocketable camera that can take great photos of the night sky. By using a backlit 4MP sensor with large pixels, the camera is able to be physically small and still take amazing shots that are good enough to be printed (on small paper). The camera itself comes with multiple lenses so you can capture everything from the night sky to close-ups of the moon, and additional accessories include lens adapters for larger camera lenses and even telescopes to capture things even further into our solar system. All of this is great, and important if portability is important to you, but not the thing that makes Tiny1 cool.
This camera is powered by Android, and runs a custom version of Google Sky Map that allows you to search for specific stellar objects and locate them through augmented reality. You can walk into a field, use the camera to precisely locate your shot, and the custom photo modes baked into the camera you can quickly take photos without feeling the need to dial in your exposure settings until you get it right. Being Android-based also means you can quickly share to just about any app.
The whole camera is just plain well built, too. The machined aluminum body comes in either silver or black, and both look and feel fantastic. The large display on the back makes it incredibly easy to use, and the camera software was clearly built to appeal to novices and experts alike. Tiny1 can be used for plenty of things that aren't shooting in space as well, but the focus in the software and the lenses that come with the camera couldn't be more clearly built for quickly running out into a field and capturing the perfect shot of the night sky.
Tiny1 just completed a very successful Indiegogo campaign, and plans to start shipping to early backers within the next couple of months. After that the camera will go on sale to the public, close to the Indiegogo price of $500 for the camera and basic lens kit. Despite living in a place that makes this camera less useful on a daily basis, I can't wait to find the perfect spot to capture all of the things that exist outside of our atmosphere.
Get the Android Central Newsletter
Instant access to breaking news, the hottest reviews, great deals and helpful tips.