Three UK introducing 2GB tethering cap for some new customers [Updated]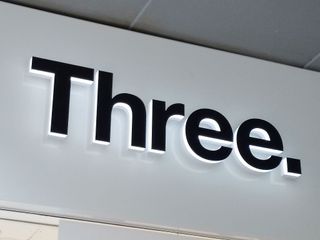 Existing customers to be safe, some new contracts to cap at 2GB
A report this morning by Wired UK claims that UK carrier Three, is set to put an end to unlimited tethering allowances for new contract customers. It's supposed to be part of a raft of changes to the contract offerings which will still see all-you-can-eat data options available, but tethering will now be capped on those at 2GB.
Existing customers and those taking out SIM-only deals are reportedly unaffected, just new customers taking a device and a new contract. It's sure to be a bitter blow to anyone who has been eyeing up a move to Three, where in the last couple of years data allowances have been far superior than the competition. Three is also now in the process of rolling out 4G LTE to its customers across the country.
Oh, and calls to 0800 numbers are supposed to be going free. So, there's that.
At the time of writing the Three website is down for maintenance, so there's every possibility we might see something concrete when it returns. We'll update accordingly as and when things become official.
Update 2: Three has clarified that the new 2GB tethering limit will not apply to SIM-only One Plan customers, who will still have unlimited tethering.
Update: Three has confirmed the plans, outlined in the press release below. Three is indeed making changes to how premium rate and freephone numbers are billed, and tethering is now referred to as "Personal Hotspot." The big news is that yes, a 2GB cap is being imposed on all-you-can-eat data plans, but now all Three contract customers will have access to included tethering. This was previously only available on The One Plan. Free device unlocking will now be offered, a service which previously cost £15.
Source: Wired UK
Ofcom tell us that UK Mobile consumers spend over £600 million on 0800, 0845 and 0870 numbers every year.
Yes, you read that right.
I think we've all experienced that sinking feeling you get when you first look at your phone bill, only to find it's much higher than you imagined, and the culprit is very often those pesky out of bundle calls you forgot you'd even made. You know, when you had to call the bank when you lost your debit card. Or when you had to call your energy provider to talk about your bill. We could go on…
47% of mobile users have experienced bill shock at one time or another and almost a third of these (31%) say it was down to out of bundle expensive calls.
Well we thought it was about time customers actually got the bill they were expecting, which is why, on all of our new Pay Monthly plans, 0800, 0808 and 0500 calls will now be free, when you sign up for 24 months. Not only that, but 084* and 087* numbers will be a mere 5 pence per minute.
Richard Lloyd, Which? executive director said: "People are confused about the cost of calling 0800 numbers from mobiles, so we welcome Three making these calls free for new contract customers. We are also pleased to see cheaper calls to 084 and 087 numbers and Three's commitment to not raising prices on fixed contracts. We call on other providers to follow its lead."
Free 0800 numbers aren't the only benefit of our new Pay Monthly plans. We want to really put you guys in control. You'll be able to set caps to stop you going over your minute allowance and you'll be able to block spending on expensive numbers, such as premium rate numbers.
You'll also receive text alerts, letting you know when you're close to using up your voice and data allowances. So you'll know that it probably wouldn't be a good idea to watch those last few episodes of Game of Thrones just yet… And with All-You-Can-Eat text messages, you won't need to worry about those at all!
Another little change we've recently put in place is free unlocking for our devices, something that previously cost at least £15.
There are also some changes to our tethering offering. You'll hear us talking about Personal Hotspot rather than tethering from now on. With our old plans, using your phone as a Personal Hotspot was only included if you were on The One Plan. So we're really pleased to let you know that all of our new plans will now include this functionality.
With our new plans you'll be able to use all of your data allowance on your Personal Hotspot if you wish, unless you have All-You-Can-Eat data, in which case you can use up to 2GB of this on your Personal Hotspot.
We feel very strongly that All You Can Eat data is something we want to continue to be able to offer as many customers as possible. But when that data is used for Personal Hotspots, it can put a strain on our network. We need to protect the network experience for all customers and this is why we've taken a decision to put this limit in place.
To summarise our new Pay Monthly plans; · Free 0800, 0808 and 0500 numbers · 084* and 087* numbers just 5p per minute · Texts alerts when you're nearing your limit · The ability to place spending caps · Personal Hotspot functionality for all, but limited to 2GB if your plan includes All-You-Can-Eat data · All-You-Can-Eat text messages · A range of data allowances up to All-You-Can-Eat · A range of minute allowances up to All-You-Can-Eat
With all of the above as well as Feel at Home, 4G at no extra cost (when you have a 4G ready device) and free device unlocking, choosing Three seems like a darn good option!
Get the Android Central Newsletter
Instant access to breaking news, the hottest reviews, great deals and helpful tips.
Not good. I use at least 6gb of tethering a month. Thankfully I'm tied in for now
Posted via Android Central App

No surprise, they're introducing 4g for free so people will really be spanking the network. Anyone using their phone plan to subsidise their home broadband isn't using the network for its intended purpose anyway.. Posted via Android Central App

That's annoying take away tethering from one group and give to all? Surely it's not going to make that much difference now everyone has it! I use tethering quite a bit to avoid paying the extortionate hotel WiFi charges in the UK. Posted via Android Central App

That is a pity - I am currently with O2 and the tethering was the thing that would have made me consider a move to three when my contract is up, now I get a better deal with O2 so will stay there. I can see how it could be abused by people using their mobile contract as a replacement for home broadband and I think its right to stop those people. Why not put a high cap on tethering but keep it included - 20gb maybe

Well, there are ways around this & their plans are still much cheaper than the competition. I slaughter them to the tune of about 50gig a month PayG for £15!

How the hell do you get all that for £15 on PAYG!? Bit OTT? Posted via Android Central App

There's a SIM only top up, where for £15 you get 3000mins, 3000 texts and unlimited data allowance. I picked up a SIM just for my USA trip due to it costing no more to use the internet and calling/texting home part of the allowance, on their feel at home policy. Posted via Android Central App

Oh dear - only just switched to Three and did over 10GB of tethered uploads in my first week (due to woeful home broadband) Ah well, back to hating BT and their slow FTTC rollout in the UK

The change doesn't apply to existing customers. Posted via Android Central App

Out of interest has anyone ever calculated the true cost per gig to the companies of providing the services?

unlimited and tethering was why i moved to 3. frankly 2gb is tiny. i think im going to start calling them thrEE.

I'm not using WiFi hotspot as I'm not on the One plan... But somehow I'm able to tether using Bluetooth... Posted via Android Central App

Disappointed if the 08xx calls don't change for existing customers. It's disgusting when you have to call an 0800 number in an emergency and get fleeced for it. UPDATE: Confirmed that those on a One Plan will lose the unlimited tethering if you want free calls. I left O2 because of this rubbish. I've not used tethering yet but I need it as a backup just in case.
Posted via Android Central App

Just grab the weq4u app? Kev

before you call any 08 number go to saynoto0870.com - it'll tell you if there is a 01/02/3 number available :)

Unfortunately there's some numbers that don't have a geographical number do neither method works. :( Posted via Android Central App

The changes are only for the 24 month subscriber base, so go and get a prepay OnePlan. Just saying

hardly suprising news.(they announced it over a week ago)
otherwise three would have everyone joining three when they properly roll out 4g to use as cheap broadband service.
why should they,no-one else in the uk even comes close to three priceing.
even though at my home their service is almost unusable,so are all the other providers but they all want 2-3 times as much as three for a service that is no better and withh ee/orange is actualy worse than three but ee want £70 a month for a service that does not work in this area.
i use 10-12 gb's every month for £15,of which about 2gb is tethering,the rest is used on a tablet(3g)
when i get new 4g device i expect to use a bit more but not loads more.
why should three offer new comers deals that will cripple threes service?
if you wanted cheap deals you should have joined years ago,not wait until all the others rolled out rip-off 4g tariffs,it was announced long enough ago what three planned to do with 4g,why wait until now to join?

Thank goodness i got my One Plan 6 months ago but i can see why they are doing this. Maybe the network is under strain Posted via Android Central App

For free calls i use 0845 & 0800 apps Posted via Android Central App

I feel so angry that they didn't allow existing customers to get access to the 2GB personal hotspot. I can't afford WIFI at home and could really do with this.