These are Ventev's new colorful and tangle-free USB-C cables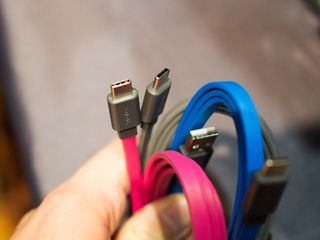 Ventev is a name you likely know for its accessories (and particularly cables), and now that USB-C is ramping up in popularity it's getting in on the game with its first two USB-C offerings. Right out of the gate, as you'd expect Ventev is going with the most popular choices — a USB-A to USB-C cable, and a USB-C to USB-C offering.
Both cables will come in three and six foot lengths, and there are a number of color options for the USB-A to USB-C variant (white, black, grey, blue, pink), similar to the large swath of colors available for its previous MicroUSB cables. In both cases you're getting a flat, hard rubber-coated cable that's tough to tangle and conforms to USB-C standards.
Whether you have a Nexus 6P, Pixel C or some other USB-C device, you'll want to put these on your list. We've been big fans of Ventev's previous cables and these exhibit the same quality with the new connector.
Andrew was an Executive Editor, U.S. at Android Central between 2012 and 2020.
Early adoption hurts the wallet. Posted via the Android Central App

Yep Posted from my Nexus 6/Nexus 7 2013/Surface Pro 3

Can somebody please post the link to the 6ft cable for both? I can't find them on ShopAndroid.com. I think I'm losing my mind. Posted via the Android Central App

We only have the short ones right now, sorry! Posted via the Android Central App

Ah... Thanks for saving my sanity. I started to pull my hair out trying to look for them. True Story. Posted via the Android Central App

People should probably wait to purchase until they're verified like the rest of the type C cables. Posted via the Android Central App

Yup! Make sure they're in-spec. I don't have a USB Type-C device yet, but that'll be the most important part. Posted via the Android Central App

I'll believe they're in-spec when Benson Leung says they are.
https://plus.google.com/u/0/+BensonLeung

It does say in Andrew's article that the cables comply to USB type C standards. Can we trust that? Posted via the Android Central App

Can trust that Ventev specifically says they conform to spec. They're hardly a new or shady company — been making cables and accessories for a long time. Posted via the Android Central App

I've bought their accessories before, but mostly screen protectors for emergency replacement from a carrier store and maybe a case. Never bought their cables before. I'll take your word for it though. Especially if it says they specifically say so. These days if manufacturers make a false statement, they'll get called out in no time. Posted via the Android Central App

I didn't exactly read that the cables fully meet all relevant specifications. The comment "conforms to USB-C standards" seemed a bit less than completely reassuring. Hopefully they're fully compliant since the more options for consumers the better.

Tangle free not withstanding, I've always found the flat type of cables more annoying than the round ones. Ymmv.

I prefer the braided round ones for durability, and flat ones for tangle free. Posted via the Android Central App

They're great if you move around a lot. I like using flat cables with the charger that I toss in and out of my work backpack. Regular cables would be a mess by now, and likely would've needed to be replaced once or twice. The Ventev ones really are durable as hell.

For travel, I've got some Anker round cables that I wrap up and secure with some of those velcro straps. They hold up well and don't get tangled.

Good choice. I have a couple of those for home use, because I have a mouthy pit bull puppy, and those can stand up to a little bit of chewing. Anker makes good products.

Wish these things weren't so expensive.... I need more Type C Cables for my Nexus 6P Posted via the Android Central App

Ventev has sold quality products for a long time. Their packaging is even top notch! Posted via the Android Central App

The cases in the photos say "C to C 2.0 Connector". To me, that says they are not future (or even present-day) proof, as they do not comply with USB 3. I am amazed how BIG the ends of those connectors are. I expect some cases would prevent the cables even plugging in to the phone, becasue htey leave such a small space around the socket.

Is it just me or do the colorful flat cables remind anyone of sata cables inside your pc? Posted via the Android Central App
Android Central Newsletter
Thank you for signing up to Android Central. You will receive a verification email shortly.
There was a problem. Please refresh the page and try again.