These are the HTC 10 colors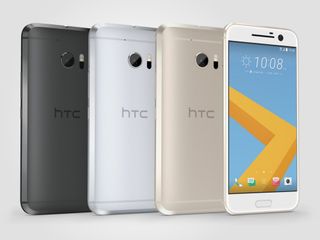 On paper it looks like HTC has really knocked one out of the part with the HTC 10. Camera quality is highly rated, speakers seem to be excellent despite not being entirely front-facing anymore, and the design takes the best of HTC's past and present to make something unique. There's a lot to like here, but only if it's available in the color you're going to be happy looking at for a while.
Here's what's happening with the HTC 10 colors, for most of us. Are you ready? It's Carbon Grey, Glacier Silver, and Topaz Gold.
Carbon Grey is very similar to the dark metal we saw with the HTC One M9 and HTC One A9, and like those phones the finish tends to be a bit of a fingerprint magnet.
Glacier Silver looks like classic HTC One M7 stylings, with a glossy white front in some regions and a glossy black front in others.
Topaz Gold is a muted gold back with a glossy white face, appealing to those who need a splash of color in their lives.
OK, one more. If you're on KDDI in Japan, you'll be able to pick up an HTC 10 in a sweet Camellia Red. (It's possible we may see that color branch out at some point, but just in case we probably should lay siege to our local retailers until they do so.)
So far there's been nothing official about any other colors, but since HTC has a history of dropping beautiful colored versions as exclusives it's not impossible to see this short list of available colors grow over the year. In the mean time, drop a note in the comments with your color preference!
Get the Android Central Newsletter
Instant access to breaking news, the hottest reviews, great deals and helpful tips.