These are the 8 thinnest cases we could find for the Galaxy Note 8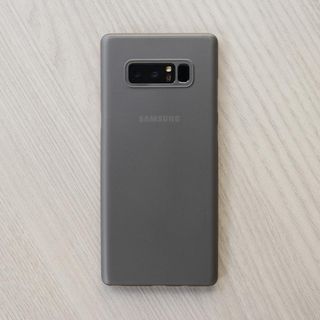 It's a good idea to protect your big ol' Note 8 with an awesome case, but you don't have to give up the slim form factor in the process. These are the absolute thinnest cases we could find for Galaxy Note 8!
It's almost like your phone is… Naked?
Bare cases are super thin, and make your phone feel like it's wearing nothing at all… nothing at all… nothing at all. $30!
In the vacuum of space, no one can see how thin your case is
(opens in new tab)
But you can, down here with the Jupiter Lights case (opens in new tab) for $10.
Spigen Thin Fit
(opens in new tab)

— that pretty much says it right there
Blue, gold, black, or gray, and yours for $10 (opens in new tab).
A case like skin for your phone — that's Peel
(opens in new tab)
Black, gray, or silver. Match it and grab it for $25 (opens in new tab).
At least that's what I'm guessing based on the hot dude in the promo image. Either way it's $10 on Amazon (opens in new tab).
Love thin
(opens in new tab)
By Love Ying. Clear and oh so skinny minnie. $8 on Amazon (opens in new tab).
Go the the source
(opens in new tab)
Not the store, but like the source of the phone. Like Samsung. Samsung makes this case. $19 on Amazon (opens in new tab).
Finding a thin case is a mSnap
(opens in new tab)
Black, turquoise, and rose gold because why not. This slim-hipped little minx is $10 on Amazon (opens in new tab).
Got a great thin case of your own?
Sound off in the comments below!
Mick is a writer and duty editor for Android Central. When he's not on the job, he can usually be found vacuuming up pet hair or trying to convince his wife that he needs more guitars.
Do any of these really protect and have any grip.

Rhino shield bumpers have done a better job protecting my recent Samsung's than any full body thin case ever has. No back protection but that's what skins are for, and it makes the phone much more grippy on the sides.

I absolutely agree. You can't beat rhino shield for slim fit and best drop protection. I have it on my note 8 and my S8.

I've been using the spigen thin fit case from the start. I even ordered it before the phone arrived. It's got limited protection on the back an sides but does as extra grip and feels nice in the hand. I don't want the feel and look of my sexy gold note8 ruined by a huge bulky case.

The Spigen Thin Fit is great with good grip. The problem with most of these cases is they don't allow for use of the finger print scanner because they provide too small of a place for your finger to go. It takes tons of attempts to get it done right. Luckily I have a Wear watch and I smart unlock my phone with my watch.

FYI MNML, Peel, and Bare are all identical products, completely indistinguishable from eachother, almost certainly come from the same factory.. MNML is the cheapest version. I have the MNML/Bare/Peel case, and the official samsung clear case. Both are pretty slippery. The samsung case is probably thick enough to product from a fall. The MNML/Bare/Peel case is thinner than a piece of paper so it is really only to protect against scratches.

Also check out the Evutec cases. They are carbon fiber and super thin. I got one with my One Plus 3T. They're a bit expensive though.

Infreecs case I have is defo one of the slimmest and best looking that still offer some kind of drop protection

I have the Myriann Ultra Clear, its the one with the black area around the rear camera. Its a nice case, with some grip. Its got slight lift on the rear keeps the phone off of the clear plastic back. Its also screen protector friendly, especially with the Whitestone Dome glass.

Been rocking the Black Spigen Thin fit, but both the Naked & Jupiter Lights cases are really nice looking!

I wish I could post pictures on these comments. Both my favorite cases are super thin, I got them off eBay for less than nine dollars.
"Shockproof Slim Full Protective Ultra Thin Matte Phone Case" is just a plain tpu in different colors, it couldn't be any thinner and unlike most of the versions I saw on Amazon, it has full covers over all the buttons and no corner slits. So yeah while there isn't much to it for drop protection at least it's going to protect it from dust. "X-LEVEL Luxury Vintage Leather Ultra Slim Hard Back Phone Case" is a super thin leather case, with a soft cloth interior. It also covers all the buttons. I love the way this case feels in my hands. I've been using a Whitestone Dome screen protector and both cases work great with it, they almost line up perfectly along the sides for a very minimal gap between case and SP.

Honestly the flex series from Last
Patchworks is amazingly thin and adds almost no bulk at all..very thin but could help in a small drop
Android Central Newsletter
Thank you for signing up to Android Central. You will receive a verification email shortly.
There was a problem. Please refresh the page and try again.