TCL flexes DragonHinge technology for use in future foldables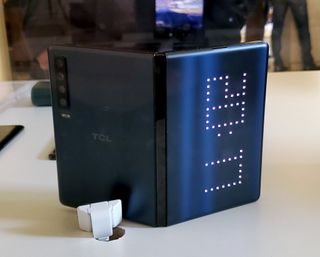 TCL Communications didn't have finished foldable phones to show us in Barcelona — in fact, the company doesn't expect "consumer-ready" devices to be ready until 2020 — but the company did have some flexible concept devices on-hand to showcase a couple styles of its patented DragonHinge technology.
The hinges on a folding phone are just as complicated as the screens and components that wrap around them, and so TCL has focused on perfecting a variety of hinges rather than rushing a rough, unfinished device to market. The DragonHinge technology allows devices to fold in a couple of different ways depending on the device and the use case, such as the rounded hinge on one of the phone concepts seen below.
Image 1 of 4
These concept devices featured flexible AMOLED displays from TCL's sister company CSOT, and while early looks like these are informative, especially into the amount of time and effort it's taken to get this far with foldable devices already, it's also a stark reminder of how new this technology is and how far it still has to go in order to be ready for the market at large. TCL Communication's Global Product Center GM Shane Lee says:
Image 1 of 4
With the groundwork laid, we'll have a while to wait before TCL nails down the rest of the foldable experience, but at least the hinges TCL's eventual foldable phones use have a cool name and an interesting look to them.