Tablo brings OTA TV directly to the NVIDIA Shield TV with a dedicated tuner and app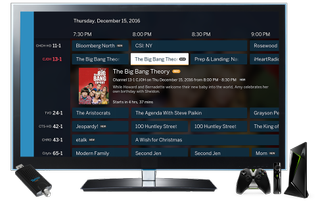 Tablo is a pretty terrific product for cord cutters in North America, and the company's most recent product, Tablo Dual, was its first to incorporate a built in DVR. Now, they're back with another hot new product and this time it's for the NVIDIA Shield TV.
Tablo Engine and Tablo Tuner are available starting today. The former is an app that installs on the Shield TV, the latter is a USB TV Tuner that plugs directly into the box.
The Tuner is a simple dongle with a USB connection at one end and the hook up for your OTA TV antenna on the other. It just connects to a spare USB port on the Shield TV and interacts then with the Tablo Engine app to give you your live television channels.
That's not all either. Here's a rundown of what to expect:
Live TV: Watch, pause and rewind live TV in stunning full HD quality
Fast Channel Changes: Tune to live TV in seconds from the live TV grid guide
Recording & Time Shifting: Watch, pause, rewind and fast forward completed and in-progress recordings
14-Day Live TV Grid Guide: Browse and set recordings for shows airing over the next 14 days
5.1 Surround Sound: Enable Dolby 5.1 Surround Sound pass-through for a premium audio experience
Tablo Engine will also work with the 'Hauppauge WinTV-dualHD USB tuner stick (opens in new tab). The dual-tuners built into Tablo Tuner should also allow for watching and recording a different channel at the same time. Naturally, to record TV, you're going to need plenty of storage. On the Shield TV Pro it'll store its MPEG2 recordings on the internal hard drive first, on the 16GB model you'll need external storage attached. There's also a web app to help you manage recordings when you're not in front of the TV.
The Tablo Tuner is available starting today for $69.99 USD/$89.99 CAD from the Tablo store. The Tablo Engine app is a free download from the Play Store, and buyers of a Tablo Tuner will get a free 6-month subscription to the guide data package. After this you'll be paying $3.99 USD/$4.99 CAD monthly or $39.99 USD/$49.99 annually for this package.
At the end of the day, the Tablo Tuner package is another great way to watch television on the Shield TV. Eventually it'll be available to other Android TV boxes, but for now there's no denying it's another feather in the Shield cap. Most other solutions to watching TV on the Shield require the use of a local network connection, but this idea from Tablo really does just turn it into a 'proper' TV box and DVR system. The drawback is the rest of the world can't indulge right now, but it's a compelling option for U.S. and Canada-based cord cutters.
Android Central Newsletter
Get instant access to breaking news, the hottest reviews, great deals and helpful tips
"Other solutions to watching TV on the Shield require the use of a local network connection"
Not all other solutions. I have a Hauppage tuner connected to my Shield and it works with the Live Channels app that's built into the Shield(and all Android TV boxes). It has a guide, I can use time shifting and it has a DVR and I don't have to pay a ridiculous $4 a month fee. This Tablo thing just seems like a ripoff, I see absolutely no reason to use it unless there's some killer feature that I missed when I read the article.

I missed out the word most. The Live Channels app isn't the be all and end all. Plus, you almost sound like you hate that theres a) competition and b) things out there that aren't whatever Google designed. Also what you're talking about is (right now it seems) limited to the U.S. Choice is never, ever a bad thing.

No, I sound like I think it's a ripoff to charge $4 a month for something that anyone can get for free, which is what I said, and what you should have pointed out in the article. This article, combined with the comment you just made make you look INCREDIBLY biased towards this product.
I agree, choice is never a bad thing. If someone chooses to pay for something they can get free, that is absolutely their choice, and maybe people do find enough value with Tablo to pay that monthly fee and that's fine. My question for you is if you also think choice is never a bad thing, why didn't you point out the choice that doesn't have a monthly fee?

To address the monthy fee question...Because any tv tuner solution will have some kind of fee associated with it? It probably is because of the scheduling guide data. Its not free and I forget who owns the data but anyways they license it out to companies in this case Tablo or HDHomeRun in my case. Different companies offer different ways to pay for it. Some offer monthly options like tablo does. I know HDHomeRun has a yearly option. Plex uses it's Plex pass as a way to charge for it. Channels which is an Apple TV app also has a monthly payment associated with it. Honestly it's not a big deal yeah it sucks but I live with it. I know most probably won't agree

Live Channels has a guide that goes out 2 days. Having the extra days might be worth it to some people, but to me it's a ripoff.

Well to each their own I suppose. For me I like having access to weeks of data. I schedule series I want to record and don't want to worry about it. I guess companies could enable an option for like free two day data at a time and then charge for weeks of programming if people were wanting to

I use Channel master and it is 14 days and all free.

I'm sure it's included in the price of the unit. It would be cool to think they include it for free but as we all know it doesn't work like that I almost considered getting one last year when I was researching what to use. How do you like it?

if you are asking about channel master - I like it. Very stable and guide scrolling is fast enough. With new firmware, this gives few good internet channels too. I also have HDHR, but I always go back to CM when I am watching on big TV and use HDHR for phone / tablet. Best part is - no monthly fee for the guide for 14 days.
Android Central Newsletter
Get instant access to breaking news, the hottest reviews, great deals and helpful tips
Thank you for signing up to Android Central. You will receive a verification email shortly.
There was a problem. Please refresh the page and try again.