Tablo brings OTA TV directly to the NVIDIA Shield TV with a dedicated tuner and app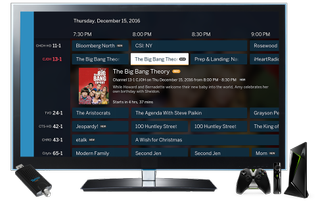 Tablo is a pretty terrific product for cord cutters in North America, and the company's most recent product, Tablo Dual, was its first to incorporate a built in DVR. Now, they're back with another hot new product and this time it's for the NVIDIA Shield TV.
Tablo Engine and Tablo Tuner are available starting today. The former is an app that installs on the Shield TV, the latter is a USB TV Tuner that plugs directly into the box.
The Tuner is a simple dongle with a USB connection at one end and the hook up for your OTA TV antenna on the other. It just connects to a spare USB port on the Shield TV and interacts then with the Tablo Engine app to give you your live television channels.
That's not all either. Here's a rundown of what to expect:
Live TV: Watch, pause and rewind live TV in stunning full HD quality
Fast Channel Changes: Tune to live TV in seconds from the live TV grid guide
Recording & Time Shifting: Watch, pause, rewind and fast forward completed and in-progress recordings
14-Day Live TV Grid Guide: Browse and set recordings for shows airing over the next 14 days
5.1 Surround Sound: Enable Dolby 5.1 Surround Sound pass-through for a premium audio experience
Tablo Engine will also work with the 'Hauppauge WinTV-dualHD USB tuner stick. The dual-tuners built into Tablo Tuner should also allow for watching and recording a different channel at the same time. Naturally, to record TV, you're going to need plenty of storage. On the Shield TV Pro it'll store its MPEG2 recordings on the internal hard drive first, on the 16GB model you'll need external storage attached. There's also a web app to help you manage recordings when you're not in front of the TV.
The Tablo Tuner is available starting today for $69.99 USD/$89.99 CAD from the Tablo store. The Tablo Engine app is a free download from the Play Store, and buyers of a Tablo Tuner will get a free 6-month subscription to the guide data package. After this you'll be paying $3.99 USD/$4.99 CAD monthly or $39.99 USD/$49.99 annually for this package.
At the end of the day, the Tablo Tuner package is another great way to watch television on the Shield TV. Eventually it'll be available to other Android TV boxes, but for now there's no denying it's another feather in the Shield cap. Most other solutions to watching TV on the Shield require the use of a local network connection, but this idea from Tablo really does just turn it into a 'proper' TV box and DVR system. The drawback is the rest of the world can't indulge right now, but it's a compelling option for U.S. and Canada-based cord cutters.
Get the Android Central Newsletter
Instant access to breaking news, the hottest reviews, great deals and helpful tips.