T-Mobile's Un-carrier 11 announcements will be made on Monday, June 6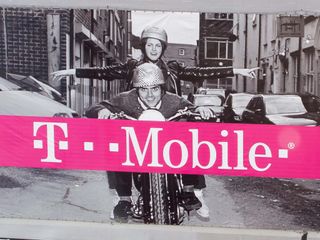 T-Mobile will hold its Un-carrier 11 media event on Monday, June 6, where the wireless carrier is expected to reveal a number of new features for its customers.
T-Mobile revealed the date for Un-carrier 11 via Twitter:
The event begins at 1 p.m. Eastern Time (10 a.m. Pacific Time) and T-Mobile plans to livestream it on its YouTube, Facebook, and Twitter accounts, along with its own website.
Update: T-Mobile has posted a video featuring CEO John Legere preparing for the event.
See the next step on the slippery slope to ruining the Internet! Posted via the Android Central App

Me thinks that if T-Mobile is growing it's customers every quarter then the Internet is not being ruined. Maybe data has become what consumers want, perhaps? Posted via the Android Central App

Ugh, don't mind her she's been riding that wagon for a while now Posted via the Android Central App

Ruining the internet ? LoL, you can't make this *hit up Posted via the Android Central App

I see we may be in the minority here, but I agree with you. Posted via the Android Central App

Care to explain your reasoning? I'm genuinely curious... Posted via my Gift from God Nexus 5X/Nexus 6 with Project Fi

Yayyy more erosion of net neutrality in the name of "consumer choice" Posted via the Android Central App

I love BingeOn and Music Freedom, thanks! Posted via the Android Central App

Yea, adding thousands of customers and having one of the most consisting and fastest data speed is a slippery slope. Posted via the Android Central App

I hope they spread wifi calling to all unlocked phones!

Yes! One of my biggest gripes with Tmo.

Jesus, take away the one in that date and what do u have left. Should we be concerned? Posted via the Android Central App

You're right! They should just wait until 7-7-17 to be safe! :-P Posted via the Android Central App

Watch live as John Legere reveals himself as the Un-Christ!

Hmm, the swirl around the clock is going counter clockwise. Are they rolling back the clock to before data packets were offered. Will all of their plans be unlimited 4g lte data?

If they go back to unlimited data, their pricing has to change.... Posted via the Android Central App

Not a clock. A volume knob. Referencing This is Spinal Tap's "dialing it up to 11."

I just prices them out again yesterday. It would cost me $40 more a month to switch to them. Can't justify it. Posted via the Android Central App

What carrier are you on, Can&String? Posted via the Android Central App

On Sprint, which works well in my area. On an older grandfathered plan so I have loyalty credits on my phone leases with unlimited data. 6 GB plan on T-Mobile was way more.

So.... how much are you paying per month? Posted via my Gift from God Nexus 5X/Nexus 6 with Project Fi

I pay $180 a month for 2 lines plus half of my wife's mom's that I split with my brother in law. So we split the plan too. When I priced out just 2 lines with TMO for the wife and I with 6GB of data and 2 S7's it was over $220 after taxes and fees.

Oh, ok, gotcha! Thanks! Posted via my Gift from God Nexus 5X/Nexus 6 with Project Fi

Aha... the phones are what bring up your rate! I got 4 lines with a new gear s2 and 10gb LTE + unlimited everything, for $161/month! Had my own Phones but got the gear s2 for the Mrs. The $161 includes the watch financing... can't beat that.

That's 10gb / line with data stash! Works for me...

I pay $16/mo for the S7 and $6 for the wife's iPhone 6 with unlimited data for $180 I'm pretty happy too.

We're only paying $150 ($174w taxes and bs) for 4 lines with unlimited LTE. You don't have to use all the lines of you don't need. I'm not sure if the offer is still around. Plus it isn't crummy CDMA like sprint

That can't be with any phone payments though right? What phones and how much data? I'd love to get off CDMA though I have to admit the carrier aggregation on the S7 has made a big difference over my last couple phones.

Same here....Sprint, works great and the cheapest around. 4 lines, 40GB data (throttle supposedly after that, but never had that issue) with no line access charges, all for $100. Also yearly upgrades still intact. Switching would also cost me about $40 more a month and no yearly upgrade without paying extra.

How did you get it without line access charges?

Retention as they misrepresented the discount applied to my account when we got the latest phone said loyalty credit and it really was a phone promo credit. This was even after talking to multiple customer service reps to verify. So they worked a "for me only" deal since Ive been with them for over 15 years.

You will get daily notifications including video chats with John Legere himself.

That'll be great, love Legere's moxie & the cut of his jib Posted via the Android Central App

Wut Posted via my Gift from God Nexus 5X/Nexus 6 with Project Fi

Tmobile just keeps giving to there client's! I very excited to see what is on the Horizon! Great job tmobile! Posted via the Android Central App

Hopefully T-Mobile will be more clear with what they offer. New customers see that the 2gb $50 plan doesn't include binge on but current customers who switch plans to 2gb show they have binge on in their plan info, that was a load of fun a few months ago.

I'd like to see a revamp of their internal computer systems and a cleaner way for each department to communicate with each other. I can't tell you the number of hours I've wasted on the phone with them because of their admitted crap computer systems. Even the systems are slow in the stores. I've heard employees complain about the computers in the stores and when I call. Always standing around in the stores waiting with the employees because the computers are slow or down. Can't tell you how many time I've sent a phone in to upgrade to another and the phone sits in the warehouse for a month waiting to be processed. Or they can't find it. Blah blah. The amount of "escalated tickets" they've had to file for me to get issues resolved is unreal. You are a big boy carrier now. Time to revamp your internals to make things more fluid. Just one example of many computer messes: I paid off one of my EIPs online and the computer process is so s****y, it screwed up my whole bill. After muliple calls, the rep literally told me that if I want to pay off an EIP, I should do it in the store, as doing it online produces elongated billing issues with the computers. They know this yet still offer the customer the ability to pay off their EIPs online? Also, fix your My Tmobile site for your customers. It's garbage.
Android Central Newsletter
Get the best of Android Central in in your inbox, every day!
Thank you for signing up to Android Central. You will receive a verification email shortly.
There was a problem. Please refresh the page and try again.