T-Mobile takes $24 off Nexus 5 price online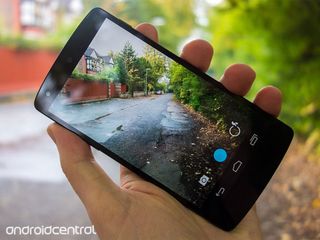 T-Mobile is running a special $24 discount promotion on the Google Nexus 5. This essentially takes the price of the Nexus 5 down to $372 with service from T-Mobile, even though said service doesn't require a contract.
For comparison, the same 16 GB configuration of the Nexus 5 retails for $349 on the Google Play store. However, going with T-Mobile will allow you to finance the phone and pay smaller installments over time rather than shelling out $349 up front, though in the end you do pay a little bit more for going with T-Mobile for the hardware even after the discount.
To qualify for the discount, T-Mobile advertised in a Twitter message that users will have to enter the NEXUS5PROMO code at checkout. The deal is said to be valid for web orders only so you can't walk into a retail store for that pricing.
Source: T-Mobile
Get the Android Central Newsletter
Instant access to breaking news, the hottest reviews, great deals and helpful tips.
Hasn't this been the case for a while?, few other phones also Posted via Android Central App

But they still don't offer the version with a reasonable storage size. For that you have to buy from Google. And, heads-up, if you don't buy the poor-storage version from T-Mobile, you technically don't qualify for T-Mobile paying off your ETF if you are leaving another carrier (although for some reason, my T-Mobile store paid it anyway... I left Sprint after 15 years and the manager somehow got me a credit... pretty freaking amazing).

I went in store to get a nexus 5 and couldn't believe they didn't even have a 32gb. I needed it that day because my Verizon note 2 crapped out on me and I wanted to jump ship anyway. I walked out with an m8. I'm happy. I was surprised they had such a small choice of phones like the m8 in only gunmetal.

Still not good enough Posted via Android Central App

Only one place you should buy it from... Play store. Posted via Android Central App

I mean, unless you want to finance it. Then T-Mobile is a perfectly good option. It's the same phone.

For more money and doesn't give you the ability to get the version with additional storage. Posted from my Nexus 7 2013 via Android Central App

Most are buying the 16GB either way. And paying $25 extra to pay it off with 0% interest over 24 months is more than worth it to many.

also, I think the T-Mobile Nexus 5 is capable of WiFi calling. EDIT: I LIED
Posted via my M9, X+1, N910, G906, Z3, G4, or G Pro 3

If that were the case, it would EASILY be worth the $25 premium. I doubt we'll ever see wifi calling on a device that isn't specifically T-Mobile branded, though.

Buying from T-mobile also lets you get into the JUMP program if you are one of the people who has to have insurance it's just $2 more and you can upgrade anytime as long as you pay 50%. It's better for phones like the Galaxy S line that don't retain their value as well though.

I wonder if they'll end up cutting the price even more after the next nexus comes out or if they'll just replace the whole phone with the new one. Someday it might finally come down to the Google play price... Posted via Android Central App

I doubt Google will release an affordable nexus phone anymore. Looking at the rumored Nexus 8 price I think Google is going premium to not compete with the OEMs. There will still be Google Silver phones that run Google's version of Android but they are going to be priced like GPe phones.

Other carriers can do bigger sales cause they lock you into a contract, notice how they rarely do sales for off contract price.

I financed my G2 from Sprint. Two more payments and an unlock code, and I'll be using Tmobile again. Posted via Android Central App

Wait, but you can't use a Sprint phone on T-Mobile... Posted via my M9, X+1, N910, G906, Z3, G4, or G Pro 3

That is generally true... and very much true if it is the LG G2. The Nexus 5, however, will work on all networks (except Verizon, where it WILL work, but they won't let you).

Read XDA, it is possible. Posted via Android Central App

Well, I did say it "WILL work" :) I know it is possible to go around their "rules", although I am not sure what the issues are (like no support, or lack of certain LTE, or etc).

Misread your post, previous post said Sprint phones will not work on T-Mobile, you responded by saying that statement is true. As in it will not work on Sprint, I was simply saying a Sprint G2 will work on T-Mobile. Not perfectly like a T-Mobile variant, but it will "work."

OK, I misread your meaning too :) So now I learned something else new

G2 is the best deal on T-Mobile right now. Nexus 5 probably the 2nd best deal. I didn't realize they sold the 16gb N5 though, that alone makes the G2 a better buy. Posted via Android Central App w/G2

Also the G2 has wifi calling. Nexus 5 doesn't. That's why I switched. I'm hoping Google announces wifi calling/texting through Hangouts at I/O. That would be great so I don't have to buy T-Mobile branded phones.

I would like Wi-Fi calling but LG has a history of not updating software. I realize they have so far supported the G2 though. Posted via Android Central App

And potential for a VoLTE update. Unless Google decides to push that in one of their updates Nexus 5 won't ever get VoLTE capabilities since Tmo has no choice in the matter.

It just depends on what you are looking for. I would have paid MORE than a carrier phone to get the Nexus.... it just happens to cost less than any current, high-end phone. Besides, the G2 is only $10 less than the 32GB N5 :)

If you buy it from T-Mobile is it locked? Does it have AT&T bands if you want to switch in the future? Posted via Android Central App

No phone [should be] locked if you buy it. But very few people buy phones, they only place a down payment on one; and in those cases, they are sold locked until you pay it off [ = buy it] and then you can request it to be unlocked. And yes, the N5 is the N5, it will work on all carriers (including Verizon, except Verizon won't let you use it on their network).

T-mobile AT&T and Sprint Nexus 5 are unlocked exactly the same as google play. They are all the same phone

Too bad we all missed this deal.. http://www.androidorigin.com/nexus-5-deal-256-google Posted via Android Central App

Does anyone know how and why the resale value of the Nexus 5 is so high? I haven't really seen any below $300 on Swappa or Ebay. But almost any other phone that was released around that time is selling for way under $300 and also started at a higher price.

That's because it is cheaper from the get go. It won't get below $300 until closer to the next Nexus or there is a sale. Posted via Android Central App

Because you can use them on AT&T T-mobile and Sprint and most of their MVNOs no problem. Also the Nexus name helps it retain value. It's probably the best phone for switching carriers that is not the Verizon iPhone 5s/5c which can be changed to any carrier that does not use the sprint network.

They have had this deal for literally, MONTHS. Way to go, gang.

Just a heads up if you ever see a sale for AT&T or Sprint versions off contract pick them up they are the exact same phone and unlocked as well. I think frys had "sprint" for sale in store the other day for $299

Or you could buy a 32gb model on swappa and save even more. Either get a mint condition model or find them brand new once in a while. Posted via Nexus 5 Android Central App

I will never buy a nexus phone again. I have this weird microphone issue when shooting videos... and I lose data connection at least twice a day. poor quality.
Posted via NEXUS 5

Why make payments I would rather buy it 349$ is cheap. Posted via Android Central App

$335 on swappa. brand new