T-Mobile says it's open to adding more music services to Music Freedom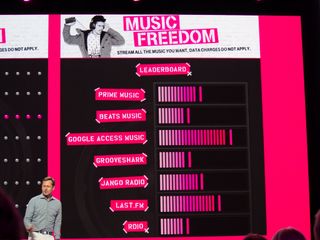 Blatantly missing from the roster of streaming music services that won't touch T-Mobile's data cap is Google Play Music, for one. Or maybe Songza, for another. But TMo CEO John Legere and CTO Neville Ray were pretty clear in the follow-up Q&A that it's entirely possible we'll see more services added in the future. Responding to a question from Myriam Joire, Ray said "It's feasible. It's possible."
Legere went a little bit further, saying "I would have no problem with that. ... We have every intent of moving every streaming service that people use over to this."
And to that end, T-Mobile is asking folks to suggest future streaming services that we'd like to see added. You can submit your favorite here.
The streaming services currently supported are:
Pandora
iHeartRadio
iTunes Radio
Rhapsody
Spotify
Slacker
Milk
Beatport
When do this start? Posted via Android Central App

Voted for Google Play Music and SoundCloud, Google is leading big, according to the results. I think they'll add it pretty soon. How soon? Ummmmmm...............

I hope it's within 2 weeks but who knows Posted via Android Central App

Hopefully T-Mobile and Google have already been working on this for an announcement at I/O?

Yeah lack of google was what made this underwhelming for me. A good 60% of my data is streaming those big dubstep audio files on google play music Posted via Android Central App

on facebook google play is killing everything

Of course Google play is killing everything, too bad they aren't bundling Google play premium with there Unlimited data plans. Posted via Android Central App

I would take that over Rhapsody.

No Songza on the list. It's the one I always use when working out.

Vote it. Posted via Android Central App

Unless I'm missing something, there's no way to vote for ones that aren't on the list.

It's not on the list.... Posted via Android Central App

So this isn't exactly net neutrality. Posted via Android Central App

This is net neutrality since there is no business relationship between the streaming services and T-Mobile, so they're not promoting one service over another. That said, they're working on bringing in other services as well and wanted a core number that work well instead having a ton of options and a ton of bugs. Posted via Android Central App

That's bullshit. I'm sure there are plenty of folks using other services problem-free as we speak. There is a more specific reason these are the only services included. I'm just really curious to know why. You can't say that you're trying to alleviate peoples data limit anxiety. What you're really saying is you want to eliminate their data limit anxiety, but... not if you're using Google Play. Then we don't give a shit about your data limit anxiety. Or Rdio. Or Songza. We don't care about you then. We may, later on down the road. Just not right now. Posted via Android Central App

We as consumers benefit from this move and it pushes competition in the right direction. Think about what would happen if they add video streaming to this in the future? They are improving goods and services without increasing costs. Compared to other companies that want to increase costs without improving goods and services.

Where is Amazon Music and Live365? Posted via Android Central App

Amazon music isn't relevant yet and it's only free for prime members. That would be a little difficult to pay for. Posted via Nexus 5 Android Central App

I feel like it would be a T-mobile thing to do to just have this run, and then say "just kidding. They're all free".

So are they charging the music services directly? Am I missing something? Nothing is for free, someone is paying for the bandwidth. Posted via Android Central App

John Legere explicitly said that no service is paying them for this privilege. This was entirely the decision of T-Mobile, because they can do it. It makes sense--although it feels counter-intuitive because of how all the other carriers never do nice things 'because they can'. Legere mentioned that their statistics showed that a high percentage of people stream music to their mobile devices, and that T-Mobile didn't want that to give them 'data anxiety' regarding data usage for other things (email, web browsing, video streaming). So, to alleviate that, they do not count streaming music against the high-speed data threshold.

They are trying to draw in new customers, its called competition and on the rare occasion that the consumer benefits from it.

Music doesn't eat up as much bandwidth as video, they can afford to do this. It will attract more new customers that mainly use their phones for music

Its T-Mobile, so no sign of net neutrality here. Lol

Did I miss an article that explained what this T-Mobile program actually is? I mean I can basically infer what's going on but I'd much rather be lazy and have someone explain it to me lol #murica

Ahhh just found it lol. Remember how I said I was lazy?

I wish the $30/mo (Walmart plan) would get this, but guess not. Still good, can't beat $33.08 including taxes.

So that it for uncarrier this year? Nothing huge? Just seemed like they could have emailed these changes I guess it's nothing I'd get to excited about. I was hoping for better coverage to be added. Oh well. Sent From My Nexus 7

Testing a phone completely free for 7 days is big no one else lets you do that without a 15% restocking fee. Free music streaming is pretty huge for people that do not have truly unlimited plans. They also announced that they now have 15+15 MhZ set up in 15 metropolitan areas as well as VoLTE in 16 areas.

I was expecting coverage news also. But I think their really working on that and hopefully it will be included in the uncarrier 7.0. You never know, maybe they'll announce that by end of year all their lte markets will be volte! Posted via Nexus 5 Android Central App

Nicely done Tmobile. You are the only bright spot in an otherwise crappy overpriced under customer serviced mobile market. Cudos to you.

Oh, the fine print in the email about music freedom...
"Limited time offer; subject to change. Music Streaming:
Qualifying Simple Choice plan required.... "

i hope Tmo adds 8tracks to the list
Android Central Newsletter
Get the best of Android Central in in your inbox, every day!
Thank you for signing up to Android Central. You will receive a verification email shortly.
There was a problem. Please refresh the page and try again.