T-Mobile US rolls out new Simply Prepaid plans starting at $40 per month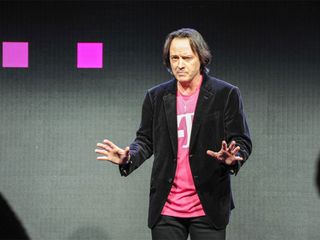 (Image credit: T-Mobile)
Update: Clarified the post to indicate that speeds are throttled back to 128kbps (about 2G speeds) when you hit your data allotment, not 3G. Also added additional information on plan restrictions.
Original story: T-Mobile today announced a new wave of prepaid plans under the Simple Choice branding. Unlimited data, calls, SMS and limited 4G LTE will be offered on T-Mobile's network from $40 a month. Opting for higher LTE allowances will increase the price depending on how much data you believe you'll chew through.
The company is marketing the new plans as a cheaper alternative to its Simple Choice solutions, while still offering enough to get customers through each month. The value of the new plans is being cut back with the pricing as well, though, as data speeds are now capped at 8mbps and further features like tethering and Music Freedom are nowhere to be seen. Here's how the pricing stacks up with LTE allowances:
$40 - Unlimited data, minutes, SMS, and up to 1GB of 4G LTE (throttled to 128kbps thereafter)
$50 - Unlimited data, minutes, SMS, and up to 3GB of 4G LTE (throttled to 128kbps thereafter)
$60 - Unlimited data, minutes, SMS, and up to 5GB of 4G LTE (throttled to 128kbps thereafter)
It isn't clear right now which of its current plans will be going away to make room for the Simply Prepaid set. The new plans will be available both online and at T-Mobile stores from January 25th.
T-Mobile Introduces Simply Prepaid, Expands Choices for Prepaid Customers
Bellevue, Washington — January 15, 2015 — T-Mobile [NYSE: TMUS] today took a bold step to bolster its No.1 position in prepaid wireless introducing Simply Prepaid™. The Un-carrier's™ new monthly prepaid plan delivers unlimited data, talk and text with 4G LTE data buckets starting as low as $40 a month − all on T-Mobile's Data Strong™ nationwide 4G LTE network.
Simply Prepaid is the perfect complement to T-Mobile's wildly popular Simple Choice plan – and is designed with the same focus on simplicity, fairness and value. While Simply Prepaid has fewer bells and whistles, it comes with lower prices and everything else prepaid customers want, including the nationwide 4G LTE network designed Data Strong.
"There's a reason the Un-carrier continues to be #1 in prepaid, and it starts with our willingness to break the rules and give customers better choices," said John Legere, president and CEO for T-Mobile. "We will never stop eliminating customer pain points. The 1.2 million net new prepaid customers who joined T-Mobile last year already see that value, and we have no plans to stop there."
In 2014 alone, T-Mobile won more than 1.2 million net customers to its prepaid business widening its lead in the category over the other major national providers, who continued to ignore and lose prepaid customers right and left.
Simply Prepaid is as straightforward as it is affordable:
$40 / month for unlimited data, talk and text + up to 1GB of 4G LTE
$50 / month for unlimited data, talk and text + up to 3GB of 4G LTE
$60 / month for unlimited data, talk and text + up to 5GB of 4G LTE
Simply Prepaid customers will also enjoy unique benefits of being a T-Mobile customer like Wi-Fi calling at no extra charge, and with 8 Mbps speeds, they can download a song in under 10 seconds or a 30 min HD TV show in just eight minutes.
The new plan will be available online at t-mobile.com and in T-Mobile retail stores, Simply Prepaid dealer locations and all other authorized retailers starting January 25th.
Android Central Newsletter
Get instant access to breaking news, the hottest reviews, great deals and helpful tips
Hmm, interesting. Do I go with the $30 plan and have to pay for extra minutes (my wife makes sure I am over 100 minutes each month :)) or this $40 plan and hope I don't use all my LTE up in a month? Do they bump you or give the option to bump you from this new $40 plan to the $50 plan if you hit that 1GB LTE? I suppose no one knows yet... With my Nexus 6 I have to get off Sprint. The duplicate and delayed SMS issue has put me over the edge. I have an Evo Shift from 2011 I think I can use for the ETF buyout so I can keep my N6.

I go with $30 plan, and Google Voice/Hangouts makes it so that I never have to think about the minutes. Ported my number to GV a year ago and never looked back. Also, "Unlimited 3G" means they don't bump you, just throw you over to the slower APN for the rest of the month.

How does that work? Do you have to be on wifi? Will people still see that I am calling from my cell number or do I have to switch to a Google voice number if I do that?

You can use your cell number as your Gvoice number(a $20 transfer fee is needed) or just switch to a free google voice number and tell everybody that is your phone number.

It works on any network connection - WiFi, LTE, 3G. I have not tried it on 2G, nor would I want to :p If you use the Hangouts (with Hangouts Dialer) app to dial out, you are using VoIP instead of your voice plan's minutes, but your outgoing Caller ID will be your Google Voice number, as stated here: https://support.google.com/chat/answer/187925?hl=en This is why I ported my "main" number to Google Voice (one-time $20 fee.) This way it's always my caller ID, even if I change my carrier and get a completely different number. Calling via the phone's built-in dialer will use your carrier number, and minutes. Incoming calls made to your Google Voice number can either be forwarded to your carrier number (in which case you will be using the plan's minutes) or they can ring via VoIP to the Hangouts app. You can change this in Google Voice settings on the web, and there is a checkmark in the Hangouts app on the phone. It's super convenient, and I highly recommend this.

It has worked very well for me over LTE and HSPA. Call quality was a little spotty when the service first rolled out, but it's improved to the point that it's better now than carrier number calls, even when only on HSPA. The only issue I've had is that if you're walking around talking on LTE and your phone automatically connects to a hotspot that requires browser login (say you're set to automatically connect to attwifi hotspots and you walk past a Starbucks or something), your call will drop. So you either need to set wifi to not autoconnect entirely, manage your wifi connection list, or turn wifi off when you're away from home.

That's exactly what I'm doing now. However, Hangouts still has a major bug that prevents you from receiving incoming calls. The incoming calls checkbox would uncheck itself from time to time. Posted via the Android Central App

Agreed. Also the volume of the hangouts incoming phone call ringtone is so quiet and can't be changed to a different one.

I wish they would separate the VoIP functionality to the dialer app so it wouldn't be as convoluted. Remember the time they've realized it was dumb to have one Drive app that replaces Docs, Sheets, and whatever that other one is? That's exactly what they're doing with Hangouts. Posted via the Android Central App

I went with the $30 plan because I prefer 5GB of data over the extra minutes. I have no need for the minutes since google voice went VOIP. But I don't talk much on my phone.

I ditched sprint several years ago, the duplicate SMS and delayed SMS is still happening. Pissed me off when i started dating this really hot girl, she thought i dissed here and ignored some of her messages.

Well their 3g is still pretty fast. On HSPA+ I see speeds well over 10mbps (sometimes as high as 18-20), which is plenty fast for just about anything I do with my phone. Of course that varies wildly from one region to another, but if your speeds are similar to mine, the LTE caps might not end up being all that important. And the beauty of the whole thing? You can try it for a month and if you find yourself going over cap and missing your LTE speeds, you can just change your plan for the next month.

Simple math. On the 30 dollar plan it goes to ten cents a minute after you run out of minutes. Do you use over 400 minutes each month? (100 minutes plus 300 at ten cents gets you 400 at the same price as unlimited) If yes go unlimited. If no go 100 minutes and pay for the times you break it. Personally I do not. So I'll stay with the $30 100 minute, unlimited text, 5gb plan. Posted via the Android Central App

They must not have heard that they are selling a plan at Walmart for $30/mo with 5GB of LTE and 100 minutes. http://see.walmart.com/t-mobile

They actually sell that plan on their site. So I"m sure they are aware.

Correct, I signed up on the site and got the micro SIM for my nexus in the mail for 99 cents! Been on the 30$/month since the nexus 4 came out and i love it! I use the line app to talk to my girlfriend all the time in addition to like 4 other VOIP applications in addition to Google Hangouts dialer!

Forgot to include a </sarcasm> tag...

They know their own plan. The difference here is you get unlimited minutes. Does everyone need that? Nope .. that is why there are options! :).

Let's hope the $30 plan stays around come January 25.

With no tethering and an 8Mbps speed cap, these plans aren't better than AT&T's Go Phone plans.

not everyone needs tethering and 8 mbps is fine for most

Exactly. I have 30gb shared on 3 phones for slightly more on AT&T and tethering is included for my tablets. Posted via Android Central App

But that same plan on T-Mobile would run less wouldn't it? You're talking post-paid vs. prepaid... I mean, if you did 3 lines on T-Mobile post paid all with Unlimited Data, you'd be staring at a $140 plus taxes. Unless you have a corporate discount on AT&T (and I mean a serious one) they didn't beat that.

I don't get why there is an 8Mbps speed cap. I've been on the $30/month plan for over two years now and my speeds easily exceed that. These arbitrary speed caps that AT&T/Cricket have (and now T-Mo, it seems) make no sense to me. Is it to help customers not eat all their data in a month? Or is it simply a carrot to get them to upgrade to post-paid?

Until I left Sprint a year ago, 8Mbps would have seemed lightning fast! I was lucky to breach 1.5Mbps. It's prepaid, there has to be some concessions made somewhere over postpaid. Roaming rights usually the first thing to go though.

Roaming data is first to go. You can still roam voice and text.

If you didn't do a speed test you would never know.

What are you doing on your phone that requires more than 8mbps???? HD netflix only needs 6mpbs.

The issue when I had Cricket wasn't the 8Mbps speed cap; it was the high latency. Speedtest.net and the FCC app would typically show between 150 and 250 ms ping.

That's because cricket piggy backs on other carrier towers, uses a proxy for web connection. it's going to have double the ping a regular carrier has on it's own towers.

It's a very good deal!! Unfortunately they don't have that great of coverage in the area I live in. Not sure if anyone can answer this, but having a unlocked device that will work on their network would I still be able to get the wi-fi calling feature or is that software built into their T-Mobile branded models only?

@phonefanatic2014 The wifi calling is built into the T-Mobile firmware, unfortunately.

Thanks for the information. Appreciate it. That is a bummer.

why do i see T-Mob commercials showing iPhone 6 doing WIFI calling? i thought the T-Mob iPhone 6s were unlocked and unadulterated?

WiFi calling is built into iOS 8. Posted via the Android Central App

it's t-mobile branded models except for the iPhone 5c, 5s, 6, 6+. Nexus 6 will get support in a lollipop update sometime this quarter, whether it will be an android specific update or just Nexus 6 remains to be revealed by google.

T-Mob's high churn rate is a big red flag for me. i'll stick with Nexus 5 + AT&T GoPhone. T-Mobile US Inc Has No Problems Gaining Customers, but It's Struggling to Keep Them
By Adam Levy | More Articles
January 14, 2015 While T-Mobile has had no problem attracting new customers with its low prices and customer-oriented Un-Carrier announcements, keeping them is a different story. The wireless provider still suffers from a relatively high churn rate compared with AT&T and Verizon. No bars in the bar
The biggest reason customers leave T-Mobile, according to the CIRP survey, is that the company's mobile network doesn't offer the coverage customers need. Almost 40% of departing customers identify the network as their reason for switching services. http://www.fool.com/investing/general/2015/01/14/t-mobile-has-no-problem...

@Gekko - I tend to not base my cell needs on what others are doing with the company I chose. Most leave for coverage issues .. since those issues don't exist for me .. no reason to switch.

Exactly. I left Sprint because of coverage and speeds. T-Mobile's coverage is not as good as AT&T's and Verizon's, true, but it works for me 95 percent of the time. No company has perfect coverage, so go with what works for you and for the price you're willing to pay. I'll take a $70 savings over my wife's Verizon bill for slightly less coverage, thanks.

High churn rate would definitely be a red flag if I were looking to get into a two-year contract with a carrier. T-Mo's month-to-month options are pretty good, though. If their service tanks on me or another carrier offers a higher-value option, I'll jump ship.

Coverage is why my wife and I switched from T-Mo to AT&T; the places we went to were still 2G at best... AT&T was already sporting LTE. I'd consider switching back some day, but AT&Ts worked well for us at not much additional cost (when you throw in corporate discounts).

And kudos to T-Mobile for allowing that freedom.
Our service doesn't meet your need? Go ahead and try someone else...You only paid for a month. I'm sure other carriers would have much higher churn rates too, if they didn't handcuff their customers with 2 year contracts.

On average you spend 90 percent of a year the city you live in. The survey didn't talk to enough customers either. I have fastest and best Network in Houston which is one of biggest in country based on people and miles. Many people leave cause they stop paying for the phone. Just search eBay for that.

No struggle to keep me. Works just fine for my needs. After being on both Verizon (too expensive and had dropped calls) and Sprint (horribly slow data speeds) I can't see leaving T-Mobile ever. Posted via Android Central App

They limit yup 8mpbs now? Cricket uses att network with much better coverage and cheaper with more data...

@Erstam - Cricket also limits as well.

That's why in asking what's the benefit of tmobile now?

@erstam - Music Freedom (streaming certain services for free), wifi calling, etc. Just depends on the person .. what they need and the coverage they get :).

The announcement mentions wifi calling, but not Music Freedom. Do we know that free data music streaming applies to the prepaid options?

Music freedom is not included with Simple Choice Prepaid. Same goes with international text and tethering. However, Simple Choice Pay In Advance plans would support these features. Posted via the Android Central App

I should correct one thing here for lack of confusion: Anytime you see a plan name with "Simple Choice" on it, it will include all of the uncarrier benefits like music streaming. Simply prepaid doesn't have that name. There are other plans like Simple Choice Pay In Advance which is a prepaid service with uncarrier benefits. A nice, postpaid option is also the Simple Choice No Credit for those of you who want a postpaid plan with all the benefits of uncarrier but don't need to run credit to finance a device. Posted via the Android Central App

According to T-Mobile Music Freedom is included with Prepaid. https://support.t-mobile.com/docs/DOC-10969

That would be Simple Choice Pay in Advance. I think I mentioned that above. Lol. Posted via the Android Central App

Again, you have to look at "Simple Choice" plans for this. Anything else does not have uncarrier benefits. Posted via the Android Central App

it's just these new plan that limits to 8 mbps the old plans are $10 more and don't have the speedcap and offer more

Don't they know that cricket offer a better deal and is on at&t network? (you can purchase any phone from at&t)

Rather got with Metro at 60 for unlimited LTE vs these new plans.

Metro is better for the 3 plans same price no 8 mbps speed caps, which I assume t-mobile will do through a proxy of some sort like AT&T does with their Cricket plans.

Cricket Wireless still beats these plans. If you dont mind 8Mbps cap then its the best deal by far. I used it for months and had no issues

Lol... Sprint has better plans and coverage with no LTE data limits. John L just need to see his name in print. His ego must have been hungry Posted by my soon to be retired Note 3

Sprint also has very limited service. I will admit that their new CEO is trying to change their image and point them towards the right direction, but Sprint also has the slowest LTE data speeds over every provider. Plus their coverage area is horrible. What Hesse screwed up on they are finally trying to clean up. Many years and customers too late.

LTE speeds vary by region for each carrier. Some places, Sprint is faster than TMo. Sometimes, the other way around. A Sprint advantage is a larger network.

I recently tried out T-Mobile in my area to see if I wanted to ditch sprint. While tmobile's LTE was marginally faster, it also had much less coverage. My house for example, is covered by sprint LTE, but T-Mobile only manages EDGE. I guess WiFi calling would fix that problem but then I'd have to ditch my nexus 5 and go buy a new T-Mobile branded phone thus eliminating any pricing advantage T-Mobile has. So while I have no doubt T-Mobile has great strides, I think it is very problematic to claim that T-Mobiles network is head and shoulders above sprint. Posted via the Android Central App

Sprints actual coverage area is much larger than the pretend coverage tmo has. In my area it is supposed to be nothing but pure goodness. The reality is 2 miles outside the center of town, a state capital, it is 2g. Ymmv, but I have not found a variance outside of Philly or nyc Posted by my soon to be retired Note 3

If these prepaid plans include Music Freedom (or whatever T-Mo calls their free access to certain streaming services), that would be a HUGE selling point over Sprint/Boost. The release doesn't mention that, though.

Curious, what do you think of Net Neutrality as a concept? Because music freedom is pretty much the opposite of net neutrality.

I considered editing my original comment to point out that I don't actually approve of Music Freedom, because of net neutrality reasons. I certainly don't think Music Freedom is anywhere near as bad as the creation of for-pay "high speed lanes" by ISPs and mobile carriers, but I do object on principle to any different treatment of data.

I want to know too and does unused data rollover too?

Nope. Only Simple Choice plans will have uncarrier benefits like Data Stash. Posted via the Android Central App

I wish companies would stop using such similar names for their various products. I get why they do it, and I understand that consistent branding is important, but it gets very confusing to juggle Simple Choice, Simple Prepaid, Simple Everything. Sent from my Nexus 5, behind six proxies

Why is it an advantage if I have unlimited data anyway? Posted by my soon to be retired Note 3

Huh, I didn't realize that Sprint's unlimited plan is as inexpensive as it is. Have you spent enough time in metro Philly to be able to say how their service is there? I could pretty easily try them out for a month or two and keep my N5.

It would be interesting to know where they fit their HSPA+ network in this scheme. Since it is not 4G LTE or 3G by their definitions.

I have the same question; with a Nexus 4 I am currently using their existing $50 plan with unlimited voice and text and a 1 GB "high speed" data limit, If on the new plans the HSPA is unlimited like 3G and not subject to the LTE limit I'd switch to a cheaper plan.

Think of HSPA as high speed data. T-Mobile calls it a 4G network. After you reach the 1GB on prepaid, you will get unlimited 2G speeds, not 3G. You will be capped at 128kbps. Posted via the Android Central App

Even though it is 3.5 Posted by my soon to be retired Note 3

That is a game changer. Posted via the Android Central App

They should fix this,its not unlimited 3G,you get throttled to 2G when you go over your LTE cap allowance

Yeah totally. If there's really unlimited hspa+ I'll try it.

I was so excited about the unlimited 3G data part for about 10 seconds, then i realized what it mean. They would never do that, because everyone would jump on it. I still think the $29 unlimited talk/text/international calls from UltraMobile is a better deal for 500mb LTE, no 2G throttle down, but you can purchase additional data for $5/500mb. So that's $34 for 1GB instead of $40 of this plan, and with benefit of international calls.

Then no, its not a game changer Posted via the Android Central App

I have no issues receiving or making calls using my Google/Hangouts phone number, it uses wifi or your 4G LTE data plan, since I have unlimited with Verizon I use it to my hearts content. Posted via the Android Central App

I really wish they had a better network (where I'm usually at). This message brought to you via the sarcasm keyboard available for download at the Google Play Store.

I got signed up last month with the 2 lines for $100 deal. Unlimited everything. We've used 15.3 gb of data. Coverage isn't great inside my job but everywhere else it's awesome.

I will stick with my $70/Month plan but it seems confusing to have a Simple Choice Prepaid and then Simply Prepaid. The difference seems to be the max speed of Simply Prepaid is 8mbps where as the Simple Choice Prepaid does not have this limitation. I am looking forward to the Data Stash though as this might allow me to pick a lower plan. I figure in the summer months when I ride the motorcycle to work I will store up data and then I can use it when I am on the bus in the winter months.

Is the data not used rolled over? Is music app streaming not counted against data plan? Ian B

Someone posted this below: "Taxes & fees additional. Max speed of 8Mbps available to plan allotment; then slowed to up to 128K for rest of account cycle. No tethering. Data Stash, Simple Global, Music Freedom & other Simple Choice features not included. See T-Mobile.com for offer details."

45 unlimited everything Sprint. Can't beat that. Service is 1000 times better then T-Mobile where I live too. Posted via the Android Central App

Whats the difference between Simple Choice and Simply Prepaid ?

One doesn't have limits to it. The older one doesn't throttle your speed.

Bad reporting here... From the fine print on the press release at T-Mobile: http://newsroom.t-mobile.com/news/simply-prepaid.htm "Taxes & fees additional. Max speed of 8Mbps available to plan allotment; then slowed to up to 128K for rest of account cycle. No tethering. Data Stash, Simple Global, Music Freedom & other Simple Choice features not included. See T-Mobile.com for offer details." 128K is unlimited 2G - not unlimited 3G... Sorry guys!

unlimited 2G speeds your network doesn't go down to 2G it will be best available LTE, HSPA+, EDGE. So you can still have OK ping if you are throttled

I really feel bad for the americans that they have to endure these horrible data prices. Price level is 2-4 times higher than most of the developed world.. it's kinda crazy

If only they would get lte coverage in my area... Only the big cities have it, everything else is 2g. Well my att service is getting better and cheaper thanks to tmobile! Thank you! Posted via Android Central App on 1+1

Id rather have 500 mins talk, unlimited text and 5 gs of 4g for 40.00 (tax, fees, etc. Total 45.00 period). I'm waiting for that on a major carrier. Posted via Android Central App

Expensive. I pay 9.90 for 1GB LTE and buy 1GB for 3.00 if not enough Posted via Android Central App
Android Central Newsletter
Get instant access to breaking news, the hottest reviews, great deals and helpful tips
Thank you for signing up to Android Central. You will receive a verification email shortly.
There was a problem. Please refresh the page and try again.