T-Mobile offering free wireless charger with white Nexus 4 purchase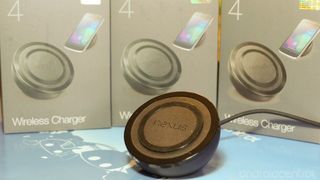 Web-only discount drops Nexus 4 to $0 down or $408 outright
T-Mobile has just started up a promotion that throws in a free wireless charging orb with the purchase of a white Nexus 4 from its online store. In addition, T-Mobile has also dropped the price on the white version of the Nexus 4 to $0 down with 24 months of $17 payments, or a total of just $408. That makes the 16GB white version of the phone ring up at $50 less than the black version of the handset from T-Mobile, which additionally doesn't seem to get the free charger offer deal either.
All-in if you plan to buy a Nexus 4 and wireless charger, you'll come out a couple dollars cheaper than buying them together from Google Play, more so including the fact that T-Mobile offers free shipping. It's nice to have this low price available for those wanting to pick up a device on a payment plan with T-Mobile service as well.
The deal is a "limited time offer", so if you've been waiting for a nice deal to pick up a Nexus 4 with T-Mobile, now is the time. Hit up the source link below to order your own.
Source: T-Mobile (opens in new tab); Via: Android and Me
Android Central Newsletter
Get instant access to breaking news, the hottest reviews, great deals and helpful tips
Andrew was an Executive Editor, U.S. at Android Central between 2012 and 2020.
If only that wireless charger worked. I returned mine, kept sliding off of the charger.

I don't buy that. With a case on, the non-slip face of the charger keeps my phone from sliding, I have to incline more than double the built-in angle to get it so slip. W/O the case, it holds tight all the way to 180 degrees (yes, upside down).

Too bad a whole lot of people have the same issue with it slipping off then.

I think Google is trying to sell you a bumper, this phone is really slippery. You can get the Poetic borderline 1 for 10$, but what is the point of that when you are trying to keep your back crispy? Glass back phones are not a big deal to me, I prefer plastic

What the hell???? I got jack squat with mine, now if you buy it from google or tmo you get free stuff! I'm starting to feel a little bit like I was ripped off just because I bought mine early! I like free stuff too, you know lol

Next time don`t be the first adopter... You wouldn`t feel that way. You must learned the hard way like me.

Guess it depends on where you bought it early from. If you got it early from Google Play for $350. Then you didn't miss out on anything. Because T-Mobile's white Nexus 4 costs $408 and includes the "free" charger. And since the charger sucks anyway, if you just bought the phone by itself from Google Play you are better off..

$380 with tax from Google Play.

T-Mobile isn't tax-free, you know. Posted via Android Central App

This is going to happen every time with every kind of technology. You're paying a little "extra" to have it first (or early). Yes there will be deals later on to get people to buy a device that is a bit old now, but I don't think waiting several months to buy the Nexus 4 is worth saving $50 or getting a free charger. I think most of us are completely happy with having paid full retail for the Nexus 4 the day it came out.

You never heard of Moore's Law? I saw a Nexus One on Dailysteals for under 100$ last holiday season, so I'm just waiting for the price to come down for the wireless charger

Wow what a deal! Posted via Android Central App

trying to switch over from a prepaid to a regular tmobile account to get this and they are givign me a hard time. plus i'm goign to have to pay about 15 bucks a month more in taxes. not sure if this is worth it

I had a lot of trouble trying to do the same but I went to a T-Mobile store and they got it all straightened out. Also they had me pay the taxes up front for the phone not monthly.

They offer this every so often. But the price drop in addition to is new. We were going to get the free charger a few weeks ago then it went away and they offered 0 down. We took that since the charger didn't get good reviews, then 2 days later they brought the free charger back. I supposed I could have left it in the box and sold it if I got it. I'll be getting the LG disk instead, cheaper and doesn't slide off.

LMFAO. I've got three Nexus wireless chargers, none have the "slide off" problem. Despite the Eeyores, this IS a pretty good deal. Doesn't include the bonus white bumper though, does it? Posted via Android Central App

Same thing my wireless charger is flawless. IDK why people complain....I love my charger.

+1 here. I have never had a problem.

Simple: they're full of it. They've never had or tried it but feel the need to bash because it doesn't do what they wish it would.

They should've made this charger more "dock-like".. The orb thing is cute & all but not too functional with so many ppl complaining that the phone slides off..

Does it include the bumper that Google is throwing in free now because nobody was willing to pay $20 for a $5 half-case?

No, it doesn't come with the free bumper.

I bought the black nexus 4 on Friday in store... It was $20 down and I got the free wireless charger... Not to mention the white one has been $0 down since Thursday.

i BOUGHT VIVI Power bank is higher than yours, can you send me a picture , so i can compare

how much is that ? where i can buy one ? send me message
Android Central Newsletter
Get instant access to breaking news, the hottest reviews, great deals and helpful tips
Thank you for signing up to Android Central. You will receive a verification email shortly.
There was a problem. Please refresh the page and try again.