T-Mobile offering $0 down deal for all devices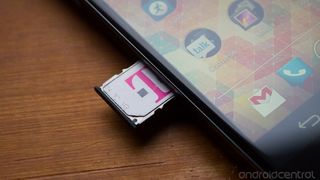 Summertime and back to school sales are great ways to save a few bucks, and it looks like T-Mobile agrees. Starting tomorrow, July 27, customers can pick up any one of T-Mobile's devices for zero dollars down -- this means any smartphone, tablet, mobile hotspot, or feature phone. Even a phone like the recently released Sony Xperia Z, which was $99 just recently, will qualify for $0 down.
Both new and existing customers can take advantage of this deal, as long as they meet T-Mobile's "well-qualified" criteria (on approved credit). Those taking advantage of the new JUMP! program can also get in on this deal.
For a list of popular phones and their corresponding monthly payments with this promotion, jump past the break.
Uh, am I reading this right? For the One at least it looks like they're jacking up the monthly rate so you'd actually pay more after 24 months than you would if you bought it today.

Well yea! You think phones are free? It says 0 down, it didn't say anything about a discount. To some it's a good deal, it's still better than a "free" phone with a 2 year contract.

I would expect a promotion to charge the same price or less, not more. I can see the benefit of not having a down payment but honestly, if you can't afford the $99 upfront price, you should maybe reconsider signing up for a smartphone plan that will cost you at least $1800 over 2 years.

I've been considering switching my family from Sprint to Tmobile but the upfront costs of ETFs and buying phones is a lot when you've got 5 lines. Something like this would make it a lot easier. I don't think I could swallow the higher monthly payment with all the inflated device payments though.

I'm in about the same situation, couldn't justify paying an ETF though, Tmobile isn't that much better of a deal. This offer got my hopes up though because if it was actually removing the down payment from the total price it would have made it worthwhile.

I was in the same situation. I needed to get away from sprint because at work, all I had was a weak 3G signal. after putting up with that for almost a year (I got the job like a month after getting the phone). My speeds were something like 70kbps down, 100kbps up.
I had a family plan with 3 lines and used a Galaxy S3. What I did was save up and get a Nexus 4. Next I complained to Sprint that I was paying for nothing since I was at work 10 hours a day with no data and at home used wifi. Their stats verified my data use. They gave me 2 $25 credits and a pat on the head. I ported my number to T-mobile after finding out that my ETF was $215. Sold my S3 on Craigslist for $285 (it was in great condition), paid the ETF and in the end I was left paying my T-mobile unlimited plan along with my other 2 sprint lines. The 3rd line in the account just completed it's contract in July, so I sent that one packing, and now I just pay the T-mobile and my Wife's phone on Sprint. She gets great data so I don't mind, but she'll be moving over to T-mobile next year around March when her Evo LTE completes the contract.
All in all, you do pay a bit more, but I was so frustrated by the fact that I was paying for something that I was not able to use. Now I get HSPA speeds of about 14Mbps down at my desk and I'm happy. My wife gets Sprint LTE and something like 30Mbps down at her work (like 200 ft from a tower!)through Sprint, so she's happy.

I've paid three etfs. When I'm done, I'm done. HTC ONE ~ Android Central App

Damn. You're right. $600 over 24 months. I thought it was $580 or something before if bought outright. T-Mo had a deal end of last year where they really did knock off $1-200 from the whole price. I was hoping this was it. Guess I'll keep waiting.

Charging a few bucks for a 'finance charge' is not unusual...that's what a payment plan is...financing. The math works better with zero down. Today if you go with the monthly plan it's $150 down plus $20/month for 24 months. That's a total of $630. With this zero down deal it's $25/month for 24 months with nothing down. That's a total of $600. So in addition to getting rid of the down payment they actually lowered the total price of the device by $30.

Today if you go with the monthly plan it's $99 down (actually 79 if you buy online) plus $20/month for 24 months. That's a total of $579 (or $559 online)... not $630.. So, in effect, we will end up paying more

You'll be waiting forever. T-Mobile no longer subsidizes phones. You'll pay the full price no matter how you finance it.

580 is just the phone, everyone pays taxes here in taxachusetts.

Lmao HTC ONE ~ Android Central App

Lol you say that like the Galaxy S3 isn't an even bigger rip off. Can't you buy those new for like 400$? Posted via Android Central App

I'm looking at that Tab 2 10.1....
Scratch that, I'm buying a new Nexus 7 for a lot cheaper. Posted via my themed "WHITE DRAGON" LiquidSmooth Sprint GSIII.

That's fine if all you want is a 7 inch tablet. I have a nice 7 inch tablet. I want a 10 inch tablet now. (Not leaving anybody any straight lines.)

It still beats paying $30 on AT&T just because you own a Smartphone. Why AT&T? Why do you charge $30 for running a smartphone on your network? AT&T answer: Just because

If you're on the jump plan and you only plan on keeping this phone for 12 months then you only pay $60 more if I'm understanding this right. Thats a lot less than a $200 down payment. I'm assuming your 2nd year payments get reset when you get another upgrade. Sounds like a $140 savings for a jump-plan customer? I apologize if my analysis is wrong, this stuff is confusing these days.

I was thinking the same thing. I'm about ready to jump on JUMP and this seems like the final thing to get me on board.

Well you can put money down if you like and offset monthly price..

I get that they are going for new customers and hoping that the sheer volume of new monthly subscribers will make up for any short term losses BUT I wonder if this really is a sustainable business model. Either that or they are trying to jack up the subscriber base to make it more attractive for a buyout... CAN YOU HEAR ME DISH??????? CAN YOU HEAR ME?????

Do they really need to make themselves more attractive to DISH? It's not like Dish has a whole lot of carrier options now that they've lost Sprint. I think this is just a way of generating attention for themselves and also to boost sales in what are slow summer sales days.

The rich get richer because they continue to do things that make them richer. The poor get poorer because they continue to do things that make them poorer. pay cash, stay out of debt, and save your money people!

The full price is remaining the same. Higher monthly installments due to no down payment Posted via Android Central App

No. The XPERIA Z is $21 more after its paid off in 24 months. $99 down + $480 ($20 * 24mo) = $579 $0 down + $25 * 24mo = $600

You'd save $1.99 on an iPhone 5 though lol

i think they should spread the love to everyone if they are trying to push devices out the door if someone cant get their device for the zero down price give them the option to put $100 down and sign up for jump idk sell sell sell and also the older the device the lower is should be should be trying to give away the gs2 just saying

How is this a sale? THe cost of the device is still the same, with higher payments. If they were selling the phone for $50 off or $100, I would be a sale.

T-Mobile themselves never called this a sale. No one is forcing you to take them up on this it's just another option. Why the hell l would people complain about stuff like this and JUMP!? They are freaking optional? Posted via Android Central App

Honest question what more do people want from T-Mobile at this point? I mean they are doing so much for customers that it kind of seems like a dick move to at least not consider them. Posted via Android Central App

What they don't say is that this is dependent on the credit check...

It is mentioned as part of the installment plan. If one doesn't want the hard inquiry, they'll need to pay for the phone outright.

Right now, I can pay a down payment of $99 towards HTC one and then pay remaining as 24 equal monthly payments of $20.. thereby making my total :99+ (24*20) = 579. Starting tomorrow, I pay $0 down payment but make 24 equal monthly payments of $25... thereby making my total: 0+ (25*24) = 600!! Also, right now, T-mobile is having an online deal where they are reducing the amount by further $20...

Hopefully they still allow the option of the original $100-150 down payment to keep the installments down. It's all about having choices, right?

Store rep told me today that you can put any amount you want down, then divide the remaining by 24 months. Up to you.

I was told the same today. Posted via Android Central App

I think Im gonna switch from att to tmobile. This Next thing from att is BS, how are you gonna offer a new program that cant be used unless your not eligible for a upgade. Most people got a Note 2 or a S3 last year and now they cant use this next thing till they are eligible for a upgrade or you have to add a new line or whatever. I've been with att since it was cingular and I think I'm gonna jump over to tmobile..

Yeah, I was looking at this and wondering if there was any discount, or if a customer would be paying more without the down payment. If it was a permannet either/or option, but pushing a promotion that ends up costing more, well, that's something worthy of AT&T and Verizon.

That's why I love you T-Mo.
Choice.. $0.00 down - $50.00? - $100.00? or 1/2 ? .. You leave it up to US.. :-)

RaiderWill, you're ABSOLUTELY right!!! Nothing but T-Mo love in the house!!!!

To everyone doing your math don't forget to add in tax. My S4 was only 99 but you usually pay tax in the original price of the phone. If this 0 down is also no tax then it probably is about the same
Android Central Newsletter
Thank you for signing up to Android Central. You will receive a verification email shortly.
There was a problem. Please refresh the page and try again.