Surprise! The LG V60 and its Dual Screen accessory both have pen support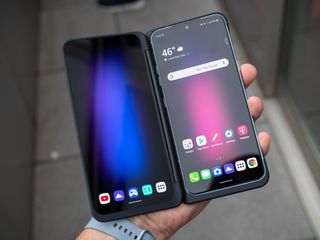 (Image credit: Andrew Martonik / Android Central)
What you need to know
LG's V60 sports an interesting implementation of a dual-screen device thanks to a detachable second screen.
That's not all that's interesting about its screen, though.
As recently discovered, the phone's screen also supports pen input, including the second display.
LG's latest flagship, the V60, isn't just a respectable flagship; it's also got one of the more interesting accessories you'll find on a phone: a second screen that you can attach to the phone, resulting in something like a poor man's version of a Galaxy Fold.
And while that's interesting enough on its own, another little gem that we didn't know much about — because LG hasn't really advertised it as much as it should have — is that the phone also supports active pen input, much like the Galaxy Note series. Even more, it's not just the phone's main screen; you can even ink on the secondary display.
As you can see in XDA Developers' Max Weinbach's demo above, the pen works quite well across both screens, with minimal lag. There are some limitations, however. It doesn't seem to support pressure sensitivity, and the eraser nub on the pen also doesn't work, so if you were hoping to sketch your next masterpiece on the phone, you'll be disappointed.
Also, while LG's implementation is not proprietary and you can basically use most third-party active pens with the phone, Weinbach's tests show that the Surface Pen, at least, doesn't work with the V60. So, it looks like only Wacom pens are supported.
LG V60 ThinQ 5G
While it doesn't have all the features you'd find on the latest Samsung flagship, LG's V60 is an impressive flagship that can hold its own, nonetheless. An interesting dual-screen accessory and active pen support also mean you can enjoy a Galaxy Note- or Galaxy Fold-like experience on it.
Android Central Newsletter
Get instant access to breaking news, the hottest reviews, great deals and helpful tips
I'm too scared to get this phone, I feel like I would snap it due to clumsiness!

2nd day with the v60 its a beast of a phone even with the dual screen I got over 10hr of on screen time. And I love that I dont need a case to have a kickstand anymore.can't wait to get a pen for it

Even on a positive article you still take jabs at it. I'd rather have this dual screen than a galaxy fold which has a very huge bezel when folded up

People are getting tired of all the LG bashing all over the web and it's about time.
If you were to put Samsung's name on it then it would be all the raves. Even with some of the features left out they would still make excuses for it. So I thank you for speaking up.
Ordering mine this week.

There's also no dedicated forum for it yet. All the Samsungs got their dedicated forums the day they were announced

Will Android Central ever create a V60 area in the forums?

"installing a third-party launcher — but that, in turn, disables gesture navigation and kicks you back to the old three-button layout" This is one of my Android annoyances (with my Galaxy S10). Not sure if it's down to Google or Samsung to fix, although I did hear that Samsung were due to issue an update to fix it. Is this caused by Google adding things on their Pixel builds that aren't in stock?
Android Central Newsletter
Get instant access to breaking news, the hottest reviews, great deals and helpful tips
Thank you for signing up to Android Central. You will receive a verification email shortly.
There was a problem. Please refresh the page and try again.