Sprint expands its Direct 2 You service to include several more US cities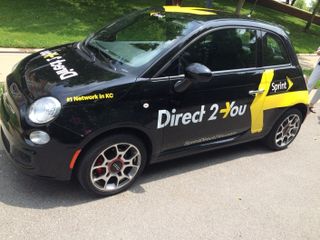 Sprint's recently launched phone delivery and set up service, Direct 2 You, has now expanded to several new cities in the US, including Charlotte, N.C., Cincinnati, Las Vegas, Nashville, New Orleans, Pittsburgh and Salt Lake City. These new additions for the service means that 27 major metropolitan areas in the US now have access to Direct 2 You.
Direct 2 You offers Sprint customers a way to not only order a new smartphone, but also have a company representative drive to them in the service's area to deliver the phone and set it up for free. Sprint says:
Sprint said it will expand Direct 2 You to include more US cities sometime in 2016.
More: The Best Sprint Phones of 2015
Source: Sprint
Seems expensive Sloths>Leopards>Bags of Chips>Humans.

Right. And desperate. Posted via the Android Central App

Nope. People are busy. Quite a few places do this. We have an att stand maybe twice a month where I work +++ Insert witty signature, watch as others not get it, profit +++

How can they think this is a great way to spend their money? The deciding factor in cell service, for me, isn't whether or not a company will bring me a phone. Double down on quality of service you provide. Posted via the Android Central App

I don't mind them providing this service, people are busy these days and this is a service that I can see someone what useful in some situations. That said, I agree with Maclamond1979. Sprint needs to concentrate on expanding their network footprint and fixing/improving the network they have. There are places that Sprint is good and places that it is bad. Their problem is they don;t see that their network quality is not even across the board in all areas they service.

The regional carrier I work at a dealer for (SouthernLINC) has many sales reps that do this and it does work very well Moto G 3rd Gen 2015 with only 1GB of RAM
Nexus 7 2013

Why do people take any chance they get to go after Sprint. They are still a multi-billion dollar company, and are still a considerable cell provider. Good for Sprint for expanding their program.

This is about the most worthless offering I have ever heard of Sprint. Do you want to help me as a long time customer??? Then get rid of your upgrade fee when I get a new phone without having to get into a presidential debate over it. Speaking of upgrades, you need to Upgrade your antennas and towers that so that we have some decent service. All my AT&T and Verizon buddies are laughing at me. I have never seen in LTE network be so pitiful. I can't complain too much because it's cheap but I guess the saying is true, you get what you pay for. Posted via Android Central App

My only two choices are AT&T & Sprint. I use AT&T. Sprint doesn't even have LTE & AT&T is sometimes Edge (or what they call 4g) Both need to update their towers instead of anything else. Posted via the Android Central App
Android Central Newsletter
Get the best of Android Central in in your inbox, every day!
Thank you for signing up to Android Central. You will receive a verification email shortly.
There was a problem. Please refresh the page and try again.