Sprint expands delivery and set up service to Dallas, Detroit, Tampa, and Washington D.C.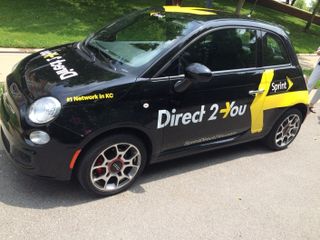 Direct 2 You, Sprint's phone delivery and set up service, has expanded to four new cities, including Dallas, Detroit, Washington D.C., and Tampa. This is the second expansion of the service in as many weeks, with the previous bringing the Direct 2 You to New York, Los Angeles, San Francisco, and Denver.
The basic gist of the service is that customers can order a new smartphone and have a Sprint representative meet them somewhere to deliver the phone and set it up. Today's expansion brings the total number of cities in which Direct 2 You is available to 32, and we're sure to see it hit more over the next months.
More: The Best Sprint Phones of 2015
Source: Sprint
Instead of investing money in cars they should use that money to fix problems in service area's and tower upgrades. The Magenta Network is running strong.

True in Des Moines the service is slow we need bandwidth not setup. Posted via the Android Central App

Wow, look at how excited people are. :-) Posted via Android Central App

About as excited as they for the cubs. Posted via the Android Central App

I just don't get this. Maybe if they started out doing this from jump then OK. But to start this practice almost two decades into your business seems weird Posted via the Android Central App

so the move to Detroit will bring these kind of headlines "breaking news!! Sprint delivery guy gets robbed in Detroit, multiple phones stolen. driver in critical condition."
I know, I'm a Detroiter Posted via AC app on my X 14

But its OK. They have strict gun laws there. Posted via my Nexus 6

If there are any left, not strict enough Sent via carrier duck. They were out of pigeons

Cause guns rob and shoot people... it's amazing how guns can stand up on their own two legs and pull their own trigger.

I feel like people hate sprint just to hate sprint....a reason to dislike?.....sure....hate tho?....really,what purpose does it serve in some of ur lives to hate a company? Posted via the Android Central App

Just ask that occupy crowd. Posted via my Nexus 6

Oh my. This is actually a thing. Thought I was reading the Onion for a minute. Yikes what a failure this gimmicky service will be. Posted via the Android Central App

Good. They'll get a lot of sign ups in Tampa with out "advanced aged" population. Posted via my Nexus 6
Android Central Newsletter
Get the best of Android Central in in your inbox, every day!
Thank you for signing up to Android Central. You will receive a verification email shortly.
There was a problem. Please refresh the page and try again.