Sprint appears poised to get custom Moto X on Nov. 11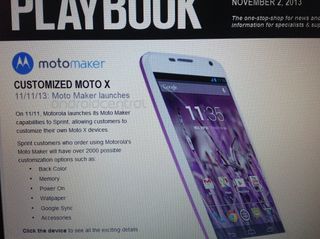 One of the bigger (and valid) complaints about the Moto X has been that the custom versions have been exclusive to AT&T. But if this image pulled from Sprint's internal Playbook is any indication, we could see it coming to the Now Network in a week's time.
"On 11/11," the memo reads, "Motorola launches its Moto Maker capabilities to Sprint, allowing customers to customize their own Moto X devices."
It then goes on to mention the same customizable features that Moto Maker has sported since launch. You can choose the back color, 16 gigabytes or 32GB of memory, a custom boot message, which wallpaper you want showing at first boot, your Google account already attached, and any available accessories.
Missing, still, is the custom engraving and the awesome wood backs that Moto showed us at the launch event this summer.
Thanks, anon!
Get the Android Central Newsletter
Instant access to breaking news, the hottest reviews, great deals and helpful tips.
Just in time for my upgrade!... I might have to get this device if the Wood back is coming soon! Posted via Android Central App

Oh shoot! Maybe Verizon isn't alone with their rumored launch of Moto Maker on the 11th too!

To bad it won't be tri-band. I'm in Chicagoland a spark network. Posted via Android Central App

Exactly. My excitement for the Nexus 5 is still bigger because of Spark.

Sorry Sprint, too late. My Nexus 5 is on the way and I'm ready to switch to T-Mobile. Was burnt with WIMAX and your LTE is gonna take a while to catch up. No more contracts for me! Maybe if T-Mo screws up I'll come back! It's gonna be awesome having an unlocked phone and no contract!

Sprint offers the same contract free, pay for the phone in installments along with your bill. Www.Sprint.com check it!

Damn it! If only this would have showed up a few days ago!

Do you have a 15 day return option?

At least you could use the nexus 5 with them Posted via Android Central App

Droid-life reported on a leaked image that showed wood choices for the back. http://www.droid-life.com/2013/11/04/moto-x-wood-backs-still-on-the-way-...

Oh damn, they get the 32gb option, I may be doing that and returning my N5

I am thinking the same thing!

If only it supported Tri-Band LTE (Spark)... Posted via Android Central App

Agreed Posted via Android Central App

This poses an interesting dilemma: Moto X or Nexus 5?

If Sprint offered the 32gb Nexus 5, it'd be easys. However, since I had to pay full price for the 32gb Nexus 5 that is currently in transit, I am tempted to return it and get the Moto X 32gb and save a couple hundred bucks.

I'm currently due for an upgrade, in area where Sprint service is good, and have been waiting for these two phones as it is. MotoMaker is just going to make it that much harder of a decision. I would really like to see these two side by side and given an thorough "real life" comparison.

There were several comparisons made on the hangout these guys did earlier this afternoon. They are all very much on par with one another it seems.

Thanks for the heads up. Watching it right now.

This is my dilemma as well. I think I've decided on the N5 but that could change tomorrow. Posted via Android Central App

It depends. How vital is reeeeeeeeeeeealy long battery life? If it's very important to you, get the moto x. If you want bleeding edge specs, no bloatware, and lightning-fast updates unregulated by carriers, the Nexus 5 is the way to go.
The always-listening voice commands are better on the moto x, as well as active display. The plus side is that the GUI is very much vanilla android. Posted via Android Central App

If this had an microsd slot I'd consider trading in my Droid Ultra for it, but 32GB isn't enough storage.

At this point I almost feel like "What's next?". These carriers had months to get this out. Great phone but at this point, outdated. Posted via Android Central App

At this point I almost feel like "What's next?". These carriers had months to get this out. Great phone but at this point, outdated.

New colors too? That lavender is not on the motomaker site ATM.

That wallpaper is the matching one for the VIOLET color that is currently on the MotoMaker site. The pic looks like a cellphone pic of a computer screen, so its probably washed out a good bit.

The lack of brown (or even orange) as a color option makes me sad :(

What's the point? This phone is already severely outdated and lacks tri-band. Don't waste your money or your upgrade.

Crap! My 16gb from Amazon is supposed to be here today. Might have to put it right back in the mail to them.