Spec showdown: Pixel C vs. Galaxy Tab S2 vs. iPad Air 2 vs. Surface 3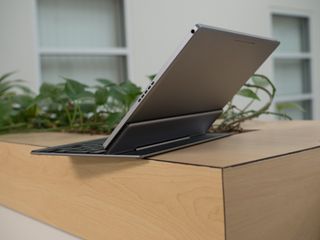 With the release of the Pixel C, we have yet another big Android tablet that's looking to challenge the other offerings out there. But this one's just a little different, as it has the choice of two different keyboards that are aimed directly at turning the tablet into something capable of handling some more productive tasks. The goal is not unlike the other tablet-masquerading-as-a-laptop devices from Samsung, Apple and Microsoft.
There's far more to a comparison of these devices than just specs — particularly when you start looking at productivity aspects of each — but knowing that you have enough power under the hood to get things done is always important. We've rounded up the specs for the Google Pixel C, Samsung Galaxy Tab S2 9.7, Apple iPad Air 2 and Microsoft Surface 3 to see how they all stack up.
Swipe to scroll horizontally
Spec
Pixel C
Tab S2 9.7
iPad Air 2
Surface 3
OS
Android 6.0
Android 5.1
iOS 9
Windows 10
Display
10.2-inch
LTPS LCD
9.7-inch
SuperAMOLED
9.7-inch
IPS LCD
10.8-inch
ClearType LCD
Resolution
2560x1800
(308 ppi)
2048x1536
(264 ppi)
2048x1536
(264 ppi)
1920x1280
(214 ppi)
Processor
NVIDIA Tegra X1
Exynos 5433 octa-core
Apple A8X
Intel Atom x7-Z8700 quad-core
Storage
32 or 64GB
32GB
16, 64 or 128GB
64 or 128GB
Expandable
No
Yes
No
Yes
RAM
3GB
3GB
2GB
2 or 4GB
Rear camera
8MP
8MP
8MP
8MP
Front camera
2MP
2.1MP
1.2MP
3.5MP
Fingerprint
No
Yes
Yes
No
Battery
9243 mAh*
5870 mAh
7340 mAh*
7567 mAh*
Optional LTE
No
Yes
Yes
Yes
Dimensions
242 x 179 x 7 mm
237 x 168.6 x 5.84 mm
240 x 169.5 x 6.1 mm
267 x 187 x 8.7 mm
Weight
517 g
(1.139 lbs)
389 g
(0.86 lbs)
437 g
(0.96 lbs)
622 g
(1.37 lbs)
Keyboard weight
399 g (metal)
391 g (folio)
317.5 g
517 g (Typo keyboard)
265 g (Type Cover)
Combined weight
916 g (metal)
908 g (folio)
754.5 g
954 g (Typo keyboard)
887 g (Type Cover)
* For ease of comparison, battery size converted from watt-hours using 3.7V for calculation
Looking at the line items, you can see that all four tablets are comparable in several areas. All of their screens are roughly the same size, with the iPad Air 2 and Galaxy Tab S2 on the low end at 9.7-inches and the Surface 3 at the high end with 10.8-inches. All have super high resolution screens, and go with a more square-like aspect ratio (be that 4:3, 3:2 or 1:✓2) that's a bit taller than your usual widescreen tablet. Each has a powerful processor, a good bit of RAM and a pair of cameras, with the iPad Air 2 and Surface 3 having an advantage in the storage department with 128GB options.
Each of these large tablets is often paired up with a keyboard accessory to make the most of its capabilities. We've listed the weight of the first-party keyboards (when available), as well as the combined weight of the tablet and keyboard when carried together. Because Apple doesn't make a first-party keyboard for the iPad Air 2 (only the iPad Pro has one at this point), we've chosen the most comparable keyboard that Apple sells (opens in new tab) directly, the Typo Keyboard Case, because of its adjustable viewing angles and full keyboard layout.
The iPad Air 2 is the heaviest of the bunch at 954 g when paired with a full-featured keyboard (though lighter ones are available), with the Pixel C in a close second at 916 g — the Surface 3 is surprisingly just 887 g in total, though a vast majority of that weight is the tablet itself. The Galaxy Tab S2 is feather-light at 754 g with its keyboard case (opens in new tab), even with the case including a trackpad.
There's a lot to digest here, and how much each spec matters in a buying decision is very much a personal decision. But now with the knowledge of how each ranks in terms of specs, you're well on your way.
Android Central Newsletter
Get instant access to breaking news, the hottest reviews, great deals and helpful tips
Andrew was an Executive Editor, U.S. at Android Central between 2012 and 2020.
The iPad air 2 is available with 16GB storage? Weird. Posted via the Android Central App

Why not compare to Surface Pro 4?

Probably because the price points and screen sizes are so different

Precisely. Not at all comparable to any of these.

The Pro series of Surface devices are in a class by themselves. Hard to compare them to most devices except may be a touch based laptop.

Right now, the Surface Pro 3 128GB / i3 is $599. That's the same price point of the Pixel C 64GB. At the same price points, it makes the Pixel C look ridiculously expensive.

Two completely different concepts. SP4 would blow the Pixel C out of the water on everything.

Classic case of you get what you pay for.... :)

Who not compare with iPad Pro?
Why not compare with MacBook?
Why not compare with Surface Book?

Because it is something different. It is as powerful as a laptop, and in the higher models (i7) are even stronger than your laptop! Some laptops with 4th gen i7 even lose to the i5-6300u in the SP4! It is just a much better thing there is nothing like. The only problem is the price. I forgot something: The i7 models have i7-6650U. It runs Intel Iris Graphics 540 that is faster than the discrete GPU called 940M from NVidia.

Pixel nexus for sure. ;-) Posted via a nexus

I would be interested in your definition of "compatible." There are clear and substantial differences.

I assume you mean "comparable"?:

"Looking at the line items, you can see that all four tablets are comparable in several areas."

As in, in several areas these tablets have similar specs. Which they do. Screen size and resolution are similar, storage is similar, cameras are similar, and 3 of 4 can be had with full first-party keyboard accessories. Obviously there are big differences in some areas, but they all share many commonalities.

The battery on the Pixel C is huge compared to the Tab S2. The trade off being thicknesses. But the Pixel isn't exactly chunky is it? Posted via the Android Central App

As you can see in the chart, it's weight, not thickness, that ends up being a downside caused (in part) by the battery.

Yeah I hadn't thought about weight. My Nexus 9 is fairly heavy, but the Pixel is heavier still. The S2 is so thin and light. It's pretty impressive. Posted via the Android Central App Posted via the Android Central App

The S2 being so light also has to do with its build being plastic. The N9 that I have as well and live alot should not be as heavy as it is.

The weight of the N9 would be OK if it were well built, but in my opinion it isn't. The back plate on mine is loose in a couple of places. I keep it in a folio case to make sure it doesn't get any looser. By most accounts the Pixel is well built, but time will tell. Posted via the Android Central App

I agree. I thought for sure that it would be built better since HTC was doing it.

The Tab S2 still has a metal frame. Sure the plastic back helps, but not by much. The dramatically smaller battery makes a much larger difference.

Smaller battery and LED panel. LED panels weigh much less than LCD

I had no idea the Pixel C's battery was so large. Posted via Nexus 6P

That processor and screen suck down a serious amount of power.

Not holding much hope for the Pixel C, especially as Phil said it won't replace his Nexus 9, I'm happy I didn't just blindly go in to this one. Posted via the Android Central App

Yes, I am very interested to hear more commentary from Phil on this as well. Posted via the Android Central App

Phil's still figuring things out.

I'm sure Phil will fill us in later.. Posted via the Android Central App

"I'm sure Phil will Phill us in later.. FTFY

Well I think it can replace it if you need a much larger screen, better processor and hate the aspect ratio that the N9 has. I dont need a new tablet right now due to the fact that I have bought the N7,N9,N10 and Tab S 10.5 this year. To replace the HP touchpad, Tab pro 12.2 and Dell Venue along with my Xoom, all that I got rid of this year.
However in 5 years I may want another and the Pixel or something like it will do nicely.

Well if you needed a larger screen, a faster processor and didn't like the aspect ratio I don't think you would have bought the Nexus 9 to begin with? Posted via the Android Central App

I got it on a deal I could not refuse. Also the processor seems to be fast enough and the screen took the place of my Dell Venue 8. So in that instance its bigger than the Venue 8. You are correct the aspect ratio sucks. I dont watch movies on it anymore since I got the Tab S. I just surf the web and social stuff.

While I have and like both my N9 and Surface 3, my Touchpad running Evervolv Marshmallow is still going strong.

And this ladies and gentlemen is where the Pixel should be compared. It doesn't have the real estate to compete with SP4, Ipad Pro or older models such as Note 12.2 Pro. It also doesn't have the capabilities to do more than one app at a time due to vanilla Android. What I don't like is that Ipad fans will say that Android doesnt have alot of compatible apps for split screen when Apple doesn't have that many either. If productivity is what you need with ultimate portability then the SP3/4 is the right call for you. However to remind everyone even Apple staff said they he would use the Apple pro for consumption mostly.

I'd prefer to get a surface 3 and run 30 years worth of software... But that's just me. Posted from my Nexus 6/Nexus 7 2013/Surface Pro 3

Thirty year old software really isn't worth running. Current software is all that matters.

I beg to differ, Star Wars Rebellion anyone? Posted via the Android Central App

X86, mate. Posted from my Nexus 6/Nexus 7 2013/Surface Pro 3

Been using a note 12.2 pro for a while, even that at 750gms naked gets to be a little too heavy in the hands, I like the Pixel C but just to heavy for me. Posted via the Android Central App

How is the Pixel C's WiFi comparison....[slinks back to the dark corners of the forums...]

Bought a Surface Pro 3 256GB bundle from Costco The ebay Samsung Note Pro 12.2 64GB now resides in a drawer. Pixel = No Sale

I've been reading the pixel is getting extremely bad reviews because it was not built with running android in mind.... seems like a big fail to me.... I'm sure it will not be a success as far as sales number wise. Posted via the Android Central App

A Google tablet that wasn't built with Android in mind? That sounds rather suspicious.

Think chrome os Posted via the Android Central App

This guy is a Samsung employee... Android was invented by Google... This tablet is by Google...

I'm interested in the Pixel C as a travel companion but would also like to use the device for productivity. Does the Pixel C have support for a stylus/pen, mouse or trackpad? At the moment I'm weighing up between this and the Surface 3.

Adam, your choice may depend on the keyboard. I don't like the Pixel C's accessory keyboard for its lack of modifier keys.
I can understand the keyboard layout as it is, and no complaints about its typing experience, but I find its features limited.
I'd prefer something like the Rapoo E6700: a row of function keys above the numbers, trackpad to the right - but not designed for the road. It does work, even with the Pixel C attached to its accessory keyboard.
I haven't yet tested it with other input devices. I have a Surface Pro 3 (Core i5 CPU) with accessory type cover. I think that for me the Core i5 is the minimum I feel comfortable with running Windows or OS X (my MacBook Air). I do like the features of the keyboard, but it does feel plasticy to me. You might have your data, and therefore your software, be decisive. If you want to be prepared for any task on the road, you may need the desktop class software and hardware. If you merely want an office suite and a browser, you could probably settle for even less than a Pixel C. And if your productivity on the road should be about software, not additional hardware, you might want to consider an iPad Air 2 with some Bluetooth keyboard. (The iPad Pro would feel bulky.)

I used the Surface 3 for work/play and it definitely did the trick. Ultimately I decided to move on as a prefer a laptop for productivity exclusively (just not a fan of the hybrid), but IMO it has the Pixel C beat. Posted via the Android Central App

I'm looking for a new tablet and the S2 looks really good for me. It has the smallest battery in the line up by significant margin and I am a bit concerned about having to charge it relatively. Does anyone know what the S2's real world battery life is like? Posted via the Android Central App

It's not great, I had one and returned to stick with my Nexus 9, however the S2 is a faster tablet, lighter, awesome screen and has a much better build quality Depends how long you are going to be away from the charger. Posted via the Android Central App

Most Samsung Tabs charge relatively fast. My N9 takes way to long. The good thing about the S2 is that its memory is expandable. This is important for me when traveling as my N9,N7 and N10 are not. When/if Samsung updates the S2 to Marshmallow then the SD card slot will be even more useful. I am hoping that they upgrade my Tab S 10.5 to MM in the not so distant future.

Because it's an LED display vs the other tablets' LCD displays, it's much more energy efficient. I can go 6 hours of gaming type activity easily, 8+ off surfing/email activity. That LED also has much to do with its thinness and lightness. The Tab S2 is a very, very impressive tablet.

I have the Sony Xperia Z4 Tablet with the standard keyboard (BKB50). I know its not widely available in the United States, but its really comparable with the tablets analyzed here. Great screen, very good battery life, the keyboard is ok (with a usable trackpad). Its a very good device and never mentioned in Android Central.

I own the surface 3. actually 2 of them. One for my wife and one for me. We LOVE them. They are the best tech devices we have owned. Right now we have laptop/tablet/desktop in one use. It works perfectly as all of the above. Most of the day, I am sitting at my home office desk, surface docked, and using 23" monitor and speakers etc. desktop. On the move I have my type cover for instant laptop and flying I can take off the type cover/keyboard and have a full tablet experience. There is NOTHING on the market that comes close to the surface. I probably will buy the pixel c and pixel 2 next year, just because I enjoy google devices.

Oh my god I can scroll sideways without switching articles now :D Posted via the Android Central App

I can't explain how awesome my surface pro 3 has been. I have my Thinkpad and iPad sitting in the closet now. I bought a surface 3 for my fiancé and its replaced her mbp and ipad, too. Luckily she wasn't too invested in the fruit ecosystem. Best tech purchase I've made in a few years. Can't really see myself going back to tablet running a mobile os anymore.

The Pixel seems better than the Samsung. Posted via the Android Central App

Spec wise it may be. However there are alot of complaints about the pixel. Just Google search "pixel not meant to run android" you'll find pages of articles about it not being built to run android.... Posted via the Android Central App

When I searched, it only brought one result for "pixel not meant to run android" and it was back to this article...

Surface 3 and its a no brainer...Not sure why apple and google still stick to a mobile os on their tablets...

Oh, you mean like when Microsoft made Windows 8 and multiple Surface RT tablets? :P

Shhhhhhhh. Let RT just vanish into the night!

Yeah I remember them doing that in 2015

Yes, because Microsoft doing it in 2013 makes it soooo much more acceptable.

Both RT and 8 were still miles ahead of both android and IOS in terms of actual user experience. The only issue with RT was lack of "apps". Which most android/ios users totally get caught up in. That was the only draw back of RT. Other than that it works great, I still have 2 RT tablets. and besides crappy asus hardware, the OS works great.

Yep, don't get the hate above your comment. Posted from my Nexus 6/Nexus 7 2013/Surface Pro 3

That's like saying "I've got an awesome car, but nowhere to drive it." What the point of an OS with no programs to run on it? And just in case anyone infers differently, I think RT is a crap OS.

Wrong, There were plenty of apps. Just not 10 million fart apps. I did everything and more on my RT. IOS and Android paied in comparison to even RT. Flash still works etc....You are still running a full OS just that you cannot run EXE files on it. Big deal...I am on windows 10 now and I have a total of 2 EXE programs on it. However, The functionality of the surface both pro and RT are miles ahead of both iOS and android. I own all three. My 9 yo owns my ipad now. that's about the correct age for apple products. They are very simplistic and juvenile in their os. OSX is a mess, and android while way better than IOS/OSX is not up to snuff when comparing to windows.

Fortunately, Flash is dying a slow and painful death. Unfortunately not nearly as fast as RT died. So what functionality do you have on your RT tablet that I don't on my Tab S2?

Flash, I have heard that flash is dying a slow death for years because apple has no interest in it. That was five years ago, and guess what....there are still MILLIONS of websites that use flash. The majority still use it. another thing that RT has your S2 does not is a proper browser. My browser works just like the desktop browser.....because it is. I hated using my android tablet for websites as most mobile sites are cut back of content because of the mobile devices browsers...not so with RT. third, ease of use. You use RT just as you would use windows on any other computer. There was no discernable difference in the overall operating system. Only you could not use EXE files. You had full USB support, just plug in a printer, other hard drive, dvd drive and it would all work. Not so on android based tablets. I have 2 android based tablets right now. One I use for my jeep nav/monitor system as windows does not have a version of torque yet.

A. MOST web sites do NOT use Flash. And with a third of web traffic coming by way of mobile devices, that number will continue to drop. Besides, the functionality of flash is rapidly being replaced by html5. B. Define "a proper browser". Because I use Chrome on my phone, tablet and laptop. The integration is seamless including settings/preferences, bookmarks and history. On my phone I tend to use mobile optimized versions of web sites, but on my tablet (Tab S2) I use the full desktop version. I rarely experience any functionality issues because site designers understand that mobile platforms are rapidly becoming the defacto way of consuming content. C. I have a micro USB to USB dongle that I put in my pocket. It allows me to plug in virtually ANY USB device in to my Tab S2 and have it work. I've connected USB flash drives, portable hard drives, wireless adapters, printers and optical drives to it with zero problems. Actually, with far fewer problems than with my laptop. However, because it's not 2002, I usually connect to most of those devices wirelessly through Wi-Fi and Bluetooth. RT has almost no support, few apps and no-one developing for it. I couldn't care less about executable files because the world is going away from them. But that's because the world is going to a mobile platform and most of the world prefers Android. Either that or iOS. Maybe Windows can stop some of the bleeding with Windows 10, but I doubt it. However, the truly dead platform is RT. There's a reason Microsoft abandoned it. You can whistle through the graveyard all you want, but the rest of the world has moved on before it ever stopped.

Maybe because Windows 10 sucks on tablets?

You're right...sucks almost as bad as getting a "you must download adobe flash" error

I wonder why Google did not put Fingerprint in Pixel C

Tablet's have lost that "WOW" factor altogether. Every year seems to be the same. Me personally still rockin the iPad 2 and Toshiba Thrive. I came from the gutta, now it's all butta

Wow I didn't know the Pixel C had the Nvidia processor! That is is nice!

Needs expandable storage. No reason to have all of that power with only 64GB to use.

Looks beaten by the Surface 3, which is a previous generation product LMAO. Oh, Google.

I assure you, the Tegra X1 is far superior than the Atom x7-Z8700

Difficult comparison to make. Surface 3 has more RAM, more storage, and weighs less.
Android Central Newsletter
Get instant access to breaking news, the hottest reviews, great deals and helpful tips
Thank you for signing up to Android Central. You will receive a verification email shortly.
There was a problem. Please refresh the page and try again.