Sony Xperia Z4 versus Z3+ versus Z4v: What's the difference?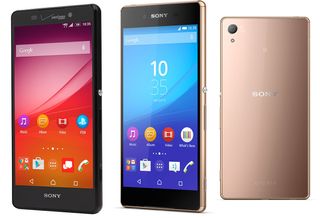 In Japan, the Sony Xperia Z4 is what you'll find in carrier stores. Over in Europe a very similar phone goes by the name Xperia Z3+. And now in the United States, Verizon and Sony bring us the Xperia Z4v.
So what's the difference between these three, beyond the obvious geographical distinctions. We'll take a quick look after the break.
Spec comparison
Here's the full breakdown of Xperia Z4, Z3+ and Z4v specs:
Category
Xperia Z4
Xperia Z3+
Xperia Z4v
Dimensions
"About" 146mm × 72mm × 6.9mm
146.3 x 71.9 x 6.9 mm
144.4 x 72.3 x 8.6mm
Weight
144 grams
144 grams
160 grams
Battery capacity
2930mAh
2930mAh
3000mAh
Display
5.2-inch Triluminos Display for Mobile at 1920x1080
5.2" 1080p FHD (1920x1080), IPS display
sRGB130% TRILUMINOS 700cd brightness
X-Reality for mobile
5.2-inch IPS, WQHD (2560x1440), sRGB 130& TRILUMINOS
Memory
32GB / 3GB
32GB / 3GB
32GB / 3GB
SD Memory Slot
microSD, microSDHC, microSDXC (maximum 128GB)
microSD, microSDHC, microSDXC (maximum 128GB)
microSD, microSDHC, microSDXC (maximum 128GB)
Processor
Qualcomm Snapdragon 810
Qualcomm Snapdragon 810
Qualcomm Snapdragon 810
Main Camera
20.7-megapixel Exmor RS
20.7-megapixel Exmor RS
20.7-megapixel Exmor RS
Front Camera
5.1-megapixel
5-megapixel
5-megapixel
Video recording
Main camera: 4K 30fps, 1080p 60fps Front camera: 1080p
Main camera: 4K 30fps, 1080p 60fps Front camera: 1080p
Main camera: 4K 30fps, 1080p 60fps Front camera: 1080p
Flash
Main camera only
Main camera only
Main camera only
Waterproof/Dustproof
IP65 and IP68
IP65 and IP68
IP65 and IP68
NFC
Yes
Yes
Yes
Wifi
IEEE802.11a / b / g / n (2.4GHz / 5GHz) / ac compliant, MIMO support
IEEE802.11a / b / g / n (2.4GHz / 5GHz) / ac compliant, MIMO support
IEEE802.11a / b / g / n (2.4GHz / 5GHz) / ac compliant, MIMO support
Colors
White, Black, Copper, Aqua Green
White, Black, Copper, Aqua Green
Black, White
Wireless Charging
No
No
Qi + PowerMat supported
Sold In
Japan
Europe
U.S. (Verizon Wireless)
The bottom line
The Xperia Z4 and Z3+ are basically the same phone. There's some discrepancy in the reported physical size, but that's likely because Sony Mobile Japan is rounding up (or down) in its spec listings.
The Xperia Z4v is thicker and heavier than its international cousins.
That's because it has a slightly bigger battery — 3,000mAh versus 2,930mAh — and wireless charging support.
Verizon's Z4v also ups the screen resolution to Quad HD (2560x1440) compared to Full HD (1920x1080) in the Z4 and Z3+. The screen size is the same across all three, at 5.2 inches.
The Z4v misses out on the "copper" and "aqua green" color variants of the global Sony flagships.
The Z4v also seems to use a different frame design — there appears to be more plastic in the join between body and screen compared to the metal trim of the Z3+ and Z4.
Stay tuned for full reviews of Sony's new flagship phones in both Europe and the U.S.
Alex is global Executive Editor for Android Central, and is usually found in the UK. He has been blogging since before it was called that, and currently most of his time is spent leading video for AC, which involves pointing a camera at phones and speaking words at a microphone. He would just love to hear your thoughts at alex@androidcentral.com, or on the social things at @alexdobie.
So releasing the same phone every year wasn't work, what do they do? Release 3 times the same phone at the same time!

Arent't pretty much all of American phones, except for iPhones, versions of their original?
Since it's the same SoC and overall hardware this extra version should only add a few hours of additional coding per update.

Except the iPhone?
LMAO Posted via Samsung Galaxy S6

Lol what? Posted via the Android Central App

Jonathan, that is shocking. Can you please show me where Sony launched the same exact phone every year?

So if I am on AT&T, well because I am.....which phone is for me? The Z3+ would also be the exact phone for me but I have heavily adopted Qi charging and I hate to lose that convenience. I did see that there is a Qi charging solution on Amazon, but need to research that and see if that is waterproof. Dang It Sony I left Verizon and now you have me wondering if I should go back....

You loose the waterproofing because the flap is open Posted via My G2

The Z3+/Z4/Z4v are still water resistant even without the flap covering the charging port

It's supposed to be waterproof with no flap. Unless you're talking about the accessory he mentioned. Posted via the Android Central App

Uh, the Galaxy S6 active.

AT&T users and Verizon users are both in luck as we both now have access to a good dust/waterproof phone that is high quality in the S6 Active for At&T users and the Z4V for Verizon users.

It is IP68 with an exposed USB.....my question is if water would destroy the wireless charging pads sold by Amazon. http://www.amazon.com/Universal-Wireless-Charging-micro-USB-Narrow-inter...

I wouldn't risk it. I believe you could get a GS5 for AT&T and add on a separate Qi wireless charging back or receiver pad under the stock door.

So you plug in a pad to wireless charge, but you can't just plug in the charger? I'm so confused. Do you live that on your phone all the time? That thing looks terrible.

I have adopted wireless charging, I have wireless in my car, at work, and at home. It is nice dropping said phone on a cradle and not worrying about it. I went and got theActive S6 last night, so far so good...

And they're all excellent water boilers!

Lol Posted via the Android Central App

Perfect for camping. Battery lasts for days, cos you can't keep them on. You can boil a water, make an omelette or even pan-roast a steak on it. Posted via the Android Central App

They're all the same phone. And they all use an 810. Guys, we've got a very good egg fryer and water heater here.

It is either this or the S6 Active....

S6 Active has more usable screen space but the Sony's screen is .1" larger in actual size. S6 Active has a bigger battery but is only Qi compliant. The Sony supports both Qi and PMA. Sony has expandable storage. Samsung is far more likely to keep getting official software updates. Exynos vs a potentially overheating 810. Sounds like a toss-up to me! If they use the newer/cooler 810 then I'd probably go with the Sony just for the expandable storage.

"potentially overheating 810" You can scratch the "potentially". The phone has just arrived to people and there are already a ton of complaints to the point of retailers in Japan warning people about it.

Which Sony Phone not on Verizon is Qi compliant?

Verizon ...why you mess with phones? Posted via the Android Central App

I generally agree with you, but, at least on paper, the Verizon variant is an improvement over the others. The only downgrades are a 5 MP front-facing camera, as opposed to 5.1 MP, and the loss of two color choices. In exchange, you get a bigger battery, a higher-res screen, and wireless charging.

One could argue that the higher res screen isn't a good thing, especially at 5.2" ... Bigger battery drain with no discernable difference between 1440 and 1080 at that screen size. I'd rather it have a 1080 screen personally, and I'm sure I'm not alone. Posted via the Android Central App

Fair enough, especially since most streaming services are doing 1080p anyway.

Why does Sony have multiple personality disorder when it comes to their phones? They really should just stick to one model.

These phones do everything, including frying an egg for breakfast.

Not a big enough improvement to get me to want it. Stick with my z3v for now. Lg g4 is tempting though.... Posted from my Sony xperia z3v

Same phones, but the Verizon version will be 2-3 updates behind the other phones.
Android Central Newsletter
Get the best of Android Central in in your inbox, every day!
Thank you for signing up to Android Central. You will receive a verification email shortly.
There was a problem. Please refresh the page and try again.