Sony Tablet S to get Ice Cream Sandwich update, timeframe coming 'soon'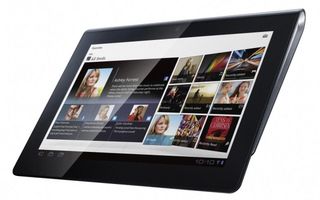 Some may love the shape of the Sony Tablet S, some may hate it, but one thing everyone can agree on is that it will be better with Ice Cream Sandwich. According to staff at the Sony Tablet discussion forums, the Android 4 update for the Sony Tablet S is happening, and the timeframe for said update is "coming soon." The Tegra 2 tablet with the unique look and feel wasn't a huge hit for Sony, but it's nice to see them continuing support and keeping behind this one. We'll keep our ears open and let you know when "soon" turns into an actual date.
Source: Sony UK; Thanks, Philip, for the tip!
Jerry is an amateur woodworker and struggling shade tree mechanic. There's nothing he can't take apart, but many things he can't reassemble. You'll find him writing and speaking his loud opinion on Android Central and occasionally on Twitter.
It's crazy that Samsung cant get their shi*t updated but Sony can update some no name device. What's up with this?? However I am happy to see Sony stepping their game up. I look forward o seeing what their 720p device will be like.

I don't know of a non nexus device with 4.0 yet. Y r u stomping all over Sammy's nut already? It'll come.

I'm talking about them not updating the Galaxy S. Not that I should care, but I feel bad for all those who bought that phone and were expecting an upgrade. I have a Galaxy Nexus, I love Samsung but they HAVE to show some type of commitment to their costumers. Take a hint from Apple & HTC.

They already stated they won't update the Galaxy S. So no, it WON'T come.

YES!!!!!!!!!!!!! I can't wait! I have 2 Sony Tablets, one I am looking to sell. So having ICS on it will be a great selling point. I think Sony is way better than Samsung.

Sony's probably hoping the same thing. I have the sinking feeling that most of Sony's devices are really not gonna handle ICS very well. Also, its easier for them to (finally) start supporting existing devices than to commit big dollars to bringing new ones to market. This is business as usual for an apathetic and nearly soulless big corporation. A marketing ploy. Don't get me wrong. I truly wish Sony the best, but even more, I wish they'd wake up and make moves befitting such an established marque. Sony is a giant taking itty-bitty baby steps across the Android landscape.

Any deep skinned device may not run ICS smoothly. ACTUALLY ICS has a bit of hicups so I can only imagine what the skinned device will be like.

Is there any chance I can get you people to stop calling these versions of Android their real names and just give us the decimal points? I thought Apple's were horrendous. I can't look my non-Android friends in the face when talking about Android Updates. It's the small price you must pay to have a phone that works.

Jersey, if you have that much anxiety over a playful phone OS version title, how do you even get through your day in one piece enough to sleep at night? Are you seriously telling us you are embarrassed? You poor, poor thing you... :'-(

How is this news? this tablet will get ICS "some time" and i suppose sony will release a new tablet "some time"

It's news for those who care.

This is not news. This is a Press Release seeking free advertising.
Gets the Sony Tablet S name out there, and suggests to anyone considering a Sony tablet that Sony will continue to suport their devices. So go ahead and buy one.
I am actually waiting for the Sony Tablet P, and the communities first impressions, so this is welcome news for me that Sony will keep up the torch.
I just assume that the OEM will continue to support all their devices, as far as the hardware will take it, then leave it with a stable OS.
Always disappointed when the OEM moves on, but then, So do I.
Peace

I love my Sony. My best geek purchase yet! Even more pumped that it will be getting ICS!

Did anyone even buy this tablet? ?

Only people who don't go OMFGLOLROFLITEOTW over an extra .1ghz in processing power or .7 inches more screen size... and who like the feeling of owning a device that differentiates itself from the other boring slates out there with more than dubious 'performance' gains... (The HTC Jetstream should be fast according to its specs, but it isn't. The S is.) I like my Tablet S and have received a lot of questions and compliments about its shape when I take it places like airports. I really can't wait to see what ICS will do with it... although I hope the cool little Honeycomb analog clock and the 'folded'-style digital clock in the status bar stick around.

I bought this tablet a couple of months ago in the UK . It's a good size and the shape makes it easy to use portrait and landscape. It also feels and is quite light. Pleased so far. The updates have come through in reasonable time so think ICS won't be too far away. Think news item is response from Sony support guy on the tablet S forum.

If this ICS upgrade brings real SDcard mounting for use as mounted internal memory than I will get this tablet, however if it doesn't I will have to look elsewhere, I want this for the fact that my family has almost all Sony entertainment devices and this tablet is really unique and gorgeous looking, good specs and a really nice feel. But no SDcard mounting for use as internal memory for ALL apps including system is a deal breaker at this point in time (especially as I'll only be prepared to pay the price of the 16GB wifi model at around £300)

Has anyone seen a timeframe for this or any update?

Galaxy tabs are for poor people.
Android Central Newsletter
Get the best of Android Central in in your inbox, every day!
Thank you for signing up to Android Central. You will receive a verification email shortly.
There was a problem. Please refresh the page and try again.