Sony lens camera ad leaks, insists your life will be better with this attachment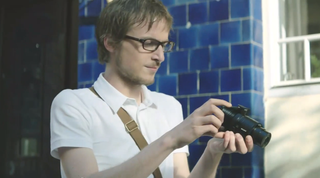 It seems there are few details about Sony's upcoming QX10 and QX100 "lens camera" attachments that haven't been leaked, and we now have a full-length video ad for the accessories to watch. The lens cameras, which are expected to be revealed soon at this point, are shown off in this ad as a seemingly life-changing photography accessory.
The main points shown off here are simple one-touch pairing of the devices to phones over NFC, remote viewing of the camera without it being attached to the phone and easy sharing functionality between the camera and phone. Once paired with a phone, the camera can seemingly operate independently with its own shutter key and controls.
If you're not too worried about looking weird, the lens camera offers a variety of interesting shooting possibilities, and should offer some great photo quality if it is indeed packing the same hardware as Sony's highest-end point-and-shoot cameras.
Source: MobileGeeks; Via: The Verge
Andrew was an Executive Editor, U.S. at Android Central between 2012 and 2020.
I'm a little behind on this accessory, will it attach only to Sony smartphones?

It can attach to iOS and Android smartphones. Posted via Android Central App

Niche written all over it. It's too much complicated for regular peeps.

My initial reaction was to think it was niche as well, but the fact that it can pair with any Android or iOS device opens this up a whole lot. Depending on price point, i can see Sony selling lot of these.

250 for the QX10, 500 for the QX100 apparently. http://www.androidpolice.com/2013/09/03/sony-qx-lens-cameras-completely-... Posted via Android Central App

Not bad price points at all!

not bad you say, can you please buy one for me then. since 250 or 500 not a big deal to you.

Considering the non-phone versions of them sell for $450 and $750, they do look pretty appealing. And while $750 is steep for a point & shoot, the consensus is the RX100 mk II is the best point & shoot ever made. The lens really is that impressive.

One person's not bad is another person's deal breaker. I could MAYBE be pursuaded into $250 for the higher end one and maybe $125 for the lower. Maybe. And that is coming from someone who likes this idea. For $500 I'd rather get a Sony NEX or Nikon 1.

i think it's brilliant, very original idea. i don't know if the market will agree, but it's certainly neat

No xenon flash kills it for me. May be good in low light but nothing beats a good flash

The higher-end version has the same sensor as the RX100ii, which takes amazing pictures even in low light. I tried using the built-in pop-up flash once, and immediately turned it off and haven't looked back.

On camera flashes typically produce horribly flat images. Even on my DSLRs, I don't use a flash unless I can point and bounce it off something, otherwise, I'll go without a flash at all and live with some graininess.

Agree, only time I ever use a flash is if there is just to much light from behind the subject making a black outline of what your trying to shoot.

Totally agree. It is bounce flash or no flash at all.

I can't wait when this comes out...with this you can have which ever phone you like yet still have the best camera! With this i can imagine getting Nexus 4 + this lens...best of both worlds. :)

AC giveaway contenders then? I'm in especially for the QX100 - I've always wanted a camera for my OG 2012 Nexus 7 Wifi+3G (2013 Nexus 7 with cellular where are you).

From what they said it will attach to any android or iOS, I think its provided they have NFC and WiFi. If that's the case this thing is like 200% worth And I will definitely be getting this over a DSLR I've been planning for weeks... Posted via Android Central App

NFC is not required to pair the device, it just makes it simpler.

The phone doesn't even need NFC, that's just a plus for easy connection.

Oh I so love the concept of this. For some, it would remove the camera quality when looking at devices.

Very interested in getting one of these, dependant upon the price.

If the rumored $250 price is accurate, I am down. Posted via Android Central App

I like the effort and all, but what's the point when you're uploading pics to Facebook, Instagram, G+? Again, niche product with high price tag (for majority of consumers), but it's cool to have variety.

The point for me is a huge sensor, zoom and the ability to move photos straight to the cloud (and then Lightroom).

Because some of us have several hundred gigabytes of cloud storage between diffent sources so we upload fullsize images, then keep local backups on our hard drives, and use our picutres for more than just instagram. I've been considering a NEX because I want something better than my Sony point and shoot. Depending on price and performance, this may be an option. Now if you could also pair this with an external flash, I'd probably be in 100%.

That doesn't look awkward and easily droppable while you fumble to get it out and/or attach it to your smartphone. Posted via my thumb(s) and the Submit button

I think the pricing is a little off. 159-199 for the smaller lens and 359 for top end. that just might turn people off a bit. A decent DSLR even with the kit lens can be had in the 500+ dollar range and you can get some amazing shots with the kit lens. At 500 dollars for just the lens its ehh.

But then you're carrying around a large DSLR, which is the polar opposite of what the point of this product is.

I'm going to get one. Posted via Android Central App

It would so cool if you can use your phones flash with it so we can use it to bounce. The phone and the lens doesn't have to be facing the same spot.

This looks pretty cool. Kudos to Sony for innovating. Not sure if it's worth it in the long run as phone camera sensors continue to get better. Besides $250 min is a lot to chew on for something that doesn't function as a standalone device, BUT it sure looks tempting. Can't wait for an AC review.

You're not going to get a sensor like this with optical zoom in a phone any time soon. There's a reason it is the size it is. Posted via Android Central App

If you can use it independently, within a limited range, it sounds like a perfect spy device. I can see a lot of creeps buying this for nefarious purposes

Because they are so small, affordable, and inconspicuous?

I really like this. It could do with a tripod mount so that it can be set up and remote triggered. Battery life will also be a deciding factor.

Honestly I'm excited for the z1 let alone now this. I am almost certain ill be getting both phone and lens.

What about things like Panorama, burst shooting etc. Will any android camera app allow this lens to be picked as the camera of choice? If so, I wonder if the software will seem limited due to the quality of the lens? I'm down for one of these I hate trying to carry my dslr around and this is much smaller and fit in a nice tube carrying case or something it would be great!

BTW - the manual leaked over at SonyAlphaRumors and neither lens supports RAW - jpeg only. Posted via Android Central App

A niche device for people of 'niche appearance', which is why they used a guy who looks like that in the ad. They wouldn't have used some random bald guy.
Android Central Newsletter
Get the best of Android Central in in your inbox, every day!
Thank you for signing up to Android Central. You will receive a verification email shortly.
There was a problem. Please refresh the page and try again.