Sony Ericsson says Ice Cream Sandwich updates start in late March/early April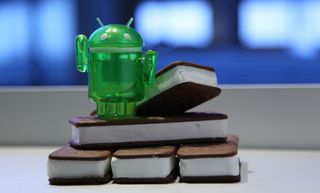 Sony Ericsson already told us which of its phones will be the first to get Android 4.0 Ice Cream Sandwich. Today it's giving us a time frame.
Toward the end of March or early April, the Xperia Arc S, Xperia Neo V and Xperia Ray will be the first to get Ice Cream Sandwich. The Xperia Arc, Xperia Play, Xperia Neo, Xperia Mini and Mini Pro, Xperia Active and Sony Ericsson Live with Walkman will start getting updates in late April/early May.
That's still some months away, of course, but kudos to Sony Ericsson for being so transparent about the process.
Source: Sony Ericsson
lmao...we all know what that means... Around April 14th the tech blogs are going to start buzzing about "Well technically they have until tomorrow for it to be "late April Officially" . . . then the update shows up in JUNE! lol... Omg

March or April??? this is OUTRAGEOUS! i need a Sprint G-NEX asap!!!!

4-5 months are definitely not "timely"...

I thought SE origially said their ICS updates would be DONE by the end of March?

ICS? meh... What I want to know is where to get that Droid in the picture! ;-)

You forgot the "Xperia™ pro" ! I had to check the source link just to make sure that they weren't forgetting about my phone. And really.. with all of the crapware that Sony puts on their phones, I'm not surprised that it's going to take them as long as it will. They are a big company with procedures and policies and timelines that easily stretch out the update until then. If Google would give them the source BEFORE they put it out on their latest Nexus, then other manufacturers would have a chance. As it is, Google keeps that competitive advantage and the manufacturers have to try other things to stay competitive.

What sucks is Google is not using it best weapon to get companies to shape up and get updates out quicker. And that weapon is motorola. Google could easy get all of those phones updated in say 2-3 months no problem and make it a set standard on all of those phones.
This would force other companies to do it as well. It rather sad that Sony is be having the best at getting things updated.

Technically Google doesn't own Motorola Mobility yet. The shareholders have voted, and it's up to regulatory approval I believe. The timeline was to complete the acquisition in early 2012. That still means that Motorola Mobility won't be necessarily integrated into Google until a good six months or more after that. Look how long it's taken Nokia to pump out some Windows Phones? Didn't happen overnight... in fact the Nokia Windows phones were just announced in October.. and they're still not really 'here' yet. And the deal with Microsoft was announced last February. As fast as this industry is moving, the impatience of the consumers will always be noticeable.

Doesn't really matter if you are on verizon!! I have had my Play for months, and am lucky to have 2.3.3, still have not seen either of the 2.3.4 updates. Expect to get the ICS about the time I change my phone again!!
Android Central Newsletter
Get the best of Android Central in in your inbox, every day!
Thank you for signing up to Android Central. You will receive a verification email shortly.
There was a problem. Please refresh the page and try again.