Sony Ericsson MW600 Hi-Fi Wireless headset review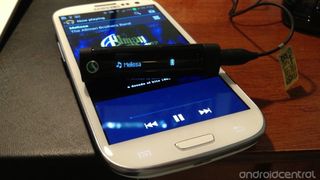 As Sheldon Cooper from The Big Bang Theory is fond of saying; "everything is better with Bluetooth." There are certainly people who will dispute that, but Bluetooth can be a great feature. This particular headset opens up a world of possibilities for your Samsung Galaxy S III (S3) and other Android phones.
The Sony Ericson MW600 is perhaps the most unique take on a Bluetooth headset that I have seen, it is really more than simply a Bluetooth headset. It is a Bluetooth/FM transmitter that comes with ear buds – but…and here is the killer feature…you can plug in any set of ear buds or headphones to this device and use them.
As I have said before, I love music, I love Bluetooth and I hate wires, so I was looking forward to see what the Sony Ericson MW600 could do to make my life easier and my music playing more enjoyable.
Sony Ericson MW600
What's in the box
The Sony Ericson MW600 comes with the Bluetooth/FM transmitter, a pair of Sony ear buds, two extra gel tips (small and large – medium ones are on the ear buds already,) a desktop charger and an instruction manual.
Pairing the MW600
Just turn on the Power button the MW600. The first time you turn the Sony Ericson MW600 on, it goes automatically into pairing mode. When connecting to other devices in the future (you can have three devices paired with this) just hold the Power button in for about five seconds to put into pairing mode. The screen of the device shows that it is pairing.
On your Galaxy S3, HTC EVO 4G LTE or HTC One X or other Android device, just:
Go to your Bluetooth settings
Choose Scan for devices
Select the Sony Ericson MW600 from available devices
Functionality
The Sony Ericson MW600 has more functionality than most Bluetooth headsets. It has all the basic controls on the Bluetooth transmitter;
Microphone
Call button
Volume up/down
Pause/play
Power button
Then, the MW600 tosses in some very cool additional features;
An LED screen that gives battery information, Bluetooth information and the name of the song playing
A built in FM radio
A clip to attach the Bluetooth transmitter to a shirt or pocket
The FM radio deserves a bit more explanation; the user holds down the Play/Pause button and then uses the touch volume controls to choose between the phone and the FM radio. Choose the FM radio and use the FF and RW buttons to scan for stations. When connected to the FM radio, you don't need to have the phone with you unless you want to be "on call" for phone calls.
Push and hold the Call button to activate S voice on the Galaxy S3 or voice dialing on any other Android phone. To answer an incoming call, just tap the Call button. Tap the Call button again to end a call. Double click the Call button to redial the last number called.
The MW600 also handles a second caller. When another call comes in:
Press the Call button to put the first call on hold
Press and hold the Call button to switch between calls
You can also mute the microphone during a call by holding down the Play/Pause button
Comfort
The Sony Ericson MW600 is really just a clip on transmitter – so it is easy to just attach to a shirt or pocket and you hardly notice it is there.
Since you can use the included ear buds (which were excellent) or any other earphone or headphone – the MW600 is as comfortable as your most comfortable set of earphones – which is awesome. I have long complained about the comfort of some Bluetooth stereo headsets – this is just like wearing comfortable ear buds.
Call quality
The microphone for the Sony Ericson MW600 is located on the end of the front of the unit – near where the earphones plug in. For the most part, call quality was good. Users could hear me as long as my mouth was not too far away from the microphone.
Because the microphone is on an external unit that can be clipped onto your clothes, you need to be smart if you want to use this for phone calls and put it at least nearby to your mouth.
Music quality
The music quality on the Sony Ericson MW600 was hands down the best Bluetooth streaming stereo music (on a headset) I have ever heard. More often than not, Bluetooth stereo headphones never seem to play loud enough. Since these have a built in volume control on the device (a touch sensitive bar on the side of the unit) and you can also use the volume controls of the phone, these things played loudly.
The included Sony ear buds had great audio quality; the bass was strong and the mids and high frequencies were well defined. I tried lots of different types of music and really liked what I heard.
It should also be noted that the FM music quality was also very good – much better than typical FM quality on a portable device.
The wrap up
The Sony Ericson MW600 is the most versatile Bluetooth headphone/headset/FM radio unit I have every tested. There are still some wires (since you plug in a wired set of ear buds or headphones) but there is no wire needed from the phone to the unit – which is very convenient. Sound quality is great, functionality is terrific and the added FM radio is a nice touch.
The good
Very convenient
Great sound quality
You can use your own headphones if you want
LED screen with information
Touch sensitive volume control
The bad
You still have wires from the ear buds or headphone
You have to clip it on near your mouth to be able to use the microphone
The verdict
The Sony Ericsson MW600 is great for working out, taking phone calls and listening to FM radio. The included ear buds are great, but you can just plug in your own as well. They play louder and with greater fidelity than any other Bluetooth headset device I have tested.
Buy it now
Others like this one
Android Central Newsletter
Get instant access to breaking news, the hottest reviews, great deals and helpful tips
Is there any way for two individuals to listen to the same thing (such as a podcast)simultaneously over blue tooth? I'd love to listen to the same thing with my wife while on a bike ride for instance.

In order to accomplish that, your phone would have to pair with, and transmit to, two of these headsets simultaneously. As far as I know, Android devices can't do that, so the actual limitation is with the phone, not the headsets.

Well he says it's an FM transmitter as well, but I think he means receiver? If it is a transmitter and it can transmit while buds are plugged in you could broadcast to your wife via FM? Somehow I doubt this is possible - never heard of pairing with multiple devices simultaneously before. I nearly bought this exact item but opted for some s10-HDs I got for under $40. I love the idea of such bluetooth devices i.e. that they'd likely be more comfortable and have better sounds quality - but once I have headphones plugged into something via wires I kind of feel I may as well save battery and connect directly. I did think it would be a way to transmit to a home stereo or a car unit via the headphone jack.

I have a pair of the LG HBS700 "Tone" bluetooth headphones. Similar in concept, just they have this "collar" thing you wear around your neck rather than the piece on these you clip to your shirt. I couldn't believe I spent $40 on earbuds, but they are pretty awesome. They're perfect with my phone (can even switch tracks or take calls), but spotty at best on a Win7 pc (due to Win7's bluetooth). I've actually been wearing them mostly to bed lately and can comfortably drift off to sleep without getting caught up in wires.

Me too. I thought the LGs looked like a rather hokey design layout when I first saw them, but they are great. No wires yanking when you turn your head, but you still get the comfort and isolation of earbuds. I use them on the treadmill, the couch and in bed; they work great for all situations. -Suntan

I purchased these to use a few months ago at work and with my tablet. Hated being attached to the devices. Always seemed to almost pull them off the table. I love them. They work great and they are easy to set up. The display is amazing. I enjoy seeing what song is playing. One this I dislike is that the buttons are small and the device is small. I tend to hit buttons when I'm handling it if I'm not careful. I recommend them to anyone.

These are great except that the clip breaks easily. I just glued on a magnet to work as a substitute.

Hi,
Interesting piece of tech. It is actually an FM Receiver, not FM transmitter. A transmitter would relay the bluetooth signal to an FM frequency that could be picked by a FM radio. This device receives FM signals and allows you to listen to them. Thanks for the review.

I love this thing! I use it to listen to music while I'm at work. No one thinks I'm talking on the phone or texting people since my phone can be on the other end of the desk, and I'm not constantly getting my phone yanked in the floor or my earbuds yanked out of my ears because I move the wrong way. I don't care for the cord design of the buds that come with it (shorter on one side), so I have extra appreciation for being able to use my choice of buds. I have a great cheap pair of herphones that fit my tiny ears. The FM doesn't work inside my building, but it would be great for going for a walk!

I thought they dropped the "ericsson" branding??

Thanks to the Lithium-ion battery, this only costs £100.00 to be shipped to the U.K. think I'll have to pass this offer now.

Or, you know, you could just buy it IN the UK? It's 25 quid over on Amazon.

Anecdote: I was walking out a subway car when the guy in front of me got his white iPhone headphone caught on someone's jacket which yanked the iPhone out and it and the earbuds fell in between the platform and the train. I was wearing my s10s and just said "DAAAAAMMMMNNNN!!". (someone else said "that's gone ...") So not only do cords hurt like heck when torn from your ears they could ruin your millennium.

well at least if it had to happen it was an iphone lol

Seriously! How long does it play when streaming BT? How long does it play when listening to FM? How long does it take to charge? Is it waterproof? (just wondering if it would be useful for listening to tunes when riding my motorcycle) Sounds like the touch-sensitive volume control on the side would make that a "no", regardless of water resistance.

This is one of the best headset I have had. I got 2, one for me, one for the wife. Works great!

I've had these for a long time to work with my samsung P2 (its an mp3 player) because the 3.5mm socket broke and i have to say they are awesome. i can plug it in to the aux on my hifi and have wireless music. really easy to use and the bundled earphones are actually pretty good. play it loud and you can hear distortion and noise but its a great wee gadget

There are several options for stereo bluetooth devices that "use your own headphones", most you can find easily on amazon by doing a stereo bluetooth search. Jabra has one that looks like a dog tag and hangs around your neck on a chain with metallic buttons. It looks pretty slick. Samsung has at least one of these devices (I purchased the Samsung HS3000 for running on the treadmill). It clips on your clothes and I can watch a movie without pulling the tablet/laptop off the shelf while I run.
Sound quality is pretty good and battery life is excellent. I can usually get 10 hours or so of actual use, maybe more. I believe Sony actually has a couple of these devices. This is the older of the two. There is a newer one with several more features.

I have one of these connected to the Aux in of my car stereo and a BT Parrot CarKit, I set the phone up to have calls connect to the car kit and music play over the MW600 through the Aux port as the Parrot CK does not support music and it work well with most HTC devices but need to check my S3 out now. The best BT headset by far and should be a benchmark for all manufacturers. I also have another for general day to day use.

Nice. I never thought of having a bluetooth that lets me plug in my own headphones. Awesome concept. Do want

I absolutely love this thing as well. As far as battery life, I'm sure I've gone at least 8 hours of constant audio streaming with phone calls mixed in before needing a charge. I've got a dedicated Sansa mp3 player & Phillips sweat-proof headphones for workouts (since I drown any 'regular' pair), but if I forget it or don't load it, I can wear the Sony with the headphones and leave the phone in the locker and stream it anywhere in the gym. HOWEVER............with my new S3, the quality is AWFUL!! Calls are fine, but music from phone or streaming, radio streaming, even when the phone sends ringtones or notifications over bluetooth, the crackling/static is almost unbearable. It's the strangest/most annoying thing. A few weeks ago, I rented a car with BT integrated, and it did the same thing. I've also tried an old plantronics earpiece and it did it as well. Has anyone else found this with their S3?

If you are thinking of investing into this Bluetooth Headset for use with Skype for Android, please note that currently, only the audio works but NOT the microphone. Request for solution has been sent to both Sony Ericsson and Skype. Hopefully, this can be resolved by Christmas 2012. This is a flagship Sony Bluetooth headset with great sound quality and looks after all! (see report below) Skype for Android 2.9.0.315
Sony Ericsson Bluetooth Headset MW600
Samsung Galaxy Note
Android 4.0.4 Audio works but NOT the microphone.
Workaround: Restart Bluetooth headset in the middle of a Skype call.
Result: Microphone works BUT the audio and voice quality is BAD and LAGGY.

This review is what caused me to order one and give it a try. I have tried several of the other "use your own headphones" design units and noticed a huge drop in sound quality compared to how the headphones sounded when hardwired to my phone. Not so with the MW600 as there is just a very slight drop.
I am a bit of a headphone collector with a variety from Klipsch S-4's to Sennheiser HD-800's. This is the only unit I have found that justifies plugging in your favorite headphones. I have found that while In-Ear headphones can sound amazing if properly fitted in your ear, that seal causes your voice to sound amplified and echo-ish when you speak. Plug your ears with your fingers then speak and you will know what I mean. For me it makes it difficult to have a phone conversation. Not a fan of the "Touch Sensitive" volume control as just grabbing it to adjust position or push the control buttons often results in a volume change. Thanks for the original review as it directed me to a very happy purchase.

Hi craig
i have this MW600, but i lost the headphone hpm -78 , now i am using old hpm 70 ... i need to ask that which other headphone is compatible with MW600 same like HPM 78 (bass and sound) Thanks & Regards

Can I use it with my Samsung Jet S8003?
https://www.androidcentral.com/e?link=https2F2Flink...

I just bought this MW600 for the possibility to use it also with other headphones. I tested it with my Monster Turbine Pro Copper and Sennheiser HD212 Pro and I was stunned by the audio quality delivered. I can honestly say that you just don't need an EQ correction to enjoy these. Also, the stock Sony-Ericsson headphones have a very good sound, I would dare say closer to Monster but with some extra booming bass. Not to mention that the SE ear tips are much confortable that Monster's, even though I have a lots of Monster tips. The battery lasts closer to the specs. A delight is the ability to use it simultaneously with PC (music) and phone (calls) . A nice feature is the MW600 display that shows call number, track info from the phone, but somehow it can't show these from the PC (winamp or skype). Also does not work well with Windows 7 (Dell Inspiron I5), but only on my work laptop Windows XP (Lenovo T400). I can say it is worth every penny !

This one is a very good review. I have used MW600 myself and I can agree to all of it..
Although .. I find it very strange that although this is a website about mobile devices they don't know how to spell Sony Ericsson. It's spelled correct in the title, but everywhere else it says "Ericson". I wonder what Lars Ericsson would think of this if he was alive?
Even in the comments everyone else seems to know how to spell the name..

Great Information.
Really a nice review. If it can pair multiple devices simultaneously, can we take call from the second device while call from first is underway? Thanks for the help.

Is it posible to get replasment screen? I kind of tryed fixing after washing and broke screen. Please help
Android Central Newsletter
Get instant access to breaking news, the hottest reviews, great deals and helpful tips
Thank you for signing up to Android Central. You will receive a verification email shortly.
There was a problem. Please refresh the page and try again.