Some people are already receiving their Note 8 pre-orders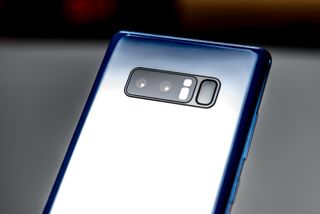 Pre-orders for the Samsung Galaxy Note 8 went live last week, with an official shipment date of September 15. However, it seems that shipment date is just a formality: some of our forums users have already received their pre-ordered devices.
Our forum users are reporting receiving their devices as early as September 5, 10 days before the device is even supposed to ship. Users who purchased the device from AT&T, T-Mobile, Sprint, Verizon and directly from Samsung have all reported their devices have either begun shipping or already arrived.
The Galaxy Note 8 adds a second camera and the classic S Pen to Samsung's 2017 baseline introduced with the Galaxy S8+. Samsung has received criticism that the Note 8 didn't do enough to differentiate from the S8 series, but the device is clearly good enough for users to buy — and now receive — the device.
Has your Galaxy Note 8 pre-order shipped? Let us know down below!
Android Central Newsletter
Get instant access to breaking news, the hottest reviews, great deals and helpful tips
Just received shipping confirmation from Best buy. Will be delivered tomorrow via UPS

REALLY? I was wondering about the BestBuy Notes, I'll keep checking my order status!! (Usually not so lucky so I won't get too excited)

I pre-ordered my phone in-store at Best Buy. I was wondering if we too would be able to pick up our phones early, or if only those who had ordered online were receiving them early. Have you heard anything to that effect? My old phone's busted, and I'm anxious to receive my note 8

i pre-ordered online Sep 5th with bestbuy. i ordered the unlocked version and bestbuy is saying its not going to ship until Sep 29th. im hoping that will change but i was wondering if they could just give me one in store

Received shipping confirmation from best buy. Be here tomorrow they say!

received my tracking number from AT&T says it was in TN

Yup got tracking number today and another email a bit later saying it will be here tomorrow!

I pre ordered at a Best buy store , I think people that pre-ordered in person have to wait till the 15th

Was told today that if you ordered in Best Buy, you have to wait until the 15th.

Really? That's kind of BS though. Why would they arbitrarily make us wait longer just because we ordered in-store?

Got mine today!!! I'm on Sprint.

I have a tracking number from Best Buy. Phone should be here tomorrow.

Did you buy yours outright or are you doing the payment plan. I was going to pay mine out thru vzw and I've received no confirmation. # but when I called Best Buy their system says still working on store pick up.

Not yet, but no rush here....

I already saw a device in hand sold on swappa.

Stupid carriers finally shipping things super early the first time I don't preorder. Gah.

Got mine today! Just got done setting up all my apps, files and contacts!! Finally able to use it.

There is a response on the T-Mobile posts that says they are working at getting them shipped by today (the 5th)

Tmobile send me a tracking number last week, but no delivery date yet!

In transit and due to be delivered by end of day tomorrow! 🤗🤗

Best Buy sent shipping confirmation today for my Orchard Grey on Verizon. UPS tracking update states it willbe delivered Thursday.

Got mine at 230 today. Vzw, note 8 in orchard grey. Love it. Love it. I am leaving my 2 year old note 5 for this beast. I didn't think there was anything wrong with my note 5 until I used the 8. The experience is a smooth as butter.... Crazy silky goodness... The screen is unbelievable. When you get yours, put it into entertainment mode then watch some stranger things on Netflix. The screen and the picture is like nothing I have seen on a smart phone. It will take a bit to get used to the height. It's easy to hold, but likely 2 hand operation... Speaker is meh. Trading in my note 5 for $20/mo credit, so at $20/month for a new phone is great! Thanks vzw!

No T-Mobile phones have shipped

Mine has. due here tomorrow.

Ordered directly from Samsung to take advantage of the trade-in value for note 7 owners. Got my tracking # on Sunday, no movement/updates since... Congrats to those who went thru their carriers though

Same here from Samsung...just says no tracking available.

I ordered directly from Samsung on the 26th and nothing, no shipping no nothing. I called Samsung on a unrelated matter a figured I would ask about the early shipments and they told me that I should receive it by the 7th and should be receiving a notice soon. I, however, remain skeptical on that but am still waiting.

Samsung told me that UPS is doing site maintenance and that is why shipping info is not showing up. I am able to track something I ordered from Amazon, tho. I called UPS and they told me there is NOT maintenance going on and the missing tracking info is NOT due to a glitch. They said UPS has not received the package yet. Samsung LIED to me. Samsung told me my order would be delivered on September 7th. I hope that isn't a lie as well.

Received mine today and absolutely love it!

Got mine today from Sprint

Seems that T-mobile has let us down this time around...Got a tracking number last week with overnight shipping and no movement since then.

Mine shipped with tmo. Here tomorrow

Got mine today ordered the orchard grey on Wednesday

I just got mine today! Finally back to my Note)

Hoping mine comes 10 days earlier in Australia too...

Who did you preorder through? I ordered through optus the second it was up on the site I really hope it comes before the 22nd

Yeah right, as if us Aussies would get anything early when everything is US-centric :/

Got mines already not liking it way too much bloatware then eventually it will start to get very laggy will return and get the Pixel2

Okay let me guess you are a Sammy boy that explains it all

Anthony....lol. quit the BS

Hehehe he said he didn't like it. One mans treasure is another mans trash. LOL only joking.

Tmobile is the bomb.com , got confirmation that the Note 8 will be delivered tomorrow!!!!

Typing this on my Note 8! Thank you Verizon.

Received mine today as well. Really liking it so far!

pre ordered from best buy on aug. 30th and nothing yet. Waiting for sprint note 8 in black.

Sorry you are on Sprint. Anytime you wanna come to an updated network...let me know. I can hook you up

I jumped shipped after the Note 4, now I'm back. I'm waiting for my confirmation email, via Best Buy.

Mine got the tracking from T-Mo last week and my unlocked Samsung one over the weekend... yet both tracking numbers show as 'label created' but not shipped :( Not that it matters as I'm not home until next week haha but still sucks to know it's ready and it's not there yet.

Does anyone know if the orchid grey note 8 is the one shipping? TMo said that the orchid grey is shipping from the 5th, and the black the 8th...

Three people above you mentioned having received their "orchard grey", two from Verizon. You should be in good shape. No other colors reported received (in the comments), BTW.

I received my orchid grey note 8 at 12pm Sept 5th. Ordered from Sprint!

Good- find the bugs quickly so I can make my upgrade decision by the time I get back from vacay.

Received both the Midnight Black and Orchid Gray Note 8 to replace the two pixel xl phones I have. Ordered the Note 8s on 12:15am on 8/24 and they both arrived at 3:05pm on 9/5.

My T-Mobile Note 8 will be here between 1:30pm and 5:00 pm tonight.

I received an email from Tmobile with my updated info for my EIP with the actual IMEI numbers to the devices. I'm excited!!!

I am really disappointed in Samsung right now. I took advantage of the Note 7 promotion, as I had 2 Note 7 devices that were obviously recalled last year. I have since been using an LG V20, which has been an okay interim device. I was kind of excited that Samsung was offering those who struggled with the Note 7 fiasco the chance to have first access to the Note 8 - cool right? Well I pre-ordered the unlocked through Samsung direct, only to watch almost all of the carrier pre-orders, even the ones who never owned the Note 7 receive theirs a week ahead of schedule! My order is still sitting in "Pre-Order" status on Sammy's website, no movement since the day I ordered. I mean really guys, if you are going to offer "first to get it" exclusivity to your users, at least deliver on it!

That is where you are wrong with your comment. They didn't give Note 7 customers "first access" to any device. The only thing they allowed prior Note 7 users was a chance to save money of the Note 8 device with a trade in of certain qualifying phones. Everyone was open to pre-ordering the Note 8, whether from carriers or Samsung directly on the 24th of September. Not only prior Note 7 owners.

Yeah no. Per Samsungs Note7Promo page: "Special opportunity for former Galaxy Note7 owners. You are eligible for an instant trade-in credit of up to four-twenty-five when you upgrade to Galaxy Note8 on Samsung(dot)com and return your current phone. You will also receive free, prioritized shipping so you can be the first to enjoy your new phone.
*Terms apply" When they say "you can be the first to enjoy your new phone", that heavily implicates that Note7 promo qualifiers will be the first with the device in their hands. You can try to defend it or spin it any way you want to, but that statement (which is still there on the promo site mind you) is not accurate, and was deceiving to buyers.

Are you saying that you know someone that had a Note 7 and they aren't getting there's today? I'm convinced that I'm getting mine today because I'm coming from a GS7e (and long time Samsung user).
I bet they prioritized all existing Samsung users (included Note 7 buyers).

I had a couple of Note 7's during the timeframe where all the fires were happening. I had a fantastic device, which ran cool as could be, but had to give it up anyway. Second device wasn't as great as the first, but didn't have any issues, then had to send it back. I have a co-worker that still has a Note 5 they are upgrading from, and we both ordered the Note 8 around the same time when the pre-orders began. I ordered mine from Samsung Direct, and he ordered his from Sprint. He had his in hand this morning, I couldn't believe it. Mine is still sitting in "Pre-Order" status in my Samsung account, and has had no movement since I ordered. It's just a little off-putting right now...

I'm sorry to hear that. Quick question. You said you bought a unlocked Note 8, instead of a carrier branded. Could that be the reason?

Oh damn....that's messed up. Not to give Sammy a pass, but, may have had to do with not purchasing through the carrier (or, the same method as you purchased the Note 7).

I don't recall ever reading about that. All that Samsung said, as far as I know, was that owners of the Note 7 could receive the next Note-series phone for half off.

Same thing is happening to me(FYI i hate my LG V20 and cant wait to go back to Note)... i ordered on the 23rd around 11PM as I am in California and three hours behind but was able to pre-order the Unlocked Orchid Grey (which for some reason you cant pre-order that color from Samsung anymore?). I am worried i might have to wait longer then anyone if they have a limited amount in orchid grey Unlocked. I called Samsung and told them about my concern... they were clueless and didn't even know that they have orchid grey unlocked versions in stock.
the guy was surprised and said i was lucky to snag an unlocked orchid grey but still didn't know when mine would ship out.
However on my order confirmation, i am able to see that it will be shipped on Sept. 11 though i think everyone who ordered from samsung most likely is seeing the same thing.. the worst part about it is that i paid for 1 day shipping and everyone is getting theirs before me :( but at least i got to play with it at Sprint store.

Mine should be there when I get home, or by 8P

Getting mine today....JOD on Tmo

My wife got her Note 8 yesterday (Sept. 5th) from Verizon. It arrived a little after 1200 up here in the middle of the Rocky Mountains.

Got mine yesterday...there is no doubt that this is the best phone ever made period. The display is absolutely gorgeous and it's blazing fast. No regrets.

Co-worker received his yesterday. It is nice. I'm really loving the look and feel. I just wish I could find out when the Blue will be available in the USA.

They should have released with the Blue. I hate when they do that, they are gonna release the Blue version probably i like 4 months, smh.

No ragrets. Nowmsayin!!! Love mine!

Just inspired me to check - My order from BB is still In Process (BOO). Can't come fast enough!
I've had a lot of problems with my Note 4 in the past few weeks. Coincidence?!
In any case, I am very much looking forward to the upgrade.

Wow that's great! Quite the refresh! I gave one of my note 4s to my partner who loves it. I'm still on a Sedgeplus. I'm supremely looking forward to the 8! My perfect digital concept sketching, netflix and pdf machine weeeee

Mine, from BB (preordered on the 24th) is on the truck for delivery. Woo Hoo!!!

Ordered from Samsung Poland 1 hour after Unpacked event. Support said even if they receive Note8, they will not sent them before 15th (18th) of September.....

Good for them... on the other hand I fear they may have just stealth-delayed the Black Dual-Sim version in the UK. States "Expected to ship from 28 September"
Single-Sim models including Gold Dual-Sim all say "Expected to ship from 14 September". This is so annoying!

Did anyone receive unlocked model from Samsung? I ordered on 25th.

I ordered mine from Samsung and it will arrive tomorrow according to the ups tracking.

I will be getting mine on Sept 8, as I had already received the order and shipping confirmation. Had pre-ordered mine at a T-Mobile store near work yesterday (Sept 5).

My Best Buy order still says "In Progress" and the status says "Preparing" really hoping I am one of the people that get the phone early. I ordered the Verizon variant and it is shipping to Seattle. #fingerscrossed

I just got mine from Best Buy/Verizon in Reno, NV and my Best Buy account still says "In Progress"

Mine now says "Preparing" as well, has since last night around 6. I ordered the Unlocked and also shipping to Seattle. Fingers crossed with you!

I hope you have better luck mine has been saying the same thing since 9/5. I also received a text saying there was an issue and that I needed to call Best Buy. I called twice. The first time I was asked for some information, but wasn't explained what happened, but I didn't think anything of it. I figured I would get it soon because I helped my mother order hers the day after and she was receiving it on the 6th, which she did. I called on the 6th because I couldn't understand why the issue - I ordered earlier, I've been a customer with VZ a lot longer with more devices, I order a lot more stuff through best buy than she does. The rep explained the their systems need to connect with VZ and they sometimes they get timed out. He proceeded to explain that if this happens normally they will call VZ with the customer on the phone, but because there were too many people this happened to they just have their back office call with the few details I gave them. He then went on to explain that they will do everything to make sure I receive it by the 15th. I actually told him I was thoroughly disappointed and explained what happened with my mother's and I don't think he was able to comprehend that she received it already and ordered it after. Now if it doesn't come tomorrow (which I highly doubt since I haven't received any texts or emails or shipping info) I will have to wait because of the hurricane. If they just sent it when hers did I could've already set it up. If they run out of the promos, Best Buy better cover buying them for me because this was horrible customer service. I wish VZ or Samsung's deal for Note could match Best Buys, but it was the cheapest and I never had an issue. The other disappointing item is that I am planning on trading in LG V20 which is a much newer phone than the Note 5, and S7/S7 edge, yet they are all getting 50% trade in and I am getting less. I am really lucky that I managed to get the V20 for a discounted price after the Note 7 fiasco. I hope you all have better luck than me. My order has been saying that for days. Good luck. I may call BB again tomorrow to see what's going on. Oh, I forgot 1 more thing. I mentioned to the rep that the website won't let me cancel anymore, so that must mean it's coming in the next day or 2. He responded I can cancel it for you if you want. The only reason it says that is that they're working on and it's a just in case measure so they VZ doesn't charge me for something I didn't order. I don't even mind if I have to wait now because of the hurricane, I would just like to know that something is going in since nothing has changed on the account and I want to make sure I get the promo items.

Ordered mine from Amazon and UPS tracking has it being delivered tomorrow.

Still have my note 7... not one problem. FYI, not one note 7 exploded. A few caught fire....but that's it.

Any one in Hampton Roads Virginia area using T mobile get thier phone yet? Or a shipping confirmation #

Ordered through Best Buy
Verizon Wireless
Reno, NV Mine was waiting for me when I got home today. What a nice surprise.

I'm still waiting on my Verizon Midnight Black Note 8 pre ordered from Best Buy. Seems all the Note 8 mentioned arriving for Verizon have been Orchid gray. Have been in "Preparing" status just over 24 hours now, sure am getting antsy!...

i have no clue how but i live in Michigan and i pre-ordered my phone the day you could. today is sep 5th and my phone has already arrived!!!!! i was wondering how could it be here already, i have tmobile, anyone else have there note 8 yet? i did my order through on the phone with a tmobile rep, and gave me free over night shipping cause she felt bad cause ive been in the hospital a month, i think she did a little more than over nighted it she 10 day advanced shipped me the phone for the low cost of 250$... lol

I ordered mine by phone thru Verizon on 8/26. There was a problem I wasn't notified of but luckily I randomly checked the order on 8/31 and after 2 more calls to Verizon my order was finally complete. I was shocked when I got a phone call from FedEx on Saturday 9/3, confirming a delivery on Tuesday 9/5 from Verizon that needed an indirect signature. My beautiful shiny black Samsung Galaxy Note 8 was delivered by 9am on 9/5. I thought it should have been easy coming from the S7Edge but my Note 8 wouldn't log onto the Verizon network after multiple attempts and I had to call and have a tech override the system. It's been great since then. It does get warmer then my S7Edge when charging which is definitely something I am keeping my eye on. It's a little bit narrower (and heavier) and is easier to hold and type on then my old phone. It's definitely a keeper. I've already applied for my preoder gift of the Samsung 360 camera and am looking forward to using it.

If you ordered directly from Samsung, I don't understand why you wouldn't get the unlocked version, as opposed to the carrier version. The unlocked is cheaper and has less bloatware. I ordered directly from Samsung to get the massive discount for former Note 7 users. My only disappointment is that you can only get a black unlocked version, but doesn't matter that much, a case will be going on immediately anyway. Once I saw a few posts about people already receiving it, I chated with a Samsung rep. I was told that Samsung started shipping pre-orders on Sept 5th, and that it depends on order date. I haven't gotten an email with tracking yet.

It's cheaper through say Verizon if you have a IPhone 7 or S7/edge since Verizon offers another $480 for turning the old phone in. With Best Buy's $150 off, it comes out to $304 take home plus taxes.

Bestbuy did the Samsung discount for former Note 7 users? I didn't know that , probably not for T Mobile users

Ronnae correct because they do not offer tmo service there at bb but the note 7 users did get a helluva discount on it.

I got my Sprint Black Note 8 on Tuesday.
Just now looking around on here, I didn't know that everybody else was still waiting.
It's worth the wait.
I know it's barely bigger than the S8+, but it does seem bigger, I think cause of the more squared corners & a bit of heft. The Spen is as awesome as I remembered.

Just got off the phone with Verizon. Paid my upgrade fee with a tempered glass and case bundle. Overnight due tomorrow, just ahead of Irma (hopefully there will be a network up for my new toy...).

Picked up my son's Note 8 from UPS this morning at 9:15am. Will run it up to his college this afternoon. He ordered directly from Samsung and it shipped on the 24th. But the holiday weekend got in the way of the two day shipping!

Mine just arrived today. (I wasn't expecting it until the 18th!) I'm definitely liking this.

I just ordered yesterday from Sprint, and now it says backordered. I went through this with Sprint last year with the Note 7. Ugh. Anyone else on backorder?

I ordered through tmo and sprint got the one from tmo today. Ordered one from Sprint last night it gave me a delivery date for today (Sat) now it's saying backordered. I spoke with cs through chat and he claimed it just hadn't updated yet. Welp i'm fixing to call them right now about it. I choose 1 day shipping.

I ordered from Samsung on August 31st. I ordered a Midnight Black Unlocked phone. With that, should I expect my phone to arrive sooner? No shipping confirmation yet :/

I am shocked that I received a text from Best Buy saying it was shipped. And even more shocked that it's being overnight'd and will be here tomorrow afternoon! I ordered an unlocked version midnight black! SOOOO PUMPED!!!

Really???? That's awesome! I ordered mine from them as well but nothing yet:(

I got mine 4 hours ago ....it's a must have device

I ordered unlocked one on Aug 25th from Samsung. Contacted Samsung about it and they told me that the orders being shipped are for ex-Note 7 customers.

Arrived today! All set up now and loving it. #verizon direct from Sammy.

Was it shipped ups or FedEx? Was it overnight, two-day or what? I'm thinking about cancelling order with Best Buy and ordering through Samsung the VZ model. I appreciate your help. 1 more thing - the Note 7 trade in offer through Samsung, you have 15 days from postmark to get it to them, right(similar to VZ)? Thanks.

I pre-ordered at best buy on 8/25 and phone hasn't shipped to me yet. It said 9/15 on my order form so about 1 longgggg week away

I got a messag from xfinity mobile saying that I will have mine on September 11th.

Ordered a unlock one from Samsung directly when the Note7 owner promo went online, received a email today saying both the phone and 360 were shiped using Fedex, will arrive on 9/12, the same day Apple will release iphone8......How scared samsung is.....The original shipping date is early Oct

Just curious, what day exactly did you pre-order your unlocked Note 8? I ordered mine August 31st and it's telling me mine won't ship until the first week of October!

I ordered the BOGO both colors on the 1st from tmobile it was fully processed on the 5th got it yesterday from tmobile i chose 3 day shipping.

i heard that if you pre-orederd with samsung you were getting a 256gb card with the phone on top of whatever you chose with the upgrade bundle. Also i ordered with bestbuy on september 5th the unlocked version to use with verizon and it says it wont ship until september 29th. even tho i could walk in and buy the phone in 2 days. hopefully the date changes. Either way i still have a note 4 that works fine.
Android Central Newsletter
Get instant access to breaking news, the hottest reviews, great deals and helpful tips
Thank you for signing up to Android Central. You will receive a verification email shortly.
There was a problem. Please refresh the page and try again.