SO.HO 'the social homescreen' launcher hits the Play Store in beta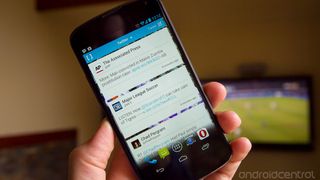 SO.HO (which stands for "the social homescreen") is a new launcher that puts your Facebook and Twitter feeds directly at the center of your device. Just released in beta, SO.HO takes the place of whatever launcher you have currently and makes the primary homescreen of your device a scrolling list of either your Facebook or Twitter feed. Swiping left or right gives you a "normal" homescreen where you can place widgets, apps and folders as usual. You sill get a dock on the main page too, which is nice.
You can tap the top status bar to quickly switch between Facebook and Twitter, and use the compose button in the top right to quickly make a post. There's a smooth pull to refresh option in both, and the views are actually in many ways nicer than the official Facebook and Twitter apps. If you're interested in SO.HO as a homescreen launcher replacement, check out the beta at the Play Store link above.
Andrew was an Executive Editor, U.S. at Android Central between 2012 and 2020.
This is like an alternative to Blink Feed from HTC Sense 5. I like the idea of this launcher but it should be a widget instead.

That is exactly what I was thinking..

developer should have added Google + then I might have tried it.

yeah, hopefully google + gets added. i have found that i can emulate Blink Feed w/ Flipboard and Pulse Widgets, and SSLauncher, which allows me to scroll vertically on the same page.

That's a different angle on a launcher, adds a unique feature. I've used Android Pro Widgets in the past which us a pretty nice Facebook & Twitter Widget or both in a timeline widget. Without trying this I wonder what advantage having it built into the launcher might have. My second thought is why not release as a widget. My last thought is how will they be able to get past twitters 100k rule? Going to give it a shot.

I like the look of my home screen and the way I can customize it with Go Launcher. I'd rather have this as a widget...although there are already scrollable widgets so I'm not sure this is for me.

This reminds me of the blink feed that is on the new HTC Sense. I'm going to be getting the HTC One on my upgrade in a few months.. I am skeptical about about how blink feed will be. Looks like an okay launcher though..

weak! not compatible with anything i own.. 2.3.3 or 4.2.2.. i'm a sad monkey :(

It's installing on my Galaxy Nexus running 4.2.2... perhaps you have a tablet with 4.2.2? The dev specifically says the app isn't supporterted by tablets in the app's description.

Why this isn't just a widget I do not understand...

I wonder if this is what the "facebook home" is going to be like.
Android Central Newsletter
Get the best of Android Central in in your inbox, every day!
Thank you for signing up to Android Central. You will receive a verification email shortly.
There was a problem. Please refresh the page and try again.