Smart Launcher 5 update brings an all-new design and features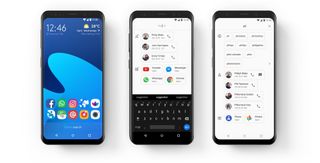 Third-party launchers are often the best way to customize the look and feel of your Android device, and one of the most popular ones — Smart Launcher — is getting a complete overhaul thanks to its new Smart Launcher 5 update.
There's a lot to take in with Smart Launcher 5, but the thing you'll notice right away is its new look. Smart Launcher 5 is using an all-new design language called "Acrylic Design", and the main goal of Acrylic Design is to place your most-used apps to the bottom while reserving the top and middle for "information and visual contents."
At the top of your home screen, you'll now see a brand-new clock widget that shows the time, alarms, weather, and upcoming calendar appointments. The search bar has been moved to the bottom of the screen below the app dock, and the search page itself has a redesigned layout and now allows you to create new contacts, make calculations, etc.
Swiping up from the bottom will bring up the app drawer, and there are three layouts to choose from — allowing you to place the category bar on the side, bottom, or hide it altogether.
Rounding out these changes, Smart Launcher 5 also introduces:
Themes that change color based on the wallpaper you have
Adaptive icon backward compatibility for devices running Android 4.0 or later
Ability to resize widgets in a freeform mode without grid snapping
Redesigned settings page
New wallpaper picker
Icon sorting based on color
Smart Launcher's notification plugin is now built into the launcher by default
Smart Launcher 5 is available as a free download on the Play Store now, and it'll replace the old Smart Launcher 3. Smart Launcher 3 Pro will remain, and anyone that purchased it can continue to use it and upgrade to Smart Launcher 5's Pro features automatically.
Users will also be able to purchase the Feature Pack 2018, and this will add 15 additional adaptive icon shapes, a new mode that hides the on-screen navigation buttons, space for adding more widgets to your home screen, and custom icon sorting.
If you're a long-time user of Smart Launcher, what do you think about the new update?
Download: Smart Launcher 5 (free) (opens in new tab)
Android Central Newsletter
Get instant access to breaking news, the hottest reviews, great deals and helpful tips
Joe Maring was a Senior Editor for Android Central between 2017 and 2021. You can reach him on Twitter at @JoeMaring1.
Looks pretty good. I'm not a user of Smart Launcher, and I enjoy trying new things. However, Nova Launcher (Prime) is that ole reliable that works every time, all the time.

Looks pretty boring but if it works well that's what matters. I use Squarehome 2 to make me feel warm and safe like my WP days

I've not used anything but Smart Launcher as my daily driver for over 4 years, now (after switching from Nova). This just makes it better.

I'm on Lean Launcher currently. Love it.

Switched from nova prime to lean launcher last week. So far I really like it. Think I'll try lawnchair next.

Smart Launcher is fantastic, and it was my default launcher for a long time. It's fast, uncluttered, uses double-tap instead of swipe, and is easy on resources. But Nova's 3d touch & dynamic badges have spoiled me.

Smart Launcher also supports nougat shortcuts (3d touch) but it requires a double tap instead of a long press to access them.

Sesame, force touch, on Nova is hard to beat.

I hate this new version. It will mess up just about every setting you have. It is a pity they did not realized that some users have more than one device with smart launcher installed on and it will take time to set things up again. If you use the flower setup on the home page, they replaced the icons and you have to guess what they are and redo the shortcuts once you figure out how to get the flower back. the drawers are at the bottom and again you have to guess how to put it back on the side. I still have not figure out to put the page icon back on the bottom of the home screen. it was so convenient. I do not like scrolling to get to a page (drawer). If they were smart, they would have let you choose rather or not to keep each specific setting from the previous version as it installed. at this time, unless you are a new user, it just not worth upgrading because they are treating you as a new user with absolutely no instructions on how to keep the settings your way. It went from five stars to one star at the play store.

I agree somewhat. Have not been using Smart Launcher for a while but it was my daily driver for years because of its simplicity and ease of use. However, one major problem has always been that there is no backup function that actually works. One can back up the settings but all the layouts, icons, hidden apps, widgets, etc. have to be set up manually again. A huge task that can take hours. With a good backup system one could easily download Smart Launcher 3 again and restore the data.
I still like the look of the new version though. And the ability to put more than one widget on the home screen is welcome news as well (although one has to cough up $7 again - ridiculous greed!). Unfortunately all that is also reflected in the play store reviews. The launcher is fine but the people are pissed because the update messed everything up. Developer should have thought about it!

I have been able to take a years-old SL3 backup and restore it into SL5, keeping the old setup (except for apps/widgets that I no longer have installed on my phone).

To get your bottom buttons back: Preferences>Global settings>Dock>Bottom buttons.

Hmmm. It does look fresh but I kinda prefer the old drawer. I'll try to use it for a bit.

There are now options for displaying the drawer: default appears to be "at the bottom", but you can choose to restore the category bar to the side (as in SL3), or choose to display no categories (i.e., have all of your apps display in a single, vertically scrollable list). The developers were simply responding to multiple requests (in the SL Google Plus community) for the other options (in the case of the bottom category bar, to make larger phones easier to use with one hand).

Thanks for pointing that out. I tried to use the bottom one but I just can't get use to it so switch to the old one.

Used SL3 for years, and set up 5 last night. I really like it so far. Looks great, feels great, and the changes all seem to make sense and be positive. I didn't use the search bar a lot with 3, but it only makes sense to have it more accessible at the bottom. One thing I didn't like about 3 was that the category bar was a lot bigger and more obtrusive than it needed to be, and I love that it's smaller and at the bottom now. And finally, you can swipe to the widget screen and from one category to the next instead of tapping. 2015's going to be a great year!

Would have been nice to have had a little video clip, to see it in action.

Been enjoying this launcher for the last few months. Very fast and light.

Really good launcher. Was my favorite launcher until I switched to Microsoft launcher which I find the best andoid launcher till now.
Android Central Newsletter
Get instant access to breaking news, the hottest reviews, great deals and helpful tips
Thank you for signing up to Android Central. You will receive a verification email shortly.
There was a problem. Please refresh the page and try again.