The Sims are old but still kicking in the latest Sims FreePlay update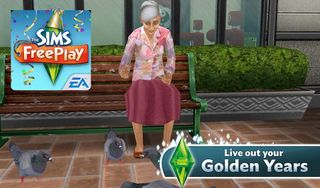 There are lots and lots of free to play games on Android. Some get the payment model right, some get it wrong. One thing the best free to play games have in common is a steady stream of updates and new content. That's just what has kept us playing The Sims FreePlay since it launched two years ago.
The newest Sims FreePlay update is called "All Grown Up." It brings two huge new quests: Adulthood and Seniors. By completing these quests, players can advance their teenage Sims to adulthood and even grow regular Sims into crotchety old elderly Sims. Get the full run-down on the new quests and features after the break.
Adulthood
Before this update, FreePlay's Sim children could advance in age but they couldn't become adults. Thanks to the "Adulthood" quest, it's now possible for the little handfuls to grow up. You must be level 19 or higher to participate in this quest.
Send a Sim to the Park
Rearrange Chess Board... (8 hours)
Hide in the Park Toilet (4 hours, but counts as completed instantly)
Bring a second Sim to the Park
Continue Playing Chess (4 hours)
Ridicule another Sim (3 hours 12 minutes)
Stare vacantly into the Park Fountain (1 day)
Dance to Electronica (music) in the Park (5 hours)
Have 3 Sims in the Park
Complain to a Sim (1 minutes)
Mock another Sim (1 day)
Grill Em All on the BBQ (8 hours)
Call a Sim to the Swim Centre
Use the Slide (7 seconds)
Drink an Energy Drink at the Swim Centre (30 minutes)
Ridicule the Trophy Case (1 day)
Send a Sim Home
Watch the News (star level dependent 3-5 minutes)
Confess to a Sim (30 minutes)
Clean up Trash (16 hours)
Have 5 Sims dance to a Park Stereo (5 hours but counts as completed immediately)
Complete "Adulthood" in one week after starting it to unlock the Fashion Pack for your adult Sims. These new outfits are available in the Salon or when creating a Sim.
Seniors
Finish the "Seniors" questline and your adult Sims can finally turn into wizened old senior citizens. Retirement age is the golden years, so they say. You must be level 21 or higher to complete this quest.
Send a Sim to the Swimming Centre
Feed the Pigeons (2 seconds)
Investigate Pigeons (7 minutes)
Wait for a Senior on a Park Bench (3 minutes 20 seconds)
Investigate THE DOOR in the Park (10 sec)
Welcome senior Sim (Welcome future-self! 5 seconds)
Talk to a senior (1 minute)
Stand on the X (4 seconds)
Complain to a Senior (1 minute)
Warn Simanity on a Soap Box (1 day)
Complain to a senior (1 minute)
Be nice to future-self (1 minute)
Search garbage for cupcake (2 hours) (Kick over the trash can first.)
Search garbage for cupcakes of doom II (16 hours) (This can be the same trash can you just kicked over.)
Dispose of cupcake (25 seconds) (Use the same trash can as before.)
Send present-self to the park
Be nice to future-self (1 minute)
Dance with future-self (10 seconds)
Be nice to future-self (1 minute)
Visit the Snow Park
Go ice skating (devoted dance, 1 day)
Snowball fight at Snow Park (2 hours)
Talk to the senior (1 minute)(Located in the park)
Build the Bingo Hall on the island (36 hours) (Must be level 21)
Partake in a 24hour Fishathon (24 hours)
Complain to future-self (1 minute)
Get 5 Sims together in a house
Woohoo with a Sim (5 minutes)
Be nice to future-self (1 minute)
Finish "Seniors" within three days of starting it to unlock the Limited Edition Exercise Bike for Seniors.
More changes
As usual, the update brings a few more changes to the game:
"Needle and Thread" – Starting on Feb. 3, players of level 23 or higher can enjoy the new hobby of sewing.
"Bird Feeding" – Starting on Feb. 19, players of level 25 or higher can unlock a pet bird and participate in this new hobby.
The Bingo Hall unlocks within the Mysterious Island after completing the Seniors quest. It's about time they made the island more useful!
New houses: Renovator's Dream, Two tory Unfurnished House, and Three Story Unfurnished House
Fashion designing no longer requires players to complete a minigame when designing clothes. Thank goodness!
The Fashion and Dress Shop is now called the Costume and Swim Shop. The Hair Salon is now just the Salon.
The SimTracker menu has been revamped to include the age group of each Sim.
The Quest Tracker at the bottom of the screen displays only the number of active tasks now, not the actual goal descriptions. Select the Tracker to see your current goals.
When a Sim fishes and gets eaten by a giant fish, it takes longer to escape from the fish. Not an improvement.
When selecting an object to interact with, the object's star value is now displayed above its name. Sparkly.
Simply mahvelous
Electronic Arts' commitment to The Sims FreePlay has really paid off over time. If you've ever wanted to play a full-featured Sims game on the go, this is it. In-App Purchases are totally optional and not necessary to enjoy the game.
If you're new to FreePlay, don't miss our guide to the Coming of Age update. You'll have to finish those quests for your preteen Sims to become full-on teenagers. With a teenager or two in your town, you'll be ready for the Adulthood quest!
Get the Android Central Newsletter
Instant access to breaking news, the hottest reviews, great deals and helpful tips.