Simple Mobile rolls out new data tiers, international calling deals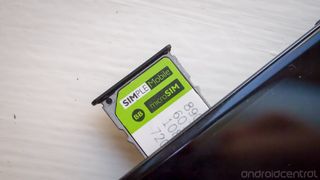 Improved lowest tier and new high tier give customers better data options
Prepaid carrier Simple Mobile is rolling out a new three-tier plan structure that offers more choices and data for your money at each level. When looking for a new plan, potential Simple Mobile customers will now have three options when it comes to smart phones:
$40 per month for unlimited talk, text and data, first 500MB at 4G speeds
$50 per month for unlimited talk, text and data, first 2.5GB at 4G speeds
$60 per month for unlimited talk, text and data, first 4GB at 4G speeds
The $40 plan has doubled the amount of full-speed data it offers from 250MB previously, and the $60 plan is all-together new with the most data ever offered by the carrier. Although it is running on T-Mobile's network, the new Simple Mobile plans beat T-Mobile's own prepaid pricing at each tier as far as data allotment is concerned. Much the same as T-Mobile, Simple throttles down usage once you hit the specified data allotment, which is far preferable to overage charges for most people. And being a prepaid service, you can always re-up your monthly payment and start a new month early if necessary.
Additionally, Simple Mobile is improving its international calling options, adding a new Pay-As-You-Go option for $10 that can be added to any plan at any time for international calls, even mobile-to-mobile. Its stand-alone unlimited international calling plans have been refreshed to fall in line with the new data plans, offering 500MB, 2.5GB and 4GB of 4G data for $50, $60 and $70, respectively.
Simple's new plans are set to be completely available tomorrow, but some of its pages have started to come online with the new plans now. It's great to see more prepaid carriers adapting their plans to meet market pricing and customer demands. You can see all of the details behind Simple Mobile's new plans at the source link below.
More: Simple Mobile (opens in new tab)
Andrew was an Executive Editor, U.S. at Android Central between 2012 and 2020.
It beats the data allotment??? I pay $30 for 5 gigs a month. Posted via Android Central App

On T-Mobile's? That means you only get 100 minutes.

I have the same plan. For people like me that don't use minutes, it is wonderful. I use about 10 minutes on average every month. Why pay for something I don't use, right? Posted via Android Central App

If you average less then 400 minutes a month and use a lot of data, the t-mobile $30 plan is still better. The $40 plan above is a better deal if you talk a lot and use minimal data.

That $30 plan is great. If you actually need to talk on the phone get the Google Voice app. The Google Voice app also is a good substitute for Wi-Fi calling. From the DARK AC App!

Doesn't Google Voice still use your minutes for calling? It's just using a different number. For texts, however, it uses your data - so you can save there. In order to save minutes, you need a VoIP app like GrooveIP. At least, this is how I understand it.

Yes, Google Voice on its own is only a call forwarding service, and it uses your plan minutes. The only way to make it a makeshift "VOIP" service is to use a third-party app (like Talkatone or GrooVe IP, etc) to route your Google Voice calls through. Otherwise, you'll be spending your minutes.

yes I want a phone plan that limits me on you know making calls

Quote- "the new Simple Mobile plans beat T-Mobile's own prepaid pricing at each tier as far as data allotment is concerned." Nothing in this has anything to do with minutes. I realize I only have 100 minutes. Please reread the article. Posted via Android Central App

Yes, it does. T-Mobile's prepaid pricing tiers for 500GB & 2.5GB with unlimited voice & text are $50 & $60 respectively. Simple Mobile is $10 cheaper for each plan. Sorry, but few regular consumers use only 100 minutes/mth, or want to configure Google Voice to use VoIP.

I have the same T-Mobile plan. Only once did I come close to using all my minutes since I mostly use data and text. It's a fantastic plan. Posted via Android Central App

Same here, which is awesome. I use GV/Groove IP, but it's still only 10cents per min over the 100mins. Anyway, Solovei is the next best "Tmobile" option after $30 plan. Unlimited everything with 5gigs 4G for $50. My lady whom was on Tmobile's $50 has started using her N4 as a smartphone and now hits that lousy 500mb cap quickly...mins are still more important...so moving her over to Solavei this month. Prepaid/no contract FTW...for life.

Does anyone here use this? How's the coverage?

It's the same as T-Mobile except for one caveat: you ONLY use T-Mobile's network. No roaming to other carriers domestically.

There's no roaming on Tmobile's prepaid either...

I've been using it for the past 8 months and the coverage is pretty good in my area - it uses T-Mobile's HSPA+ network for service. I don't think LTE is available. If you have good T-Mobile coverage in your area then you'll have no problem.

I've gotten onto lte with the $30 tmobile plan Posted via Android Central App

Ditto...Tmobile LTE (in D.C. area) on my N4 ; )Thank you Google/LG.

It all depends on where you live. I'm in Metro Detroit. We have HSPA+ coverage, and have for awhile. However, as I live in the suburbs in a sprawling Metro-area, 4G is very hit or miss. Also, I find T-Mobile's overall voice network coverage lacking. I have difficulties picking it up in buildings where I could easily pick up an AT&T or Verizon signal. I switched my wife from T-Mo's $30 plan to a $40 plan on Airvoice (AT&T MVNO) due to the coverage, particularly data coverage, issues.

Not really...this is finally just truth in advertising for Simple Mobile. Previously, their $50/mth plan was for unlimited everything, including unlimited 4G data. However, they treated usage over ~2GB as "excessive use" and either throttled you or completely cancelled your service. For smartphone users that use plenty of data AND want a prepaid plan, T-Mobile still offers $70 unlimited everything, including completely unlimited 4G data. That trumps every other offer out there, especially if you live in one of their LTE cities. I get great speeds with HSPA+42, but am moving to Houston very soon. LTE, here I come!

As for me. Simple Mobile just canceled my mobile data in total, after I went over the 2 GB mark. No throttling, just turned off mobile data. Though there was a warning text but 2 hours before cancelation. But that was too late. Simple Mobile does uses T-Mobile HSPA+21. No HSPA+42 or LTE. If you don't use a lot of data it's a good buy. But for me just wasn't enough. 20 extra bucks got me Unlimited everything with T-Mobile Simple Choice. Unlocked Nexus 4 $70 plan. Around $81 including taxes in Baltimore.(Final price may differ in area.) No throttle.(Over 10GB this month.) Posted via Android Central App

I gave this a test run back in December - February. Coverage was great in the Chicago area, but as soon as I got 10-15 minutes south of Rockford, I lost everything, including calls. Didn't regain it until about 15-20 minutes outside of Des Moines.
It's too bad, because I really liked the service otherwise, enjoyed not being on contract and liked the monthly payment. Posted via Android Central App

On my country (Ecuador), I pay $49.99 for 1,000 mb of data, $15 for voice calls, (0.15/min) and 50 SMS, 3G but slow...

Wow and I thought Verizon was a rip off. You are getting robbed Posted via

Guess I'm sticking with Straight Talk. $45 with no official cap. Yes, some claim there's a 5GB warning point, but I have yet to witness it.

I've been pretty happy with Straight Talk. I've had them for almost a year and I've used 1-2GB a few months but haven't even gotten a warning.
It's against the ToS to stream anything, but they can really only warn/terminate you based on what your total data usage is.

The $60 plan used to be $50. Posted via Android Central App

MetroPCS is a much better deal now that it has BYOD on the T-Mobile network. SIMs are only available to 4 markets right now with more to come later in the month. But with metro BYOD you get HSPA+ & LTE unlike the other MVNO's. Pricing is better too-
$40 per month for unlimited talk, text and data, first 500MB at 4G speeds
$50 per month for unlimited talk, text and data, first 2.5GB at 4G speeds
$60 per month for unlimited talk, text and data and no throttling All plans include TextTalk which is Unlimited international texting Its not GhettroPCS or MetroPOS anymore

I just want more data like 50 gigs how do I get that.
Android Central Newsletter
Get the best of Android Central in in your inbox, every day!
Thank you for signing up to Android Central. You will receive a verification email shortly.
There was a problem. Please refresh the page and try again.