Should you upgrade to the Galaxy S7 from the Galaxy S6?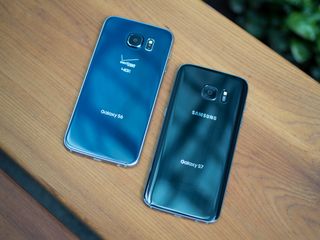 Every time a manufacturer releases a new phone, it has to strike many balances. One of which is deciding between attracting altogether new buyers coming from a different company with keeping around exiting customers for a longer period by upgrading to the new phone version. The Galaxy S7 seems to lean towards bringing in those new customers ... and for that reason it doesn't exactly blow away anyone who has a Galaxy S6 in their pocket today.
As we've already explored, it seems like the Galaxy S7 is tailor-made to be a no-brainer upgrade for those with a Galaxy S5. But how about the Galaxy S6 owners who have had their phone for a year at most? It's a bit tougher of a sell — and we're going to explore the upgrade path right here.
Hardware and specs
Aside from astute observers, most would be hard pressed to be able to pick out a Galaxy S7 from a crowd of Galaxy S6s. The metal and glass construction has carried over to the latest Galaxy, with the one major change being an increase in overall thickness, exhibited by a bulging glass back that's rounded off on the sides toward the metal frame like on the Galaxy Note 5. The subtle increase in thickness makes the Galaxy S7 much easier to confidently hold than the perfectly flat back of the GS6, and also has the added bonus of making room for a larger battery inside. On the front, the glass frames out the same-sized 5.1-inch QHD Super AMOLED display — and it's still wonderful.
Internally, you'll find predictable spec upgrades. A new Snapdragon 820 or Samsung Exynos 8 Octa (depending on the region) replaces the outgoing Exynos 7 processor, and you have an extra gigabyte of RAM to work with, bringing the total up to 4GB. Neither makes a huge difference now, but will give you the ability to run more serious apps a year or two down the road when resource demands are higher.
The two downsides internally here? They're pretty minor, in the grand scheme of the phone. The big one is no option for additional internal storage. You can buy a 32GB Galaxy S7, but you can't option up to 64 or 128GB like you could in the last version. The other is the removal of an IR blaster, meaning you can't use the Galaxy S7 to control home entertainment gear via infrared.
The other big points of differentiation are two features that were lost when moving to the Galaxy S6 from the GS5: waterproofing and removable storage. Waterproofing is always a welcomed addition to a phone, and after it was removed with the launch of the Galaxy S6 we're super happy to see it back on the GS7. This doesn't make it a rugged phone by any stretch, but it will save it from any unfortunate contact with water in the future. The SD card slot is in the same boat — bringing back the much-desired feature will be a big deal for a lot of people, even if a majority won't ever put a card in the phone.
Software and performance
Thankfully for everyone, Samsung is well under way in its rollout of Android 6.0 Marshmallow to the Galaxy S6. Even better, what's arriving on the last-gen phone is nearly identical to what you get out of the box on the GS7, save for a few features like the (questionably useful) always-on display mode. You get the same fresh design, flattened experience and majority of new features that make the Galaxy S7 great, all on your existing phone. If it hasn't arrived yet, be patient — it'll be there in due time, and knowing it's coming removes one desire to upgrade to the new phone just to get it.
Once you have the update to the latest software on the Galaxy S6, you'll also find that performance between the two phones isn't much different either. Setting both phones together for some side-by-side tests you may see small differences in speed, but there's absolutely nothing sluggish about the Galaxy S6 at this point. Sure the more powerful processor and additional RAM in the Galaxy S7 will help you handle more demanding apps and services in the future, but at this point you aren't missing out on much by sticking with last year's phone — the Galaxy S6 is still capable of handling whatever you need it to do.
The one big change in daily use here is the battery life, which has extended notably from last year. The bump to 3000 mAh in the same compact frame is great, and that extra 15 percent of capacity — plus a more efficient processor — means you're far more likely to make it through a day without charging. The Galaxy S7 isn't quite the battery champion that the Galaxy S7 edge is with its even larger battery, but the combination of specs available here can give you 16 or more hours of battery without breaking a sweat — and more if you're a bit lighter on the phone. On the Galaxy S6, you had to really baby the phone to make it that far.
Camera quality
We've covered this camera comparison pretty extensively at this point, including a direct comparison of the Galaxy S6 edge to the Galaxy S7 edge and Galaxy S6 edge+ to the Galaxy S7 edge — both comparisons being the same as what we're looking at here.
The Galaxy S7's new 12MP sensor (leading to larger 1.4-micron pixels) with a super fast f/1.7 lens is targeted at giving you great low-light photos, though the previous setup of a 16MP (1.12-micron pixels) sensor and f/1.9 lens was hardly a slouch in this regard — in fact, it was the winner of many camera comparisons. Interestingly, the new camera on the GS7 can in some cases come up short of what the GS6 can do in good lighting conditions, so it isn't a wholesale upgrade from its predecessor.
With all of the technical stuff being said, just like before, I can come to the same conclusion: you aren't missing out on too much in terms of camera performance by sticking with your Galaxy S6 and not upgrading to a Galaxy S7. The Galaxy S6 is still super fast to launch, focus and capture photos, and the end results are just as good as the GS7 in daylight and only slightly lower quality in some low light conditions. For a refresher, we have the comparison shots we took to evaluate the Galaxy S7 edge versus the Galaxy S6 edge just a week ago:
Galaxy S6 edge (left) / Galaxy S7 edge (right) — click images to view larger
Even today, a year after its launch, the Galaxy S6 still has one of the best cameras available on a smartphone. That hasn't changed just because the Galaxy S7 is now available.
Read: Camera showdown: Galaxy S7 vs. iPhone 6s Plus vs. Nexus 6P vs. Lumia 950
The bottom line
Unsurprisingly, we come to the same basic conclusion here as when we discussed the feasibility of upgrading to a Galaxy S7 edge from the Galaxy S6 edge. Though in this case there's even less to consider, as the newer Galaxy S7 doesn't offer the same screen size boost as the Galaxy S7 edge does compared to its predecessor.
With the Galaxy S6 getting its update to Marshmallow and packing a very similar physical design, whether it's worth an upgrade to you will come down to just a few main areas: battery, waterproofing, storage and camera. The battery life boost is very much worth it, and being able to make it through a day again is a huge deal. Waterproofing isn't something you think about all the time, but will save you lots of money when it comes into play. Removable SD card storage may be a bit of a throwaway feature for some. The camera feels like a bit of a lateral move overall, and there isn't enough here to make you toss your GS6 that itself has a wonderful camera.
Considering how much you'd have to fork over in terms of selling your current Galaxy S6 and buying a Galaxy S7, you may want to think long and hard about this potential upgrade. A bigger battery, a couple new features and the latest in specs are definitely worth something, but it may not be worth the $300-400 gap in cost to make you jump from your perfectly capable phone to the Galaxy S7.
Are you a Galaxy S6 owner considering upgrading to a Galaxy S7? We want to know what you're thinking — sound off in the comments!
Android Central Newsletter
Get instant access to breaking news, the hottest reviews, great deals and helpful tips
Andrew was an Executive Editor, U.S. at Android Central between 2012 and 2020.
Didn't you guys post an article like this before? Posted via the Android Central App

You answered your own question when you used the word "like" Why yes, they did.

We've compared to the gs5. As well as the gs6 edge to the gs7 edge. Posted via the Android Central App

Yeah I feel like you guys (AC) are recycling just to write articles.....but you know,it may be the fact that everybody and there tech savvy mother is writing the same exact articles about these phones that it feels like deja vu......so maybe not Posted via the Android Central App

Lots of people with lots of different phones looking at upgrading. Posted via the Android Central App

Exactly. Readers don't have to read absolutely every article posted. If it's not relevant to a reader, it's still relevant to others. So just move on to the articles that so interest you and let AC do the comprehensive good job they're doing. Posted via the Android Central App

Do it, if not for other old (new) features, for the battery life... With the GS6 Edge, I can barely eek out 2.5 hr of screen on time and it had me looking for a charger after 12-14 hours unplugged. I don't know if the battery life improved after Marshmallow update. My GS7 consistently gives me at least 4 hr screen on time. And the 4GB of RAM means minimal jank. Now, I can finally live with TW. Posted via the Android Central App

My S7 just hit 5% after I forgot to charge it. I'm over 21.75 hours on now with 5 hours of screen on time. That isn't crazy awesome, but I'm pretty happy with that performance. It can get me through a day and on to the next morning if I really need it.

Exactly my point. My S6 Edge gave me no battery anxiety whenever I'm out for extended period of time after work. I know these phones have wireless charging and fast charge, but more battery is more battery. Posted via the Android Central App

After 45 minutes I've went from 5% to 74% too, so that fast charging is pretty nice. A larger battery and fast charging is a good combo, but a large battery is definitely the better of those two features. I'd rather make it from one session of sleep to another. Then my phone has at least 7 hours to charge.

I'm opposed to upgrading yearly. Every 2 years, sure. Every 6 months? Downright moronic imo Posted via the Android Central App

I love to upgrade every 6 months between the S and Note series. After 6 months I'm bored of my phone already. Its a must for me to have the latest and greatest lol S7 edge will make America great again!

Should you upgrade to the S7 from the S6?
Hell no if it's a must for you to have the latest and greatest. lol HTC 10 obliterates Galaxy S7 Edge in benchmark

Because benchmarks are truly what matter. Not user experience, camera, battery life, etc... Posted via the Android Central App

Sense is a much much better experience than tw lol. Not to mention if the 10 has the camera and sound features it's supposed to it is going to blow the s7 out of the water. Posted via the Android Central App

HTC will fail miserably at something, they always do. Most likely the camera. They always talk it up and don't deliver. S7 edge will make America great again!

That's a big if.lol They've got to get pass LG to even get close to the S7. Posted via the Android Central App

I'm going to wait on the next nexus phone or Note 6. By then, I will have more of my S6 paid off and might take advantage of a deal to switch carriers. Plus, I want to see how my Verizon S6 "improves" when/if Marshmallow arrives.

You have the right idea. Come on over to nexusland. You'll probably never leave.

Still waiting on my Marshmallow update from AT&T as well... just another reason I'm thinking the Nexus 6p replacement might be in my future (as much as I'm tempted to upgrade to the S7 Edge!). Patience is a virtue!

Here's what I think. Only upgrade if you know you need that bigger battery, expandable storage and/or IP68 certification. Otherwise, if the S6 works well for you, then keep it. It should remain as a reliable daily driver for another year or so depending on how you use it.

I did it and my main reason was battery life, I get a minimum of 4 Hours SOT with my S7 which is so much better than my S6. It also doesnt heat up as much during gaming and VR. Also I love the feel of this phone, best phone I've ever held. Posted via the Android Central App

+1 Posted via the Android Central App

The battery life would be my main reason to switch, the overall design is nice but just like my current s6, it would be living inside of a case. I also have a lease from sprint so i would have to pay a bunch extra for breaking said lease. Posted via the Android Central App

No. Not worth it. I can't believe better battery life is worth hundreds of dollars to some people. These have wireless charging capability. Stick a wireless charger on your desk at work or wherever you spend most of your time.

Must be a slow news day if you have to recycle recent articles and how much does Samsung pay ac to keep their phones at the top of the news. Posted via the Android Central App

After the Marshmallow update the Samsung S6 performance is vastly improved. I'm talking super smooth. Don't purchase the S7 until you've experienced the S6 on Marshmallow. Be Together Not The Same

Performance is one thing. Battery life is another. The edge slaughters, beats the pulp out of, and trashes the S6 around with a chainsaw when it comes to battery life. Posted via the Android Central App

That is true Be Together Not The Same

What carrier are you on? I'm waiting on VZW to update to M

When will there be a damn marshmellow for s6??? Posted via the Android Central App

When the CD with the firmware from Korea, currently being delivered by economy postage on a ship to Samsung HQ in your country, is uploaded to the relevant servers so you can download it. I'd give it a few more weeks. /s Posted via the Android Central App

I'd say a box of floppy drives, but u know... :D Posted via the Android Central App

I hope these articles don't make Samsung stop updating their older phones to the new TouchWiz lol.. This is the first time they're doing it. Posted via the Android Central App

I"m thinking about it. Battery, SD Card and Water resistant are main reasons. Camera was a big reason. I was a bit surprised by your review. It's the first that I've read that really seems to play down the camera? Anyway I'm a TMO Jump person so no major down side to swapping up anyway.

AC is not lying about the camera. Don't get me wrong, the GS7 camera is more than serviceable, perhaps even in contention to be one of the best, but it isn't better overall than GS6's camera.
Perhaps it does better in extreme low light situations, but that's about all. Posted via the Android Central App

this will change your mind
https://www.youtube.com/watch?v=PNsHpGvOElo

I do think it's a worthy upgrade btw. Especially if you have JUMP. Posted via the Android Central App

The camera isn't bad. It's actually extremely good, one of the best of 2016 so far. It's just not better across the board. Lowlight shots look really good on the S7 and is definite improvement over the S6. Daylight shots still look great but slightly less so than the S6. Still a great all-rounder, though.

I'm also on Tmobile jump and eligible to upgrade. I pay each month for the ability of upgrade. I have the S6 edge But I'm reluctant to extend my service with tmobile by upgrading and extending my lease. I also have to pay $60 just to do the upgrade. The carrier service has not been the best but it's hard to move away from unlimited everything. Posted via the Android Central App

If you want a bigger battery and want the ability to use a SD card then there you go.

No Matter What, I Still Prefer My Samsung S5. Water Resistant, Plastic Build But Feels Nice. Great Phone Overall. Posted Via The Android Central App From My Samsung Galaxy S5. :-)

Why Must You Type Like This? It's An Eyesore And Makes Typing More Difficult. Posted via Galaxy S7 edge

Are there keyboards that automatically capitalizes every word. Otherwise it must be very painful to tap the Shift button every time lol

I say heck yeah. Battery life alone cause it's absolutely trash in the S6 Posted via the Android Central App

Is there anything equivalent to the Galaxy S7 backpack battery case for the S6?
(adds battery life without adding a massive chin) Such an accessory would be reason to stay with the S6 until the S7 prices come down

Yes there is, you can get one from Samsung, I have one and it's massive improvement! It isn't wireless.. You have a *chin", quite chunky and heavy. But then I like that, the S6 is far too slippery for my hands! Message me if you can't source one...

I do also like that battery cases get rid of the slipperiness of the phone and I have no problem with the increase in thickness/depth. I'm just not keen on the added length that comes with a chin. Nevertheless, could you link me to the S6 case you are referring to? I can only find 3rd party cases, and not a Samsung case. I really like the Samsung battery case for the S7
https://www.androidcentral.com/e?link=https2F2Flink...

I got mine on ebay... Just typed in Samsung galaxy s6 extended battery case and it popped up...

I have the S6 edge. Not upgrading to S7.

I'd have to say I'll stick with my s6, still a fantastic and able phone, 4 hours SOT keeps me going well, maybe in 6-12 months I'll upgrade but atm I don't see a reason to pay that much for a pretty similar device. Posted via the Android Central App

Thats kind of a stupid question if you ask me.....ofcourse not

What? Says the guy with a Nexus.

Absolutely! I did for the simple fact it didn't cost me anymore since I was on the lease program. Even better Sprint just launched the forever galaxy upgrade program. This means I get a new one every year provided I continue to pay 25.00 every month. Also the increase battery life and extra gig of ram comes in real handy for me. The job I have doesn't allow me to plug my phone for about 8 hours straight so battery life is very important to me. Sent from a device beyond your wildest dreams!

I upgraded from the S6 to the S7. I'm missing the better feeling glass back, and the white color : ( Posted via the app ~ GS7

If the few new things the s7 offers that you like, then heck yeah go for it. Posted via the Android Central App

The design might be the same . But everything else about the two couldn't be more different. From the faster processor, faster camera , waterproof, expanded memory, better brighter screen and a battery that's night and day difference and if you can afford it hell yeah . But if your pretty happy with your gs6 then keep it it's still a good phone beside the natural would be more the gs3 gs4 and 5 if your rocking one of these your due Posted via the Android Central App

In basic essence, the GS7 is kinda like a GS6s, in a good way. It kept what made the S6 a great phone while improving heavily on many of its biggest flaws while reinstating some long-time favorites like expandable storage and IP68 certification. It's a big improvement over the S6 IMO. I think the natural upgrade path for S6 owners would be the GS8.

I just upgraded from gs6 edge to gs6 edge. The added battery life is enough to make it worth it but also love the camera speed and low light feature. The only negative would be the screen is a bit too sensitive but I'm getting used to it and I look for that to be fixed in an update. Happy camper here!

Actually I updated to gs7 edge.

Sold my s6edge pls get s7edge.. love it .. great battery...extended storage.. water resistent...new chip... Posted via the Android Central App

Love it Posted via the Android Central App

A resounding NO from me. I am clearly the only one on the planet but I think this phone is ugly. I don't like being forced to have an "edge" if I want the bigger screen and bigger battery. Easy decision for me

I'll wait for s8....it will emerge within 6 months, right? I quite enjoy my s6....despite that battery, which actually never dies as I have 3 charging pods around my house backed up with car charger when needed. Water resistance don't bother me, never killed any phone with water and I'm not planing to do that in future. In general, I don't see any reason why should upgrade my current mobile. posted with nokia 3310

Already having a Galaxy S6 running Marshmallow 6.0.1, I wouldn't consider it, really. Sure there are improvements in several areas, such as the addition of expandable storage and battery life (not really a big difference as shown in numerous tests), they just aren't enough to compel me towards the pricey upgrade.
I would consider the S7 edge or the upcoming Note 6, However. Posted via the Android Central App

What carrier are you on that you have the update already?

It's unlocked. I just flashed an SM-G920F ROM from SamMobile using Odin. I'd recommend it over waiting many months for an official release in your area. Posted via the Android Central App

IR blaster worth a mention again, S7 doesn't have one, also have had a look at a lot of daylight photo comparisons and the extra pixels and the s6/edge do make those zoomed shots look less noisy. With the improved battery life and performance that came with the marshmallow update you have to ask yourself whether the compromises above, extra battery life and waterproofing are worth the hundreds of pounds you're going to have to fork out for one

Well, I've updated and I love the S7. The camera is disappointing, the S6 is much better. Battery life is good, I'm a heavy user, also the screen showing the time must save juice of one used to it as a clock! It's not as slippery as the S6. I love the permission thing too albeit it's a software function. Bottom line? If you got the money, go for it. If not, you still have a great handset!

If I could afford it, I'd upgrade (though I don't have an S6 but a Nexus 5, but I digress...).

No. As a s6edge plus owner I'm appalled that Samsung aren't releasing a jumbo size S7edge. I'm never going to buy a phone smaller than the one I already own. Posted via the Android Central App

I just did the upgrade. Anxious to see how it is. The battery is so bad on my s6 that it drove me to it. And camera is fine, I have a good point and shoot camera and a dslr if I'm that worried about making a billboard out of my photos.

Staying with my S6 edge for another year. 64 GB of super fast UFS 2.0 memory is, in opinion, better than 32GB of internal and 32GB SD card. The battery isn't an issue for me as I have chargers at home, in my office, and in my car. And I use a portable battery pack if I have to fly out of town. Looking forward to Marshmallow upgrade soon.

My wife has the GS6 and won't be upgrading, we're still making EIP payments on the GS6.
Just not enough to justify spending another $600 something, plus her current phone is the 64 GB version and she has lot's of stuff on it.
going down the 32gb of internal storage would be a hassle for her and a definite downgrade that she'd notice.

Even with the micro SD expansion? Posted via the Android Central App

On this topic my wife and I agree, micro SD expansion isn't a replacement for a single large internal storage space..
You have to move apps to the SD card one by one and not all of them support it.
You have to configure apps to save things to the SD card or move them afterward again, if they support it.
All things that my wife who isn't tech savy doesn't understand and it's more of a problem for her than I.
I just find it annoying. If the S7 implemented adoptable storage, (and for my wife's phone the hack to get around it isn't sufficient. it would need to truly support it)
I'd be ok with it, but I gave up on the hassles of sd cards and the slower speeds a long time ago.
I prefer 64gb or 128gb of internal fast storage that I don't have to fuss with and cloud storage for accessing the data I share between all of my systems, PC, laptop, tablet and phone. Other people use their phone differently and for them being able to add a 200 gb sd card is great , it's just not for me.
even when I have a phone with an sd card slot, I rarely use it.
and I don't think my wife has ever used an sd card when I put one in one of her older phones which supported it.

What about the Staples GC offer of $400 on the S7 or edge? :) Stacked with the VZW BOGO, I have read (slick deals) that folks are buying 2 phones ($800 Rebate Cards) then applying for the BOGO with VZW ($630 or more). Even with 2-3 months of paying the monthly access fee, that could net to around $120 for 2 new phones.

+1
I did it for the free Gear S2 watches from vzw. I upgraded 2 phones.. got $300 account credit for each.. so it's like only paying for one upgrade.. and if you break it down further, it's like paying for none.. cause I almost bought 2 watches anyway that I don't have to buy anymore . So I got a $1200 of total value, and $1200 worth of phones.. it's a wash, but I ended up with 2 new phones with 2 new smart watches. So is it worth it you ask? Oh yass!! GS7 is what the GS6 should've been. Those that say no, are just convincing themselves as to why stick with their GS6.
Battery life, extra RAM, better processor, better camera hardware, always on Display, water/dust proof, SD expandability...
And Lil Wayne's GS7 commercial, make it well worth it.. Marshmallow was built for these specs... if your complaining about battery life now on GS6, Marshmallow is demanding and won't make it better.. it might make it worse, since you'll be draining the phone more exploring marshmallows's and TouchWiz capabilities. Just suck it up and do it!

Straight out of a radio ad, all you need is "terms and conditions apply" and you're good to go..

Hah we laugh but I'll bet Lil Wayne sold a bunch of gs7 all by himself. I've had so many people ask is that the new phone that Lil Wayne is pouring champagne all over. And I proudly say yep haha . And through in the consumer report best phone ever ...and photography magazine best cell phone camera it's a rap . This phone is a major go Posted via the Android Central App

No. Wait and get the HTC one 10 or whatever it's called Posted via the Android Central App

Why no mention of how terrible the audio quality is from the Galaxy S7 even compared to the mediocre single bottom speaker on the S6 and all due to the waterproofing which you make sound like it's a great thing with no down sides at all with no mention of the massive hit to the audio quality due to the waterproofing ?
I'd rather they didn't have waterproofing and at least had the audio as good as it was on the S6 as non impressive as that was.

I'm sorry, but I have to laugh at some of this stuff. I don't own a Samsung phone, and never will, because they cost too much, and Touchwiz ruins everything. My comment is just about cell phone features in general. I left flip phones behind in 2013 when I got my Nexus 4. Since that time, I have not once thought about taking a phone swimming, because why would I? Nor being so stupid and careless that you have to have waterproofing in case you dump the thing in the toilet. How about keeping your phone out of the crapper instead? Neither of my phones (I now have a 2014 Moto X) have had great battery life, but so what? You mean to tell me that between car chargers, wall outlets, and cheap portable power packs, you can't keep your phone charged? That's your fault if you can't. Never once have I ever had to worry about running out of battery, because I actually plan for things like maybe needing a power pack if hiking. And the obsession with "low light performance" on cameras? I guess it matters if you don't have a life, and spend all day sleeping just so you can go clubbing five nights a week and get hammered. But, keep taking those dimly lit club pictures. They look awesome when your drunk, even though nobody cares where you were last night. That is all. Posted via the Android Central App

Thanks for that. Fascinating stuff. Posted via the Android Central App

Scott Lowe: "Nor being so stupid and careless that you have to have waterproofing in case you dump the thing in the toilet. " Don't you think that's when the low light camera and water resistance features begin to shine? :-)

Sounds like somebody filling a little butt hurt and a lot jealous of what another man has that he doesn't. It's your choice if you want to use want ever phones fills your needs . But some like myself like to live in the here and now. You my friend sound like that nosy neighbor .that's always in somebody's else business. How about live and let live . And not worry what the next guy does with he's own money not everyone lives pay check to pay check Posted via the Android Central App

I wouldn't upgrade. Not enough to entice me. I don't have the crap battery issues everyone else seems to have so no reason to IMO. The S6 is an awesome device, but having said this I have delegated it as my numero uno backup device as I've moved on to a pure android experience. The S6 is really sweet tho and the S7 does not bring enough sweetness to the table to be worth those big bucks, no thanks.

Well, if your carrier is AT&T, upgrading to GS7 is the only way to get Marshmallow.

Not sure about the battery life on the S7. My S6 wasn't bad after I root and put a good ROM on it. However I have a iPhone 6plus and that last all day. All day and I am a heavy user at work. What about the S7?

Im a poster boy for Samsung. Love everything about their products, however there is a huge disappoint to me on the Galaxy S6 + Edge phone. I have notice, like many others im sure, that the phone gets crazy hot in temperature. I slide down the notification bar and it will read a given temp, but when i go to cool the phone via the Device Cooler, it will then read an even warmer temp. They MUST find a way to get around this problem. I can have the cell in my jeans pocket and i can feel it very hot AT TIMES, NOT ALWAYS. It can force me to shut and leave the phone off. Please provide any solutions if you know of any

The battery alone us a good enough reason. If you actually use your phone, battery life is terrible Posted via the Android Central App

And you have the option to use this S7 with a dual nano sim. But when you choose for this option, you can't put a micro sd in the S7 any longer, since you need to make a choice which card you are going to put next to the nano sim card, side by side in the boat tray. Will it be a second nano sim, or a micro sd card?

I am stuck in a contract which eliminates my option of upgrading. All the new programs for "Galaxy for life" started after the S6 came out. With that being said, not sure if I would upgrade. I don't have any issues with battery life and my camera is a most important part of my experience with the phone. I have plenty of storage. I am not really pleased with the Marshmallow update. I am getting old and don't like change quite as much as I used to. Just seems like my phone is slower with the update. meh, it really is just a phone.

Base on your post, it doesn't make sense to upgrade to the newer phone (IMHO). Either in contract or device payment are reasons keeping many folks from doing so. Yes, folks will say "go nexus", but who wants to put the phone on a credit card or pay full price upfront? If you REALLY want to upgrade that bad and can't pay off the s6 balance, perhaps you can switch carriers and take advantage of having the new carrier pay off your device payment?

surely you should, easily switch from any android to galaxy s7 http://www.youtube.com/watch?v=U5tH-pCfMSU

The S7 has a terrible score of under 700, on Linpack, so what's going on?

How come the s7 scores under 700 on Linpack, when the Z5 Premium and compact, score around 1800? Come on Samsung, pull your finger out!!!!!!
Android Central Newsletter
Get instant access to breaking news, the hottest reviews, great deals and helpful tips
Thank you for signing up to Android Central. You will receive a verification email shortly.
There was a problem. Please refresh the page and try again.