Should you upgrade to the Galaxy S7 from the Galaxy S6?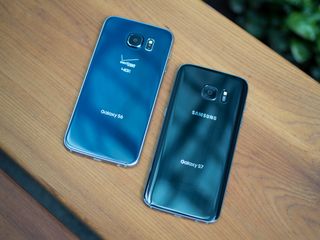 Every time a manufacturer releases a new phone, it has to strike many balances. One of which is deciding between attracting altogether new buyers coming from a different company with keeping around exiting customers for a longer period by upgrading to the new phone version. The Galaxy S7 seems to lean towards bringing in those new customers ... and for that reason it doesn't exactly blow away anyone who has a Galaxy S6 in their pocket today.
As we've already explored, it seems like the Galaxy S7 is tailor-made to be a no-brainer upgrade for those with a Galaxy S5. But how about the Galaxy S6 owners who have had their phone for a year at most? It's a bit tougher of a sell — and we're going to explore the upgrade path right here.
Hardware and specs
Aside from astute observers, most would be hard pressed to be able to pick out a Galaxy S7 from a crowd of Galaxy S6s. The metal and glass construction has carried over to the latest Galaxy, with the one major change being an increase in overall thickness, exhibited by a bulging glass back that's rounded off on the sides toward the metal frame like on the Galaxy Note 5. The subtle increase in thickness makes the Galaxy S7 much easier to confidently hold than the perfectly flat back of the GS6, and also has the added bonus of making room for a larger battery inside. On the front, the glass frames out the same-sized 5.1-inch QHD Super AMOLED display — and it's still wonderful.
Internally, you'll find predictable spec upgrades. A new Snapdragon 820 or Samsung Exynos 8 Octa (depending on the region) replaces the outgoing Exynos 7 processor, and you have an extra gigabyte of RAM to work with, bringing the total up to 4GB. Neither makes a huge difference now, but will give you the ability to run more serious apps a year or two down the road when resource demands are higher.
The two downsides internally here? They're pretty minor, in the grand scheme of the phone. The big one is no option for additional internal storage. You can buy a 32GB Galaxy S7, but you can't option up to 64 or 128GB like you could in the last version. The other is the removal of an IR blaster, meaning you can't use the Galaxy S7 to control home entertainment gear via infrared.
The other big points of differentiation are two features that were lost when moving to the Galaxy S6 from the GS5: waterproofing and removable storage. Waterproofing is always a welcomed addition to a phone, and after it was removed with the launch of the Galaxy S6 we're super happy to see it back on the GS7. This doesn't make it a rugged phone by any stretch, but it will save it from any unfortunate contact with water in the future. The SD card slot is in the same boat — bringing back the much-desired feature will be a big deal for a lot of people, even if a majority won't ever put a card in the phone.
Software and performance
Thankfully for everyone, Samsung is well under way in its rollout of Android 6.0 Marshmallow to the Galaxy S6. Even better, what's arriving on the last-gen phone is nearly identical to what you get out of the box on the GS7, save for a few features like the (questionably useful) always-on display mode. You get the same fresh design, flattened experience and majority of new features that make the Galaxy S7 great, all on your existing phone. If it hasn't arrived yet, be patient — it'll be there in due time, and knowing it's coming removes one desire to upgrade to the new phone just to get it.
Once you have the update to the latest software on the Galaxy S6, you'll also find that performance between the two phones isn't much different either. Setting both phones together for some side-by-side tests you may see small differences in speed, but there's absolutely nothing sluggish about the Galaxy S6 at this point. Sure the more powerful processor and additional RAM in the Galaxy S7 will help you handle more demanding apps and services in the future, but at this point you aren't missing out on much by sticking with last year's phone — the Galaxy S6 is still capable of handling whatever you need it to do.
The one big change in daily use here is the battery life, which has extended notably from last year. The bump to 3000 mAh in the same compact frame is great, and that extra 15 percent of capacity — plus a more efficient processor — means you're far more likely to make it through a day without charging. The Galaxy S7 isn't quite the battery champion that the Galaxy S7 edge is with its even larger battery, but the combination of specs available here can give you 16 or more hours of battery without breaking a sweat — and more if you're a bit lighter on the phone. On the Galaxy S6, you had to really baby the phone to make it that far.
Camera quality
We've covered this camera comparison pretty extensively at this point, including a direct comparison of the Galaxy S6 edge to the Galaxy S7 edge and Galaxy S6 edge+ to the Galaxy S7 edge — both comparisons being the same as what we're looking at here.
The Galaxy S7's new 12MP sensor (leading to larger 1.4-micron pixels) with a super fast f/1.7 lens is targeted at giving you great low-light photos, though the previous setup of a 16MP (1.12-micron pixels) sensor and f/1.9 lens was hardly a slouch in this regard — in fact, it was the winner of many camera comparisons. Interestingly, the new camera on the GS7 can in some cases come up short of what the GS6 can do in good lighting conditions, so it isn't a wholesale upgrade from its predecessor.
With all of the technical stuff being said, just like before, I can come to the same conclusion: you aren't missing out on too much in terms of camera performance by sticking with your Galaxy S6 and not upgrading to a Galaxy S7. The Galaxy S6 is still super fast to launch, focus and capture photos, and the end results are just as good as the GS7 in daylight and only slightly lower quality in some low light conditions. For a refresher, we have the comparison shots we took to evaluate the Galaxy S7 edge versus the Galaxy S6 edge just a week ago:
Galaxy S6 edge (left) / Galaxy S7 edge (right) — click images to view larger
Even today, a year after its launch, the Galaxy S6 still has one of the best cameras available on a smartphone. That hasn't changed just because the Galaxy S7 is now available.
Read: Camera showdown: Galaxy S7 vs. iPhone 6s Plus vs. Nexus 6P vs. Lumia 950
The bottom line
Unsurprisingly, we come to the same basic conclusion here as when we discussed the feasibility of upgrading to a Galaxy S7 edge from the Galaxy S6 edge. Though in this case there's even less to consider, as the newer Galaxy S7 doesn't offer the same screen size boost as the Galaxy S7 edge does compared to its predecessor.
With the Galaxy S6 getting its update to Marshmallow and packing a very similar physical design, whether it's worth an upgrade to you will come down to just a few main areas: battery, waterproofing, storage and camera. The battery life boost is very much worth it, and being able to make it through a day again is a huge deal. Waterproofing isn't something you think about all the time, but will save you lots of money when it comes into play. Removable SD card storage may be a bit of a throwaway feature for some. The camera feels like a bit of a lateral move overall, and there isn't enough here to make you toss your GS6 that itself has a wonderful camera.
Considering how much you'd have to fork over in terms of selling your current Galaxy S6 and buying a Galaxy S7, you may want to think long and hard about this potential upgrade. A bigger battery, a couple new features and the latest in specs are definitely worth something, but it may not be worth the $300-400 gap in cost to make you jump from your perfectly capable phone to the Galaxy S7.
Are you a Galaxy S6 owner considering upgrading to a Galaxy S7? We want to know what you're thinking — sound off in the comments!
Get the Android Central Newsletter
Instant access to breaking news, the hottest reviews, great deals and helpful tips.
Andrew was an Executive Editor, U.S. at Android Central between 2012 and 2020.