Should You Buy The Samsung Galaxy Tab E Lite for Kids?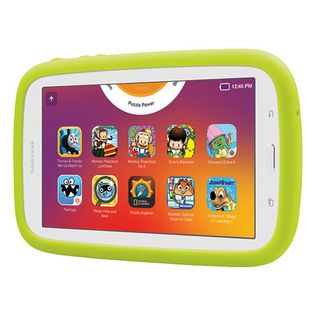 It's easy to say that Android tablets are dead in the water, and in the high-end market that might be true (though we're pretty fond of the Galaxy Tab S3). But not everybody shopping for a tablet wants to spend $300 or more on an iPad — especially if they're just looking for something to distract their kids during a long drive or doctor's appointment.
Samsung seems to have a good solution with its confusingly named 7-inch tablet; depending on who you ask, it's either called the Galaxy Tab E Lite Kids or the Kids Tab E Lite. Regardless of its name, it's been extremely popular on both Amazon and Best Buy, getting overwhelmingly positive reviews from satisfied parents. So what's all the fuss about? And should you buy one for your own kids?
It should be obvious, but it's important to keep in mind that the Kids Tab E Lite isn't meant to be a powerhouse iPad competitor like some of Samsung's other tablets. Its specs are minimal, with a 1.3GHz quad-core processor, 1GB of RAM, 8GB of storage (expandable by up to 32GB via microSD), and Android 4.4 KitKat. Yep, you read that right. That's all you need to run Samsung's kid-friendly software, though, along with the media and games the tablet is meant to handle.
If you've ever enabled Kids Mode on your Galaxy phone, the interface on the Kids Tab E Lite will already be familiar — it's a pared down version of Android that displays large shortcuts to the bundled apps on the tablet … and not much else. This is by design, to keep your kids from meddling where they shouldn't, and make it easy to jump straight into the various STEM- and Common Core-focused games and books.
The Kids Tab E Lite comes with over 20 kid-friendly apps to get you started, but you also get a free three-month subscription to Samsung Kids to download more. There's plenty of content from distributors like DreamWorks, Sesame Street, PBS Kids, and National Geographic to keep your kids educated and entertained at the same time. After the first three months, it's either $7.99 each month or $59.99 for a year.
Aside from its kid-friendly software, the Kids Tab E Lite is essentially just Samsung's Galaxy Tab E Lite with a durable, non-toxic case that protects it from the inevitable drops it'll endure. It packs a 3600mAh battery that'll keep it running all day, and a 2MP rear camera to kickstart your kid's artistic side — no front camera though, so selfies are off the table.
The Kids Tab E Lite isn't the most powerful tablet around by any means, but for $100, it doesn't have to be. It just has to compete against Amazon's Fire tablets and other inexpensive, kid-oriented tablets, and it seems to do so pretty well with Samsung's well-versed ecosystem. If you're on a Benjamin budget, give this tablet a shot — and if you've already got one, let us know about your experiences in the comments below!
Sign up for Black Friday email alerts!
Get the hottest deals available in your inbox plus news, reviews, opinion, analysis and more from the Android Central team.
Hayato was a product reviewer and video editor for Android Central.