Should you buy a phone case or a skin?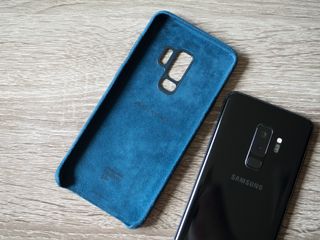 Manufacturers put a ton of work into designing their phones to be equal parts functional tools to make our lives easier, and beautiful works of art that make us want to pick them off of store shelves to begin with. But beauty comes at a price, and with more all-glass phones than ever these days, there's no getting around it anymore: phones are fragile.
With this in mind, you might not want to carry your phone without some kind of protection … but exactly what kind should you use? There are plenty of options available, but now that sleeves and belt holsters are out of fashion, the two most common ways of keeping your phone safe are cases and skins.
You're probably most familiar with cases; every carrier store and mall kiosk has dozens of cases for all of the most popular phones, and they're a great way of quickly personalizing your phone that may otherwise look just like everyone else's. Sure, they add a bit of bulk to your phone, but in return you get the peace of mind that your phone should be okay if you accidentally drop it a time or two.
Cases come in all different sizes, form factors, and materials. If you're particularly clumsy, you may want to get an Otterbox for your phone, which makes it considerably thicker but offers the best drop protection, and usually even comes with a built-in screen protector. I don't drop my phone too often though (that doesn't mean it never happens), so I tend to prefer thinner cases that keep the body from getting scratched but don't take away from the thin design.
In particular, I've grown attached to "premium material" cases, like the Alcantara cover for the Galaxy S9 or Apple's leather case for the iPhone X. They don't offer much in the ways of shock absorption — they don't even cover the bottom of the phone — but they look and feel fantastic, and when I'm carrying an expensive phone, I want it to feel like one. Superficial, I know, but that's just what I like, and these cases still at the very least keep the majority of my phone fairly well protected.
See at Amazon (opens in new tab)
Cases aren't for everyone though, and there are plenty of reasons why you might prefer a skin. Maybe you're unwilling to give up the thinness that your phone was designed to have. Or maybe you just wish your phone were a different color. The glass back on your phone might be too slippery for your liking, or maybe it already slipped out of your hand or off of the table and now the back is irreparably shattered. Whatever the case — err, situation, a skin could be the answer to your problems.
Whether you're buying from Slickwraps, dbrand (opens in new tab), Colorware, or somewhere else, most skins are precision-cut to perfectly match the design of your phone — right down to the curved edges, buttons, and ports. They add next to zero thickness to your phone and cover up any scratches, cracks, or imperfections that might've preceded the installation.
It goes without saying that skins aren't as protective as cases; if you drop your phone onto a hard surface, a skin probably won't do much to absorb the damage. But they at least keep scratches away, and if your phone cracks underneath the skin … well, just leave the skin on! Okay, yeah, that's probably not a great longterm solution. If you want that extra level of protection, you can even use a skin and a case at the same time — though unless you're using a clear case, this might defeat the purpose of getting a skin in the first place.
See at dbrand (opens in new tab)
Which do you use? Are you more of a case person or a skin person, and is there a particular brand you tend to gravitate towards? Have you ever stepped into the other side's territory? Let us know in the comments!
Android Central Newsletter
Get instant access to breaking news, the hottest reviews, great deals and helpful tips
Hayato was a product reviewer and video editor for Android Central.
I feel like this was yet another thinly-veiled dbrand advertisement, like almost every other tech article and video on the internet, which is why I'll never buy anything from them.

If it was, they wouldn't also mention colorware and slickwraps (their competitors!) in the same line.

If it was, it didn't work. dbrand apparently doesn't yet know the LG G7 is here. No listing. However SlickWraps has already shipped.

I have used both and I like them for different reasons. A case goes for every phone, and a skin goes for certain phones only. I have used a skin on a iPhone SE and the smaller Pixel. If I had either of those again, I would go for that. To me, iPhones are SUPER common and having a skin makes it more unique. The Pixel's design is okay but so much better with a skin. I find that instead of tolerating the design, I like it more.

I use a case but only for grip, the phone is to slippery without.
I want minimal bulk and have tryed MNML case but they don´t provide the same grip as for instance Spigen rugged armour.
My dream would be a case almost as thin as MNML or Peel or Bastop e.tc. but with the same rubbery texture as a TPU case.

I found X-level on eBay. I've got one on my G6 and two friends are using them too. Extremely thin matte TPU with the best in hand feel and grip of any case I've tried. They actually get better with age.

You should give Spigen thin fit case a try. It's probably the thinnest hard plastic case you can find and it's coated with a matte finish that adds a ton of grip. And it's only like $10 on Amazon.

It felt awful to me for the pixel 2 xl. Not sure what the deal was, maybe a bad batch.

After I discovered the Ringke Smoke Black for my LG G6, I was in heaven. Didn't add bulk, made it feel less like a wet bar of soap, the ports have covers and I can still see the design and glossiness of the phone. As long as they make something similar for any new phones, it's an instant buy for me.

I agree with you on this.

I am using Ringke clear case on my Pixel 2XL. Used a Google Live case at first but it was too bulky. I then tried the spigen slim fit but the phone collected too much dust. The Ringke has been perfect for me.

I actually use both. I have a thin clear case for my s9+ from spigen and a skin from Skin It to show my favorite team pride.

Skin all the way, no regrets. Dbrand is overpriced, I buy DecalGirl and have been very satisfied.

If you do you give up your right to express your opinion on how "premium" your phone feels.

Why not both? I have a honeycomb slickwraps and the alcantera case on my S9. That way I still have some level of protection when use my VR headset or go caseless.

I bought a folder with slits for my debit cards. This just about totally protects my phone and minimizes stuff that I need to carry. In short, apart from having my phone run over by the car, this was the perfect solution.

I use both. My S8+ had a dbrand dragon skin on it. This adds some grip, keeps the back from becoming scratched, but keeps it slim. This is mostly for "dressy" occasions. Other times, I'll slap it into my Rinke slim case (that covers all the edges in addition to the back) or my Spigen thin "soft touch" case. The cases are different colours -- for when I want to change things up. None of these affect the wireless charging, and all fit easily into my iOttie fast wireless car mount/charger.

I use 2 different wallet cases for my s8+, Zover & Sheildon. Then to switch off a Spigen clear case for wireless charging. All 3 work very well. I prefer wallet cases for protection!

IMO, they're too expensive not to use a case, but to each their own. Tech21 has been my go-to for years. Eventually when I sell them to Gazelle, they still look like they just popped out of their boxes.

Always a silicone gel case for grip. Cost about $6.

Skins never work for me on a device with curved edged, there's always imperfections and bends that Re jagged somehow, no matter how careful I am. Rather have a nice thing case instead.

New sait Iphone, Ipad and Macbook case :
enter in google - "artcase tilda"

I have used cases and skins for my mobile at different points in time. Even though cases give protection to your device, they will definitely ruin the beauty of it and add some weight to it. Skins give a classy look to your device and you will be a stand out person in the crowd. Applied a camo skin from GadgetShieldz and was really impressed with the touch and feel of the skin. It added an extra grip to the device. Go for some bold looking skins and screen protector and see if they do take your device to a new dimension.
Android Central Newsletter
Get instant access to breaking news, the hottest reviews, great deals and helpful tips
Thank you for signing up to Android Central. You will receive a verification email shortly.
There was a problem. Please refresh the page and try again.