Sennheiser's new true wireless earbuds offer up to 20-hours of battery life for $200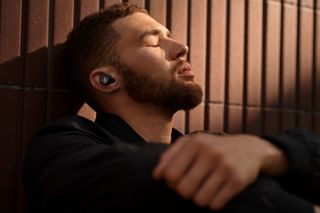 (Image credit: Sennheiser)
What you need to know
Sennheiser today announced the CX 400BT True Wireless earbuds.
They'll go on sale from September 15 for $199.95.
The CX 400BT can last for up to 7 hours of continuous playtime.
Sennheiser today announced the CX 400BT True Wireless earbuds, a pair of high-end earbuds with long-lasting battery life. The company says you'll be able to wring out 7 hours at a run, with the wireless case meaning you can take that number up to 20 hours — for those days you spend 20 hours away from an outlet.
Sennheiser noted the "high-fidelity stereo sound with deep bass, natural mids and clear, detailed treble" of the CX 400BTs. It credits this to its own 7mm dynamic audio drivers, but buyers can use Sennheiser's Smart Control app to change how the audio sounds.
While you don't always need high-priced and expensive machines to have decent to good true wireless earbuds, there's always a place at the high-end for things like the Galaxy Buds Live and Pixel Buds from primarily smartphone companies, and then others like the CX 400BT from companies like Sennheiser who have already made sound their whole business.
These will go on sale from September 15 for around $199.95. It'll probably drop lower than that due to deals and discounts, but that's the price to keep in mind if you're considering these.
Best Noise-Canceling True Wireless Earbuds in 2020
Pixel Buds (2020)
The Pixel Buds aren't as cool as the Sennheiser's, but they're a great pair of buds if you like Google's software smarts and aesthetic choices. They're also a little cheaper — at least for now.
I get irritated with this reviewer ad people who cannot understand that Sennheiser won't "throw in" simple features on a budget pair of buds. What a dumb thing to say.
No they should not. You barely grasp the point. If you are unwilling to spend the full money then you get the half loaded pair. Then you complain about it. Unbelievable. Pitiful really. Instead, you are expected to express gratefulness for what they did give you. They preserved the Sound quality. The Soundstage is the most important factor and yet received the least amount of coverage. For these reasons, a real disappointment review.
Android Central Newsletter
Get the best of Android Central in in your inbox, every day!
Thank you for signing up to Android Central. You will receive a verification email shortly.
There was a problem. Please refresh the page and try again.