What's the least you can spend on wireless earbuds and still get good sound and features?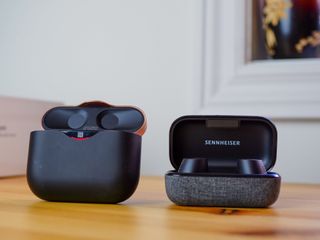 (Image credit: Daniel Bader / Android Central)
Wireless earbuds have changed a lot in the past few years. The term used to refer to two buds that were held together by a single wire, but in 2020, we now have earbuds that are entirely independent of each other (commonly referred to as true wireless earbuds).
The form factor may have taken off because of Apple's AirPods, but countless companies have since released their own versions with varying features and price tags. You can find plenty of wireless earbuds that try to compete in the high-end space with Apple, but if you ask me, the really exciting options are the ones that have the ultimate goal of costing as little as possible.
Creating a quality pair of wireless earbuds is not an easy task, especially when you're trying to sell them for a minuscule price tag. This has resulted in some gems and stinkers alike, and that ultimately begs the question — what's the least amount of money you can spend on wireless earbuds? Unfortunately, there's no single number we can point to. The phrase "you get what you pay for" does hold true for wireless earbuds as it does for virtually any product, but some companies have found more success than others in this budget space.
A perfect example of this are the Aukey EP-T21 earbuds. They're sold on Amazon for just $30, which is a lot less money compared to something like the $249 AirPods Pro. You might think that the EP-T21 would be hot garbage at that price, but in reality, they're pretty darn good.
There's nothing special or eye-catching about Aukey's design, but the EP-T21 are built well and have a nice matte plastic finish that keeps them looking and feeling relatively good. The earbuds are comfortable, the charging case is compact, and the magnets hold everything in place just fine.
Audio quality is one of the biggest differentiators for earbuds, and when talking about ones that cost as little as the EP-T21 do, you need to set your expectations accordingly. Earbuds this cheap will never sound as good as ones that cost $100 or $200, but as long as the audio is clear, mostly balanced, and enjoyable for casual listening, that's about all you can ask for. In the case of these wireless Aukey earbuds, that's precisely what you get.
There's nothing revolutionary about how the EP-T21 sound, but more importantly, there's also nothing completely deal-breaking. Vocals come through clearly, there's a decent amount of bass to give your tunes a bit of heft, and just about all songs/podcasts sound perfectly fine. That may not sound like a glowing recommendation, but when talking about wireless earbuds that cost $30, it's pretty remarkable.
Aukey EP-T21
A prime example of wireless earbuds that are good and cheap are the Aukey EP-T21. They sound decent, are comfy to wear, have good battery life, and some waterproofing. At this price, that's a steal.
As for extra features/specs, the Aukey EP-T21 are fairly limited. There's a pretty basic IPX4 water-resistance rating, playback controls, and 25 hours of total battery life, but that's about it. There's no way to customize those touch controls, the case charges via Micro-USB, and there isn't a companion app for things like customizing the EQ settings or finding the earbuds if they get lost. This is the case for just about all cheap wireless earbuds, but when we're dealing with prices this low, those aren't really things you should expect in the first place.
Believe it or not, Aukey isn't the only company that's found a way to create earbuds for this cheap and still somehow manage to deliver a good user experience. SoundPEATS is a relatively unknown brand that primarily focuses on affordable audio gear, and when one of its most popular offerings are the SoundPEATS TrueFree+.
The story here is very similar to what you get with the Aukey earbuds. The SoundPEATS TrueFree+ won't blow you away in any one category, but what they do offer is a thoroughly enjoyable audio package that you'll actually want to use.
Once again, we have a pair of earbuds that are comfortable to wear, kick out good audio for the money, and don't have any Bluetooth or comfort issues. SoundsPEATS' approach is slightly different in the sense that you don't have any sort of waterproof rating, but this is made up for with much better battery life at 35 hours of playback.
Other compromises like a bland design and lack of a companion app are also prevalent here, but SoundPEATS manages to nail all of the fundamentals while hitting the same $30 marker.
SoundPEATS TrueFree+
The TrueFree+ are another pair of cheap earbuds that have everything you could ask for — good audio, a comfortable design, and great Bluetooth performance. This pair ditches any sort of IP rating, but you do benefit from impressive 35-hour battery life.
The word "cheap" means a lot of different things to a lot of different people. I think it's safe to say that $30 earbuds would be considered to be affordable by just about anyone, but for folks that have more discretionary spending at their disposal, that "cheap" meaning can extend to pricier options. Looking at earbuds that cost around $50 or so, you can expand your possibilities by a surprising margin.
Take the Mpow X3, for example. Mpow creates some of the most popular affordable headphones on the market, and the X3 are some of its best yet. Audio quality, comfort, and battery life are all great, but the star of the show is the inclusion of active noise cancellation. The Mpow X3 have legit ANC that can block out a variety of low-frequency sounds, which is kind of unbelievable for earbuds that cost just $60.
You've also got the Back Bay Duet 50 Pro, which come in at a very affordable $55. The core earbud experience offered by the Duet 50 Pro is also great, and while you don't have noise-canceling as you do on the Mpow X3, the Duet 50 Pro do offer mind-blowing battery life — 130 hours, to be exact. This endurance is made possible thanks to a larger-than-average charging case, but if you're someone that's regularly on the go, getting that kind of juice with earbuds this affordable is a combo that's hard to ignore.
Finally, there's the TOZO T6. The T6 were among the first cheap earbuds I've ever owned, and they've continued to stand out as one of my go-to recommendations. They have impressive audio with deep bass, great battery life, an IPX8 rating for water-resistance, wireless charging, and a comfy design — all for a mere $43.
Mpow X3 ($60 at Amazon)
Active noise cancellation is usually a feature that's reserved for premium earbuds, but somehow, the Mpow X3 offer it for less — a lot less.
Back Bay Duet 50 Pro ($55 at Amazon)
Is battery life a top concern for you? Look no further than the Back Bay Duet 50 Pro. Thanks to the massive charging case, you get 130 hours of total endurance.
TOZO T6 ($43 at Amazon)
When it comes to really well-rounded earbuds that do everything right while also offering some unexpected perks, the TOZO T6 fit the bill perfectly.
Now that we have examples of cheap wireless earbuds that are legitimately good, are there any examples of ones that aren't so hot? Indeed there are — a perfect one being the Tronsmart Onyx Ace. I was sent a pair of these to review a few months back, but I never wrote about them because they were just that bad.
I wouldn't go as far as to say that Tronsmart's earbuds are the worst I've ever used, but there's also nothing redeeming about them. They look almost identical to AirPods, the build quality is super cheap, they aren't very comfortable to wear, and sound quality is mediocre at best.
The Onyx Ace look pretty impressive on paper thanks to the IPX5 waterproof rating and support for the Qualcomm aptX codec. Still, once you get your hands on the earbuds and start using them, it becomes instantly apparent that they're not very enjoyable to use. That's part of why shopping for cheap earbuds is so tricky. You can have a pair of earbuds like the Tronsmart Onyx Ace that look like an absolute steal for $35, but in actual testing, they're worse than Aukey and SoundPEATS' $30 options.
Tronsmart Onyx Ace
Tronsmart's Onyx Ace earbuds look impressive on paper, but as far as cheap wireless earbuds go, you can do a lot better. The audio quality isn't very good, and the build is cheap, not to mention they're a blatant ripoff of AirPods.
You'll find that the $30-$40 is the sweet spot for cheap wireless earbuds, but in some rare cases, it's possible to spend even less. The Beben T21 are among the most popular, which can be purchased on Amazon for a measly $26.
We've yet to test out the Beben T21 for ourselves, but looking through the spec sheet, they seem to have all the makings of a quality pair of buds. They offer "3D stereo sound," 30-hour battery life, Bluetooth 5.0, and a very compact design. That all sounds great, but as we mentioned with the Tronsmart Onyx Ace, it's hard to fully judge earbuds this cheap without using them yourself.
Beben T21
If you're trying to spend the absolute bare minimum, the Beben T21 promise a complete earbud package for an unbelievably low price.
That's ultimately what a lot of this comes down to. Companies can make their cheap earbuds sound amazing on product listings online, but until you use the earbuds in your daily life, it's hard to say for sure whether they'll be amazing or a pile of garbage. That holds true for any tech product you buy, but it especially comes into play when dealing with super-low-cost accessories like this.
Read reviews, seek out the features that matter the most to you, and stick within a budget that you set. Whether you go with a $30 pair of earbuds or something closer to the $60 range, there are endless choices out there to keep you busy.
Get the Android Central Newsletter
Instant access to breaking news, the hottest reviews, great deals and helpful tips.
Joe Maring was a Senior Editor for Android Central between 2017 and 2021. You can reach him on Twitter at @JoeMaring1.