Seagate announces several new drives ahead of CES 2015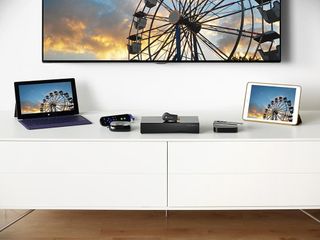 Seagate has unveiled its lineup for CES 2015, including some new Wi-Fi-enabled hard drives that let you take your data anywhere. Personal Cloud drives offer high-capacity storage for all of your media, accessible from devices such as your Android phone or a Chromecast, while the Seagate Wireless extends the space on your mobile device. They also announced a new portable hard drive in the Seagate Seven, which is said by Seagate to be the world's thinnest portable hard drive.
The Seagate Personal Cloud connects via ethernet to your wireless router. Once you've installed the Seagate Media app on your device, you can access the content stored on the Personal Cloud from anywhere. The Personal Cloud comes in multiple storage sizes, as well as a two-bay configuration. From Seagate:
The standard Personal Cloud comes in 3TB, 4TB, and 5TB capacities, while the Personal Cloud 2-Bay comes in 4TB, 6TB, and 8TB options. Both will be available later in January, and pricing for either model is yet to be announced.
The Seagate Wireless is a portable drive that lets you offload media from your mobile device. It offers 500GB of storage, and connects to your device through the Seagate Media app. The Wireless can support multiple connected devices at the same time. It will be available in early February for $129.99.
Seagate also announced the Seven portable hard drive. The Seven is a new slim drive featuring a stainless steel enclosure. It's a 500GB USB 3.0 drive that's only 7mm thick. It will see wide release later this month, and will retail for $99.99.
Android Central Newsletter
Get instant access to breaking news, the hottest reviews, great deals and helpful tips
Absolutely love my Seagate Wireless hard-drive. It's almost a must, when you have several devices with low storage capacities and want to share content between them. Works amazing for streaming movies to my iPad.

You can't say iPad on this site m8. I stupidly got really excited and thought this would be about PC drives. But ehhhhhh WiFi drives are life thought, you don't know how much storage I save pitting my legally sourced and obtained movies on them. The streaming is nearly flawless and it's very much worth the price if you own a lot of media and it's not through a service like Google Play. "I'm da Blur boys!" - Me with 1200 ping. Yes. My Internet got worse.

Yeah, and, though the app doesn't have the greatest reviews, the streaming to all of my devices has been nothing but flawless.

I've always used ES File Explorer. Never tried the app for streaming actually. But at this point, I feel like building my own cloud server for the lols. 5 TB should be enough for me and my brother, I just need to find a case to house it and choose my drives. "I'm da Blur boys!" - Me with 1200 ping. Yes. My Internet got worse.

I didn't know ES File Explorer worked with it. I'll definitely have to give it a try.

It works better than the default app. No file type limitations and you can stream to your favorite app.

I wish they would incorporate chromecast casting to google drive so I could easily stream my videos, how this hasn't happen yet is beyond me. Also too bad celebrities have never heard of portable storage/hard drives, probably would've have prevented the fappening from ever happening.

Localcast and ES Explorer are just 2 options (there are probably others) that feature G Drive integration and Chromecast support.

That is my next step for my home network. I finally upgraded to a more high end AC router, and am looking to set up a networked hard drive for storing movies. Posted via the Android Central App

You're better off with a more capable NAS and a durable NAS HDD. (Probably will be cheaper too)

Agreed. I only use the Seagate Wireless drives, because they work without internet which is invaluable when you're deployed.

Agreed, laptop or tablet is invaluable during deployment. Best part is that you can open up the network between living quarters and stream from the 'community library'

Haha yeah, you know what's up!

You can't go wrong with Seagate! Haven't tried Western Digital or any other brand. The one gripe I have with the Seagate is that if you lose the charger, you're screwed. Can't just use any old micro-USB 3 cable to charger, it HAS to be the one that came with it.

I have an 8 yr old drive and went nuts looking for the power supply. Ugh. Posted via the Android Central App

I need these!! Posted from the bando

I'm assuming these aren't standalone with their own ip address/mac you kind of just hook up to a network. And assuming that I assume these also have some software for configuring? I'm to lazy to research :3 Posted via the Android Central App

The Seagate Wireless Plus has it's own shitty app, but it is accessible through ES File Explorer easily as a LAN device. As long as they don't take great steps towards limiting these new products functionality, I don't see why they wouldn't be just as capable.

Here's my question: What does the Wireless do better than the Wireless Plus already available? WP already has a pretty decent battery life, it's accessible from ES File Explorer (unless you prefer Seagate's shitty interface and limitations), and comes in different storage configurations. Is this a refresh? Is it supposed to be a lower tier product?

Some pretty cool stuff, I try and avoid Seagate though. Wubba lubba dub dub!

Still waiting for WD to release 3GB+ Passport drives.

3GB isn't much... Do you perhaps mean TB? Posted via Galaxy Note 3

3gb? Each one of my sperm carries more data... Posted via the Android Central App

Can you set these up to backup with a company like Carbonite?

I'm a fan of Western Digital hard drives. Had a few dodgy moments with Seagate drives I'd like to forget. The big print giveth, the small print taketh

"Here's my question: What does the Wireless do better than the Wireless Plus already available?" That is my question too. What is the difference between this unit and the Wireless Plus units already available?
Android Central Newsletter
Get instant access to breaking news, the hottest reviews, great deals and helpful tips
Thank you for signing up to Android Central. You will receive a verification email shortly.
There was a problem. Please refresh the page and try again.